September, 11, 2013
9/11/13
4:30
PM ET
Drew Allen
getting drilled on a block following his fourth interception had no effect on his early departure from Saturday's game against Northwestern.

"We had already decided he was coming out two series before that, so he knew he was already coming out," Syracuse quarterback coach Tim Lester told ESPN.com. "It had nothing to do with the hit. I kind of forgot about that. so it was kind of the icing on the cake I guess."
The Orange had wanted to get
Terrel Hunt
some action regardless, and a solid final drive from the redshirt sophomore has only added to the intrigue after Allen's six picks through two games.
Both quarterbacks will play in Saturday's home opener against FCS Wagner, with the Orange looking to improve their offensive efficiency following an 0-2 start. Allen will start and is receiving the majority of the No. 1 reps in practice, Lester said, but both signal-callers can help Syracuse win football games.
"You never want to overreact to a situation," head coach Scott Shafer said during Wednesday's ACC teleconference. "You want to look at it for what it is. I was pleased with [Allen's] ability to come back after an interception and take the team down the field for a touchdown. … For me it was, Let's take a look at who we have playing, what areas we have to improve on. Are they areas we feel any player could improve upon? In his situation, I felt strongly that he could definitely do that.
"But I also feel good about the fact that Terrel went in and did a good job, played well. I liked his approach and attitude. Both guys will be ready to play this weekend."
Shafer said Allen was responsible for just two of his four picks Saturday, crediting Northwestern for one and blaming another on a tipped pass.
Lester likes the way that Allen has handled the inevitable growing pains that come with a first-year starter under a first-year coach -- a duo that is in its first year in a new conference, no less.
"We knew going in that there were going to be some things that the guys were going to be inexperienced at, at probably the most important position on the field," Lester said. "And different people have to deal with that at different times, and obviously we're dealing with it. And Drew, we're very honest with him about what he can and can't do and try to get him to learn from the mistakes he's made thus far and see if he can continue to get better.
"They both knew what was going on and we wanted make sure that we have more than one ready," Lester later added. "And so that was a good opportunity for Terrel, and we'll make sure that he continues to get time and see what he can do moving forward."
Hunt completed 2 of 4 passes and ran three times for 30 yards Saturday in his only drive, rushing for a 15-yard touchdown, the final score of the 48-27 loss. Allen, the fifth-year Oklahoma transfer, has completed better than 55 percent of his passes for 468 yards and one touchdown, with the six picks.
Lester likes the way Allen has learned to tighten his emotions, as he often tells the quarterback that, if an emotion isn't making him better for the very next play, it's a wasted emotion.
Allen has taken it all in stride through two weeks, staying ready for whatever else may come his way.
"I can only control what I can control, and that's how I prepare and how I go about every day at film study and getting ready for the next opponent, that's Wagner," Allen told ESPN.com. "I don't really pay attention to what anybody's saying on the outside; I just focus on our family here amongst the team. So I don't think that that's anything new, for both guys to be ready, because I had to deal with it at Oklahoma, and it's just the way of the game. Anything can happen, so as a quarterback you've always got to be ready no matter where you are on the depth, because anything can happen."
May, 23, 2013
5/23/13
10:30
AM ET
Syracuse defensive coordinator Chuck Bullough has no problem with the fact that his boss, coach Scott Shafer, was in the very same position for four years before being promoted to head coach in January.
"I know coach Shafer," Bullough said. "He's one of my best friends. It's not like you're coming in not knowing the head coach at all. There's no tension when we sit down to discuss stuff. It's just like two buddies talking about football."
[+] Enlarge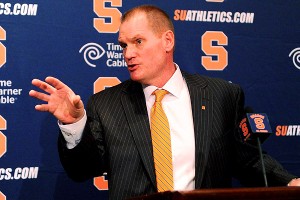 Rich Barnes/USA TODAY SportsNew Syracuse head coach Scott Shafer and his staff have a history with each other.
Bullough and Shafer were last together at Western Michigan in 2005, and their friendship is a microcosm of the familiarity within the entire staff. Western Michigan, Illinois, Northern Illinois -- all programs that have connected some of these coaches in their careers. Their wives and children know each other. The assistants aren't just acquaintances, they've coached together before. While an entirely new staff often is cause for bumps in the road, the familiarity on the Syracuse sideline helped make for a smooth transition this spring.
"How the coaches interact and how the coaches get along and how they coach together, the team sees that and this is a very tight-knit group of coaches," Bullough said. "We all coached with one another throughout our whole careers. There's nobody on the staff, except for the DB coach, Coach [Fred] Reed, that has never coached with another guy on this staff. That's amazing. That makes the transition so much easier. That I think really goes a long way. The players see everything."
With an ongoing quarterback competition heading into fall camp and having to replace its top two receivers and three of four starters on the defensive line, there are plenty of questions facing Syracuse this fall. While the players spent this spring adjusting to their new coaches, the staff didn't have to waste any time with introductions or philosophies.
Running backs coach DeAndre Smith was at Northern Illinois from 2001-2004, overlapping with Shafer's time there. Defensive line coach Tim Daoust was a holdover from the previous staff, but he was also a graduate assistant at Northern Illinois when Shafer was there. Quarterbacks coach Tim Lester and offensive coordinator George McDonald were both on staff with Shafer at Western Michigan in 2005-06.
The six degrees of Scott Shafer go on -- and have paid off.
"It's a lot of familiarity with our coaching styles and our beliefs, so from a coaching standpoint, it's just like coaching with your friends, because we've all worked together before at prior stops," said McDonald. "It helps because it shows solidarity, everyone understanding and speaking the same language, having the same vision. So when you come in as a new staff and everyone is on the same page, just because we're familiar with the expectations of coach Shafer, and on the defense and offensive side, the kids buy in a little faster because they feel the unity from all the coaches."