May, 21, 2013
5/21/13
2:00
PM ET
Pitt offensive coordinator and tight ends coach Joe Rudolph is entering his second season with the Panthers and he has six returning starters to work with. It's a young group that's facing a lot of questions, but Rudolph addressed some of those concerns and his quarterback competition in a spring interview. Here are the highlights of our conversation:
[+] Enlarge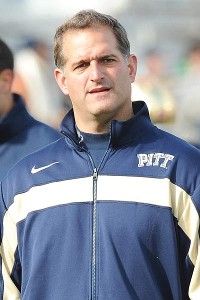 Courtesy of Pittsburgh athleticsJoe Rudolph, in his second year as the Panthers' offensive coordinator, has a young group of players in key roles for 2013.
How did Tom [Savage] look this spring? A lot of fans haven't seen him play. What does he look like as a quarterback?
Joe Rudolph:
For the position in general I think there's excitement. Tino [Sunseri] had held that down for the last couple of years, and somebody new being in that spot, I think everyone is excited to see. Tom, it's a unique group with Tom being a fifth-year senior and having some experience and some success early in his career and then really some young guys and Chad [Voytik] being the one who is pushing … and Tra'Von [Chapman] coming in as a high school senior and starting his career early. And Trey [Anderson] is doing a good job. He's wearing a coach's hat. Todd's been fun to watch this spring. I think you truly can see the urgency in his approach to it and I think he takes that very seriously. I think he's going to be a player who truly wants to play fast and play with a full knowledge base. As he gains that, you can see him having more fun and playing faster and being more in the moment, so I'm excited to see how hits fall camp. Once you actually go through it, you gotta get it out of your mouth. You gotta get the signal from the sideline, you gotta get the guys up, you gotta shift, motion, see the defense. As that becomes more second-nature to him, I think you'll continue to see him play faster and faster. He's got really a great length of time in summer where he can study what we've done, study some things from the past, put it together. I think he'll take a great approach to it. When you see a fifth-year senior taking that type of approach, it's great for those guys. It's a unique group in the room with the age difference, but pretty complimentary in a lot of ways.
Is it hard for him to take an assertive leadership role because he hasn't played a snap for you guys?
JR:
By the nature of the position you're going to have to. You're in charge of the huddle, you're getting them up, you kind of have to be that, but as he gains that confidence in the details of his position, I think you'll see that emerge and his comfort level will continue to emerge.
Did he read the defense well this spring?
JR:
Yeah, and I think that's it, it starts with where are my guys going to be? How will my read roll into it? You go up there, you get it out of your mouth easy from calling the play, you know where your guys are going to be, and then it's supposed to be easy enough to say let me look at this picture and go through my read. I think there's some progression to all of it. I think that's really what we saw the last week of spring from him, where he was starting to really put it together. It's a good place to be, now hopefully we keep taking advantage of the summer, and I think he will. I think he'll work his tail off.
From the outside looking in, the perception is there is a question at quarterback, nobody on the offensive line who has really played the same position, Rushel Shell transferring, a lot of questions. Where is your comfort level at right now with all of those things?
JR:
A huge comfort level is in the coaching staff. Those guys do an outstanding job. Their relationships with their players in the room is outstanding, and so I have great comfort in that. I also have great comfort in the approach of the guys to work and learn. You're right, we have two tackles who are moving to guard, but their approach to that, how does the experience last year help them be good players this year? It doesn't the first day of spring, but I think as they get comfortable with their assignments and their job at guard, the experience of them being a tackle will really come into play for them, and their experience of being out of the field will add to that communication. It's going to be a young group. You say that and you've got a wide receiver in
Devin Street
we're obviously excited about who has a lot of ability and will be a senior. Quarterback might be exactly the same, a fifth-year senior, but other than that, looking around, there are a lot of young faces. There could be two freshmen starting in the O-line.
J.P. Holtz
at tight end, he's still in a freshman year even though he started 10 games, so, you'll have some young players out there. I think the approach of our guys and how they take advantage of the summer will be big for them. Rushel is a loss, and you wish him the best. You hope everyone finds the best thing for them to be successful, but I'm excited about the guys in the room. I think they sense the opportunity and they have taken advantage of things this spring to bring that out. There will be a nice influx and we'll see who can help from the guys who walk in the door here in a few months.
Check back tomorrow for Part II of this interview.
January, 17, 2013
1/17/13
2:00
PM ET
The ACC's crop of 2013 quarterbacks will be an interesting blend of old and new. Veterans
Logan Thomas
and
Tajh Boyd
both decided to return for their senior seasons instead of leaving early for the NFL draft, but several big names -- like
EJ Manuel
and
Mike Glennon
-- will be missing. Here's a quick rundown of the position heading into the 2013 season:

IN GREAT SHAPE
CLEMSON:
Boyd returns. The record-setter should be a Heisman candidate, considering he led the ACC in passing efficiency, was second in passing average/game, and threw for 36 touchdowns with just 13 interceptions.
MIAMI:
Stephen Morris
returns. Morris should be one of the best quarterbacks in the ACC, and he might have the best offensive line in the conference to work with. Last season, Morris started all 12 games and threw for a career-best 3,345 yards and 21 touchdowns, completing 58.2 percent of passes. He set the school single-season total offense record with 3,415 yards.
NORTH CAROLINA:
Bryn Renner
returns. He was No. 3 in the ACC last season in passing average per game (279.7), and he was No. 3 in passing efficiency. He finished with 3,356 yards, 28 touchdowns and seven interceptions.
VIRGINIA TECH:
Thomas returns. This was a huge boost to the Hokies' offense. Thomas has started the past 27 games for the Hokies, passing for 6,096 yards and 37 touchdowns, and running for 1,015 yards and 20 scores.
WAKE FOREST:
Tanner Price
returns. He threw for 12 touchdowns and seven interceptions last season, and he'll be helped by the fact that standout receiver
Michael Campanaro
returns. Price completed 55.6 percent of his passes for 2,300 yards.
IN GOOD SHAPE
VIRGINIA:
Phillip Sims
returns, but
Michael Rocco
transferred. Sims is the most likely starter, but how much playing time will
David Watford
see? While sharing time with Rocco last season, Sims finished with nine touchdowns and four interceptions. He completed 56.2 percent of his passes for 1,263 yards.
MARYLAND:
C.J. Brown
, who tore his ACL before the start of the 2012 season, is the most likely starter. This position can only get better for Maryland in 2013, as the Terps were down to their fifth-string quarterback last season. He started five games in 2011, but this would be his first full season as starter.
BOSTON COLLEGE:
Senior
Chase Rettig
returns. He started all 12 games last season, completed 54.2 percent of his passes, threw for 3,065 yards, 17 touchdowns and 13 interceptions. The reason BC isn't in the "great shape" category is because Rettig will have his 103rd offensive coordinator. The good news is that Ryan Day is a former BC offensive assistant, so it's not like they just met.
DUKE:
Veteran
Sean Renfree
has to be replaced.
Anthony Boone
isn't a rookie, but this will be his first season as a full-time starter. Boone has had the strongest arm of any of the quarterbacks on the roster, including Renfree. Boone played in 11 games in 2012, completed 51.6 percent of his passes (49 of 95) for 531 yards, five touchdowns and two interceptions. He also ran for 82 yards and two touchdowns.
COMPETITION IS ON
FLORIDA STATE:
Manuel must be replaced.
Clint Trickett
is the leading candidate heading into the spring, and he has the edge in experience, but he will compete with
Jacob Coker
and
Jameis Winston
. Trickett started two games in 2011, filling in for the injured Manuel, but this past season he only threw the ball 34 times. Coker played in four games and threw it five times.
GEORGIA TECH:
Tevin Washington
must be replaced.
Vad Lee
is the front-runner heading into the spring, but
Justin Thomas
will give him plenty of competition. Lee didn't start any games in 2012, but he got plenty of meaningful snaps and ran for 544 yards and nine touchdowns, and threw for 596 yards, four touchdowns and three interceptions.
NC STATE:
Glennon must be replaced. This position is a huge question mark for the Pack, especially considering the program has gone through a staff change, with Dave Doeren taking over.
Manny Stocker
and
Pete Thomas
are the front-runners heading into spring ball. Stocker threw the ball just twice in 2012 as a true freshman, and Thomas has two years of eligibility remaining after sitting out the 2012 season per NCAA rules because he transferred from Colorado State.
PITT:
Panthers fans rejoined when the final seconds ticked off the clock in the BBVA Compass Bowl because they won't have to watch
Tino Sunseri
play another down. Sunseri did start for three seasons, but this program is looking for a major upgrade at the position. Competition in the spring should focus on transfer
Tom Savage
, a former Freshman All-American, and redshirt freshman
Chad Voytik
, a four-star recruit from the class of 2012.
SYRACUSE:
The Orange have to replace record-setting quarterback
Ryan Nassib
, who just had the best single-season passing year in school history. They
thought they had
an incoming stud in Zach Allen, but the Texas recruit de-committed after coach Doug Marrone left for Buffalo, and Allen pledged to TCU. That leaves the job wide open in the spring between backup
Charley Loeb
, junior
John Kinder
, and dual-threat
Terrel Hunt
.
Ashton Broyld
, who moved to running back in 2012, could be in the mix as well.
January, 8, 2013
1/08/13
11:00
AM ET
Brace yourselves.
This is not the ACC power rankings you are used to. It is bigger. Let's hope it's not badder. The first version of the 2013 ACC power rankings reflects the addition of
Pittsburgh Panthers
and
Syracuse Orange
. There are 14 teams here (and Boston College is still last). Welcome to the league, Pitt and Cuse.
There are still plenty of questions for several teams that have players still undecided about their NFL careers, but this is your first take on a ranking likely to change many times between now and the opening kickoff. Lots can happen (and does) during signing day, spring ball and summer camp, but here is how Andrea Adelson and I think the ACC will shape up this fall based on what we know now:
1. Clemson --
With quarterback
Tajh Boyd
and offensive coordinator Chad Morris working together again, the Tigers would have the best coordinator/quarterback combo returning in the ACC. The defense should take another step forward in the second season under coordinator Brent Venables, and the Chick-fil-A Bowl victory over LSU was a monumental springboard for the program heading into the offseason.
2. Florida State --
The Seminoles will be going through a transition, as coach Jimbo Fisher has to replace at least five assistants on his staff, as well as starting quarterback
EJ Manuel
. With several players, including defensive end
Bjoern Werner
, leaving early for the NFL draft, the Noles will have to reload.
3. Miami --
The Hurricanes hoped their self-imposed bowl ban was a preemptive strike against NCAA sanctions. With quarterback
Stephen Morris
returning, along with ACC Rookie of the Year
Duke Johnson
and what could be one of the best offensive lines in the ACC, expectations should be much higher for the Canes in Year 3 under Al Golden.
4. Georgia Tech --
The Yellow Jackets will have some momentum and confidence to build on after their bowl win over USC, but more importantly, they've got an experienced, talented roster to work with. Georgia Tech will have eight starters back on a defense that made measurable progress in the second half of the season.
5. UNC --
Coach Larry Fedora is going to have to work some magic in trying to replace leading rusher/returner
Giovani Bernard
, who left early for the NFL, and his lead blocker,
Jonathan Cooper
. Quarterback
Bryn Renner
will be a senior, though, and the Tar Heels have other talented running backs waiting in the wings.
6. Pitt --
The moment every Pitt fan has been waiting for --
Tino Sunseri
will no longer be the starting quarterback in 2013. Does that mean the position gets an automatic upgrade? Promising running back
Rushel Shell
returns, and Pitt's defense should be much better, but questions remain on the offensive line.
7. Virginia Tech --
The school has yet to announce any staff changes, quarterback
Logan Thomas
has yet to announce whether or not he is returning for his senior season, and the Hokies open the schedule against national champion Alabama. Doesn't look good.
8. Syracuse
--
Major questions surround the Orange now that coach Doug Marrone has left for the Buffalo Bills. This is a team that already had to replace starting quarterback
Ryan Nassib
, all-Big East tackle
Justin Pugh
, record-setting receiver
Alec Lemon
and leading tackler
Shamarko Thomas
. But Syracuse does have 1,000-yard rusher
Jerome Smith
returning, along with linebackers
Marquis Spruill
and
Dyshawn Davis
. Many questions must be answered before 2013 begins.
9. Maryland --
It can only get better, right? Maryland was down to its fifth-string quarterback last year, linebacker
Shawn Petty
. Starter
C.J. Brown
should be ready to return to the starting lineup this summer and healed from a torn ACL. The defense has some big shoes to fill, but the Terps should have enough experience to be bowl bound in their final season in the ACC.
10. Wake Forest --
The Deacs were thrown off track last season by injuries and suspensions and should be a better team this year. Quarterback
Tanner Price
returns for his senior season, along with receiver
Michael Campanaro
, who should be one of the best in the ACC if he can stay healthy.
11. Duke --
The Blue Devils have to replace quarterback
Sean Renfree
and his top target, ACC record-setting receiver,
Conner Vernon
. Duke went to its first bowl game since 1994, but the program still has something to prove after losing its last five games of the season. The Coastal Division should collectively be stronger this year.
12. Virginia --
Phillip Sims
will take over at quarterback after the transfer of
Michael Rocco
, but how much time will
David Watford
see under center? The hires of Tom O'Brien and Jon Tenuta were smart moves, but the staff will have to find a way to extract more out of many of the same players who struggled last year.
13. NC State --
Quarterback
Mike Glennon
is out, and first-year coach Dave Doeren is in. The Wolfpack will have an entirely different look this fall, and some bumps in the road should be expected as the program begins a new era under Doeren.
14. Boston College --
The Eagles have lots of work to do under first-year coach Steve Addazio. It all starts with recruiting, but the staff is also going to have to find a way to improve the running game and get the defense back to its stingy ways.
December, 19, 2012
12/19/12
9:00
AM ET
It's never too early to look ahead to next season, especially since there are going to be some changes to both the Big East and ACC.
With that in mind, Heather and I have taken up one very timely debate: Which incoming Big East team will do better in the ACC in Year 1 -- Pitt or Syracuse?
Depends on whom you ask.

Heather says: Syracuse.
Ok, so Syracuse needs a quarterback.
But Boston College and NC State need to start from scratch, and Wake Forest and Maryland are, well, beatable. So my argument starts with the competition in the Atlantic Division, where Syracuse already has a leg up on three of its opponents because this season will be the first in which coach Doug Marrone has a roster filled entirely with his recruits.
Can't exactly say the same for BC's Steve Addazio, Dave Doeren at NC State, or even Randy Edsall at Maryland.

Not only does Syracuse enter the ACC in 2013 with an upper hand in stability over three opponents, but it also brings a legitimate running game that will take some pressure off of whomever does start at quarterback (and Texas native Zach Allen, an Elite 11 player, is a pretty good option to start with). The Cuse has a solid stable of running backs, led by 1,000-yard rusher
Jerome Smith
, and it will have a veteran offensive line with all five starters expected to return. (
Justin Pugh
has not decided yet if he'll leave early for the NFL draft, but even with four starters returning up front that will help break in a new quarterback.)
Don't forget tight end
Beckett Wales
also returns, and he was an asset in the passing game as well. Speaking of the passing game, Arkansas transfer
Quinta Funderburk
is eligible to play this year and should help compensate for the graduation of
Marcus Sales
and
Alec Lemon
.
Defensively, Syracuse returns nose tackle
Jay Bromley
to anchor the middle, and while several talented players have to be replaced up front, the Orange rotated plenty of linemen, so depth and experience shouldn't be a problem.
Special teams will probably be the least of Syracuse's concerns, as everyone returns, and the Orange also ended the regular season on a positive note with three straight wins to build on, including back-to-back road wins against Missouri and Temple.
Syracuse is joining a new league, and it will usher in a new quarterback, but there is plenty in place for the Orange to have a successful first season in the Atlantic Division -- more success than Pitt will find in Year 1 of what should be a much-improved Coastal Division.
Andrea says: Pitt.

Heather makes a convincing argument about Syracuse, but her initial premise is flawed. How is Syracuse going to do better than Pitt when it plays in the toughest division in the ACC? Good luck getting past Clemson and Florida State, guys.
Let us turn our eyes to the Coastal Division. Pitt was miles better than Virginia Tech this season. Miami should be better in 2013, but will still be pretty young in many spots. North Carolina loses
Giovani Bernard
,
Jonathan Cooper
,
Sylvester Williams
and
Kevin Reddick
.
Virginia, Georgia Tech and Duke? Pitt will be better.
So I am going to say it right now, before everybody else hops on the bandwagon: The Panthers not only will do better than Syracuse in Year 1 in the ACC -- they will be in contention for the ACC championship game.
Here's why.
Pitt will be better on offense with a first-year starter at quarterback. The moment Panthers fans have been waiting on is almost here --
Tino Sunseri
is about to hit the road, ending his up-and-down career as a three-year starter. Sunseri had his best season to date in 2012, and yet it still was not quite enough to lift the Panthers above mediocrity.
Waiting in the wings is veteran
Tom Savage
, a senior who was a freshman All-American at Rutgers before transferring first to Arizona, then Pitt. He will have a competition on his hands with four-star recruit
Chad Voytik
, who redshirted this season. I am fairly confident that no matter who starts, Pitt will get an upgrade at the position.
Losing
Ray Graham
at running back hurts. But the Panthers return
Rushel Shell
, who should be one of the top running backs in the ACC. We saw glimmers of his talent this year. As the starter next year, he will be better.
Now on to the defense. While it's true the Panthers need to hire a defensive coordinator, the new coach is going to inherit what should be one of the most talented groups in the division. Nine starters return. Among them --
Aaron Donald
at tackle,
Lafayette Pitts
at cornerback and
Todd Thomas
at linebacker. All three should be preseason candidates for All-ACC honors.
Pitt showed marked improvement on defense from Week 1 to Week 12 this year, holding their last two opponents to a combined nine points. I expect that improvement to continue no matter who coaches this group.
Plus, coach Paul Chryst will be in his second year. He will be more comfortable in charge, and his players will be better in his system. For all these reasons, Pitt will be just fine in Year 1 in the ACC. Check that. More than fine. Pitt will be better than Syracuse.
September, 15, 2012
9/15/12
3:32
PM ET
How does a team go from looking so bad in two games to looking so good against the No. 13 team in the nation?


I am sure folks in Pittsburgh and Blacksburg are asking that very question after the Panthers pulled the shocker of the day Saturday. Pitt won
35-17
in stunning fashion, taking advantage of four first-half turnovers and some terrific play up front to win its first game of the season.
Consider: Pitt could not beat anybody up front on both its offensive and defensive lines in the first two games of the season.
Consider: Pitt lost to an FCS team.
Consider: Pitt had no takeaways going into this one.
But somehow, Virginia Tech had four turnovers on its first six possessions -- including a career-high three interceptions from
Logan Thomas
, who had one of the worst games of his career.
Virginia Tech -- not Pitt -- got no push from either of its lines. The Hokies allowed more than 500 total yards -- 305 in the first half alone. They gave up 221 total yards against Austin Peay and 288 in the season-opening win over Georgia Tech.
The Hokies failed to slow down Pitt quarterback
Tino Sunseri
, who has played behind a very shaky offensive line for two seasons now. The hard truth is Virginia Tech had no business making Sunseri look like an All-American and its offensive line look like a stealth iron wall. This Virginia Tech defense was supposed to be even better than last year's version. Instead, it gave up more than 250 yards rushing -- including 157 to true freshman
Rushel Shell
, who showed exactly why he was one of the most highly coveted running backs in the nation.
Meanwhile, the Hokies found no running room at all, and could do no nothing to help Thomas, whose Heisman hopes are all but gone. Given the sluggishness of the offense, the defense was simply on the field way too long and was gassed at the end of the game. Missed tackles were a major issue, too.
As for Sunseri, give major credit to the much-maligned senior, who played perhaps the best game of his career. He made one bad decision -- an interception late in the game -- on a play where he turned his ankle. But Sunseri gamely came back on the next possession and led Pitt on a killer of a drive -- 15 plays, 88 yards in 7:44. It ended with a 6-yard touchdown pass from Sunseri to
Mike Shanahan
, essentially ending any hopes for a Virginia Tech comeback.
Virginia Tech had the nation's longest road winning streak at 13 games going into this game. But now the Hokies have lost at least once in the first five games of the season for the fifth time in six years.
Two Virginia Tech injuries to note: Starting cornerback
Kyle Fuller
left the game with a right shoulder bruise, and starting left guard
David Wang
was carted off the field with a sprained left ankle.
September, 23, 2010
9/23/10
8:52
PM ET
PITTSBURGH -- Surprising stat so far: Pitt has been held to just 1 passing yard. With
Dion Lewis
off to a slow start this season, averaging just 2.9 yards per carry, quarterback
Tino Sunseri
and receiver
Jon Baldwin
have been the highlight of the Panthers' offense.
Not tonight.
Sunseri has only thrown the ball five times.