December, 6, 2011
12/06/11
6:11
PM ET
By
ESPN.com staff
| ESPN.com
Running backs
Rahsaan Moore
and
Jeremiah Wilson
, as well as defensive back Titus Till, will not return to the football team in 2012, the school announced on Tuesday.
All three redshirt freshmen have been granted releases and indicated they will transfer to another institution at the end of the semester.
"We appreciate the effort of all three of these young men and wish them nothing but the best in their future endeavors," coach Randy Edsall said in a prepared statement.
Just for the record, I don't think I've ever seen anything like this. The total is up to six players now who have been granted their releases since the 2-10 season ended.
October, 21, 2011
10/21/11
5:00
PM ET
By
ESPN.com staff
| ESPN.com
Thanks as always to the sports information directors throughout the league for making us smarter about each team this week. Did you know …
ACC:
This week, in terms of yards per game, the ACC has the nation's leading freshman rusher, in North Carolina running back
Giovani Bernard
(109.6), and the leading freshman receiver in Clemson receiver
Sammy Watkins
(104.0). They'll go head-to-head in Death Valley on Saturday. -- ACC game notes
BOSTON COLLEGE:
Although Boston College started the season 1-5, the Eagles have fared well in the second half of their schedule over the course of the past 10 years. In the final six regular-season games of the past 10 seasons, the Eagles have a combined record of 39-21. That includes a 5-1 record in the second half of the 2010 season, when Boston College became the first team in ACC history to record a five-game winning streak after suffering a five-game losing streak the same year. -- Chris Cameron
CLEMSON:
When running back
Andre Ellington
ran for 212 yards and Watkins had 105 yards receiving at Maryland, Clemson became the first ACC team with a 200-yard rusher and a 100-yard receiver in the same game since Oct. 17, 2002 (Chris Downs, Scooter Monroe of Maryland vs. Georgia Tech). -- ACC game ntoes
DUKE:
Duke is 3-3 at the midpoint for the third time in coach David Cutcliffe's four seasons. Only once in the 13 seasons before Cutcliffe's arrival were the Devils at or above .500 after six games. That came in 1998. -- ACC game notes
FLORIDA STATE:
At the start of the 2011 season, Florida State had the ACC's most experienced offensive line, with seniors Andrew Datko, Zebrie Sanders, David Spurlock, and Bryan Stork, who combined for 105 career starts. Sanders and Stork were the only veterans from the injury-ravaged unit in the lineup last week at Duke, when the 'Noles rolled up 481 total yards, their highest output in 16 games. The lineup included just 57 career starts, 42 of which belonged to Sanders, followed by Stork (9), Jacob Fahrenkrug (5), Bobby Hart (1) and first-time starter Garrett Faircloth. -- Bob Thomas
GEORGIA TECH:
Paul Johnson is 3-0 in games following the first loss of the season, and the Jackets have won those three games by an average of 18 points. -- ACC game notes
MARYLAND:
So far this season, six freshmen: defensive lineman Keith Bowers, linebacker Lorne Goree, defensive lineman Andre Monroe, linebacker Mario Rowson, defensive back Titus Till, and linebacker Alex Twine have started for the Maryland defense, including four against Georgia Tech (10/8) and five against Clemson (10/15). That was the most freshmen to start for Maryland since Nov. 20, 1993, when a quintet started in a 33-32 win over Wake Forest. The five freshmen defensive starters against Clemson are the most in the nation for one game. In fact, only one other team in the FBS (Indiana) in the has started four or more freshmen defenders this season. -- Shawn Nestor
MIAMI
: The Canes' win over North Carolina last weekend marked the first time that Miami won as an ACC members while getting two or fewer rushing first downs in a game. (They had two.) ACC teams with two or fewer first downs by rush are 15-69 (.119) since the start of the 2000 season. -- ACC game notes
NORTH CAROLINA:
Quarterback
Bryn Renner
has not thrown an interception in four of his past five games, including three straight. He has attempted 81 consecutive passes without an interception. Renner leads the ACC and ranks seventh in the country with a 174.1 pass efficiency rating. Renner completed 20 of 22 pass attempts in the second half against Miami last week. -- UNC game notes
NC STATE:
Virginia coach Mike London is one of NC State head coach Tom O'Brien's seven former assistant coaches who have gone on to become head coaches. London served on the Boston College staff as defensive coordinator from 1997-2000. This will mark the fifth time that O'Brien has faced one of his former assistants, with all four previous games coming against Boston College. O'Brien, who is making his first appearance in UVa's Scott Stadium since spending 15 seasons there (1982-96) as an assistant for the Cavaliers to George Welsh, faced Jeff Jagodzinski, his replacement at BC twice, and Frank Spaziani, who was his defensive coordinator for the Eagles, twice. -- Annabelle Myers
VIRGINIA:
Behind
Perry Jones
,
Kevin Parks
, and a veteran offensive line, Virginia rushed for a season-high 274 yards in its 24-21 win against No. 12 Georgia Tech, the most by a UVa team since 2004. Jones recorded a career-high 147 yards and eclipsed the 100-yard mark for the second consecutive game. The Cavaliers have totaled at least 150 rushing yards in each of their first six games. The last time UVa had a six-game streak rushing for at least 150 yards was the final six games of 2004. -- Jim Daves
VIRGINIA TECH:
Two random notes for you: As an ACC member, Virginia Tech is 15-1 overall and 13-0 in conference games played in North Carolina. The Hokies were penalized only twice against Wake Forest; that's the third time in seven games that they have been flagged two or fewer times. Ok, one more random note … The Hokies wore white uniform tops and pants against the Deacs and improved to 10-1 under coach Frank Beamer in that attire. -- ACC game notes
WAKE FOREST:
Wake Forest redshirt freshman cornerback Merrill Noel leads the nation in passes defended with 2.17 per game. Noel has 12 pass breakups and one interception for a total of 13 passes defended. He has climbed to 11th place on the school list for passes broken up in a season. The season mark for breakups is 18 by A.J. Greene in 1987. Greene also holds the mark for passes defended in a season with 25, also in 1987. -- Steve Shutt
October, 11, 2011
10/11/11
12:00
PM ET
By
ESPN.com staff
| ESPN.com
October, 7, 2011
10/07/11
3:30
PM ET
By
ESPN.com staff
| ESPN.com
As usual, thanks to the sports information directors throughout the league for this week's batch of nifty notes.
ACC:
The last time Clemson and Georgia Tech both started the season 5-0 was in 1948. The Tigers, coached by Frank Howard, and the Jackets, coached by Bobby Dodd, did not play each other in 1948. Clemson finished 11-0 and ranked 11th by AP, while Tech ended the year 7-3. Georgia Tech and Clemson are two of 15 remaining undefeated FBS schools and one of just eight teams with a 5-0 record. – Mike Finn
BOSTON COLLEGE:
The winner of Saturday's game between Boston College and Clemson will receive the O'Rourke-McFadden Trophy, created in 2008 by the Boston College Gridiron Club to honor the relationship between BC and Clemson that goes back approximately 70 years. The trophy features two leather helmet replicas of those used by Charlie O'Rourke of Boston College and Banks McFadden of Clemson when they competed against each other in the 1940 Cotton Bowl. The Boston College Gridiron Club also presents a replica leather helmet to the MVP of the winning school. – Chris Cameron
CLEMSON:
Clemson won each of the first three games this season without leading at the half. Clemson trailed against Troy in the season opener at intermission, 16-13, before winning 43-19. Clemson and Wofford were tied at the half at 21-21 before Clemson won 35-27. Against Auburn, the Tigers were tied 21-21 at intermission before winning 38-24. This was the first time Clemson has won three straight games without leading at the half since 2004. – Clemson game notes.
DUKE:
Duke has played three one-possession games (decided by eight points or fewer) this season with an average margin of difference at 2.33 points. That average is the lowest nationally among school that have played at least three one-possession games (Utah State ranks second at 2.67 average points in three games). The Blue Devils have one-possession wins over Boston College (20-19) and FIU (31-27) and a loss to Richmond (23-21). – Art Chase
FLORIDA STATE:
The Seminoles have played 14 true freshmen in 2011, which is the most in the ACC and ranks tied for sixth among all FBS schools. That mark continues a trend under Jimbo Fisher, who played 13 true freshmen in 2010, which ranked seventh among FBS programs. - Bob Thomas
GEORGIA TECH:
Maryland is the only ACC team Paul Johnson has not defeated in his four years at Georgia Tech. If Johnson and the Yellow Jackets can win on Saturday, Johnson would join only Bobby Bowden, Frank Beamer and Tom O'Brien as the only coaches to defeat 11 different ACC opponents. Al Groh would be on that list as well, but when he defeated Virginia Tech, the Hokies were not yet members of the ACC. – Georgia Tech game notes
MARYLAND:
Four freshmen -- DL Keith Bowers, LB Lorne Goree, DL Andre Monroe, and DB Titus Till -- have started for the Maryland defense, but Saturday's game against Towson game was the first time that at least three were in the starting lineup. The Terps have not had three freshmen start on defense in 11 years. – Shawn Nestor
MIAMI:
Running back
Lamar Miller
has run for at least 100 yards in each of the first four games. Of his nine career rushes and/or receptions of 25 yards or more, six have come after halftime. Miller has seven plays of 25 yards or longer this season: five rushes and two kick returns. Against Virginia Tech last year, Miller had a breakout game with 163 yards. He currently ranks eighth nationally and second in the ACC behind only Virginia Tech's
David Wilson
. Miller trails Wilson by only nine inches per game. – LaTonya Sadler
NORTH CAROLINA:
In recognition of Breast Cancer Awareness Month, North Carolina football players will wear pink shoelaces, wristbands, and pink chinstraps against Louisville. – Kevin Best
NC STATE:
The Wolfpack last week managed something that few Georgia Tech opponents achieve: They won time of possession. One second-quarter drive took nearly 10 minutes. The possession required 19 plays, the most by any State drive since a 19-play drive against Maryland on Nov. 14, 2000.
VIRGINIA:
Freshman RB
Kevin Parks
didn't score in Saturday's win over Idaho but is one rushing TD short of the school's freshman record of seven. – ACC game notes
VIRGINIA TECH:
Coach Frank Beamer, who coached in his 300th game at Tech last Saturday against Clemson, is in his 25th season at the helm of the Hokies. During Beamer's time in Blacksburg, the other 11 ACC programs have employed a combined 51 head coaches. – Bryan Johnston
WAKE FOREST:
Wake Forest will debut its new HD video board at Saturday's home game with Florida State. It weighs 22 tons and construction took 19,585 man-hours and included nearly 900 cubic yards of concrete, 61 tons of reinforcing steel and 42,000 red bricks that give the board the same feel as the rest of the stadium and matches the decor of the campus. – Steve Shutt
September, 30, 2011
9/30/11
2:00
PM ET
By
ESPN.com staff
| ESPN.com
Thanks again to the sports information directors throughout the league for this week's nifty notes:
ACC:
The ACC leads all conferences with 24 scoring plays of 60 or more yards. ACC teams have 21 touchdowns of 60 or more yards on offense, including 15 passes and six running plays to go with two defensive returns and one on special teams. The Southeastern Conference is second (23) followed by the Pac-12 (21). Georgia Tech leads all ACC teams in 60+ scoring plays with eight, all of them on offense. NC State is next with five, followed by Clemson (4) and North Carolina (2), and Boston College, Duke, Florida State, Virginia Tech and Wake Forest with one each. – Mike Finn
BOSTON COLLEGE:
Since joining the ACC in 2005, BC is 33-10 at Alumni Stadium. The Eagles are 17-7 in ACC home games. – BC game notes
CLEMSON:
After defeating ranked opponents Auburn and Florida State, a win over Virginia Tech on Saturday would make Clemson the first school in ACC history to beat top-20 opponents three weeks in a row. Georgia Tech (1959) and Virginia Tech (2002) have done it, but they were not ACC teams at the time. – Tim Bourret
DUKE:
Duke's six running backs have combined for 810 career touches with only three lost fumbles. The six backs have tallied 596 combined rush attempts, caught 119 passes and returned 89 kickoffs while putting the ball on the ground just 10 total times. – Duke game notes
FLORIDA STATE:
Florida State tailback
Chris Thompson
was the only non-quarterback to register a carry in the Seminoles' 35-30 loss at Clemson. Thompson carried the ball 11 times for 36 yards against the Tigers, including a handful of snaps from the Wildcat formation. He is the first FSU player to get every rush in a game -- excluding quarterbacks -- dating to the 1956 season. – Bob Thomas
GEORGIA TECH:
Georgia Tech, which leads the nation in scoring offense (53.3 ppg), has scored 213 points through four games. The only other team in ACC history to score 200 points in the first four games of the season was Florida State in 1995. The Yellow Jackets have outscored opponents 67-7 in the third quarter. – Dean Buchan
MARYLAND:
There are 18 freshmen listed on Maryland's two-deep depth chart this week, which is tied for the most in the ACC with Boston College and Clemson. The Terps also have three spots where a freshman is listed first on the depth chart: FB
Tyler Cierski
, DE Keith Bowers, and S Titus Till. In all, six of the first-year players on the depth chart are true freshmen. – Shawn Nestor
MIAMI:
Lamar Miller
has rushed for more than 1,000 career yards in just the 14th game of his career. Miller collected 646 yards in 2010 and added 106 yards in the game against K-State. In just 13 career games, only Clinton Portis reached the 1,000-yard plateau faster than Miller, as he recorded his 1,000th yard with a 14-yard performance against Louisiana Tech in 2000. – Miami game notes
NORTH CAROLINA:
Redshirt freshman tailback
Giovani Bernard
has scored six rushing touchdowns through four games. Last season, Johnny White led the team with seven rushing touchdowns. – UNC game notes
NC STATE:
NC State coach Tom O'Brien has only coached against Paul Johnson twice when they both were head coaches. His Boston College team met Johnson's Navy squad in 2002 and 2006, with BC winning both games. – NC State game notes
VIRGINIA:
Virginia senior receiver
Kris Burd
is coming off a career-high nine catches against Southern Miss. Burd enters Saturday's game against Idaho No. 10 on the career yardage list with 1,527 yards and is seventh on the all-time catches list with 118. Burd owes a lot of his inspiration to his older brother, Nick. In 2005, Nick was injured in a car accident. He survived, but the broken neck he suffered left him a quadriplegic. A former standout basketball player at Matoaca High School with hopes of eventually playing at VMI, Nick found himself in a wheelchair for life. And Kris found himself an inspiration. "I tell him all the time that I'm doing this for him," Burd said. "I know his athletic career is over due to his accident and I know that he's living his athletic career through me. Every time that I step on the field and I get a chance to really do something physical on the field or in a sport, I make sure that I go all out because I know he can't do it anymore." – Jim Daves
VIRGINIA TECH:
Saturday's game against Clemson will be coach Frank Beamer's 300th at his alma mater. Now in his 25th season, he will head into the game with a record of 202-95-2. Ironically, his first game as the Tech head coach came against Clemson in 1987. His 100th game came against Temple in 1995 and his 200th game came in 2003 against Virginia. – Bryan Johnston
WAKE FOREST:
Receiver
Chris Givens
has set the school record for the most receiving yards through the first three games of a season. Givens has 366 yards including game totals of 170 yards versus Syracuse, 111 versus NC State and 85 versus Gardner-Webb. The previous three-game high was 304 yards by Ricky Proehl in 1988. – Steve Shutt
July, 1, 2011
7/01/11
3:30
PM ET
Moving on to the safeties …
[+] Enlarge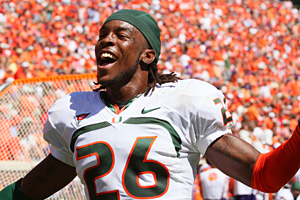 Marvin Gentry/US PresswireRay-Ray Armstrong is among the leaders of a strong Miami secondary.
1. Miami:
Vaughn Telemaque and Ray-Ray Armstrong return, but JoJo Nicolas moved to corner. Even though Armstrong wasn't a starter last year, he still ranked third on the team with 79 tackles and tied for the team lead with three interceptions.
2. Florida State:
The Seminoles return both starters in Nick Moody and Terrance Parks. Moody had 79 tackles last season and Parks had 44 and six deflections. The group was strengthened with the addition of Lamarcus Joyner, who moved from cornerback and proved this spring he's capable of being a safety.
3. NC State:
The Wolfpack has two of the best in Earl Wolff, the team's leading tackler last season with 95, and Brandan Bishop, who had 56 tackles and a team-high four interceptions. Dontae Johnson (22 tackles), also returns.
4. Virginia Tech:
Eddie Whitley is the lone returning starter, but he should be one of the best in the ACC. Antone Exum, who was the No. 2 free safety last season, moved to rover this spring. He played in every game last season and had five starts when Tech went to its nickel defense.
5. Virginia:
The Cavaliers return veteran starters in Rodney McLeod and Corey Mosley, who have combined for 41 career starts. Mosley had 52 tackles and two interceptions last season, and McLeod had 54 tackles and four pass breakups. Safety Dom Joseph (34 tackles) also returns.
6. Duke:
The Blue Devils return both starters in Matt Daniels and Lee Butler. Daniels, a senior, has started 25 career games and is one of the top returning tacklers in the ACC. Butler had 58 tackles and nine passes defended last season.
7. Boston College:
The Eagles return juniors Jim Noel, who had four interceptions in eight starts, and Okechukwu Okoroha, who started the final six games last fall. Noel, Okoroha, and Dominick LeGrande combined for 90 tackles last season.
8. Wake Forest:
Both starters return in Daniel Mack and Cyhl Quarles. Mack had 45 tackles and two interceptions last season. Duran Lowe (30 tackles) could unseat Quarles, who is Wake's leading returning tackler with 71 hits. Redshirt freshman Desmond Cooper is also competing for playing time.
9. Clemson:
Rashard Hall has 19 career starts and made 62 tackles and two interceptions last season. Safety Jonathan Meeks (28 tackles, one start) also returns, along with Carlton Lewis.
10. Maryland:
Just as Kenny Tate's move to linebacker bumped the Terps up in the ranking in that category, his departure from safety drops them a few notches as they now don't have any returning starters there. They do, however, have experience. Eric Franklin played in 11 games, with 23 tackles and three interceptions (tied for second on the team). Matt Robinson played in all 13 games and posted 29 tackles and forced a pair of fumbles. The Terps have plenty of depth with Austin Walker, Titus Till, Anthony Green and Desmond Haynes.
11. North Carolina:
Matt Merletti had five starts and Jonathan Smith, who lettered in 2008 and 2009 but missed all of last season, are the projected starters. They will be pushed by junior Gene Robinson (four starts, 30 tackles, one interception) for playing time.
12. Georgia Tech:
The Jackets had to replace both of their safeties in Mario Edwards and Jerrard Tarrant. Safety Fred Holton (11 tackles) and Isaiah Johnson (46 tackles, one interception) are the two most likely front-runners to start this fall.