March, 2, 2015
Mar 2
10:00
AM ET
Spring football is off and running at several ACC schools, with many more set to kick things off in the coming days and weeks. There is no shortage of storylines throughout the league, but here are the questions that stand out above all else:
1. Does the ACC have an embarrassment of quarterback riches?
It's not every day a league can withstand losing a Heisman Trophy-winning quarterback to the pros (more on FSU later), but the ACC has a ton of talent coming back under center in 2015. Georgia Tech, Louisville, Miami, NC State, Pitt, Syracuse, Virginia, Virginia Tech and Wake Forest all return players who started at quarterback in 2014.
Thomas Sirk
is the frontrunner at Duke, and he saw extended time last year as a change-of-pace quarterback, too. Then there's Clemson and North Carolina, whose talented signal-callers from last fall will miss this spring, giving others a chance to prove themselves and build depth. Which brings us to …
2. What about the No. 2 quarterbacks?
Deshaun Watson
may be way ahead of schedule in his recovery from ACL surgery, as Dabo Swinney said Friday, and we all know what the sophomore is capable of when he is healthy. But this spring will see others get a chance at Clemson, as last year's No. 3 signal-caller,
Nick Schuessler
, leads a trio of quarterbacks that includes early enrollees Kelly Bryant and Tucker Israel. At North Carolina, meanwhile, the Tar Heels will have to go through spring drills without starter
Marquise Williams
, who is sidelined with a hip injury. That means
Mitch Trubisky
, who split time with Williams in the early part of the 2014 season, will run the first team this spring.
3. How does FSU replace Jameis?
More quarterback talk, you say? Why of course! Florida State lost just one game in two years with
Jameis Winston
as its starter, so replacing him is no easy task.
Sean Maguire
is back after an uneven performance in his lone start last year, but he will have to battle it out with redshirt freshman
J.J. Cosentino
, a former ESPN four-star prospect, and early enrollee
De'Andre Johnson
, another four-star prospect.
[+] Enlarge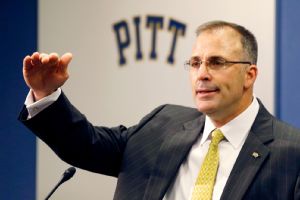 AP Photo/Keith SrakocicPat Narduzzi spent the past eight seasons as Michigan State's defensive coordinator.
4. What does Narduzzi bring to Pitt?
There is just one new head coach in the ACC this time around. And, once again, he resides in the Steel City. Pat Narduzzi is the fourth different head coach to open a spring in Pittsburgh since 2010, but he walks into a pretty good situation. The Panthers boast junior studs in
James Conner
and
Tyler Boyd
on offense, and Narduzzi's defensive roots should prove valuable to a Panthers unit that struggled down the stretch last season.
5. How will BC's offensive makeover look?
Few coaches have had as much early success at new stops as Steve Addazio has had at Boston College, taking a two-win team from 2012 to consecutive 7-6 seasons. In 2013, he rode Heisman finalist running back Andre Williams to a strong finish. In 2014, he relied on dual-threat transfer quarterback
Tyler Murphy
. This season Addazio promoted receivers coach Todd Fitch to offensive coordinator after Ryan Day left for the Philadelphia Eagles, and he is looking for a more balanced attack. This could be more challenging considering he'll be without a senior signal-caller for the first time.
6. Will early enrollees make an impact?
We already mentioned Johnson at FSU, but five-star safety Derwin James could have an easier path to the field, given the Seminoles' openings in the secondary. So, too, could five-star receiver George Campbell. Similar circumstances at North Carolina could allow four-star linebacker Andre Smith to start early, especially on a Tar Heels defense that had a staff makeover and is in need of a massive turnaround from 2014.
7. Can Clemson's defense again be dominant?
The Tigers boasted the nation's No. 1 defense last season, but they said goodbye to plenty of talent. Coordinator Brent Venables will have his work cut for him, but bringing back
Shaq Lawson
,
D.J. Reader
,
Ben Boulware
, Mackensie Alexander and
Jayron Kearse
is certainly a good starting point for a team that appears to be the early league frontrunner in 2015.
8. Will Louisville keep it going defensively?
The Cardinals' defense was one of the bigger surprise of 2014, Bobby Petrino's first year back with the program. But all of those playmakers came from the past regime, and Petrino will be counting on transfers with troubled pasts to pitch in this year: former Georgia safety
Josh Harvey-Clemons
, former Georgia corner
Shaq Wiggins
and former TCU linebacker Devonte Fields.
9. Can Miami take advantage of the talent at its disposal?
Brad Kaaya
,
Joseph Yearby
,
Gus Edwards
and
Stacy Coley
give the Hurricanes a great starting point this spring. But Miami likely has to figure out its retooling offensive line in order to take advantage of its weapons.
Questions on how this team went 6-7 last year continue to mount
, and now will be as good of a time as any for the Canes to get things going and change the conversation.
10. Will Notre Dame get a quarterback answer?
The Irish's inaugural year of quasi-ACC membership helped bring us arguably the game of the year, at Florida State. This year the Irish, who return 19 starters, will face six ACC teams, including contests against potential division frontrunners Clemson and Georgia Tech. But who is directing the offense under center will likely be determined this spring, as
Everett Golson
and
Malik Zaire
will battle it out after splitting reps in Notre Dame's bowl win over LSU. There is also always the chance that Golson, who said he graduates this spring, could transfer and play his fifth season elsewhere this fall.
February, 18, 2015
Feb 18
2:00
PM ET
Before Steve Addazio arrived at Boston College, the Eagles went through a revolving door of offensive coordinators.
So when Ryan Day left for the
Philadelphia Eagles
last month, the last thing Addazio wanted to do was make wholesale changes at that particular spot. So he promoted receivers coach Todd Fitch to offensive coordinator, believing the move to be as seamless a transition as possible.
"I didn't want someone to come in here and start over again," Addazio said in a recent phone interview. "It's been a developed path we've been on, so I wanted to make sure we had continuity. I felt our players and our team needed continuity. One of the raps here was -- I forgot how many coordinators they had here over the last six years. That's unnecessary given the fact that I'm extremely involved in everything that happens on a day to day basis on offense.
[+] Enlarge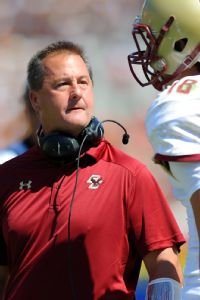 Chris Williams/Icon SportswireOne of the biggest challenges for new offensive coordinator Todd Fitch will be breaking in a new starting quarterback.
"Todd had been a very successful coordinator, and I've worked with him now for two years. I'm very comfortable with Todd. He's an experienced, veteran playcaller, has a great, even temperament and is a sharp guy, so I thought that was just a match."
The two had never worked together until Addazio hired him at Boston College in 2013, but Fitch came with great references. He worked previously with Urban Meyer, Dan McCarney and Charlie Strong -- all good friends with Addazio. Fitch even served in Meyer's wedding.
He has plenty of coordinator experience, having served in the same role at USF, East Carolina and UConn. The fundamental principles behind the BC offense will not change. But that does not mean the Eagles will look the same in 2015.
The biggest emphasis in the spring will be on the throwing game, an area that BC has not had much success. With
Andre Williams
leading the rushing charge in 2013, BC ranked No. 13 in passing offense. With dual-threat quarterback
Tyler Murphy
leading the way last season, BC ranked last in passing offense. The Eagles attempted only 243 passes, compared to 635 rushing attempts.
Now, that does not mean BC is going to move away from rushing the ball. The Eagles still plan on being a physical, aggressive run team. But Addazio is hoping for a little more balance to his offense, especially with quarterbacks capable of slinging the ball downfield.
Darius Wade
,
Troy Flutie
and early enrollee Elijah Robinson will share the reps this spring in an open quarterback competition. Wade served as the backup last year, but he only attempted eight passes and had two rushes. All three will get a look to win the starting job.
"We think all our quarterbacks have really good throwing capability," Addazio said. "We're going to spend a lot of time to develop third down and to enhance our first- and second-down throws. That's a focal point for sure. …
"We'll always be heavy run, but Darius can flat out throw the ball and we've got some receivers now, so we really feel like this is the time to try and develop that piece of the game. As I told the offense, when we go winner/loser, I'm going to say, 'OK, we're going to move the ball today by just throwing it. Here we go, get it done.'"
Addazio, however, faces a different challenge with his offense headed into this season -- he does not have a veteran quarterback. Nor does he have a seasoned offensive line. With Rettig and Murphy he had seniors. Whomever wins the starting quarterback job will be making his first career start in the season opener.
"We're going to have our challenges," Addazio said. "There's going to be some real hurdles along the way both at quarterback and the line position this year. But whatever they are, everything we put in is like putting into an annuity in the bank. We're going to get it all back again. How much are we going to get back this season? I don't know, but I know between this season, next season and the season after, we're going to get it all back. And that's when you start to have a real good program."
February, 16, 2015
Feb 16
9:00
AM ET
A pair of ACC staffs underwent a reshuffling this weekend, as Boston College and Virginia divvied up duties with spring practices approaching.
BC promoted Todd Fitch to offensive coordinator and quarterbacks coach, and hired Brian White to replace Fitch as its receivers coach. White spent the last six years at Florida, most recently coaching running backs.
UVa, meanwhile, announced that associate head coach for defense/defensive coordinator Jon Tenuta will coach safeties, while Mike Archer will move from safeties to linebackers and be promoted to associate head coach. Volunteer assistant Brian Wetzel was named a graduate assistant as well.
"In making my evaluations of the program since the end of last season and discussing this with the coaching staff, we all felt these moves would benefit our defense, particularly with the makeup of the returning players," Cavaliers coach Mike London said in a release. "It also benefits our program by placing Jon and Mike with position groups they have spent the majority of their careers coaching."
The Hoos had previously hired Chris Beatty (running backs) and Dave Borbely (offensive line). Larry Lewis moved from running backs to tight ends and will continue coordinating special teams.
At BC, Fitch succeeds Ryan Day, who left for the Philadelphia Eagles. White, a Massachusetts native, had coached with Steve Addazio and Justin Frye for two years with the Gators.
"I am very excited to promote Todd as our quarterbacks coach and offensive coordinator," Addazio said in a release. "Trust and continuity are two very important factors that went into my decision. It is my belief that our program needs to continue to grow and develop within the same system, continue to improve the areas of strength and to attack the areas that need improvement. I have always had great involvement in the offense and will continue to do so. Therefore, it is extremely important for me to be on the same page as the rest of the offensive coaches. With Todd's leadership and tremendous experience as an offensive coordinator in three different coaching stops, I am confident that he will help us continue to develop and bring us to new heights."
Here are the rest of your Monday links:
January, 15, 2013
1/15/13
5:30
PM ET
Boston College announced Tuesday that it has hired Todd Fitch to coach receivers and retained assistant Al Washington, who will now coach the running backs.

Fitch spent the last three seasons as offensive coordinator at USF. Before that, Fitch spent three seasons as offensive coordinator and quarterbacks coach at East Carolina.
"Todd is a guy I've known a long time," coach Steve Addazio said in a statement. "He's been a coordinator at USF, he's been a coordinator at East Carolina. He's been a wide receivers coach, quarterbacks coach at South Carolina. He's been at Iowa State with Dan McCarney. He has coached with and worked with guys that I am very good friends with. He's got a tremendous depth of knowledge in the throw game. He's been involved in a lot of similar philosophies that I've been involved with. We both have a broad-based background. He'll be tremendous addition to our offensive staff and have a great emphasis on the throw game with Ryan [Day]."
Washington worked as assistant special teams coach and assistant defensive line coach at Boston College in 2012. He came to Boston College after serving as linebackers coach at Elon University in 2011.
"I think Al is a tremendous guy with a lot of passion for Boston College," Addazio said. "I think he's got a lot of energy. He came here. He played here. He's had the BC experience. He gets it here. I'm hiring him to coach the running backs."