October, 30, 2014
Oct 30
2:30
PM ET
One safety grew up a Michigan fan but ended up at Ohio State, the other safety was raised in Ohio but ended up at Michigan. Naturally,
Jeremy Cash
and
Ray Vinopal
now lead the defenses of No. 24 Duke and Pitt, respectively.
Each unit will try to make a statement Saturday in the Steel City. After all, they are just less than 14 months removed from a performance that each has been trying to forget.
"It's hard to swallow exactly what happened," Cash said of watching last year's game against the Panthers.
[+] Enlarge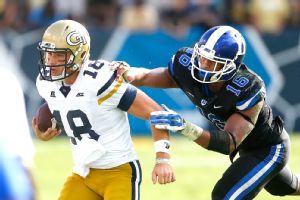 AP Photo/John BazemoreJeremy Cash has stepped into a leadership role on a young Duke defense.
"There were just a lot of guys not doing what they were supposed to do," Vinopal said, able to laugh a year later with the win in his back pocket.
Pitt won that contest last September, 58-55, a score that would have made each school's basketball program proud. From there, the Panthers went six straight games without surrendering more than 24 points. The Blue Devils, meanwhile, ran the rest of the regular-season table, winning eight straight before falling in the ACC title game.
Much has changed in the last year, both teams insist. Pitt was in just its third game under defensive coordinator Matt House, whose unit ranked 14th nationally in scoring average (18.6) before this past Saturday's 56-28 loss to Georgia Tech. Duke was just four games removed from a 2012 campaign that saw it finish last in the ACC in scoring defense. The Blue Devils improved steadily throughout last season's run, and this year find themselves second in the league and fifth nationally in scoring defense (15.1 ppg) behind fifth-year coordinator Jim Knowles.
"We've had a lot of young people in the secondary, still are fairly young, but we've just really had to try to grow up our defense, and I think the thing we've done best is become systematic, because you see so many different things," Duke coach David Cutcliffe said. "You see, Pitt themselves, they line up in two tight ends, and two backs, a 270-pound fullback in the game, they can get into three- and four- wide receivers. And we see just about everything you can imagine in college football, and so Jim Knowles and the defensive staff have done a much better job I think over a period of these years, putting us in a systematic approach, where our guys understand what we're trying to do.
This year's unit has taken on the identity of Cash, a redshirt junior from Miami who for whatever reason grew up rooting for the U of M not in his backyard. He instead fell in love with coach Jim Tressel and the Buckeyes, enrolling four months before the coach's resignation. He played as a freshman but sought a new landing spot upon the arrival of Urban Meyer, who had not offered the in-state product when he was coaching Florida. Tressel spoke highly of Cutcliffe, who had yet to take Duke to a bowl game at that point. Cash's faith has been rewarded, though, with the 6-1 Blue Devils postseason-bound for the third straight year and looking for more this time around.
Cash is fifth in the ACC in tackles per game (nine) and tops in forced fumbles, with three. His five stops behind the line of scrimmage are tied for the team lead. He was named one of 15 semifinalists Monday for the Jim Thorpe Award, given to the nation's top defensive back. He turned things up another level, he said, upon seeing linebacker and fellow defensive captain
Kelby Brown
go down in camp with an ACL tear.
"We had a lot of our senior leaders graduate," Cash said, "therefore I felt that I needed to step up in the back end because we did have a lot of youth and inexperience."
His path parallels that of the guy looking to send 4-4 Pitt bowling again despite dropping four of its last five games. Vinopal, a redshirt senior with 38 stops and two picks to his name, anchors a very young and thin secondary under first-year position coach Troy Douglas.
The Youngstown, Ohio native, initially went to Michigan, earning a starting role during Rich Rodriguez's final year as coach. A coaching change there prompted Vinopal to seek a new locale, and though neighboring Pitt offered an uneasy new start -- coach Todd Graham departed after his only season, when Vinopal sat out -- the Paul Chryst regime has offered stability these past three years for a safety who had been heavily involved with Chryst's old Wisconsin team back in the recruiting process.
"It's definitely an unconventional path, and I'm just blessed and fortunate to have gotten pretty much the luck of the draw," Vinopla said. "Sometimes times were a little tough and it didn't seem like I was heading in the direction where I had envisioned or where my goals had been set to go, but luckily I kept working and grinding away and ended up in a good situation."
July, 9, 2014
Jul 9
10:30
AM ET
Chad Voytik
committed to Pitt during the short-lived Todd Graham era. He made it a point to stay after Graham's departure, and his two-plus years with Paul Chryst have proven to be productive.
Voytik stepped in for an injured Tom Savage during last year's Little Caesars Pizza Bowl, playing the entire second half and rushing for a score to cap a 30-27 win over Bowling Green. He now enters his redshirt sophomore season as the expected starter under center for the Panthers, with a nice little momentum boost carrying him through this offseason.
ESPN.com caught up with Voytik this week to chat about his expectations for 2014.
What's been going on behind the scenes before camp opens next month?
Chad Voytik:
We usually throw every day before our workouts and then we'll lift, of course, lift and run, so we're getting in good shape, we're getting stronger and we're working on our timing as well, our mechanics and all that stuff. And then I've tried to really attack the film room as well. I've spent a lot of time with our GAs and stuff, so it's been a really helpful time for me as far as learning and studying opponents' film and stuff, so it's been a really important time for me.
[+] Enlarge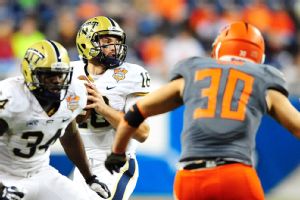 David Dermer/Diamond Images/Getty ImagesChad Voytik said he benefited from playing in the Little Caesars Pizza Bowl. "It was honestly probably the best thing that could happen," he said.
What specifics are you working on?
CV:
I'd say No. 1, I'm just trying to continue to work on my feet and to not always escape -- in other words, be able to step up and deliver throws if they're there. So continue to work on that. And you can never get too accurate, so I'm still continuing to drill in that and throw to receivers and stuff and try to get that as well as I can.
Take me back through the Pizza Bowl. We all know what happened. What were the emotions and nerves like for you when Tom went down?
CV:
Being a backup quarterback sometimes isn't the easiest thing, and Tom took some nice hits throughout the year. So your stomach drops, you start warming up, it's not a great feeling. And then going into the bowl game I knew he was still a little bit banged up, and I saw him take that shot to the ribs and (he) got up slow. And immediately you're filled with nerves and you're getting anxious. ... It was definitely nerve-wracking at first, but honestly, it's a close game and we all needed to come together closer for the second half. As soon as you get out there it goes away and it's just football again.
Looking back, how much confidence has that given you going into this year?
CV:
It was honestly probably the best thing that could happen. Of course (I) never want Tom to get hurt, but just having that little bit of experience when there was an actual game on the line, it wasn't just mop-up duty, it was really key for me I think as far as confidence and leadership and stuff, so (I) definitely carried some momentum over into the offseason and hopefully continue to carry it over.
How do you balance being the No. 1 guy without officially having the title of starter yet?
CV:
It's still a competition. Coach Chyrst always says there's nothing bad about competition, in that he always wants us competing, and he would never declare a starter now. And it truly is an open competition right now, so I'm just continuing to work and just staying hungry, because nothing's guaranteed, and continue just to try to work like I am the starter and hopefully I can step into that role.
We all know about Tyler Boyd. Who else do you feel is going to step up in the passing game?
CV:
Manasseh Garner
's I guess a pretty familiar face, and he's been working really hard. And we have some young guys, we have freshmen coming in working hard. It's tough to pinpoint on one guy. My receiving corps, they've been out there every day with me just working really hard and always eager to work and always asking me if I'm going to throw that day or whatnot, so I really appreciate that out of them. It's helped me a lot, because if they're ready to work then that means even if I don't feel like it I have to be ready to work and then we're all getting better because of it, so it's definitely been good.
The parallels are obviously there on the surface: A Paul Chryst protege, undersized, No. 16. How often do the Russell Wilson analogies come your way? Ever talk to him or Coach about him?
CV:
They don't come my way a lot. I've definitely heard it at times, but I always tell Coach Chryst: 'If I can be a successful college quarterback, then go on to win a Super Bowl trophy, then you can start comparing me.' (laughs) I'm always asking him about what Russell did, what Scottie Tolzien did. I always want to hear how they worked and how they approached it, because they all have regrets, they all have things they learned, and I want to know what they learned throughout their experience with him. So I ask him a lot about specifics, like, 'When Russell is put in this position, how would he react?' So different things like that, because it's really interesting to me, and it wasn't too long ago he was coaching him, so I like to hear that stuff.
Going back to when you first signed with Pitt: Why was it important to you to stick with Pitt after the guy who recruited you left? What stood out about Coach Chryst?
CV:
The reason I stayed, I think honestly, is because I had already built relationships here. I was already committed for such a long time and I already felt locked in. Yeah, I could've de-committed, but to a certain degree, it wouldn't have been productive for me. I liked everything about Pittsburgh and I liked the people. Coach Chryst being the man that he was, I could tell his honesty, how different he was from the past regime and stuff. So it was just the right thing to do, I felt. He laid out a nice plan, and you just knew from the time he walked in here that he wanted to change things. And it wasn't the same pep talk that every coach comes in with, like ready to change the whole program. He was willing to change it from the inside out, he did it the right way and I think we all saw that.
Seeing Tom's pre-draft stock take the kind of rise it did and ending up in a good situation down in Houston, did you talk to him during that time? And just from your perspective, being close with him and knowing that he went through some of the things you're about to go through, what did you make of all that?
CV:
I was so happy for him. If anyone deserves it, it's Tom. Just a great guy. He just got engaged actually. Just a great guy, and I was so happy for him. And yeah, I'm thrilled. I'll be texting him when camp starts or whatever if I need any advice or guidance, because he's always been kind of, not a mentor, but he's always been a really good friend of mine, and he's had the experience. Definitely someone I can lean on when I need words of wisdom.
January, 27, 2014
Jan 27
12:00
PM ET
Didn't watch the Grammys. Can we still be friends?
August, 20, 2013
8/20/13
5:30
AM ET
The Early Offer is RecruitingNation's latest feature, giving you a daily dose of recruiting in the mornings. Today's offerings: Todd Graham has done a good job of expanding Arizona State's recruiting borders, Bret Bielema has Arkansas rolling in state with 2015 prospects and whether Miami fans should be worried about Brad Kaaya's appearance at a USC practice.


April, 8, 2013
4/08/13
3:30
PM ET
So Pitt running back
Rushel Shell
is
not going to be free to choose any school
he wants to play for after leaving the Panthers.
Call me blindsided.
Err, not.
[+] Enlarge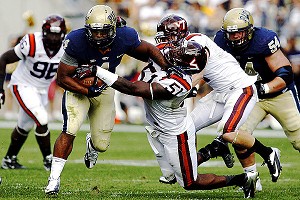 Charles LeClaire/USA TODAY SportsIf Pitt has its way, running back Rushel Shell won't be playing for former Panthers coach Todd Graham at Arizona State.
Our friends over at the Pac-12 blog seem to have a different take on the report that Shell won't be allowed to play at Arizona State. Ted Miller sarcastically notes
Pitt hates freedom
in his column wondering why the school would place restrictions on where Shell can continue playing ball.
I should now take the time to clarify something.
Pitt does not hate freedom. It hates Todd Graham.
Well, maybe hate is a strong word. Pitt strongly dislikes Todd Graham. Though it has been over a year since Graham left for Arizona State, folks up in Pittsburgh are still smarting from the way Graham left the Panthers at the end of the 2011 season. Graham was roundly eviscerated not just in Pittsburgh but the entire college football world for a series of events that went something like this:
1. Graham campaigned for the Pitt job, seeing a bigger opportunity than the one he had at Tulsa.
2. Got hired after the Mike Haywood debacle and proclaimed Pitt to be his "dream job."
3. Went 6-6 in his only year and then interviewed with Arizona State without permission from his superiors.
4. Took the Sun Devils job without a word to his players, and refused to acknowledge Pitt officials who actually went to his home and stood on his doorstep asking for an explanation.
Graham
set the Pitt program back
. And though time has passed, it has not healed all wounds. I present former Pitt defensive lineman Chas Alecxih, who played for the Panthers when Graham turned his back on them. Alecxih
took to Twitter
on April 2 to say, "Can't blame a kid for transferring if he is unhappy... unless he goes to play for the coach at ASU then I blame him for being very foolish."
Now, we can sit here and debate whether or not teams have the right to dictate where a player can transfer. Schools wield the power; student-athletes simply have to go along. Many aspects of the system as currently constructed are totally backward.
Is this fair to Shell? Heck no, it is not fair. But because of the rules that are in place, Pitt has a right to place restrictions on where Shell can play into the future. Why should the Panthers allow their best player to waltz on over to Benedict Graham simply because he had a change of heart? Pitt has its own self interest to protect.
Ted writes, "Not a single Pitt fan truly believes Pitt is acting like a bastion of higher learning and integrity with this decision."
Right. Because Todd Graham had a whole bunch of integrity when he left for another opportunity while working at said bastion of higher learning, leaving players behind without a care for their future. You know one of those players he left behind? That would be Shell, who had committed to the Panthers when Graham was still head coach.
January, 1, 2012
1/01/12
11:00
AM ET
Incredibly enough, Clemson offensive coordinator Chad Morris was coaching high school football just a few years ago in the state of Texas.

And who did he meet back then? None other than West Virginia coach Dana Holgorsen, who was an assistant at Texas Tech and Houston at the time.

"I had met Dana at a couple clinics down in College Station at the Lone StarClinic," Morris said. "I met him there and listened to him speak. Obviously his time at the University of Houston they'd recruit in our areas. And then when he moved on to Oklahoma State, we played against him when I was at Tulsa. So as far as just meeting him, knowing him, and I've met him a couple times, I know he's a very sharp-minded football coach on the cutting edge, and that's always great to see, how he grows his offense. They definitely have those guys going.

"As a high school coach in state of Texas, that is one of the guys that you always looked at, and again, always on the cutting edge of things."

Indeed, it was Todd Graham who gave Morris his first opportunity on the collegiate level, hiring him to serve as offensive coordinator at Tulsa in 2009. Holgorsen and Graham had some bad blood between them during that time. After Houston beat Tulsa that season, Holgorsen had accused Graham of having his players fake injuries to slow down his tempo.

Holgorsen and Graham said back in November they had worked out their differences. After the success he had at Tulsa, Morris moved on to Clemson this season and just got a huge raise. He also likes to run a quick tempo, just like Holgorsen, which is why all eyes will be on these offenses come Wednesday in the Discover Orange Bowl.
ACC SCOREBOARD
Saturday, 12/20
Monday, 12/22
Tuesday, 12/23
Wednesday, 12/24
Friday, 12/26
Saturday, 12/27
Monday, 12/29
Tuesday, 12/30
Wednesday, 12/31
Thursday, 1/1
Friday, 1/2
Saturday, 1/3
Sunday, 1/4
Monday, 1/12
Tweets from https://twitter.com/ESPNCFB/lists/acc