August, 4, 2012
8/04/12
1:00
PM ET
By
ESPN.com staff
| ESPN.com
As ACC teams begin to start practicing again, Andrea Adelson and I will have a quick preview of each team to get you caught up on the basics. Next up to open camp …
School:
North Carolina
Start date:
Friday

Projected finish at ACC media days:
Third in the Coastal Division
Biggest storyline: The Larry Fedora era begins.
There has been a much-needed fresh start in Chapel Hill, and it all starts with the energetic new head coach whose offense is as up-tempo as his personality. Fedora has said repeatedly that the bowl ban and NCAA sanctions won't deter his players from giving their all this fall, and the fact that they know what the sanctions are and can put the past behind them is a victory in itself. Fedora is right; those within the program and around it are tired of hearing that four-letter word (NCAA). It's time to play football and see just how good this team can be after a complete overhaul of both the staff and philosophies.
Biggest position battle: Nose tackle.
Sophomores
Shawn Underwood
and
Devonte Brown
are competing for the starting job, but neither has much experience. Underwood was listed as a co-starter at defensive tackle, and was one of 10 true freshmen to play last year. He had shoulder surgery immediately after spring practice. Brown also played as a true freshman last year, but his time was limited to the season opener against James Madison.
Who needs to step up: Wide receivers.
This group has to increase its production in order to compensate for the loss of Dwight Jones, who accounted for nearly a third of Carolina's receiving yardage last year and scored nearly half of the team's receiving touchdowns.
Erik Highsmith
,
Jheranie Boyd
and
Todd Harrelson
will get the spotlight, but ideally, Fedora would like to have at least three receivers on the field the majority of the time, and eventually four or five at times. The group isn't quite ready for the latter yet, but if Fedora's offense is going to work, the receivers need to be ready for the "Fed spread."
Opening camp
September, 17, 2011
9/17/11
2:37
PM ET
By
ESPN.com staff
| ESPN.com
From a Tar Heels release:
University of North Carolina junior cornerback/punt returner Todd Harrelson has been suspended indefinitely for violating team and university rules. His suspension is not related to the NCAA investigation.

Harrelson is the team's starting punt returner and is a reserve cornerback. He played wide receiver his first two seasons at UNC. He has four punt returns for 38 yards through the first two games of the season.
August, 26, 2011
8/26/11
9:30
AM ET
By
ESPN.com staff
| ESPN.com
Snoozing on the Tar Heels? Don't. They're strong up front. In case you missed summer camp …


Everett Withers has officially taken over, and on the field, there haven't been many drastic changes since the Butch Davis era ended. The offensive line remains the best it has been in about a decade, and on both sides of the ball, there's not a true weakness up front. There's also plenty of talented depth behind them.
In addition to a new coach, the Tar Heels have ushered in first-year starting quarterback Bryn Renner. He has been consistently good this summer, but the question remains how he'll fare in game situations. He's a high-energy player who might have to curb his enthusiasm a bit to keep the offense under control. Renner needs to stay healthy and play well, because there's not a lot of answers behind him.
The running back situation remains a question, as starter Ryan Houston wore a noncontact jersey all summer because of a fractured scapula he suffered in the spring game, and Giovani Bernard was noncontact about half the time because of a fractured bone in his hand. There is some excitement surrounding Bernard because he has a different style than Houston, but he hasn't played yet.
UNC found it has some good, young tight ends in Eric Albright and Jack Tabb , but there are also veterans like Nelson Hurst and Christian Wilson. UNC likes to feature the tight end in its offense, so the player who emerges from that group will be a factor.
Linebackers Zach Brown and Kevin Reddick have already developed a reputation as strong players, but the staff is still trying to figure out who the third linebacker is. Ebele Okakpu has been in the program for four years, but has the light switch finally come on?
The biggest questions remain in the secondary, where the one true weakness remains. Charles Brown will miss the season opener because of NCAA issues, and Jabari Price, the other expected starter at cornerback, is out with an injury. Tre Boston moved from safety to cornerback, and the other cornerback is a true freshman, Tim Scott. UNC moved receiver Todd Harrelson to corner and he will help out with the second team, but he hasn't played the position since high school.
The return game and special teams struggled last season, with the exception of kicker Casey Barth, and they remain questions because they can't be practiced live. Game time will determine how much the Tar Heels have improved in these areas.
March, 11, 2011
3/11/11
12:30
PM ET
By
ESPN.com staff
| ESPN.com
North Carolina starts spring ball at 3:30 p.m. on Wednesday. A few notes on who will and won't be participating:
Freshman tailback Giovani Bernard, who tore his ACL on the third day of 2010 fall training camp and redshirted after undergoing surgery Aug. 19, will participate in select periods of spring practice as he continues his rehabilitation.
Sophomore quarterback A.J. Blue is also healthy. He played in the first six games as a true freshman in 2009 before tearing three ligaments in his left knee against Georgia Southern. Blue, who redshirted last year, will compete for the vacant quarterback position along with junior Braden Hanson, sophomore Bryn Renner and January enrollee Marquise Williams.
Sophomore wide receiver Joshua Adams and sophomore cornerback Terry Shankle will not be available this spring as they continue to recover from medical issues. Adams was diagnosed in January with ANCA Vasculitis, an auto-immune disorder that affects his kidneys. His playing status for next fall will be updated this summer. Shankle is still recovering from an ACL (left) injury he suffered in Carolina's win over William & Mary in October.
Senior cornerback Charles Brown returns this year, but must sit out the first game of the 2011 season and repay benefits as a condition of becoming eligible to play again, according to a recent decision by the NCAA student-athlete reinstatement staff. The NCAA determined Brown accepted benefits in the amount of $86.94 from an individual identified as a prospective agent prior to the 2010 season. Carolina opens the 2011 season Sept. 3 against James Madison.
Wide receiver Todd Harrelson will focus on his academics this semester and will not participate in spring workouts.
Defensive end Linwan Euwell has left the university and will not return in 2011.
December, 30, 2010
12/30/10
10:53
PM ET
Here's a quick recap of North Carolina's
30-27 win
in two overtimes over Tennessee in the Franklin American Mortgage Music City Bowl:


How the game was won:
With instant replay. Thanks to an official review, the Tar Heels got one more chance and one second back on the clock in regulation -- just enough time for Casey Barth to tie the game at 20 with a 38-yard field goal. Regulation ended with terrible clock management by North Carolina, as the Tar Heels let about 11 seconds run off the clock before spiking the ball. The officials said "the game is over" and mass confusion ensued before they decided on putting a second back onto the clock. Tennessee imploded with three costly penalties in the final 30 seconds, including a 13-yard personal foul that landed the Heels on the 12-yard line to start overtime. UNC quarterback
T.J. Yates
scored with a 1-yard run in overtime, but Tennessee answered right back, sending it into a second overtime. Tennessee quarterback
Tyler Bray
, who got a little brash in the first overtime, threw an interception in the second overtime and Barth kicked the game-winning, 23-yard field goal.
Turning point:
With 25 seconds remaining in the game,
Todd Harrelson
's catch for 28 yards was reviewed, upheld, and a 15-yard personal foul was tacked on, setting the Tar Heels up with a first down on the Tennessee 37-yard line. It was the play in regulation that kept UNC's hopes alive for a chance at a field goal to send the game into overtime.
Stat of the game:
North Carolina held Tennessee to just 27 yards rushing.
Player of the game:
UNC kicker Casey Barth. His 39-yard field goal tied the game at 20 and sent it into overtime, and his 23-yard kick gave the Tar Heels their first bowl win since 2001.
Unsung hero of the game:
UNC running back
Shaun Draughn
. Filling in for suspended starter
Anthony Elzy
, Draughn ran for 160 yards and one touchdown with an average of 7 yards per carry.
What it means:
UNC took the next step in the postseason under coach Butch Davis and won the close game, snapping a three-game bowl losing streak. It was a fitting end to a season defined by Carolina's relentlessness through the NCAA investigations. North Carolina hasn't been at full strength all year because of injuries and the investigations, but they've dug deep all season to find ways to win, and this game was a microcosm of that effort.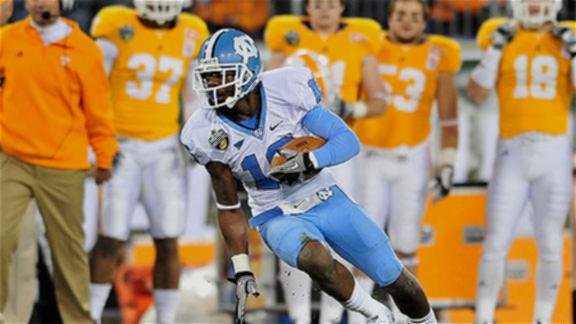 September, 4, 2009
9/04/09
3:55
PM ET
By
ESPN.com staff
| ESPN.com

Posted by ESPN.com's Heather Dinich
UNC sophomore wide receiver
Dwight Jones
had successful arthroscopic surgery on his right knee Friday at UNC Hospitals. The surgery was performed by Dr. Tim Taft. Jones is expected to be out for two to three weeks. His status will be updated weekly on Carolina's injury report.
Jones, who played in three games as a true freshman in 2008, was listed as a starter on Carolina's depth chart before this week's knee injury.
The bad news: UNC's already thin, inexperienced receiving corps just got younger. Jones' backup is true freshman
Joshua Adams
, and while Adams has received plenty of praise from those within the program this summer, he's still a freshman who will be making his first collegiate start on Saturday against The Citadel. The next receiver in line after Adams is redshirt freshman
Todd Harrelson
. Juniors
Greg Little
and
Johnny White
will anchor the group.
The good news: It looks like Jones could return in time for the Georgia Tech game. Could.
June, 29, 2009
6/29/09
11:00
AM ET
By
ESPN.com staff
| ESPN.com
Posted by ESPN.com's Heather Dinich

Biggest reason for hope -- Defensive front-seven
The Tar Heels return all four starters on the defensive line and have excellent depth, so defensive line coach John Blake should be excited. Defensive tackle Marvin Austin, now a junior, is one of those recruits who lived up to the hype and he tied with E.J. Wilson for the most tackles (38) by a Carolina defensive lineman. Robert Quinn became a starter in the second game of the season, and massive defensive tackle Cam Thomas (6 foot 3, 330), finished the season with 34 tackles, 3.5 tackles for loss and one sack. Those guys, combined with standout linebackers Bruce Carter, Quan Sturdivant and Zach Brown, should give UNC one of the best defensive fronts in the ACC.
Biggest reason for concern -- Wide receivers
This one is a no-brainer. UNC has to rebuild its entire receiving corps, as the Tar Heels lost players that accounted for 17 of their 21 receiving touchdowns in 2008. The only player who returns with any significant playing experience is Greg Little, who moved from running back midway through the season and had just 11 catches. Little is now the veteran of the group, and is one of the most talented athletes on the roster. He'll have to help usher Dwight Jones, Todd Harrelson, Joshua Adams and Rashad Mason along. The inexperience here will force everyone to be even more precise with the timing of patterns and routes, and the yards-after-catch stat is likely to decrease until the comfort zone increases. It will also test quarterback T.J. Yates' accuracy, as he'll need to hit these young players in the numbers.
June, 24, 2009
6/24/09
11:00
AM ET
By
ESPN.com staff
| ESPN.com
Posted by ESPN.com's Heather Dinich
Last fall, UNC quarterback T.J. Yates was leading the ACC and ranked 12th nationally in passing efficiency before he suffered a non-displaced fracture of his left ankle against Virginia Tech and missed the next five games. He still completed 60 percent of his passes (81 of 135) for 1,168 yards, 11 touchdowns and just four interceptions.
| | |
| --- | --- |
| | |
| | Paul Jasienski/Getty Images |
| | T.J. Yates will have a new group of receivers to work with this season. |
His health will be key to the Tar Heels staying in contention for the Coastal Division title this fall, and right now, he's feeling great. Yates found some time to chat this morning, and it sounds like the Tar Heels are taking their summer workouts a bit more seriously this year.
Check it out:
I just wanted to check in and see how this summer is going for you, seven-on-sevens, and when you were cleared to play from your picnic incident. I'm tip-toeing around that one.

Yates: I knew that was coming. I've been throwing for a couple of months. It wasn't long before I got back. As soon as it got out of the splint I was back throwing again pretty quickly. It wasn't really affected at all. It only took about a week of rehab and I was back to normal.
It's been good. We've been going three, four days a week doing OTAs [organized team activities] and seven-on-sevens. We're trying different things, trying to get as many people out there as we can. It's kind of tough with everybody's schedules, because everybody has study halls and class. We're trying to get everybody out there at the same time, but we've done a pretty good job.
We usually go Monday, Wednesday, Thursday and Friday at 5 o'clock, doing one-on-ones, seven-on-sevens, individual stuff, try to get prepared as much as we can going into training camp. We've been doing a good job with conditioning and working hard in the weight room. The conditioning, we're getting pretty serious. We're stepping it up as opposed to the last offseason, trying to make better strides and get in better condition.
June, 3, 2009
6/03/09
8:58
AM ET
By
ESPN.com staff
| ESPN.com
Posted by ESPN.com's Heather Dinich
I think I might be underestimating North Carolina. Butch Davis has a good football team that's hungry to win, and it learned from last year's mistakes and realized a good season could have been a great season. Here's the thing, though: Everyone else in the Coastal Division is getting better, too, and it's a tough step to go from eight wins to 10. Davis has a methodical approach to what he's doing, though, and the staff and players have bought into it. Offensive coordinator John Shoop was nice enough to give me some time on Tuesday and go over the Tar Heels' offense a bit. Shoop, also the quarterbacks coach, is a good guy and a smart coach who can get pretty animated at practices. It was a pretty long interview, so I'll post it in two parts.
Where did you think the offense made the most progress this spring?
John Shoop: I think that we continued to get better at situation football. From the first to the second year we really made an emphasis on getting better at third downs. We went from one of the worst in the country to in the top third. We tried to really get better at red zone football. The one situation we didn't get as good as we needed to was the two-minute, so we worked really hard on the two-minute offense this spring as well. With T.J.'s [T.J. Yates] experience, we're continuing to get better at situation football.
Those aren't the only situations -- second-and-long, cutting it in half, playing from the middle of the field, playing from the fringe, playing backed up. The analogy I make is it's like a golf course: There are guys who can hit the ball well, but then they go out and shoot a 90. Part of it deals with scoring. The guys in our offense, with more maturity we understand what it takes to score well. We were second in the ACC in scoring last year, but I think we can even be better. These guys feel like they left a lot out there, and we don't want to waste those opportunities.
That's gotta be a huge difference. I think I read where Butch said in the News & Observer that you can talk to them as much as you want, but until they get out there and learn it for themselves, it's a totally different ballgame.
JS: Right. Butch has always said we're drawing on experiences we've had together. Often times it seemed like the first two years it was like, 'When I was at Chicago, or, when I was at Carolina, this was what happened.' Now it's like, 'Hey do you remember that Maryland game? We've got to get that ball up-and-down when we're on the fringe.' That's really helped our guys to grow.
You mentioned T.J. How much of a concern is his durability?
JS: Endurance and durability, I tell our team all the time are the two most underrated qualities in a football player. You can't practice if you don't have endurance and durability, and you can't get better if you don't practice. T.J. is a tough son of a gun. He played the bulk of his freshman year, a bit of it with an injured shoulder and really stuck it out. Last year he broke his foot. You break your foot, you break your foot. The thing we love about T.J. is he came back from that and finished up strong in two games. Like all of us, you're greatest strength is your greatest weakness. When he injured his thumb, we were at a team function.
We had different stations where our team for summer conditioning had been broken up into different teams, and he was competing like heck. A piano player probably isn't going to go out and play volleyball or Frisbee golf worrying about his fingers. T.J., if you put him in a situation where you're keeping score, he's going to compete. I was there, coach Davis was there, it wasn't a situation where he was just out horsing around.
He's fine, he's throwing now, everything is great. People ask me about his durability, and I think every player has to have endurance and durability. It's an underrated quality. I talked to him about it a lot, but I also talk to our wideouts, our o-line, and our tailbacks. Is it a concern? Yeah, because it is for everybody.
Speaking of the wideouts, how long realistically do you think it's going to take before those guys aren't thinking as much as they're just playing?
JS: I hope not long. We're a concept driven team. Our formations may change, but our concepts are always the same. Dwight Jones, Joshua Adams, Todd Harrelson, Greg Little, Johnny White -- these guys understand the concepts. They can go out there on their own right now and practice the individual routes that make up the concept and they get it. I think really what they need to do is adjust, keep working with our quarterbacks.
The big part about playing wide receiver -- we'll get them running the right routes, that won't be the problem -- they need to develop a rapport with the guy throwing the ball. That's what Hakeem did so well, sometimes to a fault. Like I said, you're greatest strength is your greatest weakness. Well, Hakeem [Nicks] would get in the quarterback's ear -- 'I need the ball, I need the ball.' Well, you're covered and the other three guys are wide open. There's a fine line.
I think that these guys right now are all working their tails off to develop a rapport with the quarterbacks. That's more important to me, because you know, sometimes you have to throw to a guy and he's not really open. But you have to trust: Either he's going to come down with it, or the ball is going to be left on the ground. That's what Hakeem and Brandon [Tate] did for our quarterbacks, is, 'Don't worry, if I'm right with the guy, don't worry, I've got you.'
Jamal Womble looks like he's going to be a good third guy for you. Is he a player fans should keep an eye on? He's kind of a fireplug.
JS: I imagine that's a little bit what Natrone Means looked like in college. He's built low to the ground, and is a tough guy to tackle. The thing you always worry about that when guys are hard to tackle, is you worry about ball security. He's working his tail off on that. He takes a lot of hits because he doesn't go down so easy. If he can take care of the ball security and keep working his tail off this summer -- he could still shape his body a little bit. He knows that. Yeah, we're certainly encouraged by Jamal Womble. He's a tough guy to tackle.
Who are some other players who are newcomers Carolina fans might get to know a little better this fall?
JS: I think we had some good springs from some guys who may not show up in the box score. Mike Ingersoll at one of the tackle positions has really made some strides. He's up over 3.5 GPA-wise as well. You invest feelings in guys like that, who do everything right and work their tails off. He's a first-in, last-to-leave guy. He really sets a high standard for those guys. I think he's really going to compete for playing time at the tackle spot.
Another guy who is in the same category of you love him, you root for him, is Ed Barham at the tight end spot. All of our tight ends really were excited when they saw Rich [Quinn] go in the second round. That can serve as a real motivational tool. The way those guys practiced, and
Ed's got a chance to really help us. He may not always show up in the box score, but he's a strong blocker. He and Zack Pianalto are working their tails off to again develop a rapport with the quarterback. Those tight ends, they're not always wide open. You've just gotta stay between the defender and the ball.
Stay tuned for Part II.
March, 4, 2009
3/04/09
9:24
AM ET
By
ESPN.com staff
| ESPN.com
Posted by ESPN.com's Heather Dinich
The Tar Heels begin spring practice today and coach Butch Davis and his staff have a lot of work to do in order to improve upon last year's impressive eight-win season. At the top of the list is finding a few players who can catch the ball.
Here are the highlights of our conversation, with the warning that Davis turns around programs faster than he tends to answer questions (not that there's anything wrong with that):
| | |
| --- | --- |
| | |
| | Bob Donnan/US Presswire |
| | Greg Little will be someone the Tar Heels look to this season. |
Everyone knows you have a lot to replace at wide receiver. What can you tell me about the guys who have the potential to step in there this spring?
BD: That will probably be our No. 1 main objective going into the spring, at least from a position standpoint, is replacing those three unbelievably talented wide receivers. And Cooter Arnold was a really significant player when we got into four wide receiver packages, but having said all that, I think that we've got five guys on campus right now that we're excited to find out about. They've had an opportunity to watch for this last year or so. They watched those three guys practice, how hard they practiced, how much film they studied, how much trust and confidence they developed with the quarterback, and certainly Greg Little is probably the most experienced player that we have. He's played wide receiver, and he's started games at wideout, he's played as a running back. He's got pretty significant game experience.
After that, then most of the guys, they're kind of somewhat young, but we think they've got some talent. Dwight Jones was one of the most highly recruited receivers in the country a couple of years ago. We think he is poised to step in and be able to contribute and do some things. We're also very excited about Todd Harrelson, a receiver we recruited last year that redshirted this past season. We think that he's got some things he can certainly bring to the table. One of the most highly recruited kids in last year's class was Josh Adams, that enrolled in midterm. So he's been going through our offseason program and that was part of the recruiting program, knowing a year ago we were going to lose some guys to graduation. We didn't know Hakeem (Nicks) was going to go out early in the draft, but that was one of the things in trying to get Josh. We knew he'd be able to come in at midterm. We've got another kid that's going to be a junior, Rashad Mason.
A lot of these guys have been waiting in the wings, flying under the radar, so to speak, because we had those three guys that did probably 85 percent of the playing over the last two years. So now will be a time for us to really work with some consistency, some continuity in the springtime, and it will be an ongoing process all summer long and certainly into training camp. We think by the start of the season we've got some other kids we signed -- we signed three other receivers to come in in this class that we think they'll have an opportunity to add a little bit to the position.
March, 2, 2009
3/02/09
10:44
AM ET
By
ESPN.com staff
| ESPN.com
Posted by ESPN.com's Heather Dinich
Speaking of replacing receivers ... North Carolina has some issues. The Tar Heels bumped back the start of their spring practices from Monday to Wednesday (it doesn't affect the date of their spring game). Obviously coach Butch Davis will need to find a few guys who can catch the ball this spring, but the bulk of the competition at the position is expected to come during summer camp. The players who are on campus now, though -- like freshman Joshua Adams -- will obviously have a head start.
UNC only lost eight starters from its 2008 bowl team, but five of them were on offense, including the top three receivers. Last year's group of Brandon Tate, Brooks Foster and Hakeem Nicks accounted for 114 receptions, 1,932 yards and 17 of the 21 receiving touchdowns. The Tar Heels return just 18.1 percent of their receiving yards from 2008. The only other ACC school with a smaller returning percentage is Virginia, with 17.6 percent (the Cavaliers lost Kevin Ogletree, Cedric Peerman, John Phillips, Maurice Covington and Cary Koch).
Here's a look at who will be in the mix in Chapel Hill this spring to try to account for that lost yardage:
Joshua Adams -- ESPN.com has Adams rated as the No. 36 wide receiver in the class of 2009, although he committed to UNC on signing day with the class of 2008. At 6-foot-4, 200 pounds, Adams played both receiver and defensive back in high school. He is from Cheshire, Conn., but played his first three years at Cambridge (Mass.) Rindge & Latin before transferring to Cheshire for his final season. He had 56 catches for 1,131 yards and 14 touchdowns as a senior.
Todd Harrelson, rs. Fr. -- He was considered to be the No. 60 receiver in the class of 2008, and has the potential for that fun YAC (yards after catch) stat. Our experts say he's got the ability to turn a short catch into a long gain. Harrelson is from Chesapeake, Va., where he caught 46 receptions for 892 yards and 13 touchdowns while leading Oscar Smith High to a 13-1 record as a senior.
Dwight Jones, soph. -- He was an outstanding recruit three years ago, and it's his second year in the program. Jones signed with UNC in the class of 2007, but failed to qualify and went to Hargrave Military Academy in 2007-08. He played sparingly last year, and is still waiting for his first collegiate catch, but is a big, physical receiver who can create some mismatches.
Rashad Mason, rs. soph. -- He redshirted in 2007, and didn't make any catches last year. Mason finished his senior season with 26 catches for 610 yards and 13 touchdowns at Pearl-Cohn High School in Tennessee.
February, 23, 2009
2/23/09
10:35
AM ET
By
ESPN.com staff
| ESPN.com
Posted by ESPN.com's Heather Dinich
As we head into spring football, there will be some pretty big names missing from the rosters -- Clemson needs to replace its starting quarterback, safety and running back, Duke lost the ACC's leading tackler, Virginia lost its leading receiver and rusher, BC lost its starting defensive tackles, Georgia Tech needs to replace three of its four starting defensive linemen, and UNC needs to replace all of its top receivers -- just to name a few. There will also be plenty of replacements within coaching staffs.
Here are the five biggest shoes to fill in the ACC this spring:
| | |
| --- | --- |
| | |
| | Mark Goldman/Icon SMI |
| | Aaron Curry finished his career at Wake Forest with 332 tackles. |
Virginia Tech cornerback Victor "Macho" Harris -- Not only will the Hokies lose one of their top defenders, they'll also lose a true leader. Last season, Harris had 14 passes defended and six interceptions -- including two returned for touchdowns -- and two forced fumbles. One option is to move Stephan Virgil to the other side like the staff did when Brandon Flowers left. Another is to let a few players battle it out. Rashad Carmichael started the game Harris missed due to injury.
Florida State defensive end Everette Brown -- He led the league in sacks and tackles for loss. Brown's season sack total was 13.5 and his career sack total was 23. Markus White, who was Brown's backup in 2008, earned his first sack against Clemson, and is the front-runner to succeed Brown. Kevin McNeil also has experience at the end position.
Wake Forest linebacker Aaron Curry -- The Butkus Award winner finished the regular season with a team-leading 101 tackles and 15 tackles for loss. Curry finished his career with 332 tackles and a school-record 278 career interception return yards. Jonathan Jones was Curry's backup last season and has some experience there.
UNC receiver Hakeem Nicks -- Nicks set UNC single-season records in 2008 for receiving yards (1,222) and touchdowns (12). In just three seasons, Nicks established 14 school records at UNC, including career receptions (181), career receiving yards (2,580) and career touchdowns (21). The staff recruited several receivers who are expected to compete for time this fall, but Joshua Adams, who enrolled in January, could have a slight edge because he'll be practicing this spring. Sophomore Dwight Jones should also be in the mix, along with Todd Harrelson and Rashad Mason.
Boston College coach Jeff Jagodzinski -- He took the Eagles to back-to-back ACC title games, including 2008, when little was expected of the Eagles in their first season without Matt Ryan. Jagodzinski left Boston College with a 20-8 record (11-3 in 2007, 9-5 in 2008). Former defensive coordinator Frank Spaziani will be in his first season as a head coach.