April, 29, 2013
4/29/13
10:30
AM ET
Florida State followed up its big first round with a huge NFL draft weekend, as the Seminoles led every program in the nation with 11 total picks, setting a new school record.
That's right. The Noles had more picks than national champion Alabama (nine) and SEC power LSU (nine), two schools that played for the national championship following the 2011 season. More than in-state rival Florida (eight), too.
Those numbers are clear validation the Seminoles have restocked their cupboards with an inordinate amount of talent as they re-emerge in the national conversation.
"It's a great indication of how the program is truly developing," coach Jimbo Fisher said in a statement. "I think it shows we're getting back to national prominence. Our players are doing a great job of representing themselves on and off the field leading to chances at the next level. I'm happy for all of these guys and want to thank them for helping return this program back to the national spotlight."
Overall, the ACC had 31 players taken for the ninth straight season, finishing second behind the SEC.
Here is a quick look back at all the selections:
First round
No. 7 Jonathan Cooper, OG, Arizona
No. 16 EJ Manuel, QB, Buffalo
No. 24 Bjoern Werner, DE, Indianapolis
No. 25 Xavier Rhodes, CB, Minnesota
No. 27 DeAndre Hopkins, WR, Houston
No. 28 Sylvester Williams, DT, Denver
Second round
No. 37 Giovani Bernard, RB, North Carolina
No. 40 Cornellius "Tank" Carradine, DE, San Francisco
No. 42 Menelik Watson, OT, Oakland
No. 51 David Amerson, CB, NC State
Third round
No. 73 Mike Glennon, QB, Tampa Bay
No. 89 Brennan Williams, OT, North Carolina
Fourth round
No. 127 Malliciah Goodman, DE, Atlanta
Fifth round
No. 136 Earl Wolff, S, Philadelphia
No. 141 Oday Aboushi, OG, New York Jets
No. 143 Jonathan Meeks, S, Buffalo
No. 149 Brandon McGee, CB, St. Louis
No. 154 Chris Thompson, RB, Washington
No. 162 Brandon Jenkins, LB, Washington
Sixth round
No. 171 Corey Fuller, WR, Detroit
No. 173 Vinston Painter, OT, Denver
No. 177 Dustin Hopkins, PK, Buffalo
No. 180 Nick Moody, LB, San Francisco
No. 187 Andre Ellington, RB, Arizona
No. 189 Mike James, RB, Tampa Bay
No. 206 Vince Williams, LB, Pittsburgh
Seventh round
No. 214 Travis Bond, OG, Minnesota
No. 215 Tommy Bohanon, FB, New York Jets
No. 224 Kevin Dorsey, WR, Green Bay
No. 229 Everett Dawkins, DT, Minnesota
No. 249 Sean Renfree, QB, Atlanta
Incoming member Syracuse had three players drafted as well: tackle Justin Pugh in the first round to the New York Giants; quarterback Ryan Nassib in the fourth round to the Giants; and safety Shamarko Thomas in the fourth round to Pittsburgh.
And now a few notes:
North Carolina had the second-most picks from the ACC with five -- its highest total since five were picked in 2011. The Tar Heels had three offensive linemen selected, the most from UNC in the draft since 1967.
Miami had its NFL draft streak extended to 39 consecutive seasons with Brandon McGee and Mike James both getting selected.
Virginia also had its draft streak extended to 30 straight seasons with Aboushi's selection.
Tommy Bohanon Bohanon became just the third Wake Forest fullback to have his name called in the draft, joining Ovie Mughelli (Ravens, 2003) and Neil MacLean (Eagles, 1958).
With four selections in this year's draft, Clemson has now had 23 players chosen over the last five years, and at least four every year Dabo Swinney has been head coach. It is the first time in history Clemson has had at least four players drafted each of the last five years.
Georgia Tech did not have a player selected for the first time since 2005. Three players with draft hopes ended up with free agent deals: T.J. Barnes (Jacksonville), Izaan Cross (Buffalo) and Rod Sweeting (New Orleans).
Pitt did not have a player drafted for the second consecutive season. Running back Ray Graham, who was the Panthers' best hope for selection, signed as an undrafted free agent with the Texans.
Here are a few other notable free-agent signings: Conner Vernon (Oakland), Chibuikem "Kenny" Okoro (San Diego), Marcus Davis (New York Giants), Lonnie Pryor (Jacksonville).
March, 22, 2013
3/22/13
4:00
PM ET
Eight more ACC schools have completed their pro days. Here is a look at some of the highlights:
BOSTON COLLEGE
Twelve former Eagles participated during the Eagles' pro day.
Representatives from 12 different teams were there, including the Patriots and Saints.
Linebacker Nick Clancy, who was unable to attend the NFL scouting combine because of a broken arm, was satisfied with his performance, telling the MetroWest Daily News, "It's something you train for three months for. I've been doing nothing but working out and eating right, and getting my body right for this day, so I think I did well and hopefully the scouts thought I did well, too."
FLORIDA STATE
GEORGIA TECH
Eight Jackets participated. The top two draft prospects -- TJ Barnes and Rod Sweeting -- did not run the 40 again, choosing to stand on their numbers from the combine. There are still some concerns about Barnes' weight.
Quarterback Tevin Washington says he will play any position in the NFL. He ran a 4.63 in the 40-yard dash.
Offensive linemen Omoregie Uzzi did only the bench press as he recovers from an injury. He was able to lift 225 pounds 22 times.
MARYLAND
Fourteen former Terps participated in pro day.
Tight end Matt Furstenburg, who has seen his draft stock rise over the past month, did not participate in the testing portion because of solid numbers from the combine. He ran the 40 in 4.62 seconds, third among tight ends. Furstenburg also placed third in the vertical jump (35.5 inches), fifth in the 20-yard shuttle (4.35) and fourth in the 60-yard shuttle (11.76) at his position. He did do some field drills.
NC STATE
All eyes were on quarterback Mike Glennon and cornerback David Amerson. Glennon stood on his numbers from the combine, but did participate in field drills. He impressed at least one draft analyst with his performance at pro day.
Amerson only did the vertical (38.5) and long jumps (11).
C.J. Wilson ran the fastest 40 time on the day, a sprint of 4.33.
Earl Wolff has peaked at the right time. He stood on all his numbers from the combine except the vertical (36).
VIRGINIA
Tackle Oday Aboushi, expected to be the top Cav taken in the draft, improved on the numbers he posted at the combine in the bench press and 40. He had 21 reps at 225 and ran the 40 in about 5.3. Aboushi told The Daily Progress, "I didn't put up the numbers I wanted to (at the combine). The schedule was a little rough on me. I didn't bench as well as I thought I was going to do. ... I could kind of redeem myself at pro day. I definitely had something to prove at pro day."
VIRGINIA TECH
All workouts were closed to the media, so not much data is available about how the former Hokies in attendance performed.
Offensive tackle Vinston Painter only did position drills for the scouts, happy with his numbers from the combine.
Linebacker Bruce Taylor, on the other hand, did everything but the bench press. He believes he improved on his 40 time, which was an eyebrow-raising 5.01 seconds.
WAKE FOREST
Eight former Deacs participated.
Fullback Tommy Bohanon has the best shot at getting drafted. He chose to stand on the numbers he posted at the combine in the bench press (36 reps at 225), vertical and broad jumps. According to NFL.com, Bohanon ran the 40 in 4.76 and 4.79 to improve on his combine time of 4.88. Bohanon told The Winston-Salem Journal, "I didn't do anything on the inside with the bench press, but I did all the drills out here, and I improved a little, so that was good."
For a look back at the headlines from Clemson, Miami, Pitt and Syracuse,
click here
.
February, 27, 2013
2/27/13
11:00
AM ET
The poking, prodding, interviews and drills have wrapped up at the NFL combine in Indianapolis. Now let's take a quick look at who stood out from the ACC during the all-important event.
The defensive backs were the last group to go, wrapping up Tuesday. And there were some pretty good performances. Miami cornerback Brandon McGee posted one of the fastest 40 times at the combine, running a 4.40 to rank him No. 13 among all participants. He also was a top performer in the bench press and 20-yard shuttle run. Those numbers will not do anything but help his draft stock.

[+] Enlarge

AP Photo/Dave MartinNC State cornerback David Amerson showed off his speed at the NFL combine, clocking a 4.44 in the 40-yard dash.

NC State cornerback David Amerson was out to prove himself at the combine after an up-and-down 2012 season. He definitely opened eyes with his performance, which NFL Network analyst Mike Mayock described as "excellent." Amerson ran a 4.44 in the 40 and was also a top performer in the vertical jump.

Those two guys were not the only fast defensive backs at the combine. Of the players with the top 15 times at the position, six have ACC ties. Rod Sweeting of Georgia Tech (4.42), Shamarko Thomas of Syracuse (4.42), Xavier Rhodes of Florida State (4.43) and Earl Wolff of NC State (4.44) were among the fastest.

Speaking of Rhodes, his vertical leap was incredibly impressive, at 40.5 inches to tie for first among all defensive backs and rank No. 3 overall. He also was a top performer in the broad jump, and certainly helped himself with his day. So did Thomas, one of the most underrated players in college football last year. Though Thomas made some headlines after he fell at the end of his 40, he had a huge day. He also leaped 40.5 inches and was a top performer in the 20-yard shuttle and broad jump.

The ACC had several top performers in the bench press as well. Wake Forest fullback Tommy Bohanon tied for No. 4 overall with 36 reps and was also a top performer in the vertical jump and 60-yard shuttle. Also in the top 15 overall for bench: North Carolina guard Jonathan Cooper (35), NC State guard Zach Allen (32) and Virginia Tech offensive tackle Vinston Painter (32). Speaking of Cooper, ESPN draft analyst Todd McShay said the lineman "had one of the more impressive workouts."

Florida State quarterback EJ Manuel had a nice combine himself, though he was inconsistent with his throws. Manuel was a top performer in the broad jump, ranking No. 3 among all quarterbacks after jumping 9 feet, 10 inches. He also was a top performer in the 40 (4.65), vertical jump (34), 3-cone drill (7.08) and 20-yard shuttle (4.21) to rank among the top 5 in each category.

The folks at Scouts Inc. had this to say about Clemson receiver DeAndre Hopkins, a top performer at his position in the bench press and vertical jump (36): "His 4.57 in the 40 is about what we expected. His game is more about being physical, though, and Hopkins showed good ball skills. He is was one of the most natural pass-catchers on the field, with good focus in the gauntlet drill and the ability to extend fully for balls." He's got a second-round grade.

Virginia Tech receiver Marcus Davis put up some good numbers as well, topping his position with a vertical jump of 39.5 inches, while also posting good numbers in the 40 (4.56) and bench press (19 reps). It's never been about physical talent for Davis, so the numbers aren't much of a surprise. He has to put it all together on the field.

Now for running back: North Carolina's Giovani Bernard was a top performer in various categories. He ran a 4.53 in the 40; and was a top performer in the 20-yard shuttle and 60-yard shuttle. Miami running back Mike James also put up some good numbers.
January, 28, 2013
1/28/13
10:30
AM ET
What a great finish for former Florida State quarterback
EJ Manuel
's collegiate career.
Less than a month after helping lead his team to a Discover Orange Bowl win against Northern Illinois, Manuel was named
the Most Outstanding Player
of the
Senior Bowl
. Manuel passed for a touchdown and rushed for another on the South's first two drives in a
21-16 victory over the North on Saturday
. He completed 7-of-10 passes for 76 yards, one touchdown and one interception. He also had four carries for 10 yards and a touchdown.
Former Miami running back
Mike James
, a late addition to the roster, also made an impact in the game, scoring a touchdown on a five-yard run with 2:41 left in the game. He also had three catches for 11 yards, and six carries for 10 yards. Former Duke receiver
Conner Vernon
led the South team with four receptions, and finished with 36 yards.
Defensively, former FSU linebacker
Vince Williams
had a big day, picking up where he left off
in the Senior Bowl practices

. Williams was second on the South team with six tackles (four solo). Teammate
Everett Dawkins
had four tackles and was credited with .5 sack.
A few other
stats of note
:
Former Wake Forest fullback Tommy Bohanon had two catches for six yards.
For the North team, former NC State quarterback Mike Glennon completed 8-of-16 passes for 82 yards.
Former FSU kicker Dustin Hopkins had his lone field goal, a 52-yard attempt in the second quarter, blocked.
Hopkins' four kickoffs averaged 63.2 yards and he had two touchbacks.
Former UNC defensive tackle Sylvester Williams had two tackles.
Former UNC linebacker Kevin Reddick had two tackles.
January, 25, 2013
1/25/13
12:00
PM ET
The hits keep coming at Florida State.
January, 22, 2013
1/22/13
3:30
PM ET
Kevin Weidl of Scouts Inc. is at Senior Bowl practices, scouting it out as the nation's best seniors prepare for their final audition for the NFL. There are plenty of ACC representatives on the Senior Bowl rosters, and some of them have already made an impression. According to Weidl's
latest practice report
from Mobile, Ala., a pair of former UNC players stood out.
Weidl wrote that
Sylvester Williams
was the best player from Day 1:
"Of anyone on the field, the guy who had the best practice was North Carolina's Sylvester Williams. He has strong, powerful hands and had a tackle for a loss in nine-on-seven. His combination of quickness and power -- with his hands and his feet -- is really disruptive."
At linebacker, Weidl wrote that UNC's
Kevin Reddick
had a good day:
"Reddick is an enforcer in the run game, good in tight quarters and can blitz."
Regarding the quarterbacks, Weidl wrote that NC State's
Mike Glennon
"is the easiest thrower of the football."
On Glennon:
He has a big stature, strong arm. The ball comes out easy for him. He had a little trouble with his accuracy. He was a little high on both of his throws in the seam route, one of which was intercepted in team period. And he still holds the ball too long.
Here's a look at the ACC representatives on updated versions of the Senior Bowl rosters, with their current heights and weights:
NORTH
Mike Glennon, QB, NC State (6-6, 220)
Kevin Reddick, LB, North Carolina (6-1, 246)
Sylvester Williams, DT, North Carolina (6-2, 313)
SOUTH
Stay tuned this week for more Senior Bowl updates.
January, 2, 2013
1/02/13
3:15
PM ET
The Senior Bowl announced another group of participants to its annual all-star game, with three more ACC players added to the roster:
They will join NC State quarterback
Mike Glennon
, Florida State quarterback
EJ Manuel
, Florida State kicker
Dustin Hopkins
, Clemson defensive end
Malliciah Goodman
, Florida State defensive tackle
Everett Dawkins
, North Carolina linebacker
Kevin Reddick
, and Virginia offensive tackle
Oday Aboushi
, who all were previously announced.
Williams has got one of the
more incredible back stories
of any player who will be in Mobile, Ala., for the game on Jan. 26. He was expelled from high school, then worked various jobs after he eventually graduated before ending up in junior college. From there, he wound up at North Carolina, made the All-ACC team this year and is en route to having his NFL dreams come true.
December, 21, 2012
12/21/12
12:00
PM ET
Welp. No world coming to an end means more lunch links for you!
November, 15, 2012
11/15/12
3:00
PM ET
SOUTH BEND, Ind. -- Some of Notre Dame's seniors committed following a three-win season. Others hopped aboard amidst staff uncertainty.
Three and four years later, the Irish are staring perfection in the eye with one home game remaining against Wake Forest, and their coach is hoping that is not lost among the sea of emotions that will accompany many for this weekend's senior day festivities.
"The most important thing is for them to get the proper perspective through the week," Brian Kelly said. "In other words, yes, it is your last home game, but we've got a lot in front of us. What you'll remember most is whether you win the game, not that it was your last home game. So make sure that you keep the distractions to a minimum. And if there is any emotion let that be after the game. Let's have the emotion after the game celebrating a great victory.
"So, yeah, there is a little bit of dialogue and conversation about that. Our guys have been around it. They know what it's like. I expect them to handle it appropriately."
[+] Enlarge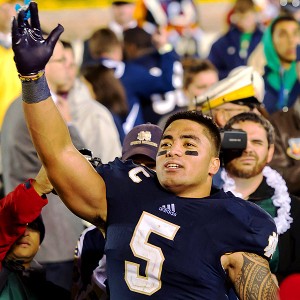 Matt Cashore/US PresswireManti Te'o saw the raw emotions of senior day before he even committed to Notre Dame.
Consider the message the same for Saturday's visitors, who feel they let a huge upset chance slip away last year in a close loss at BB&T Field and are intrigued by the chance of eliminating a national title contender with two weeks left in the season.
"I feel like most of our team knows that it's football. This is a game that most of us have played since we were 5 years old," Demon Deacons fullback
Tommy Bohanon
said. "For me and a lot of the team, once we get out there and we're on the field with those guys, it's just business as usual, and we'll be able to play the game."
If the Irish are vulnerable this year, it has been at home.
Their starting quarterback,
Everett Golson
, has been pulled at one point or another in three home games and was knocked out of another, forcing him to miss one more contest. Notre Dame has needed four total overtime periods to come away with five wins by 23 combined points, and 10 of its 13 turnovers have come in front of the home crowd.
"I think what you find is that most good team find a way to win," Wake Forest coach Jim Grobe said. "It's not always the prettiest win, but a win is a win and they've won them all. You know that they know how to do it. I think if you have a chance late, you have to make plays. We have a big challenge. This is a really good Notre Dame football team."
Twenty-six Irish players will take part in a pregame ceremony to honor their final contest inside Notre Dame Stadium, and no one will draw a bigger reaction than Heisman candidate
Manti Te'o
.
The linebacker's first visit to Notre Dame was for the team's 2008 senior day, a loss to Syracuse that ended with the home players getting pelted with snowballs from the stands.
That memory has stuck with Te'o, though for a different reason.
"For that to be their last experience in that stadium, I could really feel that," he said. "So amongst the cold and the snow and all that, I think the worst part of that was to see the pain in the players' eyes as they were crying leaving the stadium -- not because they lost, but because that was their last experience playing under the dome."
Kelly has just one memory of his senior day, 29 years ago at Div. III Assumption, and he does not want it sticking with his players.
"I don't remember the emotion of the game as much as losing the game after," he said. "So I want to make sure that we don't have that experience for our guys."
August, 8, 2011
8/08/11
10:00
AM ET
By
ESPN.com staff
| ESPN.com
Some schools file practice reports. Others don't. For those that do, here's a quick summary and where to find the highlights from this past weekend:
August, 17, 2010
8/17/10
12:30
PM ET
By
ESPN.com staff
| ESPN.com
August, 21, 2009
8/21/09
9:30
AM ET
By
ESPN.com staff
| ESPN.com
Posted by ESPN.com's Heather Dinich
Wake Forest kickers Cline Beam, Jimmy Newman and Shane Popham continued to make progress on Thursday in the Deacs' second scrimmage of the summer. Popham and Beam each hit two field goals, while Newman made his only attempt. Popham hit from 37 and 30 yards out, Beam from 24 and 37 and Newman from 25. Four of the five field goals came while the Deacs were working on their red zone offense, beginning each drive at the defense's 15-yard line.
Other highlights:
Fullback Tommy Bohanon rushed for two touchdowns on just five carries. He scored on a seven-yard run to cap a 10-play drive and then punched it in from one-yard out to finish off an 11-play drive. The freshman totaled 13 yards on five carries.

Quarterback Riley Skinner and wide receiver Chris Givens connected for a 39-yard touchdown on the fourth play. Skinner also hit tight end Cameron Ford for a 20-yard touchdown to cap a seven-play drive. Skinner finished the day completing 11 of 12 passes for 161 yards and two touchdowns. His only incompletion was a dropped pass.

Kevin Harris led all rushers with 12 carries for 61 yards, an average of 5.1 yards per carry.

Jordan Williams led the receivers with three catches for 49 yards, while Givens finished with two catches for 61 yards. A total of 12 receivers caught at least one pass on Thursday.

Josh Bush led the defense with seven tackles, including four solo and 1.5 for loss.