June, 25, 2013
Jun 25
3:30
PM ET
We move on in our series looking at the weakest and strongest positions on each team in the ACC with North Carolina:
Strongest position: Quarterback

Bryn Renner
is one of the more unheralded quarterbacks in the country, but he quietly has also been one of the best, and is poised to build on that this fall. Renner enters 2013 as one of the most accurate passers in ACC history (66.7 career completion percentage), with a career pass efficiency rating of 154.59 -- the fifth-best among active players nationally and a mark which would be the best in ACC history for a career. Last season he tied the UNC single-game record with five touchdown passes against Louisville. He finished with 3,356 passing yards, 28 touchdowns and seven interceptions. He also completed 65.4 percent of his passes.
Weakest position: Linebacker
The Heels have to replace two starting linebackers, including one of their top defenders in Kevin Reddick, who had 31 career starts. Junior
Tommy Heffernan
(72 tackles) is now the leader of a group which includes junior
Travis Hughes
(38 tackles), and a pair of redshirt freshman in
Nathan Staub
and
Dan Mastromatteo
. Heffernan and Hughes both emerged from the spring as the leading candidates to take over at weakside linebacker, with Hughes having a slight edge. Both will be relied upon heavily, though. Staub and Mastromatteo have been competing to take over Reddick's job in the middle.
More in this series here.
March, 6, 2013
Mar 6
11:00
AM ET
North Carolina starts spring practices today in what will be coach Larry Fedora's second season. The Tar Heels finished 8-4 last year and atop the Coastal Division standings, but were ineligible to play for the postseason because of NCAA sanctions. This year, North Carolina is eligible and has a chance to be a contender again, but first it has to replace some big-time talent on both sides of the ball. I spoke with Fedora recently to get his take on where the program stands heading into the spring.
Here are the highlights of the first part of our conversation:
[+] Enlarge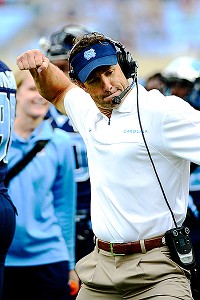 Bob Donnan/USA TODAY SportsBeing eligible for the postseason in 2013 has coach Larry Fedora and UNC pumped.
You had a great season in your first year, but this year you're eligible to compete for the ACC title. Does that change the perspective going in?
Larry Fedora:
It doesn't really change the perspective. For us, the objective is to be better in each of the three phases than we were at the end of the season. You've got some holes you have to fill with seniors who left who did some good things. We've got to identify the guys who are going to step up and fill those holes and who are going to make the plays. Are we going to pick up where we left off, or are we going to go back? Are we going to start backwards? For us, it's trying to pick up where we left off, and by the end of spring, be a better football team than we were in the last game.
What does the competition look like to replace Giovani Bernard?
LF:
For Gio, we've got
A.J. Blue
and
Romar Morris
, and we have a kid we signed out of Durham by the name of Khris Francis, who is in school. Those three guys will be competing for that playing time. It's the same thing I told them last year: For us it doesn't matter whether you are a freshman, sophomore, junior or senior. It's about producing, and the guys who produce are the ones who are going to be on the football field. We'll see in spring what those three guys do. Both Romar and A.J., they got extensive playing time last year, so they're going to feel comfortable with the system, and they'll be better players than they were last year.
What does quarterback Bryn Renner need to focus on this spring?
LF:
If you watched Bryn progress over the season, really about the last five games were maybe his best of the season. I think it's to pick up where he left off. Hopefully, with the position development stuff that we do in the offseason, Bryn will pick up where he left off and be better than he was at the end of the season. Leadership is huge, which Bryn is taking a hold of and running with. I think for him it's managing the game and taking advantage of what the defense gives us. That goes back to making great decisions. If we can make sure we improve in those areas, then he is going to be a better football player.
Overall, how do you think you guys look defensively? You lose some big names over there.
LF:
Yeah we lose
Kevin Reddick
, we lose Sly (
Sylvester Williams
), some pretty big names that are going to go on and play at the next level and do well. We'll be revamping in a lot of areas. We've got some young guys on the D-line that are going to have to step up and see who's going to emerge as a leader up there.
Kareem Martin
really needs to have a big year for us. He's a guy who's going to come back with the most experience.
Tim Jackson
is going to be a guy inside that's going to come back with the most experience. You've got
Shawn Underwood
, and you've got
Devonte Brown
, those are all guys who really need to have a great spring.
Ethan Farmer
, those guys. This spring is going to be very, very critical for their success. Justin Thompson and
Jessie Rogers
, they're not freshmen anymore. I think they're going to make some great improvement this spring. Then you go to the backers. I think this is really big for
Travis Hughes
. Travis Hughes needs to become the man. I'm looking forward to seeing what he does and
Tommy Heffernan
has to keep improving.
Check back Thursday for Part II of the conversation.
October, 15, 2012
10/15/12
12:00
PM ET
October, 8, 2010
10/08/10
6:07
AM ET
Out
Giovani Bernard
, RB, Knee
Greg Elleby, DT, Knee
Brendon Felder
, WR, Knee
Tommy Heffernan, LB, Shoulder
Shane Mularkey, LB, Shoulder
Doubtful

Quinton Alton, DT, Shoulder
Devon Ramsay
, FB, Thigh
Questionable
Quan Sturdivant, LB, Thigh
Probable
A.J. Blue
, QB, Knee
September, 30, 2010
9/30/10
6:48
PM ET
The key here is starting linebacker Quan Sturdivant and running back
Johnny White
, who are both listed as questionable. UNC can't afford to be missing any more players, let alone those two contributors.
Out

Giovani Bernard
TB Knee
Brendon Felder
WR Knee
Tommy Heffernan LB Shoulder
Shane Mularkey LB Shoulder
Doubtful

Matt Kolojejchick
RB Illness
Darius Lipford LB Concussion
Questionable
Hunter Furr
RB Knee
TJ Leifheit OL Ankle
Quan Sturdivant LB Thigh
Johnny White TB Ankle
Probable
AJ Blue QB Knee
Jared McAdoo DT Illness
Devon Ramsay
FB Ankle
September, 3, 2010
9/03/10
3:30
PM ET
Here are the injury reports from the schools that emailed them this week:
DUKE
TE
Cooper Helfet
(ankle) – QUESTIONABLE
S Quan Stevenson (leg) – OUT FOR SEASON
NORTH CAROLINA
Out
Giovani Bernard
– RB, knee
Brendon Felder
– WR, knee
Tommy Heffernan – LB, shoulder
Doubtful
T.J. Leifheit – OL, ankle
Questionable
A.J. Blue
– QB, knee
NC STATE
OUT
Brandon Barnes
, RB - ankle
Jarvis Byrd, CB - knee
Sylvester Crawford, DE - hip
R.J. Mattes, OG - knee
Quinton Payton, WR - finger
Jay Smith
, WR - groin
James Washington
, HB - hamstring
*Jesse Riley, DB - knee
*Rashard Smith, DB - knee
* - out for the season