August, 19, 2013
Aug 19
10:30
AM ET
Today, we're looking at Georgia Tech, which hopes to ride a strong second half -- and surprising appearance in the 2012 ACC championship game -- to bigger things this season.
Georgia Tech Yellow Jackets
[+] Enlarge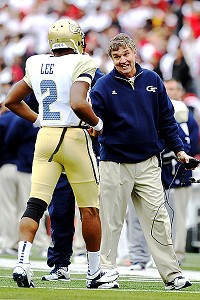 Mitch Stringer/USA TODAY SportsLed by coach Paul Johnson and quarterback Vad Lee, Georgia Tech has championship aspirations.
Coach:
Paul Johnson (149-65 overall, 40-26 at Georgia Tech)
2012 record:
7-7 (5-3 in ACC)
Key losses:
QB Tevin Washington, RB Orwin Smith, WR Jeff Greene, RG Omoregie Uzzi, CB Rod Sweeting, DT T.J. Barnes
Key returnees:
RB
David Sims
, QB
Vad Lee
, OG
Will Jackson
, DE
Jeremiah Attaochu
, CB
Jemea Thomas
, LB
Brandon Watts
Newcomer to watch:
Receiver DeAndre Smelter. Three years ago, Smelter was among the elite baseball prospects in the country, with a 95 mph fastball and raves from scouts. But a series of arm injuries derailed his career on the diamond, and now the 6-foot-3, 220-pound junior is giving football a whirl. He's impressed during fall camp, and his size makes him an obvious mismatch at receiver -- an area where Georgia Tech needed help.
Biggest games in 2013:
Sept. 26 vs. Virginia Tech, Oct. 5 at Miami, Nov. 14 at Clemson, Nov. 30 vs. Georgia
Biggest question mark heading into 2013:
The defensive line was hardly a strength for Georgia Tech last season, but there is some hope for improvement in 2013. Start with Attaochu's move from outside linebacker to defensive end this spring. He projects as one of the top pass rushers in the league. Tech managed just 28 sacks in 14 games last season, and ranked 70th nationally in yards allowed per rush. If the linemen can improve on those numbers this season, there's ample defensive talent behind them.
Forecast:
Two-thirds of Georgia Tech's vaunted triple-option backfield departed, and Washington and Smith took more than 1,300 yards and 25 touchdowns with them, but there is actually a feeling that this year's group might be more dangerous.
Lee is a star in the making. He's an excellent fit in Johnson's offense, and he got enough work last season that the bigger role won't be a shock to the system. At A-back, the depth of talent is impressive, too. Start with
Robert Godhigh
, who rushed for 429 yards and four scores in 2012, and now projects to take over as a starter.
Tony Zenon
,
Synjyn Days
and
B.J. Bostic
can help, too, while Sims looks to blossom at the B-back position.
If the offense can develop as Johnson hopes, the defense should be stout. A bevy of senior starters return, and Attaochu and Thomas have legitimate NFL potential. As a unit, the defense struggled badly at times last season, but after former coordinator Al Groh was fired midseason, there were signs of marked improvement.
In fact, it's that latter half of 2012 that offers the most hope. Georgia Tech rallied down the stretch to win three of its last four regular-season games, played Florida State close in the ACC title game, and won its first bowl game in seven years. That's the building block for 2013, but Johnson also has perhaps his most talented roster since taking over at Tech in 2008.
May, 29, 2013
May 29
2:00
PM ET
Georgia Tech released its
post-spring depth chart
on Wednesday without a whole lot in the way of big surprises.
Nothing is set in stone of course, as the Jackets use this chart as a starting point for the start of practice come Aug. 1. Among the highlights:
Start with quarterback. Vad Lee is listed alone as the starter, but coach Paul Johnson has repeatedly talked about the possibility of playing both Lee and Justin Thomas this season.
As for the A-backs, Robert Godhigh and B.J. Bostic are listed with the first team, but you figure this position is going to see plenty of competition come fall practice. Deon Hill OR Tony Zenon are behind Godhigh; and Synjyn Days OR Dennis Andrews are listed behind Bostic.
The Jackets return four starters on the offensive line, though they did some shuffling with right guard Omoregie Uzzi gone. Shaquille Mason moves over to right guard, while Will Jackson is penciled in at left guard. Veterans Ray Beno, Jay Finch and Morgan Bailey return to the starting lineup.
Two spots do not have a definitive starter listed -- one defensive end spot has Emmanuel Dieke OR Chris Crenshaw; and middle linebacker has Jabari Hunt-Days OR Daniel Drummond. Hunt-Days missed spring with an injury, allowing Drummond to see an increased number of reps.
With Jemea Thomas moving to cornerback, Chris Milton is penciled in to start at safety.
Adam Gotsis and Euclid Cummings are listed as the new starters at defensive tackle.
Receiver Anthony Autry, offensive lineman Freddie Burden and nose tackle Shawn Green are all listed as injured.
One more note to keep in mind: the depth chart does not include incoming freshmen, who could make an impact at kicker and wide receiver.
April, 19, 2013
Apr 19
10:00
AM ET
The rest of the ACC wraps up practice this weekend. Here is a look at what to watch at each spring game.

BOSTON COLLEGE
When: Cancelled.
UPDATE:
Boston College decided to cancel its spring game, set for Saturday, because of the tragic events that unfolded in the area this week. Though there is no game, these are still three keys for the Eagles as they move into the offseason.
Chase Rettig. Rettig has been through one coordinator too many during his career with the Eagles, and now he has to learn a new system that is not exactly the pro-style brand more suited to him. Coach Steve Addazio has said he will not force Rettig out of his comfort zone this year, but how Rettig handles yet another change is definitely something to watch.
The run game. Addazio has placed a heavy emphasis on the run game this spring. Does he have the talent and depth to improve the dreadful numbers from a year ago? With Rolandan Finch gone, senior Andre Williams has been the guy left to shoulder the load this spring. He says, "Bring it on."
More aggressive D? This will be a good chance to see how Don Brown has gone about revamping the defense. We have all heard how he wants to be more aggressive this year. Let's see it.

GEORGIA TECH
When:
Friday, 7:30 p.m. (Note: There is a threat of rain so a decision on whether the game will be played as scheduled will be made later today. As of this morning, the game is still on.)

NC STATE
When:
Saturday, 1:30 p.m., ESPN3
The quarterbacks. Starting to sound like a theme, right? Coach Dave Doeren has said he will not name a starter after spring practice. Pete Thomas and Manny Stocker are still learning the new system, and Doeren says, "They're getting better. I told somebody the other day: I just don't think it's fair to make a decision on a guy that doesn't know your offense yet. I think we've got to give those kids a chance to play football without thinking. We're not there yet."
The secondary. This group will have three new starters when fall rolls around, and much less game experience. Juston Burris is listed as the starter at the cornerback spot David Amerson leaves behind, while Hakim Jones and Jarvis Byrd are set to take the open safety spots.
The defensive ends. There is still open competition at both defensive end spots, according to the depth chart the team released ahead of the spring game. Art Norman and Forrest West are battling for one spot, while Mike Rose and Darryl Cato-Bishop are competing for the other.

SYRACUSE
When:
Saturday, noon.
Terrel Hunt vs. Charley Loeb. Hunt has reportedly gotten more of the first-team reps as the spring has gone on, but this is a good chance for both quarterbacks to make an impression on their coaches -- especially with Oklahoma transfer Drew Allen headed to Syracuse in the summer.
Defensive line. There is no question Syracuse has to work on building depth here because of several losses the group has taken. One player to watch is Iowa transfer John Raymon, who has worked at both tackle and end this spring.
Quinta Funderburk. Funderburk sat out last season after transferring in from Arkansas. He has made a few highlight catches during the spring scrimmages to catch some attention, and with Alec Lemon and Marcus Sales gone, Funderburk has an opportunity to become a go-to receiver on this team.

VIRGINIA TECH
When:
Saturday, 3 p.m., ESPN3
Logan Thomas and the offense. So, how does Thomas look under new offensive coordinator Scot Loeffler? His rebound from a mediocre 2013 is going to be huge for the Hokies this season.
The running backs. Nobody has really stepped up to take the starting job, although Trey Edmunds has had a good spring, including 86 yards and two touchdowns in the last scrimmage. JC Coleman, also vying for the job, is not expected to play because of a leg injury.
Brandon Facyson. It's no secret the Hokies need some help in the secondary, and every single report out of Blacksburg points to the freshman cornerback as being the next star on defense.

WAKE FOREST
When:
Saturday, 1 p.m., ACC Digital Network
The receivers. One of the big goals this spring has been to find another receiver to complement Michael Campanaro. Orville Reynolds, who moved from running back, has so far turned some heads with his performance, so keep an eye on him.
New faces. Two players who have drawn raves on defense this spring are defensive linemen Desmond Floyd and Johnny Garcia. In fact, coach Jim Grobe believes his defensive line has been a bright spot this spring because the group has been able to develop some depth.
Competition. This will actually be a scrimmage, not a game, because the Deacs simply do not have enough offensive linemen to split the team in two. At last check, Wake had seven healthy offensive linemen after Cody Preble injured his ankle in the last scrimmage.
April, 1, 2013
Apr 1
5:00
PM ET
Georgia Tech had its first day in full pads on Saturday, and it was a chance for new defensive coordinator Ted Roof to get a better look at the defense.

"We've got a long way to go," he said.
The standards have been raised, and that's a good thing -- Georgia Tech struggled defensively in the first half of 2012, and former coordinator Al Groh was fired midseason. The Jackets showed significant improvement, though, in their Sun Bowl win over USC, and there have been positive reviews following the hire of Roof.
The challenge now is to get some positive reviews out of Roof.
"There were some good things, some mistakes, obviously," he said. "Things we've got to clean up. We've just got to be a lot more consistent, a lot more consistent from angles of pursuit, to finishing tackles, to finishing plays. We've got a lot of work to do in that area, but that's something we can correct."
A few other notes from Georgia Tech, according to the team's practice reports:
Injuries have created some opportunities for backups, especially at wide receiver, where Anthony Autry and Travin Henry are sitting out all spring, and returning starter Darren Waller was in red on Saturday. That leaves redshirt freshman Micheal Summers, who has impressed the staff, and junior Correy Dennis.
The A-back competition is heating up, as a number of players are working to take Orwin Smith's starting job. Among those competing this spring: Deon Hill, Synjyn Days, B.J. Bostic, redshirt freshman Dennis Andrews and others. Tony Zenon will also be in the mix when he returns in August.
Sophomore Ryan Rodwell is the only experienced, healthy punter in camp, as senior Sean Poole is recovering from shoulder surgery. Poole initially injured his shoulder trying to make a tackle against Miami last September, but held off on surgery until the offseason. Poole and Rodwell, who had identical 39.7-yard averages in 2012, should compete deep into August for the starting job.
March, 25, 2013
Mar 25
9:00
AM ET
Georgia Tech opens spring practice today with a new defensive coordinator in Ted Roof, and a new starter at quarterback in
Vad Lee
. I had a chance to catch up with coach Paul Johnson to ask about his expectations of both headed into the spring. Here is a little of what he had to say.
I have to start off by asking -- how are you enjoying Twitter so far?
PJ:
My daughter, she said, 'You'll be good at that, Dad, you need to do it.' And, 'I'm like, I don't know about that.' She goes, 'Oh just try it.' So it's been interesting.
What is the No. 1 thing you want to see this spring out of your defense as it starts to get adjusted to playing a different scheme?
PJ:
It's the same regardless of scheme. You want guys that can play fast, play hard and understand what they're doing. The scheme is there to help them. We try to work the scheme around them rather than trying to fit them into the scheme. And I think our guys are excited about it. Ted's a fiery guy. He's going to have a lot of passion, a lot of energy and I think they're looking forward to that. And it's not that big of a change from what we did the last half of the season.
You guys showed major improvement the second half. Is the goal to build on some of what you were able to do?
PJ:
Yeah I think the second half we simplified things and tried to let guys play fast and understand what they were doing and basically we played a lot of 4-3 tenets the last six games. We got away from the 3-4 a little bit.
Jeremiah Attaochu is going to be playing more at defensive end. What are your hopes for him in that role?
PJ:
That's what he played last year. Very seldom did he drop. He was more our rush guy. We played a field boundary guy and it's going to be very similar in what we're doing now, so we'll try to play to his attributes and his strong suits. He's a really good pass-rusher and we'll try to utilize him in that area and line him up on some tight ends and some of that.
[+] Enlarge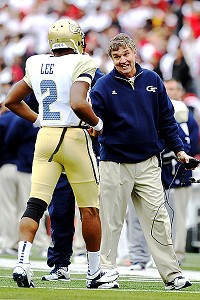 Mitch Stringer/USA TODAY SportsGeorgia Tech's Vad Lee is in a QB competition this spring, but coach Paul Johnson said there's no doubting Lee's leadership skills.
How do you see some of the competition playing out along the line with T.J. Barnes and Izaan Cross gone?
PJ:
We've got some good depth.
Euclid Cummings
is a guy I'm excited about. I think he's got a ton of ability.
Emmanuel Dieke
has played a lot.
Adam Gotsis
,
Shawn Green
played. We've got a couple guys, Pat Gamble, Rod Chungong,
Francis Kallon
that we redshirted so we feel like we've got depth there and some guys so we'll probably play six, seven guys up front.
Now that Vad looks to be your starter, have you seen him taking on more of a leadership role?
PJ:
Vad's always been a leader. It's in his DNA. Usually the good ones in that position are that way. He's a hard worker and I think that he's trying to develop a chemistry with everybody and we've got another guy named
Justin Thomas
that we redshirted at quarterback, and that ought to be a heck of a battle this spring. Clearly, Vad's in front but Justin's a good player in his own right, so that ought to be some pretty good competition between those two guys.
How will you work the reps?
PJ:
Well, Vad will start out at 1 but in the spring, you're going to run two teams anyway so they'll probably get an equal number of reps.
Any kind of scenario where you play both like you did with Vad and Tevin Washington last year?
PJ:
It's possible. It will be determined on how it turns out, once we get into the spring and we start playing how it looks and how it unfolds, but I think going into the spring you'd have to say Vad's the No. 1.
What about at A-back. Orwin Smith was able to do so much, what's the competition going to look like there?
PJ:
We've got a lot of guys back there who have played a lot.
Synjyn Days
played the last half of the season there, we moved from quarterback so we're excited about him.
Robbie Godhigh
is the starter that returns.
Deon Hill
,
B.J. Bostic
,
Dennis Andrews
is a guy we redshirted. We have a lot of guys there we feel can be pretty good players.
What are you looking for out of those guys to take the next step?
PJ:
Well Robbie's been a reliable guy, he played well all year and I think the other guys are very capable. I think the more Synjyn plays, hopefully the better he's going to be. He's 225 pounds so he's ideal. He can block, has good speed, hard to tackle. B.J. and
Tony (Zenon
) both are shifty littler guys, Deon's in the middle so out of that group of guys we just hope to find a rotation that fits what we need really.
What about Broderick Snoddy? Will he continue to run track this spring?
PJ:
Football will override the track part and so he'll be at practice. Whenever they have meets and those kind of things we'll try to work it out and let him do both.
Do you envision a bigger role for him?
PJ:
Yeah, I would hope so. Every time we got to the point last year where we were trying to get him in, he would get hurt or something would happen and it just didn't materialize but certainly we'd love for him to have a bigger role. But that's going to be up to him this spring to earn it.
Who are you looking at to replace Omoregie Uzzie on the offensive line?
PJ:
There will be some competition. We were able to redshirt a couple of classes of guys and we feel like we have some depth, so we'll just work it out. We'll end up with the best five playing if we have to move some guys around. With Jay (Finch) missing the spring,
Catlin Alford
,
Freddie Burden
will get a lot of reps. We'll slide some guys. We've got some guys,
Will Jackson
has played both guard and tackle. He can slide in there. He and Shaq (Mason) will probably be the starters and then
Morgan Bailey
and
Ray Beno
, who both started at tackle all year -- we could still have five guys who started a lot of games.
March, 19, 2013
Mar 19
5:00
PM ET
The biggest question on defense this spring for Georgia Tech coach Paul Johnson is not having a new coordinator on the field.
It is having some of his best players on the sideline.

Johnson said Tuesday that three starters will be out when spring practice opens next Monday -- linebackers
Jabari Hunt-Days
and
Brandon Watts
and safety
Isaiah Johnson
. Safety
Fred Holton
, who missed all of last season with a foot injury, won't be full-go for spring, either.
"We have a couple linebackers out and couple guys in the secondary but what it's going to do is give the young guys a chance and hopefully we'll be able to develop some depth that way," Johnson said.
Starting center
Jay Finch
also will miss spring practice, along with A-back
Tony Zenon
and freshmen receivers
Anthony Autry
and
Travin Henry
. B-back
Charles Perkins
, who opened 2012 as a starter but sustained a season-ending injury in early September, should be back. Johnson said, "We're counting on him, but we really won't know for sure until we get out there and start banging a little bit."
There also are a few position changes to note on defense.
Jeremiah Attaochu
will become a full-time defensive end, after he thrived in that role in the second half of last season.
And
Jemea Thomas
is moving back to cornerback after switching to safety in 2012. He will be leading the competition to take
Rod Sweeting
's starting spot. Johnson said of Thomas, "He may have been our best defensive back a year ago."
November, 30, 2012
11/30/12
12:30
PM ET
CHARLOTTE, N.C. -- Georgia Tech leading rusher
Orwin Smith
did not practice on Thursday because of a right ankle injury and is listed as doubtful for Saturday's Dr Pepper ACC championship game against Florida State, according to a school spokesman.
Smith is the team's leading rusher with 673 yards this year and five touchdowns. He is averaging 9 yards per carry. He also has 14 kickoff returns for 267 yards. He injured his right ankle in a Nov. 17 win over Duke and missed last week's game against Georgia. On Monday, Smith
said he expected to play
, but he probably hasn't practiced enough this week.
Georgia Tech will turn to an A-back by committee approach should it need to replace him. The most likely candidates are
B.J. Bostic
, who started in Smith's place last week against Georgia, and
Synjyn Days
, who started the second half last week.
Tony Zenon
(25 carries, 191 yards and a touchdown) and
Deon Hill
(five carries, 42 yards) will also play.
May, 5, 2011
5/05/11
9:30
AM ET
GEORGIA TECH
2010 overall record:
6-7
2010 conference record:
4-4
Returning starters
Offense: 6, defense 5

Top returners
WR
Stephen Hill
, AB
Roddy Jones
, AB
Orwin Smith
, G Omoregie Uzzi, DE Jason Peters, DT Logan Walls, OLB Steven Sylvester, ILB Julian Burnett, OG Will Jackson, DE Izaan Cross
Key losses
QB
Joshua Nesbitt
, RB
Anthony Allen
, C Sean Bedford, CB Dominique Reese, CB Mario Butler, ILB Brad Jefferson, S Jerrard Tarrant, PK Scott Blair
2011 Schedule
Sept. 1 Western Carolina
Sept. 10 at Middle Tennessee
Sept. 17 Kansas
Sept. 24 North Carolina
Oct. 1 at NC State
Oct. 8 Maryland
Oct. 15 at Virginia
Oct. 22 at Miami
Oct. 29 Clemson
Nov. 5 Open
Nov. 10 Virginia Tech
Nov. 19 at Duke
Nov. 26 Georgia
2010 statistical leaders (* returners)
Rushing:
Allen (1,316 yards)
Passing:
Nesbitt (674 yds)
Receiving
: Hill* (291 yds)
Tackles:
Burnett (89)
Sacks:
Jefferson (4)
Interceptions:
Tarrant (3)
Spring answers
1. A new attitude.
There were some disgruntled players on the roster last year, but that disenchantment has been replaced by charismatic leaders like Jason Peters and Roddy Jones. The sense of complacency has been replaced by a stronger work ethic, as the players now realize that ACC championships don't come without offseason dedication.
2. An improved defense.
The Jackets aren't exactly going to pitch shutouts, but despite losing six starters, the defense had a good spring. The entire front seven had the advantage for most of the spring, all three starters return on the defensive line, and the linebackers showed progress. It was obvious the players are more comfortable in the second season of Al Groh's 3-4 scheme.
3. A-back is a strength.
Georgia Tech has at least six players who can play the position, including Jones, a senior leader, Orwin Smith, a big-play candidate, and
Embry Peeples
, who may be one of the best receivers on the team. The Jackets are also confident in
B.J. Bostic
, who impressed Johnson as a true freshman. Those four players combined to run for 1,283 yards last year, and Georgia Tech could get additional yardage from redshirt freshman
Tony Zenon
, who also had a good spring.
Fall questions
1. Will Tevin Washington keep his job?
Washington still has the edge and is the starter heading into summer camp, but there are some lingering questions after his performance in the spring game. He threw three interceptions, lost two fumbles, was sacked three times and completed 10 of 26 passes. Backup
Synjyn Days
ran for 112 yards and led his team to a 21-7 win. Add to the mix a pair of true freshmen, including highly-touted Vad Lee, and it could make for an interesting August.
2. Will the offensive line be better?
It's not for a lack of experience -- Omoregie Uzzi was a second-team all-conference lineman last year, Phil Smith is a returning starting tackle and sophomore guard Will Jackson has nine career starts. It's simply that the group didn't play very well this spring and depth is a question. Jay Finch is expected to take over for Bedford at center, but Uzzi will be the leader of the line.
3. Special teams concerns
. It was an area of emphasis for coach Paul Johnson this spring, as it should have been. The Jackets need to solidify their starting kicker and punter, and all three field goal attempts were missed in the spring game, though two were distances of 47 and 49 yards. Kicker Justin Moore, the lone scholarship kicker competing this spring, hasn't distanced himself from the four walk-ons who played in the spring game. Punter isn't as much of a concern, where Sean Poole had nine starts last year, but the return games also need improvement.
ACC SCOREBOARD
Saturday, 12/21
Monday, 12/23
Tuesday, 12/24
Thursday, 12/26
Friday, 12/27
Saturday, 12/28
Monday, 12/30
Tuesday, 12/31
Wednesday, 1/1
Thursday, 1/2
Friday, 1/3
Saturday, 1/4
Sunday, 1/5
Monday, 1/6
Tweets from @ESPNCFB/acc