August, 26, 2013
8/26/13
12:00
PM ET
July, 30, 2013
7/30/13
12:00
PM ET
May, 21, 2013
5/21/13
2:00
PM ET
Pitt offensive coordinator and tight ends coach Joe Rudolph is entering his second season with the Panthers and he has six returning starters to work with. It's a young group that's facing a lot of questions, but Rudolph addressed some of those concerns and his quarterback competition in a spring interview. Here are the highlights of our conversation:
[+] Enlarge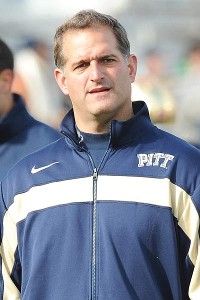 Courtesy of Pittsburgh athleticsJoe Rudolph, in his second year as the Panthers' offensive coordinator, has a young group of players in key roles for 2013.
How did Tom [Savage] look this spring? A lot of fans haven't seen him play. What does he look like as a quarterback?
Joe Rudolph:
For the position in general I think there's excitement. Tino [Sunseri] had held that down for the last couple of years, and somebody new being in that spot, I think everyone is excited to see. Tom, it's a unique group with Tom being a fifth-year senior and having some experience and some success early in his career and then really some young guys and Chad [Voytik] being the one who is pushing … and Tra'Von [Chapman] coming in as a high school senior and starting his career early. And Trey [Anderson] is doing a good job. He's wearing a coach's hat. Todd's been fun to watch this spring. I think you truly can see the urgency in his approach to it and I think he takes that very seriously. I think he's going to be a player who truly wants to play fast and play with a full knowledge base. As he gains that, you can see him having more fun and playing faster and being more in the moment, so I'm excited to see how hits fall camp. Once you actually go through it, you gotta get it out of your mouth. You gotta get the signal from the sideline, you gotta get the guys up, you gotta shift, motion, see the defense. As that becomes more second-nature to him, I think you'll continue to see him play faster and faster. He's got really a great length of time in summer where he can study what we've done, study some things from the past, put it together. I think he'll take a great approach to it. When you see a fifth-year senior taking that type of approach, it's great for those guys. It's a unique group in the room with the age difference, but pretty complimentary in a lot of ways.
Is it hard for him to take an assertive leadership role because he hasn't played a snap for you guys?
JR:
By the nature of the position you're going to have to. You're in charge of the huddle, you're getting them up, you kind of have to be that, but as he gains that confidence in the details of his position, I think you'll see that emerge and his comfort level will continue to emerge.
Did he read the defense well this spring?
JR:
Yeah, and I think that's it, it starts with where are my guys going to be? How will my read roll into it? You go up there, you get it out of your mouth easy from calling the play, you know where your guys are going to be, and then it's supposed to be easy enough to say let me look at this picture and go through my read. I think there's some progression to all of it. I think that's really what we saw the last week of spring from him, where he was starting to really put it together. It's a good place to be, now hopefully we keep taking advantage of the summer, and I think he will. I think he'll work his tail off.
From the outside looking in, the perception is there is a question at quarterback, nobody on the offensive line who has really played the same position, Rushel Shell transferring, a lot of questions. Where is your comfort level at right now with all of those things?
JR:
A huge comfort level is in the coaching staff. Those guys do an outstanding job. Their relationships with their players in the room is outstanding, and so I have great comfort in that. I also have great comfort in the approach of the guys to work and learn. You're right, we have two tackles who are moving to guard, but their approach to that, how does the experience last year help them be good players this year? It doesn't the first day of spring, but I think as they get comfortable with their assignments and their job at guard, the experience of them being a tackle will really come into play for them, and their experience of being out of the field will add to that communication. It's going to be a young group. You say that and you've got a wide receiver in
Devin Street
we're obviously excited about who has a lot of ability and will be a senior. Quarterback might be exactly the same, a fifth-year senior, but other than that, looking around, there are a lot of young faces. There could be two freshmen starting in the O-line.
J.P. Holtz
at tight end, he's still in a freshman year even though he started 10 games, so, you'll have some young players out there. I think the approach of our guys and how they take advantage of the summer will be big for them. Rushel is a loss, and you wish him the best. You hope everyone finds the best thing for them to be successful, but I'm excited about the guys in the room. I think they sense the opportunity and they have taken advantage of things this spring to bring that out. There will be a nice influx and we'll see who can help from the guys who walk in the door here in a few months.
Check back tomorrow for Part II of this interview.
April, 30, 2013
4/30/13
3:00
PM ET
Pitt has dismissed
tight end
Drew Carswell
and defensive back
Eric Williams
from the team, coach Paul Chryst announced in a statement Tuesday.
Carswell, Williams and defensive tackle Khaynin Mosley-Smith
were suspended indefinitely
last week after they were charged with possession of drug paraphenalia. Mosley-Smith remains on indefinite suspension.
In addition, Chryst announced that freshman quarterback Tra'Von Chapman has been indefinitely suspended for a weekend incident away from campus. According to The Associated Press, Chapman was arrested in Ohio over the weekend on charges of assault and unlawful restraint. He has pleaded not guilty.
March, 5, 2013
3/05/13
2:00
PM ET
Pittsburgh has released its injury report for the first day of spring practices, and the Panthers will be without two starters: linebacker
Shane Gordon
and leading tackler
Jason Hendricks
. Gordon, who returns in the middle, missed three full games and parts of others last season due to injuries. He finished with 48 tackles and six TFLs. He was also effective in pass coverage and ranked second on the team with six breakups.
Hendricks returns at free safety after earning All-Big East honors in 2012. Hendricks led Pitt in tackles (90) and interceptions (six). His interception total was the highest by a Pitt player since 2000, while his 0.46 INTs per game led the Big East and ranked sixth nationally.
Here is the full injury report, as released by the school:
OUT INDEFINITELY
OUT OPENING WEEK
March, 5, 2013
3/05/13
9:00
AM ET
Pittsburgh starts spring practices today with its first ACC schedule in hand, as the Panthers will officially join the conference on July 1. Coach Paul Chryst enters his second season looking for improvement in every area after a 6-7 finish in 2012. Pitt will have a new starting quarterback for the first time in three years, but with three starters back on the defensive line and three more starters in the secondary, the defense should be a strength. I spoke with Chryst on Monday to get his take on starting spring ball in the ACC.
Here are the highlights of our conversation:
Have you noticed a change in your players or any more excitement in the air knowing you guys will be lining up against different opponents this year and some tougher teams?
Paul Chryst:
I think it probably does do something, but you would also hope that each kid, no matter what, you're getting ready for one of four competitive seasons. I can't say I've noticed, 'Oh, it's so different,' but I do think they know.
[+] Enlarge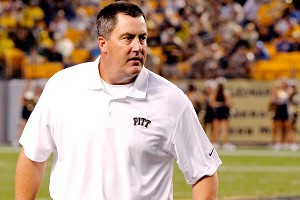 AP Photo/Keith SrakocicPaul Chryst and the Panthers are set to join the ACC on July 1.
What are your biggest areas of concern or your top priorities heading into spring ball? What are the most important things you guys need to get done?
PC:
Well, concern is everything. First and foremost, each player has to improve. Spring is a great time for that. I don't care if it's your first spring, or our best player's last spring. Each player has to get better individually. From a coaching perspective, you have to truly teach and emphasize a drill and fundamental techniques you have to be good at. If there's ever a time you can do it, spring is the time to be less on scheme and more about the how-to of something. I think that's the big emphasis. The spring provides an opportunity for players to establish themselves or put themselves in position to have a role for the fall, to say, 'Hey, you can count on me, I'm good enough to be playing.' Then for some of the players it's truly just learning the base schemes and getting comfortable with it. For
Tom Savage
, he was here last year, but wasn't featured in a lot of the reps.
What does your quarterback competition look like?
PC:
You've got Tommy Savage, who's got the most experience, and that was as a freshman at a different school. (Savage played at Rutgers in 2009-10, where as a freshman he threw for 2,211 yards and 14 touchdowns. He was on scholarship at Arizona in 2011 but didn't play in any games.) I like everything he's done since he's come on campus. He's done everything you'd want him to do, now he has to go out and compete and earn his spot.
Trey Anderson
is a guy who's been here and will be starting his third season. He was a backup last year and then you have two freshmen, a redshirt freshman,
Chad Voytik
, and a true freshman, Tra'Von Chapman. First and foremost they have to get comfortable with the offense and then once that happens, there is a quarterback competition because we haven't named a starter. They'll get a lot of work, I know that much.
Entering your second season, how much more comfortable are you? Or are you a little uncomfortable, knowing you have to play Florida State on Labor Day to kick it off?
PC:
I'm never comfortable, but you ask of yourself everything you ask of your players -- to get better. I certainly know there's areas where I can and need to.
Where do you think you guys will make the most progress this year? Or where would you like to see the most progress?
PC:
Everywhere, seriously, we need to. The only consistent thing for us last was we were consistently inconsistent. We need to make strides and grow across the board. There's not two or three things you can say, 'Well, if we got this squared away we'd be that much better.' In every area we have to get better.
What are your thoughts on the schedule and playing in the ACC this year?
PC:
I'm excited in a sense that last year we knew we were going to the ACC, but now we're here. As far as the schedule, every year you get your schedule and you embrace and find a way to get excited about it. You're naturally excited because that's the season; it's the best part of the year. It's not like you have to manufacture excitement, but who you play and when you play them, those are given to you, and you try to play them accordingly. It's our first year in the ACC, we've joined the ACC and now we can plan on that.