February, 7, 2014
2/07/14
10:30
AM ET
It was an off-hand comment from Jimbo Fisher on national signing day that first drew the attention of Florida State fans, but
Jameis Winston
added validity to the notion
on Thursday, saying he planned to play two more years in Tallahassee before heading to the NFL.
The plan comes as a surprise to many outsiders, given Winston's status as a likely first round pick in the 2015 draft -- and, perhaps, the first selection overall. But for Winston, it's not entirely unreasonable.
[+] Enlarge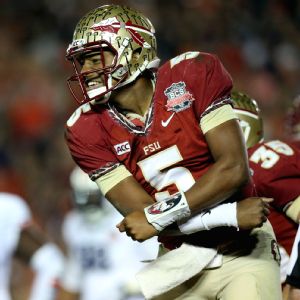 Stephen Dunn/Getty ImagesIf Jameis Winston sticks to his plan to play two more years at FSU, the ramification could be far-reaching.
The Heisman Trophy winner doesn't mind going against conventional wisdom, with his return to the baseball team this spring providing the perfect context. Since his recruitment, Winston has insisted he wants to be a two-sport star, playing both football and baseball professionally before his career is over. That's part of what brought him to Florida State in the first place. After his exceptional 2013 football season, it seemed reasonable he'd shift his focus entirely toward football and avoid the risk of injury on the baseball field. For Winston, however, that was never a consideration.
Winston will take a similar approach toward his decision regarding the NFL draft. Baseball remains a priority for him, and if staying through the 2015 football season allows him to continue to develop on the diamond, it's entirely possible he'll stick around. And for now, that appears to be the plan.
But what would it mean for FSU to have Winston in garnet and gold for an extra year? A few key points to keep in mind:
The depth chart
If Winston planned to leave for the NFL as soon as he's eligible, that would've meant a chance for
Jacob Coker
to start for Florida State in 2015, but clearly that possibility wasn't enough to keep him in Tallahassee. Coker plans to transfer to Alabama at the end of this semester, and given Winston's plans to stick around for two more years, Fisher understood Coker's rationale.
"He wants to graduate and he wants to play. He's got two years left and he's a year behind Jameis. Could he battle again? Yes. But I understand," Fisher said. "I'm very supportive of it. I think the guy is a good player. I think he's going to be a good quarterback and we had a great conversation about it."
Should Winston stay, it also makes FSU's one-quarterback haul on signing day a little easier to tolerate.
Treon Harris
, a longtime FSU commit, flipped to Florida on Wednesday, leaving
J.J. Cosentino
as Florida State's lone QB signing. That might be a concern if Winston departs following the 2014 season, but another year for the Heisman winner allows FSU to pad its QB depth with next year's recruiting class, too.
While
Sean Maguire
likely will be the No. 2 for Florida State in 2014 and 2015, Cosentino also gets an extra year to develop his skills, too, and Fisher said the QB from Western Pennsylvania has ample upside when his time finally arrives.
The recruiting buzz
Winston's plans to stay through 2015 actually might have hurt Florida State's hopes of inking two quarterbacks in this year's signing class, but just the notion that the star QB will be in Tallahassee for two more seasons is certainly a big selling point for other offensive talent.
FSU already inked three top receivers this year in
Ermon Lane
,
Travis Rudolph
and
Ja'Von Harrison
, along with highly touted running back
Dalvin Cook
. The opportunity to spend two years playing with Winston was certainly alluring.
But even the notion that Winston might be back for 2015 provides Fisher with another selling point on the recruiting trail this coming year. If Class of 2015 recruits believe he'll be around for their freshman season, it's one more reason to think FSU is a great landing spot.
"I also think getting them here and getting them to play with him is tremendous, especially when we have a need at that position," Fisher said of his wide receiver recruiting. "Those guys have a chance to make an impact and be able to play with him."
The 2015 season
Winston's return for his redshirt junior campaign would mean a lot to a Florida State offense that figures to endure a massive overhaul in 2015. Of the 10 other projected offensive starters this season, as many as nine figure to be gone in 2015, including the entirety of the offensive line.
That's perhaps a reason for Winston to reconsider his plan moving forward. While his talent and football acumen certainly won't diminish with an extra year in college, the risk of injury is a real concern, and with five new starters on the offensive line in 2015, the potential for an injury diminishing his draft stock becomes all the more likely.
But if Winston does come back in 2015, it allows for some stability for an offense that will be saying goodbye to
Rashad Greene
,
Nick O'Leary
and
Karlos Williams
, among others.
The reality
The problem with all this supposition about Winston's future is that he's still 11 months away from having to commit to any definitive decision, and a lot can happen in that time. While Winston might be completely sincere in his plan to stay through 2015 now, the lure of first round money in the NFL and the risk of spending another year playing two sports in college could certainly change his mind. If he does, FSU is still in good shape with Maguire and Cosentino. If he doesn't, the Seminoles fans get an extra year with a once-in-a-lifetime player.
At this point, there's no reason for Winston to offer any possibility other than his stated commitment to remain at Florida State. But what Winston and Fisher believe today doesn't matter all that much. If his plans haven't changed by January 2015, however, it's an enormous boon for Florida State.
February, 4, 2014
2/04/14
10:30
AM ET

It is becoming a bit cliché, but the saying holds true every year on the first Wednesday of February: Expect the unexpected on signing day.

With the direction signing day and recruiting have been going, a prospect simply signing his letter of intent to the college he has been committed to for months qualifies as a mild surprise.

Here are five bold predictions for ACC signing day.


February, 3, 2014
2/03/14
10:30
AM ET
With prospects making commitments earlier than ever, naturally there are second thoughts before signing day. That leads to a number of recruits decommitting and flipping to another school.
Here is a look at five of the biggest flips in the ACC in the 2014 recruiting class.
To continue reading this article you must be an Insider
January, 29, 2014
1/29/14
2:00
PM ET
National signing day is one week away, so this is the time of the year when schools hope to be trending up in the
class rankings
. As the final elite uncommitted prospects wrestle with decisions, another highly-rated recruit picking a particular school could influence others to do the same.

Momentum works both ways, and any bad news could snowball in the final few hours.
To continue reading this article you must be an Insider
January, 22, 2014
1/22/14
5:00
PM ET
TALLAHASSEE, Fla. -- The rumors have swirled for months, and on Wednesday, Florida State made it official: Quarterback
Jacob Coker
is leaving.
The redshirt sophomore pushed Heisman Trophy winner
Jameis Winston
for the starting job until the final week of fall camp, but he spent all of 2013 as a backup before injuring his knee and missing the final five games of the season.
Coker was a three-star recruit out of high school, but his combination of athleticism and a strong arm have already generated buzz about his pro potential. What was missing was playing time. He figures to find that elsewhere, with
numerous reports suggesting Alabama as his most likely destination
.
For Florida State, Coker's decision doesn't really change much on the depth chart, but it does put a bigger spotlight on Winston's decision to continue his baseball career this spring.
Winston opens practice with Florida State's baseball team Friday, and he's expected to compete for a job as the team's closer. He was solid in a relief role last year -- 17 appearances with a 3.00 ERA and 21 strikeouts -- but that was before he had a national championship and a Heisman Trophy under his belt.
A potential injury on the baseball field certainly makes Winston's decision risky, and with Coker out of the picture, there's not a substantial safety net for the Seminoles football team.
FSU will open spring practice with
Sean Maguire
second on the depth chart. A redshirt freshman in 2013, Maguire appeared in seven games, completing 13 of 21 passes for 116 yards, two touchdowns and two interceptions.
At the moment, there are no other scholarship quarterbacks with playing experience on the roster, though Class of 2014 QBs
J.J. Cosentino
(Pittsburgh/Central Catholic) and
Treon Harris
(Miami/Booker T. Washington) are both committed to FSU and
John Franklin III
worked on the scout team for the Seminoles in 2013. Franklin's future at quarterback, however, has been a topic of debate since his recruitment.
If all goes smoothly and Winston stays healthy, however, it's a moot point. But Coker is the second quarterback to transfer from Florida State in less than a year --
Clint Trickett
is now at West Virginia -- meaning a position once loaded with depth is now a bit more precarious moving forward.
January, 14, 2014
1/14/14
10:30
AM ET
With senior seasons and all-star games complete, prospects jumped all over the ESPN 300 with several making their first appearance on the list.
Here are the five biggest movers
in the updated ESPN 300
among ACC commitments and targets:
Recent FSU commit rising up the ranks
Travis Rudolph
(West Palm Beach, Fla./Cardinal Newman) jumped 21 spots in the updated list and he can thank his dominant Under Armour All-America Game performance for it. The talented receiver hauled in a handful of passes in the game including a solid catch and run against No. 1 cornerback
Jabrill Peppers
(Paramus, N.J./Paramus Catholic). Later in the game, Rudolph added a nice touchdown grab to complete one of the better performances of the game. Rudolph also committed to Florida State at the game, and Rudolph could see the field early with
Kelvin Benjamin
off to the NFL. If the Noles can also sign
Ermon Lane
(Homestead, Fla./Homestead), it would be one of the best receiver classes in 2014 -- and maybe the No. 1 overall receiver tandem of this cycle.
To continue reading this article you must be an Insider
November, 4, 2013
11/04/13
8:00
AM ET
All eyes were on Tallahassee, Fla., this weekend for the conference's game of the week between Florida State and Miami. But in the meantime, Georgia Tech made some noise, too.
To continue reading this article you must be an Insider
October, 7, 2013
10/07/13
8:00
AM ET
Virginia Tech grabbed the headlines this weekend with a four-star commitment, while a couple of teams had visitors on campus and that could affect a number of ACC teams.
To continue reading this article you must be an Insider
September, 23, 2013
9/23/13
8:00
AM ET
It was a relatively mellow slate in the ACC this week, but there turned out to be several results of significance. Clemson defeated NC State in Raleigh, N.C., a place known for upsets, and Virginia Tech escaped against Marshall in overtime.

In recruiting, a couple offers were issued and a commitment was made. More in our weekend wrap from around the ACC:
To continue reading this article you must be an Insider
September, 9, 2013
9/09/13
8:00
AM ET
By a large margin, the most important game with recruiting implications was in Miami over the weekend as the Hurricanes hosted the Florida Gators.
Miami was able to edge out a close, 21-16 victory, but how much will it help?
Best prospect performances
To continue reading this article you must be an Insider
August, 26, 2013
8/26/13
8:00
AM ET

A couple of ACC commitments came off the board over the weekend. And, more noticeably, high school football returned.
Here is the latest from both on and off the field in ACC recruiting.
To continue reading this article you must be an Insider
August, 21, 2012
8/21/12
11:52
AM ET
By
NoleNation staff
| ESPN.com
David Hale writes:
For FSU cornerback Xavier Rhodes, a potential first-round NFL pick, progress isn't built on a foundation of past successes. What happened last year, last week or last play -- that's gone. What's next is what matters.
Corey Dowlar writes:

ATH Treon Harris tries to focus on his team's goal of winning a high school state title.
Hale:

FSU football player Bryan Stork's versatility and experience are scarce resources on a Seminoles offensive line that's a work in progress.