November, 14, 2014
Nov 14
10:30
AM ET
In the cold, dark hours after another Virginia Tech home loss, the lots around Lane Stadium sit empty, except for one lonely image: A few guys playing corn hole next to a fire they built to keep warm.
Those are the loyalists, and there are plenty of them in Blacksburg. But there also are many others wondering how much longer the Virginia Tech program can go on like this, mired in mediocrity after so many years filled with so many wins.
Frank Beamer led this program to all those wins, and he has led this program to all its recent losses. His situation presents a complex dynamic that has no easy answers. Athletic director Whit Babcock gave Beamer a contract extension before the season began as a way to give him a little more security and head off constant questions from reporters and recruits wondering about his future.
That has not stopped anybody from debating
how much longer Beamer has left
. He has given every indication he plans to return in 2015 despite a third straight subpar season.
[+] Enlarge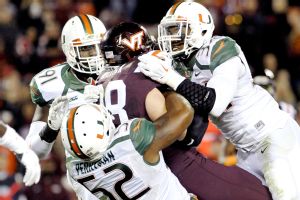 Michael Shroyer/Getty ImagesThings have been a struggle for Virginia Tech since it won at Ohio State in Week 2, as the Hokies have dropped five of seven games.
Truthfully, nobody inside the program envisioned being 4-5 in November. Not after a win over Ohio State in Week 2. Looking back, that win may have ended up setting Virginia Tech up to fail. The Hokies lost the following week to East Carolina, and only have two wins since Sept. 6.
"We came out on fire that game, but you had a lot of young guys playing for their first time this year and to keep that momentum going, there has to be a mindset type of deal," senior safety
Detrick Bonner
said. "You have to have more leadership going on both sides of the ball. You have to hold yourself accountable as a whole group.
"Just going back from that game ... we probably took the rest of the games more lightly, being that we won that game thinking we could finish the rest of the season with wins. It didn't go that way, but we're going to definitely try to finish strong these last few games."
Perhaps the mindset impacted performance, but so did injuries. The Hokies have been hit hard at just about every area on the field, from running back to offensive line, to defensive front and secondary. Those injuries, combined with 18 freshmen listed on the depth chart, have had a detrimental impact. So have turnovers and penalties, generally a sign of undisciplined teams.
"What you've got to be good at is being realistic in what you got on your football team," Beamer explained on the ACC coaches teleconference this week. "I would have hoped that Ohio State would have thought they were beaten by a good football team, not be such a low mark in their season.
"I like our football team. I like our players. I liked them after we beat Ohio State. I liked them after we had a tough loss. They work hard. They want to be successful. They do what you ask them to do. I'd just like for them to have a little more experience."
Nine games in, they should. Still, the only game Virginia Tech had no chance to in win the fourth quarter was against Miami last month. The Hokies have dropped three straight, with a trip to No. 21 Duke next.
The last time Virginia Tech lost four games in a row in one season was in 1992. That happens to be the last time the Hokies finished with a losing record. Only Florida State has a longer streak of consecutive winning seasons.
Still, fan interest has been dwindling. Virginia Tech saw its 93-game home sellout streak end to start 2013. Though Virginia Tech announced a sellout against Miami, vast patches of seats remained empty in the upper deck.
The following day on campus, it was as if a football game never happened. But there is not much vitriol for Beamer or the football program, at least not yet. "The feeling on campus is mixed," said freshman Willie Bruchey. "I'd like to see them do better, but we're all here to support coach."
Another student asked, "If we get rid of him, who do we get? Will he be better? If he's not, we got rid of coach for what?"
Normalizing expectations seems important, but so is maximizing talent. That is why 2015 will be crucial. Of the 28 touchdowns the Hokies have scored this season, 19 are from freshmen. Plus, injured difference makers
Luther Maddy
,
Brandon Facyson
,
Shai McKenzie
and
Trey Edmunds
will be back.
Recruiting is going relatively well, too. After a tough loss to Boston College on Nov. 1, the Hokies hosted several elite recruits, who spent time playing pool with Beamer in his home.
ESPN Recruiting Nation says Virginia Tech can
end up with a Top 25 class
if it pulls in some critical commitments, most notably injured defensive end
Josh Sweat
from Chesapeake, Va. The top two uncommitted recruits from the state of Virginia are both considering the Hokies.
While there are reasons why Virginia Tech has fallen back, the trend cannot continue. Beamer knows that better than anybody.
"Any time you're not successful in this business, it's hard," Beamer said. "I try to keep it realistic. I try to evaluate where we should be, and how close are we to being there. Some people think we should win every game. We'd like to win every ball game, but I think you've got to be realistic and understand other teams don't stay the same.
"They change from year to year. We don't stay the same. We change from year to year. Play as hard as you can, be as good as you can, and hope you get your share of the wins."