July, 30, 2012
7/30/12
9:00
AM ET
Week 11
: Nov. 17 vs. Wake Forest (at Notre Dame Stadium in South Bend, Ind.)
Time/TV
: 3:30 p.m. ET, NBC
Series
: Notre Dame leads all-time, 1-0
2011 record
: 6-7 (5-3 ACC; tied second place, Atlantic Division)

Head coach
: Jim Grobe (68-67, 11 years)
Returning starters
: Offense: 3; defense: 7; kicker/punter: 2
Top returners
QB
Tanner Price
, WR
Michael Campanaro
, C
Garrick Williams
, DE
Zach Thompson
, NG
Nikita Whitlock
, OLB
Joey Ehrmann
, ILB
Scott Betros
, ILB
Riley Haynes
, CB
Merrill Noel
, FS
Kenny Okoro
Key losses
RB Brandon Pendergrass, WR
Chris Givens
, TE
Cameron Ford
, T Dennis Godfrey, T Doug Weaver, G
Joe Looney
, G Michael Hoag, DE Tristan Dorty, DE
Kyle Wilber
, SS Cyhl Quarles, FS
Josh Bush
2011 statistical leaders (*returners)
Rushing
: Brandon Pendergrass (823 yards)
Passing
: Tanner Price* (3,017 yards)
Receiving
: Chris Givens (1,330 yards)
Tackles
: Cyhl Quarles (101)
Sacks
: Kyle Wilber/Nikita Whitlock* (3.5)
Interceptions
: Josh Bush (6)
Three questions for ...
ACC blogger Heather Dinich:
Wake returns plenty of talent at the skill positions, but it is tasked with replacing four starters on the offensive line. What's a realistic timeline for the newcomers to jell and form a cohesive unit?
Heather Dinich:
Well, it's more like three starters at this point, because
Steven Chase
, who missed the spring for undisclosed reasons, has since returned. The group also got a huge boost from the move of
Frank Souza
from the defensive line. Chase's return has allowed the staff a little more flexibility with the depth chart. He or Souza -- whoever develops into the better pass protector — will likely slide into the right guard position. Souza was backup to talented noseguard Nikita Whitlock and saw the writing on the wall: Whitlock wasn't coming off the field anytime soon. So he jumped at the opportunity to see more snaps on offense. Coach Jim Grobe told me they "hit a home run with Souza." Right now he's got five guys he's comfortable with. Depth? That's another question.
Head coach Jim Grobe rarely has much staff turnover, but three new assistants are aboard for 2012. What's new, and how will that translate on the field this season?
HD:
Yes, the Deacs have long been one of the most stable staffs in the ACC, but there are a few new faces in new positions, and I think overall, it will make Wake Forest a better team. Tim Duffie will be in his first season coaching the secondary, and he has lots of talent to work with back there, particularly at the corner position. Jonathan Himebauch is in his first year coaching the offensive line, and
Derrick Jackson
is in his first season coaching the outside linebackers. The move of OC Steed Lobotzke to tight ends and fullbacks should help him manage his time better as a coordinator because he won't have to deal with so many offensive linemen.
The Deacs surprised everyone but themselves last season, falling a field goal short of playing for the ACC title. There are obvious shortcomings (O-line, secondary) on this year's roster, but will they be able to overcome those and make another push at a division crown?
HD:
If they did it last year, I don't see any reason why they shouldn't be able to make another run at it. They've got to be able to win those close games, though. The close losses to Syracuse, Clemson -- and of course Notre Dame -- are still stinging, and just about anyone in that program will tell you they could've played better against UNC. Jim Grobe has a very good football team to work with this year, and he has a defense that could be reminiscent of the old days with Aaron Curry and Alphonso Smith. There are some diamonds in that group, they're just not very experienced. It wouldn't be wise, though, for Wake Forest opponents to take this year's team lightly.
May, 8, 2012
5/08/12
6:00
AM ET
2011 overall record:
6-7
2011 conference record:
5-3 (T-2nd, Atlantic)
Returning starters
Offense: 3; defense: 7; kicker/punter: 2

Top returners
QB
Tanner Price
, WR
Michael Campanaro
, C
Garrick Williams
, DE
Zach Thompson
, NG
Nikita Whitlock
, OLB
Joey Ehrmann
, ILB
Scott Betros
, ILB
Riley Haynes
, CB
Merrill Noel
, FS
Kenny Okoro
Key losses
WR
Chris Givens
, T Dennis Godfrey, T Doug Weaver, G
Joe Looney
, G Michael Hoag, TE
Cameron Ford
, RB Brandon Pendergrass, DE Tristan Dorty, DE
Kyle Wilber
, SS Cyhl Quarles, FS
Josh Bush
2011 statistical leaders (* returners)
Rushing
: Brandon Pendergrass (823 yards)
Passing
: Tanner Price* (3,017 yards)
Receiving
: Chris Givens (1,330 yards)
Tackles
: Cyhl Quarles (101)
Sacks
: Kyle Wilber/Nikita Whitlock* (3.5)
Interceptions
: Josh Bush (6)
Spring answers
1. Tanner Price:
As a sophomore last season, Price threw for more than 3,000 yards to go with 20 touchdowns and six interceptions. Coach Jim Grobe has challenged Price to improve on his accuracy, especially on underneath passes, and if the quarterback can build off last season's 60-percent completion rate, the Demon Deacons should be just fine under center.
2. Skill players:
Michael Campanaro is sliding into the go-to target shoes left behind by Chris Givens, shifting the focus to who will be the Deacs' No. 2 receiver.
Josh Harris
has been healthy all spring and should add a boost to a backfield that returns
Orville Reynolds
and
DeAndre Martin
. Deep? Not exactly. But Wake knows what it has in its skill-position players, and has enough weapons around Price for the quarterback to make a jump in his junior year. This spring has helped ease some concerns.
3. Front seven:
The Deacs return a majority of their front-seven, including second-team All-ACC nose guard Nikita Whitlock. Grobe has praised the overall speed and depth of the defense as a whole, and he expects the team to be better on that side of the ball. Look for more pressure this season in new outside linebacker coach Derrick Jackson's first year on staff.
Fall questions
1. Offensive line:
There's no sugar-coating this one: If Wake wants to repeat its surprising 2011 season -- one that saw it come within a field goal of playing for the ACC title -- it needs to find some answers up front. The line is replacing four starters. Grobe said coming out of spring that he feels comfortable about three spots at the moment, but the Deacs will need more than that if they want to get the most out of their skill players.
2. New staff:
Grobe has had little turnover in his 11 years at Wake Forest, but he hired three new assistants this offseason -- Jackson, Jonathan Himebauch (offensive line) and Tim Duffie (secondary). The fresh blood, Grobe said, led to much more energy this spring, but the biggest tests will obviously come in-season.
3. Secondary.
Speaking of Duffie, he'll have his work cut out for him in Year 1. Both safeties are gone, including Josh Bush, now with the Jets. Experience at cornerback will help ease the transition for the secondary, but building depth at safety could be an issue.
October, 21, 2011
10/21/11
10:00
AM ET
By
ESPN.com staff
| ESPN.com
BOSTON COLLEGE
Out

WR
Ifeanyi Momah
(knee)
DB CJ Jones (knee)
DT Connor Wujciak (shoulder)
TB
Montel Harris
(knee)
DL Kaleb Ramsey (foot)
RB
Tahj Kimble
(head)
DT Dillon Quinn (shoulder)
Probable

OG Nate Richman (back)
CLEMSON
Out

Joe Gore, DE, Knee
Spencer Benton, PK, shoulder
Tony Steward, LB, Knee
DUKE
Probable
WR
Brandon Braxton
(head)
S August Campbell (leg)
Questionable
C Dave Harding (leg)
C Brian Moore (arm)
WR
Donovan Varner
(leg)
CB Johnny Williams (leg)
Out
S Lee Butler (leg)
QB
Brandon Connette
(upper body)
Out for season
TE
Jack Farrell
(leg)
DE Kenny Anunike (leg)
FLORIDA STATE
Out
OT Andrew Datko (shoulder)
OG David Spurlock (knee)
OG Henry Orelus (head)
WR
Willie Haulstead
(head)
WR
Josh Gehres
(knee)
DT Darious Cummings (hand)
DT Moses McCray (knee)
Questionable

WR
Rashad Greene
(ankle)
Out for season

DT Jacobbi McDaniel (ankle)
RB
Chris Thompson
(back)
GEORGIA TECH
Probable
Jeremiah Attaochu, LB
Out

Tyler Morgan, LS
Out for the season

Fred Holton, S
Jimmie Kitchen, DL
Lance Richardson, S
MARYLAND
Out for the season
WR
Tyrek Cheeseboro
OL Andrew Gonnella
DB Avery Graham
LB Garrett Lederman
DB Matt Robinson
DL Isaiah Ross
TE
Dave Stinebaugh
Out
DL Justin Anderson
WR
Kevin Dorsey
OL Justin Gilbert
LB Shaquan Virgil
Doubtful
LB Demetrius Hartsfield
LB Kenny Tate
Questionable
DL Andre Monroe
Probable
OL Pete White
MIAMI
Out
Luther Robinson - Lower Extremity
Shayon Green - Lower Extremity
Curtis Porter - Upper Extremity
Rashawn Scott
- Upper Extremity
Surgery/Out for the season

Marcus Forston - Lower Extremity
Ramon Buchanan - Lower Extremity
Cory White
- Lower Extremity
Erik Lichter - Upper Extremity
Blake Ayles
- Upper Extremity
NORTH CAROLINA
Out
Casey Barth, PK Thigh
Curtis Byrd
, FB Knee
Kiaro Holts, OT Wrist
Devon Ramsay
, FB Knee
Questionable
T.J. Leifheit, OT Ankle
Probable
Giovani Bernard
, TB Hip
A.J. Blue, TB Ankle
Erik Highsmith
, WR Ankle
Cam Holland, C Back
Jonathan Smith, S Ankle
NC STATE
Out for the season
Jarvis Byrd, CB - knee
Mustafa Greene
, HB - foot
Sterling Lucas, LB - knee
Out
Taylor Gentry
, FB - foot
Jake Kahut, DE - knee
Jeff Rieskamp, DE - shoulder
Thomas Teal, DT - foot
Curtis Underwood, HB - foot
Questionable
D.J. Green, LB - abdomen
J.R. Sweezy, DT - foot
VIRGINIA
Out
Pablo Alvarez (upper extremity)
Diamonte Bailey (lower extremity)
Darius Lee
(upper extremity)
Charlie Richards
(upper extremity)
E.J. Scott
(medical)
Bobby Smith
(lower extremity)
Tyler Smith
(lower extremity)
Matt Snyder
(lower extremity)
Joseph Williams (lower extremity)
Doubtful
Tim Cwalina (lower extremity)
Michael Terrell
(lower extremity)
Questionable
Brian Oden (lower extremity)
Probable
Luke Bowanko (lower extremity)
Henry Coley (lower extremity)
Cam Johnson (lower extremity)
Jake McGee
(lower extremity)
Clifton Richardson
(lower extremity)
Michael Rocco
(trunk)
VIRGINIA TECH
Out for the Season
Kwamaine Battle (knee)
Jeron Gouveia-Winslow (foot)
Antoine Hopkins (knee)
Dyrell Roberts
(arm)
E.L. Smiling
(wrist)
Out
Eric Martin
(shoulder)
Mark Shuman (knee/ankle)
David Wang (foot)
Doubtful
Jayron Hosley (hamstring)
WAKE FOREST
Probable
RB
Josh Harris
(leg)
TE
Andrew Parker
(ankle)
DT Tristan Dorty (ankle)
C Garrick Williams (ankle)
NT Duke Mosby (illness)
Out
NT Ramon Booi (knee)
DT John Gallagher (back)
Out for the season
OT Dylan Heartsil (back)
CB Dominique Tate (knee)
LB Kyle Jarrett (hip)
June, 29, 2011
6/29/11
5:00
PM ET
You are going to argue about this. How do I know? Because I'm still arguing with myself over it ...
[+] Enlarge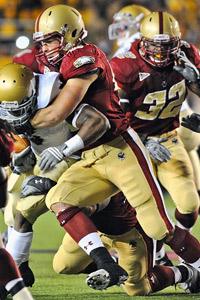 Michael Tureski/Icon SMILuke Kuechly leads a deep group of Boston College linebackers.
1. Boston College:
Luke Kuechly is one of the best in the country, but he's not alone. The Eagles also have Kevin Pierre-Louis, who ranked second nationally among all freshmen in tackles per game last season with 7.15 -- ninth in the ACC. It won't be easy to replace Mark Herzlich, on or off the field, but Steele Divitto played in 11 games last season, and Nick Clancy and Will Thompson both saw time on the second team.
2. Florida State:
The Noles had to replace two starters, including Kendall Smith, the team's second-leading tackler, last season, and Mister Alexander, but the upcoming talent could be even better. Nigel Bradham led the team with 98 tackles and five pass breakups last season, and Christian Jones, Jeff Luc, Telvin Smith and Vince Williams will also be competing for playing time.
3. Miami:
Sean Spence, who has 30 career starts, should be one of the best in the country, and Ramon Buchanon, another senior, also returns. The Canes have five other linebackers with experience in Kelvin Cain, who started seven games, Jordan Futch, who had a great spring and will see the field, Tyrone Cornelius, Shayon Green and C.J. Holton.
4. North Carolina:
Kevin Reddick, who led the Tar Heels with 74 tackles last season, returns for his third season as starter. Zach Brown is also a returning starter with game-changing capabilities, and there is plenty of depth with Dion Guy, Darius Lipford, Ebele Okakpu and Herman Davidson. Junior college transfer Fabby Desir could also have an impact.
5. NC State:
Audie Cole and Terrell Manning have combined for 39 career starts, and Cole fared well this spring moving to the middle to replace Nate Irving. With the return of Sterling Lucas, Dwayne Maddox and Colby Jackson, there is plenty of experience, but not quite as much depth as some other programs.
6. Georgia Tech:
The Jackets return both starters in Steven Sylvester and Julian Burnett. There is no shortage of depth with Jeremy Attaochu, Quayshawn Nealey, Brandon Watts, Albert Rocker, Malcolm Munroe and Daniel Drummond.
7. Clemson:
This group has a lot of potential, especially if true freshmen Tony Steward and Stephone Anthony make an immediate impact. There's no question they'll be given a chance, but the Tigers already have a good group with Corico Hawkins, Quandon Christian and Jonathan Willard.
8. Virginia Tech:
It seems like this rotation has been in flux for a while now. The Hokies' leading tackler returns in Bruce Taylor, Barquell Rivers had 96 tackles as a starter in 2009 but was injured last season, and there are several young players adding to the competition. Chase Williams, Tariq Edwards, Telvion Clark and Jack Tyler are only a few. Whip linebacker Jeron Gouveia-Winslow will have to earn his spot back over Alonzo Tweedy, Dominique Patterson and Nick Dew.
9. Maryland:
The Terps were hit hard here with the losses of Alex Wujciak (381 career tackles) and Adrian Moten (14.5 career sacks). Demetrius Hartsfield returns with 20 career starts, and there are four lettermen returning including Darin Drakeford, Isaiah Ross, David Mackall and Bradley Johnson.
10. Wake Forest:
Kyle Wilber's move to outside linebacker will give this position a boost, as he led the Deacs with 14.5 tackles for loss and six sacks last season. His backup is Gelo Orange (22 tackles). The Deacs also have Tristan Dorty, Joey Ehrmann, Mike Olsen, Scott Betros, Riley Haynes and Justin Jackson.
11. Virginia:
Starters LaRoy Reynolds and Ausar Walcott both return, but neither has started more than 11 career games. Junior Steve Greer has prior starting experience but played mainly as a reserve last season. Adam Taliaferro, Conner McCartin, Tucker Windle and LoVante Battle are also in the mix for playing time.
12. Duke
: Kelby Brown is the lone returning starter, but he's a promising young player who led the nation last season as a freshman in fumbles recovered. He missed spring ball while recovering from a knee injury, but is expected to start with Tyree Glover or Kevin Rojas.
June, 27, 2011
6/27/11
3:30
PM ET
By
ESPN.com staff
| ESPN.com
As the title indicated ...
[+] Enlarge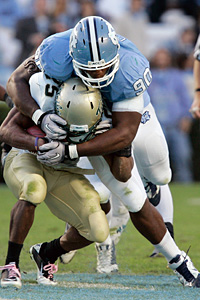 Mark Dolejs/US PresswireUNC returns a veteran defensive line led by end Quinton Coples.
1. North Carolina:
This is a deep and talented group that returns all four starters including Donte Paige-Moss, Jared McAdoo, Quinton Coples and Tydreke Powell. Junior college transfer Sylvester Williams joins three other players who started at least one game: Kareem Martin (three starts), DT Tim Jackson (five starts) and DT Jordan Nix (two starts).
2. Florida State:
All four starters return in juniors Brandon Jenkins, Jacobi McDaniel, Anthony McCloud and Everett Dawkins. Jenkins finished sixth nationally with 13.5 sacks. This group should take another step forward in the second season under coordinator Mark Stoops, but it already has an outstanding base to build on as the Noles ranked third nationally in sacks and 21st in tackles for loss last season.
3. Miami:
The Canes should have one of the better rotations in the ACC. They return starters Olivier Vernon, Micanor Regis and Marcus Forston, who combined for 12 sacks and 30.5 TFLs. It's a deep group, as DE Adewale Ojomo (seven starts), DT Luther Robinson (five starts), DE Marcus Robinson (10 games), DT Curtis Porter (one start), DE Andrew Smith (11 games) and DE Dyron Dye (six games) all have experience.
4. Virginia:
Like Florida State, this is another group that should benefit from being in the second season under the same coordinator. Jim Reid switched the scheme back to a traditional 4-3, and the Hoos return a veteran group led by Matt Conrath (33 starts), DT Nick Jenkins (29 starts), and DE Cam Johnson (22 starts).
5. Georgia Tech
: The Yellow Jackets have a better understanding of what is expected from them in their second season in Al Groh's 3-4 defense, and all three starters return in ends Izaan Cross (41 tackles) and Jason Peters (52 tackles), and tackle Logan Walls. Defensive tackles Shawn Green, T.J. Barnes and J.C. Lanier will also compete for playing time along with DE Anthony Williams.
6. Maryland:
The Terps should be solid up front with the return of Joe Vellano, A.J. Francis and Justin Anderson. Francis is the veteran of the group (19 career starts) and had 44 tackles and 2.5 sacks last season, but Vellano is also an all-conference candidate. The Terps have good depth with Zachariah Kerr, Isaiah Ross and Bradley Johnson.
7. Virginia Tech:
This is a group that could and should jump a few spots by the end of the season. On paper, they've got to replace three starters, but this spring the group proved capable of getting the Hokies back to their days of dominating on defense. Based on potential, they should be ranked higher, but based on lack of dependable, proven depth, they could even fall lower.
8. Clemson:
It will be difficult for the Tigers to replace the production of Da'Quan Bowers, but the defensive line is in capable hands with Andre Branch and Brandon Thompson, and Malliciah Goodman has embraced the challenge of taking Bowers' spot. Branch was second on the team with five sacks last season and 8.5 tackles for loss. Thompson had 40 tackles, including six for losses. Defensive tackle Rennie Moore, DE Kourtnei Brown and DT Tyler Shatley also have experience.
9. NC State:
Defensive tackle J.R. Sweezy is one of the underrated players in the ACC, and he returns along with defensive end Jeff Rieskamp. Several players got significant snaps last season, though, including DE Darryl Cato-Bishop (13 tackles), DT Markus Kuhn (17 tackles, and DT Brian Slay (20 tackles, two TFLs).
10. Wake Forest:
The Deacs return three starters including Tristan Dorty, Kyle Wilber and Zack Thompson. Thompson only started five games last season, but after spring practices, coach Jim Grobe said Thompson has all-conference potential.
11. Boston College:
Starters Max Holloway and Kaleb Ramsey return, along with four other linemen (DTs Dillon Quinn and Conor O'Neal, and DEs Dan Williams and Kasim Edebali) who each started at least two games last fall.
12. Duke:
Until proven otherwise, this is where the Blue Devils belong, but Rick Petri was hired to change that. He'll have veteran nose guard Charlie Hatcher (24 career starts) to work with, and sophomore Sydney Sarmiento, who started 11 games last season. Junior Kenny Anunike, Justin Foxx and DEs Desmond Johnson and Jamal Wallace could also see playing time.
May, 5, 2011
5/05/11
6:00
AM ET
By
ESPN.com staff
| ESPN.com
WAKE FOREST
2010 overall record:
3-9

2010 conference record:
1-7
Returning starters
Offense: 7, defense: 9, kicker/punter: 1
Top returners
WR
Chris Givens
, G Joe Looney, DE Tristan Dorty, DE Kyle Wilber, SS Cyhl Quarles, PK Jimmy Newman, QB
Tanner Price
, RB
Josh Harris
, NG Nikita Whitlock
Key losses
C Russell Nenon, RB
Josh Adams
, WR
Marshall Williams
, WR
Devon Brown
, LB Hunter Haynes, LB Matt Woodlief, P Shane Popham
2010 statistical leaders (* returners)
Rushing:
Harris* (720 yards)
Passing:
Price* (1,349 yds)
Receiving:
Brown (302 yds)
Tackles:
Hunter Haynes (77)
Sacks:
Wilber* (6)
Interceptions:
Alex Frye (3)
Spring answers
1. Solidified secondary.
All four starters return in CB Josh Bush, SS Cyhl Quarles, FS Daniel Mack and CB Kevin Johnson, and the Deacs are two-deep at every position. It's a much better scenario than it was a year ago, when Wake had to start two true freshmen corners. The Deacs will also have Dominique Tate, who missed all of last year for academic reasons, and two players who redshirted last year in Desmond Cooper and Merrill Noel. The Deacs ranked 11th in the ACC in pass defense last year, but saw signs this spring of that improving.
2. Sold on the 3-4 defense.
The staff is confident in the defensive tackles and committed to the scheme, which it began using last year. Nose guard Ramon Booi, the backup to Nikita Whitlock, might have been the most improved player on the roster this spring, and is a good contrast to Whitlock, who is 5-foot-10 and more of a speed guy. Booi is a 6-foot-6, 300-pound man-wall. At tackle, Grobe singled out defensive end Zach Thompson as a possible all-ACC candidate, and Tristan Dorty moved from linebacker to defensive end.
3. Staff changes were a positive.
Without disrespecting former defensive coordinator Brad Lambert, who left to become head coach of the fledgling Charlotte program, Grobe said he was pleased with the promotions of Tim Billings and Brian Knorr to co-defensive coordinators, and Lonnie Galloway, who was hired to coach the wide receivers. Knorr's knowledge of the 3-4 scheme has been an added bonus.
Fall questions
1. Which running back will take over?
Josh Harris is the most talented back on the roster, but he missed several spring practices with a hamstring injury he suffered while competing in the 100-yard dash with the track team. He'll have to get healthy and earn the starting job this summer despite competition from senior
Brandon Pendergrass
. Harris, though, scored the only touchdown of the spring game.
2. Will dependable receivers emerge?
The Deacs didn't chart every one, but there were about eight or 10 dropped passes by wide receivers in the spring game. Wake Forest is looking for a playmaker to emerge like Kenny Moore did in '07 and D.J. Boldin in '08. Chris Givens,
Michael Campanaro
,
Danny Dembry
and
Terence Davis
are lead candidates, but redshirt freshmen
Matt James
(6-foot-6) and
Brandon Terry
(6-5), could both work their way into the rotation.
3. Will the offensive line improve?
Four starters are back, so it looks better on paper, but the Deacs will sorely miss the experience and leadership of former center Russell Nenon. Garrick Williams started the final three games of 2010 -- two at guard and one at center, but he struggled with the snaps towards the end of spring and isn't where the staff needs him to be yet.
March, 28, 2011
3/28/11
11:00
AM ET
By
ESPN.com staff
| ESPN.com
Wake Forest's defense was the highlight of the Deacs' first controlled intrasquad scrimmage of the spring on Saturday morning at BB&T Field. Veteran safety Cyhl Quarles was one of the defensive leaders, but stats were not provided.
"I thought Cyhl really led the defense," coach Jim Grobe said, according to the team's
scrimmage release
. "He made good checks and led the coverage. I liked the way we played on defense. Tristan Dorty and Kyle Wilber did some good things and I thought (nose tackle) Nikita Whitlock played well."
Grobe said there were too many mistakes on offense, they couldn't sustain drives, and it made it tough to evaluate the quarterbacks. Wake Forest also worked on punt returns and punt coverage, but place-kicker Jimmy Newman has a hip injury and hasn't participated in drills yet. Redshirt sophomore Alex Wulfeck handled the punts on Saturday.
The good news for Wake Forest fans is that the defense, which ranked 110th in the country last year in scoring defense, is showing signs of improvement.
"The defensive guys were having fun, flying around," said Grobe. "I thought the defense looked much improved over last year. We were playing six freshmen last fall and those same guys are out there now playing with more intensity. If they continue to improve and the offense picks it up, I think we have a chance to have a good spring."
May, 7, 2010
5/07/10
6:00
AM ET
By
ESPN.com staff
| ESPN.com
Good (very early) morning to you, ACC fans. Today we're taking a look back at each school in the conference, and what we learned (and didn't) from spring ball. (Most teams still have far more questions than they do answers heading into summer camp, but we'll stick with three each.) We'll start at the end of the alphabet for a change (sorry, BC fans).
Here's your spring scouting report on the Demon Deacons:
2009 overall record:
5-7
2009 conference record:
3-5

Returning starters
Offense: 6, defense: 7, punter/kicker: 2
Top returners
WR
Marshall Williams
, WR
Devon Brown
, RB
Josh Adams
, G Joe Looney, C Russell Nenon, DE Tristan Dorty, DE Kyle Wilber, LB Matt Woodlief, SS Cyhl Quarles, P Shane Popham , CB Kenny Okoro
Key losses
OT Chris DeGeare, QB
Riley Skinner
, OG Jeff Griffin, OG Barrett McMillin, DT John Russell, DT Boo Robinson, CB Brandon Ghee
2009 statistical leaders (* returners)
Rushing:
Adams* (541 yards)
Passing:
Skinner (3,160 yds)
Receiving:
Williams* (867 yds)
Tackles:
Dominique Midgett (79)
Sacks:
Russell (4.5)
Interceptions:
Okoro* (3)
Spring answers
1. Help for the quarterback.
Wake Forest found some playmakers this spring who can help ease the transition for a new starting quarterback. Brown and
Chris Givens
can both take a handoff on a sweep, and the Deacs have two veterans in Adams and
Brandon Pendergrass
. Wake's ground game should get a boost from both the running backs and wide receivers.
2. New quarterback, new offense.
Without Skinner, the Deacs are making the transition to a more run-based option offense, and No. 1 on this list will help them do that. Regardless of who wins the quarterback job, he'll likely bring an added dimension with his ability to run, and
Skylar Jones
demonstrated that this spring.
3. New staff assignments.
Coach Jim Grobe reassigned some of his assistants to better take advantage of their strengths, and those transitions went well this spring. The biggest change was the move of Steve Russ, a former defensive coordinator at Syracuse, from tight ends and fullbacks to linebackers.
Fall questions
1. Quarterback, quarterback, quarterback.
Jones finished the spring atop the depth chart, but part of that decision was based on durability. Jones didn't miss a day of practice this spring. Historically, that's been a quality Grobe likes -- guys who can stay healthy in his system. But the staff thinks very highly of incoming freshman Tanner Price, who will be given every opportunity to win the job as well. Regardless of who starts the season opener, they're all inexperienced.
2. Woe-line.
Possibly a bigger concern than who the starting quarterback will be is how the offensive line will come together. The Deacs return Nenon at center, but he missed all of spring and added to the unit's injury concerns. Wake is missing established tackles, and the group is trying to get back to running the ball the way it did before Skinner. The previous linemen were recruited to be run blockers, but the focused changed when they got a great passing quarterback.
3. Defensive jobs up for grabs.
Wake Forest has a lot of young talent, making for some ongoing competition this summer at five or six positions. The interior defensive line, defensive end and linebacker are areas where there are two legitimate potential starters as opposed to two backups trying to earn promotions.
September, 16, 2009
9/16/09
2:36
PM ET
By
ESPN.com staff
| ESPN.com

Posted by ESPN.com's Heather Dinich

Wake Forest was leery about playing Elon on Saturday to begin with, but facing the Phoenix will just be the beginning of about a six-week stretch without the Deacs' top pass rusher, defensive end Kyle Wilber. The one player at the position with the most experience broke a bone in his left leg in Saturday's 24-17 win over Stanford. While his stats might not reflect it -- six tackles and one sacks through the first two games -- Wilber was one of the more improved players on a defense already struggling to find replacements for their 2008 superstars. Heading into this season, the defensive line was easily the strength of the defense, and it still should be.

Coach Jim Grobe said he likes how redshirt sophomore Tristan Dorty has played at the other defensive end position in the Deacs' 4-3 defense, and said Dorty showed some positives in last weekend's win against Stanford. Grobe had just gotten comfortable with Dorty balancing out the end position with Wilber on the other side. With Wilber out, Wake Forest will likely turn to redshirt sophomore Will Wright, who hadn't taken any collegiate snaps entering this season.

"Will is kind of a physical guy, probably not the edge rusher that Kyle Wilber was," Grobe said. "And Gelo Orange is a kid we moved from linebacker to defensive end. Gelo has lots of ability, but he played a year at linebacker last year, and so learning the defensive end position is kind of new to him. We've got some young guys we're going to be taking a look at this week. Kevin Smith is a guy that we're going to look at, and maybe a couple of other guys."

Smith is a redshirt freshman out of Texas, and Orange, originally from Haiti, didn't start playing football until he was a sophomore in high school. He moved from Haiti to the United States in 2004. His mother, Geronne, still lives in Haiti. He played in all 13 games last year but didn't record any defensive statistics. He did, however, block a punt in each of the last two regular-season games.

"We've got some guys with ability, we just don't have guys with a lot of experience," Grobe said. "We're going to be scrambling this week to try to find somebody to replace Kyle."
July, 20, 2009
7/20/09
5:05
PM ET
By
ESPN.com staff
| ESPN.com
Posted by ESPN.com's Heather Dinich
1. Clemson -- The Tigers return three starters up front, and first-year defensive coordinator Kevin Steele's pressure defense is the perfect fit for guys like Da'Quan Bowers and Ricky Sapp. Sapp was having a good season last year before he tore his ACL at Virginia and missed the rest of the season. Defensive end Kevin Alexander is a returning starter who had 34 tackles last year, and nose guard Jarvis Jenkins tied Sapp for the team lead with 10 tackles for loss. Opposing quarterbacks won't have time to think against this bunch.
2. Miami -- Anyone watching the Virginia Tech game last year saw what this group is capable of, and of the nine linemen who started at least one game for Miami last year, seven are back. Allen Bailey has moved from end to tackle, but he sometimes played there in third-down situations. He led the team with five sacks. Marcus Robinson is a solid pass rusher, Marcus Forston could also be an impact and Eric Moncur is entering his sixth season and if he plays like he did in 2007 (11.5 tackles for loss) could really give this line a boost.
3. Virginia Tech -- Depth is the only question mark here, as Jason Worilds, John Graves, Cordarrow Thompson and Nekos Brown are more than capable of continuing Bud Foster's tradition of nationally ranked defenses. Nobody is questioning Worilds' toughness, that's for sure, and Graves and Thompson both started every game last year. They're still looking for another defensive end, though, and will keep an eye on what Chris Drager adds to the position after moving from tight end.
4. North Carolina -- Not only do all four starters return, but the depth is the best it's been in recent years. Last year, defensive end Robert Quinn became a starter in the second game of the season, and defensive tackle Cam Thomas had one of his his best season at UNC. Marvin Austin and E.J. Wilson played well, and should be even better this year. Reserves Quinton Coples and Michael McAdoo had solid rookie seasons and will push Wilson and Quinn for playing time this year. Aleric Mullins and Tydreke Powell are interchangeable with Austin and Thomas as starters at tackle.
5. Florida State -- The end position is reason for concern, as the Noles have to replace both Everette Brown and Neefy Moffett, who were first and second, respectively, on the team in sacks. Markus White will be tasked with filling the shoes of Brown, but he had a good transition season from junior college last year to build off of. Kevin McNeil, who had four sacks last year, is the favorite to replace Moffett. The interior should be solid with the return of Budd Thacker, Kendrick Stewart, Moses McCray and Justin Mincey.
6. NC State -- Defensive tackle Alan-Michael Cash and end Willie Young have combined for 46 starts and should be two of the best linemen in the conference. The other two players penciled in as starters -- Shea McKeen and Leroy Burgess -- were both junior college transfers who earned starting time last year. Backup tackles will be a concern, but Markus Kuhn could wind up playing a bit of both until the staff decides where he can help the most.
7. Wake Forest -- Tackles John Russell and Boo Robinson will highlight a defense that recently bid farewell to some of the best seniors to come through the program. It should be one of the Deacs' most experienced groups in recent years, which is important considering the new faces behind them at linebacker. Defensive end Kyle Wilbur showed a lot of promise as a redshirt freshman with three sacks in only seven starts, and Tristan Dorty played in 10 games as a redshirt defensive end last year.
8. Virginia -- It's one of the few units on this team that didn't get a complete makeover, as seven of the top eight linemen return. Sophomore Matt Conrath, who had 35 tackles and four sacks last year, returns at end. There's a lot of experience next to him at nose tackle, where senior Nate Collins and sophomore Nick Jenkins split time last season. Collins' 35 tackles are the top among the returning linemen, while Jenkins finished with 25. Junior John-Kevin Dolce proved himself in the pass rush package with five sacks among his nine total tackles last year.
9. Boston College -- Replacing tackles B.J. Raji and Ron Brace is obviously one of the biggest concerns for this team, but they've got several options. Damik Scafe, Nick Rossi and Brendan Deska were each second-stringers at the tackle position and are the early favorites to replace the NFL draft picks. The Eagles also signed a pair of defensive tackles in the offseason, including highly touted recruit Dillon Quinn, who could make an immediate impact. Austin Giles replaced the injured Alex Albright last year for 12 starts, and Jim Ramella started all 14 games at the other end position.
10. Georgia Tech -- The Yellow Jackets have to replace three of four starters up front, and until they prove they found dependable replacements, they're going to be stuck down here. The lone returning starter is junior end Derrick Morgan, and there's no doubt about his capabilities, but the Jackets will sorely miss the three starters who combined for 100 career starts and 100 tackles for loss. Ben Anderson, Robert Hall and T.J. Barnes are all candidates to start.
11. Duke -- The Blue Devils took a step forward last year and should improve again with the return of tackle Vince Oghobaase and end Ayanga Okpokwuruk, who started five games and had 6.5 tackles for loss and 3.5 sacks. They combined for 9.5 sacks last year. Oghobaase ranks second in the ACC in both career tackles for loss (29.0) and quarterback sacks (11.5). They'll need new starters at nose guard and right end.
12. Maryland -- The Terps have to fill a void left by Jeremy Navarre and Trey Covington, and so far it looks like that will be up to Derek Drummond, Dion Armstrong, Travis Ivey and Jared Harrell, though Armstrong was dealing with some academic issues. The arrival of De'Onte Arnett, Zachariah Kerr, and Cody Blue this past spring should help with the depth.