April, 19, 2010
4/19/10
1:00
PM ET
Wake Forest's offense had looked shaky during earlier spring scrimmages, but had a pretty good day in Saturday's spring game.
The big play was
Devon Brown
's 65-yard score on an option pitch from quarterback
Skylar Jones
.
Willie Dixon
ran for a 3-yard touchdown, and kicker Jimmy Newman converted three field goal attempt.
Jones started at quarterback, while
Brendan Cross
,
Ted Stachitas
,
Turner Faulk
and Patrick Thompson also saw time under center. Jones went 4-of-5 for 38 yards and also ran seven times for 21 yards. Cross had the best passing numbers, completing 9 of 12 passes for 73 yards.
"Consistency is the key," coach Jim Grobe told reporters. "Sky has a leg up, just from durability. He went every day [this spring] and didn't miss anything. But you could see that Brendan and Ted both have ability, they did some things pretty well. We've got talent at quarterback and the guy who takes the first snap against Presbyterian [in the season opener] will be the most durable guy and also the guy who develops the most consistency."
The defense didn't blitz much, which may be one reason the offense performed a little better.
"We really don't want to call a blitz or call a defense that stops a play because of a good defensive call from the coach," Grobe said. "We wanted guys just hitting offensive players and getting off blocks and making plays, and that's what we looked for today."
March, 29, 2010
3/29/10
11:01
AM ET
Wake Forest has a muddied picture at quarterback, and the situation didn't get much clearer in the Demon Deacons' first spring scrimmage Saturday.
Four different quarterbacks played, all of them competing to succeed four-year starter
Riley Skinner
. Junior
Skylar Jones
got the first reps, followed by sophomore
Turner Faulk
, redshirt freshman
Brendan Cross
and true freshman Patrick Thompson.
Jones directed a 65-yard scoring drive and Cross led a 56-yard touchdown march for the offense's only two scores. Cross went 3-of-7 for 14 yards and was sacked four times. Faulk connected on five of his six pass attempts for a team-high 35 yards and was sacked twice. Jones was 3-for-5 for 23 yards, while Thompson missed on both of his pass attempts.
In other words, nobody really stood out, though it wasn't all the quarterbacks' fault.
"We were sloppy," coach Jim Grobe said. "If everybody's playing perfect, and all we had to do was look at the quarterback, it would be easy. But there were times today where the quarterbacks didn't have an opportunity; we either missed blocks or didn't run the right route.
"I liked Skylar today. I thought he did some really good things, showed some composure. He's matured a lot. He's a lot calmer in the pocket right now. He's got a lot of ability. He just needs a lot of work.
"All those guys have a lot of work to do. We really don't know what we are right now because we don't know what their strengths and weaknesses are. By the end of spring, we'll have a pretty good feel about these guys."
Another quarterback candidate, sophomore
Ted Stachitas
, missed the scrimmage with a strained hamstring. The Deacons' top three centers -- Russell Nenon, Whit Barnes and Chance Raines -- also missed the scrimmage with injuries. Garrick Williams handled most of the snapping duties Saturday.
"I didn't know linemen could get a hamstring [injury]," Grobe joked.
March, 25, 2010
3/25/10
10:00
AM ET
As Wake Forest quarterbacks coach Tom Elrod ventures into the 2010 season without graduated veteran
Riley Skinner
, the winningest quarterback in school history, he does so seeking one half-joking requirement for the next man up: "Somebody who won't hyperventilate when they get out there."
It's a characteristic that not even spring or summer camp might reveal, as none of the coaches have seen any of this year's quarterbacks in a relevant game situation.
Ted Stachitas
has the most experience to offer, and that was one series against Elon last year.
[+] Enlarge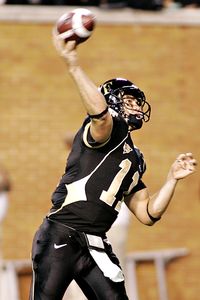 AP Photo/Nell RedmondFinding a replacement for Riley Skinner will be a tall order for Wake Forest.
"I don't know that we feel good about them until they get a good, for-real game under their belt," said coach Jim Grobe. "I like what we've got -- I like the kids who are playing quarterback for us, but even in practices, even in scrimmages, it's just really hard to tell who the guys are until they get in a game that really means something."
The good news for Grobe and his staff is that there isn't a shortage of candidates, despite the departure of Skinner and his backup,
Ryan McManus
.
Stachitas, who succeeded
Tim Tebow
as the starting quarterback at Nease High School, threw for more than 5,000 yards in two seasons as the starter. He has since had two surgeries on his right shoulder, though, for a torn labrum he suffered his senior year. The first game during his senior year in high school, the second was to clean it out as a freshman at Wake.
Stachitas said it's "pretty much 100 percent," and he's gotten most of his strength back.
"I definitely have a lot to work on," Stachitas said. "I can get the plays down better, and my pocket presence, leadership, throwing on the run. Nobody's perfect. I can improve on everything."
Skylar Jones
, a redshirt sophomore, was moved to wide receiver last year. He's probably the fastest athlete on the team, but Elrod said Jones also throws the ball better than a lot of people realize. He just wasn't asked to do much of that at Middletown High in Ohio.
At 6-foot-2,
Brendan Cross
is biggest of the three, and he is the strongest in the weight room, which the coaches like in terms of durability. He's not as fast as Jones or Stachitas, but is the best pure thrower of the three, according to Elrod.
Turner Faulk
, a walk-on, is also a dual-threat, and incoming freshman Tanner Price will be given a chance to compete as well. Price compares more to Cross in size and strength.
"I am confident one of those guys will step forward," Elrod said. "I think they all have a chance. We recruited them thinking they were good players and haven't been surprised since any of them got here. We've got to be really smart as coaches. ... We can't put as much on the quarterback as we did on a fifth-year senior. We're confident one of them will step forward. I honestly don't know which one will because none of them have had a lot of opportunities to do so."
By necessity, that will change this year.
While the staff will have to be careful with how much they ask of their new starter, the number of dual-threat quarterbacks they have to choose from could also open up their playbook a bit.
"Previous to Riley, we were able to run the quarterback a bit," Elrod said. "Riley was a better runner than people think, but he wasn't a pure runner. ... The guys we have now give us another dimension where we'll be able to carry some quarterback runs, and that's put stress on the defense because at times you can block the ball when the quarterback is carrying the football. It gives you an extra person to block, on the perimeter or the interior, and we'll look at that. It's part of our job to fit personnel to your scheme and then also to say, 'Hey, let's make this thing fit who our quarterback is.'"
First, though, they have to figure out exactly who that is.
February, 15, 2010
2/15/10
11:00
AM ET
At Duke, former scout team quarterback
Sean Schroeder
has been reciting the names of plays so he can spit them out a little easier in the huddle as the No. 1 signal-caller this spring. At Wake Forest, coach Jim Grobe would like nothing more than to say he feels good about his quarterbacks, but he hasn't seen any of them play significant game time yet. And at NC State, backup
Mike Glennon
plans on working to unseat his friend and teammate
Russell Wilson
as the starter this spring.
[+] Enlarge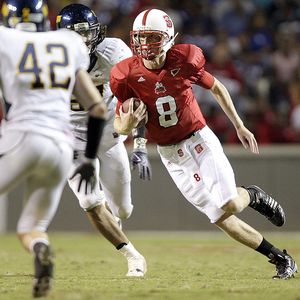 AP Photo/Gerry Broome Mike Glennon will get extra reps under center this spring while incumbent starter Russell Wilson plays baseball.
Bring on the competition in the ACC.
All across the conference, uncertainty looms at quarterback heading into spring practices. The biggest transitions will occur at Duke and Wake Forest, where two of the ACC's most accomplished quarterbacks --
Thaddeus Lewis
and
Riley Skinner
-- have graduated. Virginia is also starting from scratch to replace
Jameel Sewell
, and nobody on the roster but
Marc Verica
has experience. Maryland's
Jamarr Robinson
has two starts ahead of the competition. Some schools, like North Carolina and Boston College, have experienced starters returning, but have welcomed an audition from the backups. At NC State and Clemson, the position's future depends on whether or not starters
Kyle Parker
and Wilson decide to pursue their baseball careers.
"My goal is to prepare to be the starter, regardless of what decision [Wilson] makes, whenever he has to make a decision," Glennon said. "… Once spring comes around, I'll be getting all of those extra reps I wouldn't have been given if he was there. Every ball I throw is really an advantage to me."
Florida State is the only school in the Atlantic Division without any questions about who the starter is, as
Christian Ponder
will return from a shoulder injury and has the potential to factor into the Heisman race. The Coastal Division is a little more secure, with Georgia Tech's
Josh Nesbitt
, Miami's
Jacory Harris
, and Virginia Tech's
Tyrod Taylor
all established and on the brink of their best seasons yet. Whether or not that gives them an edge in the conference race will depend upon how quickly the league's rookies can catch up.
"It's always difficult to replace a guy who had the ability [Lewis] had," said Duke offensive coordinator and quarterbacks coach Kurt Roper. "He's obviously very, very talented, and then the experience factor. You don't have a four-year starter very often ever at many positions, especially at quarterback."
Boston College is in a much better position than it was this time a year ago, as the staff had no idea who its quarterback would be until 25-year-old
Dave Shinskie
arrived on campus. Shinskie is the front-runner heading into the spring, but
Mike Marscovetra
and two true freshmen -- Chase Rettig and Josh Bordner -- are on campus and will be given a chance.
"I think there should always be competition," said offensive coordinator/quarterbacks coach Gary Tranquill. "It's Shinskie's job, and if they can unseat him, then they can unseat him."
Duke's quarterback depth took a hit after Lewis graduated and his backup,
Sean Renfree
, tore his ACL. Renfree is expected to be the Blue Devils' starter this fall, but he will miss all of spring drills while he recovers.
Next man up? Schroeder.
"I'm expecting to really get a hold of the offense," he said. "I've got a year under my belt as a redshirt freshman. That helped a lot. I'm looking to grow from that and master the offense and different schemes we have."
Wake Forest has to replace the winningest quarterback in school history in Skinner. Truth is, there really is no front-runner. Not when the most experienced player,
Ted Stachitas
, has one series against Elon to fall back on.
"It is legitimately wide open," said quarterbacks coach Tom Elrod.
The contenders include
Skylar Jones
, who was moved to wide receiver last year; Stachitas, who has had two shoulder surgeries on his right shoulder but said he feels almost 100 percent;
Brendan Cross
; walk-on
Turner Faulk
; and true freshman Tanner Price.
"I can't tell you that I'm very confident, just because we haven't seen the guys in live fire," Grobe said. "I don't know that we'll feel good about them until they get a real game under their belt. I like what we've got – I like the kids who are playing quarterback for us, but even in practice and the scrimmages, it's just really hard to tell who the guys are until they get out in games that really mean something."
The one thing Grobe can take some solace in? He's hardly alone this spring in the ACC.
February, 12, 2010
2/12/10
2:17
PM ET
Each team has plenty of questions to answer heading into spring practice, so let the competition begin. Here are five position battles worth watching in the ACC this spring:

1. Wake Forest quarterback – Replacing Riley Skinner, the winningest quarterback in school history won't be easy. The job is wide open, and the candidates include Ted Stachitas, Skylar Jones, Brendan Cross, walk-on Turner Faulk, and true freshman Tanner Price.

2. Virginia Tech defensive ends – Experience is at a premium here after the early departure of Jason Worilds to the NFL. Chris Drager and Steven Friday are now the veterans of the group, but there are also several redshirt freshmen in the mix. The staff has high hopes for Duan Perez-Means, Tyrel Wilson, James Gayle and J.R. Collins, but could also make some position changes to fill the need.

3. Virginia's quarterback – The Cavaliers are also starting from scratch after the departure of Jameel Sewell, and Marc Verica is the most experienced of the bunch. There were four quarterbacks in this year's recruiting class, but only Michael Strauss enrolled early. The Cavs also have Ross Metheny and Riko Smalls.

4. BC defensive line – The Eagles have to replace left tackle Austin Giles and defensive end Jim Ramella, who was one of the top leaders. They return Kaleb Ramsey, Giles' backup, and Brad Newman, Ramella's reserve, but several newcomers should work their way into the mix.

5. Miami tight ends/offensive line – The Canes have to replace three starters up front, and tight end Jimmy Graham has graduated. Miami brought in four tight ends in this recruiting class, but none of them were early enrollees. Richard Gordon, who was injured the majority of last season, is the only returning tight end with experience.