September, 9, 2012
9/09/12
9:00
PM ET
Miami starting linebacker
Ramon Buchanan
will
miss the rest of the season with a right knee injury
and safety
Vaughn Telemaque
is out for this week's game against Bethune-Cookman with a left knee injury, according to The Associated Press.
They were injured in Saturday's 52-13 loss to Kansas State. Miami's defense has been an open door for opponents, and this obviously isn't going to help matters. It doesn't matter that they've got an FCS opponent at home this weekend: The Canes have two of the next three games on the road, including a trip to Coastal Division opponent Georgia Tech, and a date with Notre Dame in Soldier Field.
Coach Al Golden told reporters on Sunday that juniors
Jimmy Gaines
and
Tyrone Cornileus
are expected to compete for Buchanan's starting spot.
"Jimmy has made some progress," Golden said,
according to the Miami Herald
. "He's starting to play more snaps and feel healthier. Jimmy will certainly be in the mix there.
Gionni Paul
has to come through for us and
Thurston Armbrister
continues to make progress for us and of course Tyrone has been playing over there with Buck. Obviously Tyrone's going to get a chance to be a starter, he'll probably compete with Jimmy Gaines, but we need all of these guys to step up for sure."
August, 13, 2012
8/13/12
10:00
AM ET
By
ESPN.com staff
| ESPN.com
Not every school in the ACC gives scrimmage reports, but for those that do, I'll gladly post the highlights. Here's a look back at what happened in the ACC this weekend, according to each school's report:

BOSTON COLLEGE
Offensive highlights:
Quarterback
Chase Rettig
completed 6 of 10 passes for 51 yards and a touchdown -- a 15-yard pass to running back
Rolandan Finch
, who also had eight carries for 37 yards. Freshman
Harrison Jackson
led the receivers with five receptions for 50 yards.
Defensive highlights:
Defensive end
Brian Mihalik
had two tackles for a loss of 10 yards, including a sack. Senior captain
Jim Noel
had the lone interception.
Special-teams highlights:
Kicker
Nate Freese
made all three of his field-goal attempts -- 30, 35 and 25 yards.
Quotable:
"It was a good start, good first series and then it tailed off," coach Frank Spaziani said. "We got soft and had some execution issues, but in general the scrimmage gives us a good idea where we're at right and we'll look to improve for the next one."

CLEMSON
Offensive highlights:
Sophomore receiver
Charone Peake
caught three passes for 64 yards and two touchdowns -- one a six-yarder from
Cole Stoudt
, the other 37 yards from
Morgan Roberts
. (Six quarterbacks got reps.)
Jaron Brown
caught the other touchdown pass of the scrimmage, a 56-yarder from first-team quarterback
Tajh Boyd
.
Sammy Watkins
had two receptions for 35 yards, the first two completions on the first drive of the scrimmage from Boyd. Boyd finished 5-for-10 for 105 yards and a touchdown with one interception. He also had a 32-yard rushing touchdown.
Rod McDowell
was the top rusher with nine attempts for 46 yards. Clemson's running backs tallied 109 yards on 22 carries on the day, nearly a 5.0 average per carry.
Andre Ellington
played sparingly to give the other young backs some experience.
Defensive highlights:
Xavier Brewer
had seven tackles, a sack and a pass breakup.
Kellen Jones
, a transfer from Oklahoma who is not eligible this season, added six tackles, including two for loss, while
Jonathan Meeks
had five tackles.
Tig Willard
had three tackles and one of his two pass deflections led to an interception.
Special-teams highlights:
Spencer Benton
made a 55-yard field goal.
Chandler Catanzaro
made three of his four attempts, from 36, 39 and 41 yards.
Quotable:
"It was a good first scrimmage," said coach Dabo Swinney. "We made some mistakes, but they are correctable. I thought the defense played well. We saw a lot of activity around the ball. Xavier Brewer had a good scrimmage, as did
Lateek Townsend
. He was involved in three sacks and that was big.
"We have made good progress this first week. There is still much to do, but I like the attitude of this team. They come to work. They go about their business."

MIAMI
Offensive highlights:
Mike James
rushed for a team-high 137 yards on 13 carries with three touchdowns, including a 51-yard burst down the sideline.
Duke Johnson
had 49 yards on nine carries and four touchdowns -- three rushing and one receiving. He took a screen pass from
Stephen Morris
37 yards for a score.
Morris and
Ryan Williams
showed good footwork to elude pressure in the pocket and scramble for yards when needed. Morris completed 24 of 36 passes for 193 yards with four touchdowns, with one interception. Williams threw for 121 yards and three scores on 12-of-17 passing.
Johnson led all receivers with 44 yards.
Malcolm Lewis
caught three passes for 42 yards, while
Kendal Thompkins
hauled in a team-best five catches for 22 yards.
Defensive highlights:
A.J. Highsmith
had a team-high nine tackles, while
Tyrone Cornileus
,
Tracy Howard
and
Ramon Buchanan
all recorded seven tackles apiece.
Anthony Chickillo
,
JaWand Blue
and Cornileus each recorded a sack.
Quotable:
"We've been saying it all camp: Mike [James] looks quicker," coach Al Golden said. "He has always been strong but now he looks healthy.
"[Duke Johnson] found [the end zone] a couple of times today. He has a low center of gravity and a knack for diving and finding the end zone."
April, 3, 2012
4/03/12
2:30
PM ET
Andrea Adelson had a chance to sit down with Miami coach Al Golden during a recent visit to Coral Gables. Here is a little of what he had to say.
I know depth is an area of concern. How are you working to address that this spring?
Al Golden
: Any time you're bringing in a class of 33, that's three starting units. Obviously, those guys are going to have an impact somewhere on your depth. You never want to have a year where you take six receivers or seven defensive backs, but the symmetry at those positions was not good. It was not vertical depth. It wasn't fifth-year seniors, fourth-year seniors, juniors, sophomores, freshmen, then incoming guys. It didn't exist. So that was a blanket approach of trying to bring in a lot of guys to fix a depth issue. Between the depth and those guys challenging for playing time as starters, that's going to improve our team. I'm not worried about playing young guys. We'll find a way to get them in a game if they're talented and they learn it and they're in good condition. I don't care whether they're freshmen or seniors, I just need guys who want to execute.
You lost some senior leaders. How is that aspect of your team developing?
[+] Enlarge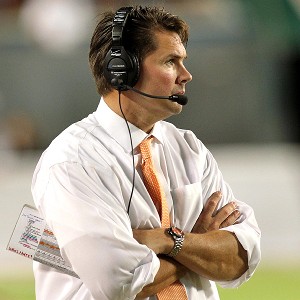 Robert Mayer/US PresswireCoach Al Golden has been impressed with the physicality of the linebacking corps this spring.
AG
: So far it's been good.
Mike James
and
Eduardo Clements
at running back,
Stephen Morris
at quarterback. (Brandon) Linder on the offensive line has been very good.
David Perry
at tight end has been a nice surprise for us.
Allen Hurns
at wideout has done a nice job with the leadership. Defensively, (Ramon) Buchanan will be a leader for us, Ray Armstrong will be a leader for us, Jimmy Gaines has been and will be a leader for us. It's been positive in terms of that. We just have to continue to develop leaders and give them opportunities to lead.
How about some questions that have been answered about your defense so far?
AG
: I think the one thing that jumped out in the (first scrimmage) is we had a lot of linebackers that played physical. So that part of it was good. Even the young guys, [Raphael] Kirby was physical,
Gionni Paul
was physical, Denzel [Perryman] was physical on top of [Tyrone] Cornileus and Jimmy Gaines and those guys. Seeing that was good. We tackled a lot better in Scrimmage 1 this year than Scrimmage 1 a year ago, which was important, and we're still trying to develop our depth on the defensive line and at cornerback. Those are two positions we need to bolster this spring.
Speaking of the defensive line, you don't have many players with starts or experience. What do you want to see out of that group this spring?
AG
: I want to see, like
Curtis Porter
, I'd like to see him take his game to the next level.
Darius Smith
has got to continue to improve. Then we're going to have a host of other guys at the defensive tackle position that need to compete and improve their game. At defensive end,
Shayon Green
's had a good spring for us so far, and really at defensive end, we're going to have in addition to what we have right now, we're going to have three defensive ends coming in that are going to have to compete for starting jobs and also add depth.
Right now, do you have any idea of what team you will have in the fall?
AG
: We have a long way to go. I just think before these other 23 players come in, because 10 are here now, you have to assess where you are at every position and see how they come out of it. We have a long way to go to get through spring ball, and then from April 14 until Aug. 5 there's a great opportunity for them to grow and develop. It's too early to assess where we are right now as a team.
A year into the job, what are your impressions of coaching at Miami, a place where championships are always expected?
AG
: We're not at that level right now. The first order of business when you're trying to fix something or you're trying to build something is to recognize where you are and then to not only plot a course but then to follow that path, follow that strategy and execute it. I'm glad the standards are where they are, and I'm glad we produce NFL players, and I'm glad we have so many things to offer young people. It's the reason why you take the job. But we can't jump from where we are right now to there without taking all the steps we need to take in between. We're just trying to implement our schemes and our system and follow the process on a daily basis.