November, 20, 2014
11/20/14
2:00
PM ET
SOUTH BEND, Ind. -- Brian Kelly will coach his 63rd game at Notre Dame on Saturday, which is remarkable for the simple fact that the three men in his chair before him never made it this far.
Not Charlie Weis (62 games). Not Tyrone Willingham (36). Not Bob Davie (60).
No, the last time a Fighting Irish coach took the field for Game 63 of his tenure came Sept. 21, 1991, when Lou Holtz's squad rolled over Michigan State, 49-10. So much has changed since then. And yet so little has changed, too.
[+] Enlarge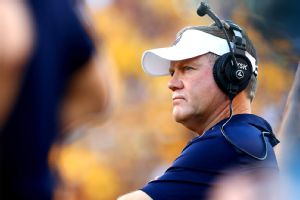 Mark J. Rebilas/USA TODAY SportsAfter some recent struggles, Brian Kelly's Irish look to finish the season strong.
A win this weekend over Louisville would make Kelly the first Notre Dame coach to start his tenure with five straight seasons of eight-plus wins. No Irish coach has done that during any five-year stretch since 1987-93, a run that saw Holtz coach the program to its last national title.
Notre Dame will go yet another season without a title in 2014, a drought that now stretches 26 years, and a goal that probably looked like a distant dream this past weekend as the Irish fell to Northwestern for loss No. 3 on the year.
Of course, as recently as two weeks ago, before losing at Arizona State, the Irish were right in the thick of things. A month ago they looked ready to break through that title ceiling, unbeaten as they took defending champion Florida State down to the final seconds in a loss.
Reconciling the fall from grace has been a maddening task for the Irish as they enter Senior Day against the Cardinals.
"I think college football is such that it comes down to a couple of plays and a fine line," Kelly said. "And that's why it's so critical that when you turn the ball over like we do, and when we turn it over, it's critical. I mean it's catastrophic turnovers."
Of course, the frustration that comes with a three-loss season is a far cry from what those seniors experienced upon entering Notre Dame at the ground level of the Kelly era.
"I think definitely from freshman year to now, we definitely turned the program around," said offensive tackle
Christian Lombard
, who, like Kelly arrived to the Irish for the 2010 season. "It's a winning program now, and we expect to win every game. We expect to win every game at home, we expect to be right there with teams, it's just the way it is around here now. It's one of those institutions [like] it was back in the day, so we're all really proud of that."
Added end
Justin Utupo
, a fellow redshirt senior: "We're obviously the first class that was brought in and [the coaches] looked at us to help build what they were trying -- this winning culture. I was here from the start. I've seen when we were bad. I've seen when we were really good."
Holtz said Kelly has been able to implement such expectations because of his vision and because of his plan to execute that vision. It comes from the benefit of being a head coach at three other stops beforehand, a luxury Holtz was afforded as well, having been in the big seat at five different college and pro stops before taking the Notre Dame job.
Kelly's last three coordinators at Notre Dame earned head-coaching jobs elsewhere. Last year's Irish team had eight players drafted, the program's most in a single draft in 20 years. That the Irish started 6-0 without them -- and without four players lost to academic suspensions two weeks before the season -- speaks to what is in place. That three losses in their past four games has sparked a world-is-ending feeling around the fanbase speaks to the climb left to be done.
"He's got a young football team this year," Holtz said of Kelly. "And I think next year may be his best football team."
Depending on one's preferred math, the Irish could be returning 20 starters in 2015. And that does not include the potential return of several of their currently suspended players.
That could make this final stretch all the more important for the near-term future of a program that is toeing the line between a 7-6 and a 10-3 campaign this year, a program soon-to-be filled with a new cast of characters that had little part of that 12-1 run to the national title game two years ago.
"They understand that there are some tough times," Kelly said. "But, relatively speaking, I remind them of some tough times, that we were here just a few years ago, when we were 4-5. Those are tough times. Those are difficult times. This pales in comparison. You're now in a winning environment. And you've won a lot of football games. Our seniors win on Saturday, that would be 182 in the last 20 games at home. So keep it in perspective."
Holtz, who lasted 132 games on the Notre Dame sideline, is doing just that when it comes to the man currently in charge.
"I hope Brian Kelly reaches the next 63," he said.
October, 28, 2008
10/28/08
3:20
PM ET
By
ESPN.com staff
| ESPN.com
Posted by ESPN.com's Heather Dinich
Dustin, in Concord, N.C., writes: Heather, 1st off love your blog, even being a Clemson fan and in the middle of a horrible season(What might have been?)I have enjoyed reading your work!! My question is what is the status of Clemson's coaching hunt? I mean i haven't heard anything over the last 2 weeks. Shouldn't we get this ball rolling like UNC did 2 years ago giving them advantage to start looking early? Thanks, Dustin GO TIGERS!!!!!!!!!
Heather Dinich: Thanks for reading, Dustin. Clemson athletic director Terry Don Phillips has done nothing but support Dabo Swinney, but he has also said he wants to name the next coach within 10 days after the end of the regular season. While I haven't talked to Terry Don lately about the search, you'd have to be naive to think it hasn't started in some form or another. They have to gaugue interest in the job. I talked to defensive coordinator Vic Koenning today about his defense and he casually mentioned it's a good group of young guys for whoever comes in next. Not exactly unwavering confidence that this staff expects to stick around. And if anybody keeps it real, it's Vic.
---
Steve, in Seattle, writes: As a Clemson alum living in Seattle, I've been reading up a lot on the coach changes for both Clemson and Washington. Both have decided to announce coaching changes mid season but each coach has responded differently. Tyrone Willingham will finish the year with UW while Bowden stepped down immediately. What are your thoughts on this and what assumptions should I make on the character of these coaches? My thoughts are Tyrone has put the program first making sure he finishes the year, while Bowden seems to have to problems walking away from his players.
Heather Dinich: First, let me say I have spoken with Tyrone Willingham before and have respect for him. I also respect Tommy Bowden, but you make an interesting point. It's hard to forget the image of James Davis crying after he heard the news. To me, both scenarios are less on the coaches and more on how the ADs handled it. If I'm an AD, I don't call my struggling coach into my office midseason UNLESS I'm going to fire him. Coaches know what their jobs are. They don't need a reminder of the program's goals. And if I DON'T want a coaching change midseason, then I don't fire my coach!