October, 15, 2013
Oct 15
7:00
AM ET
NC State may very well have been a close call away from possibly upsetting Clemson in its ACC opener. It came back and routed Central Michigan to get to 3-1, and things looked bright for first-year coach Dave Doeren and his squad with a favorable schedule awaiting it. Instead, the Wolfpack dropped games at Wake Forest and against Syracuse. They enter a bye, and the midway point of their season, at 3-3 overall but 0-3 in ACC play, and Florida State is awaiting them Oct. 26 in Tallahassee.
Many winnable games are left on the schedule, so the postseason does not appear to be in jeopardy. But the Wolfpack could certainly use a boost offensively, one they are likely to receive next time out from quarterback
Brandon Mitchell
, who was on the brink of a return from a broken bone in his left foot this past Saturday but ultimately sat out against the Orange.

Pete Thomas
, who replaced Mitchell in Week 1 and has started since, has completed 60.9 percent of his passes for 1,314 yards with three touchdowns and eight picks. NC State has averaged just 12.3 points in its three conference games, and its 24.7 points per game on the season has the Pack ranked 91st nationally in that department.
The Wolfpack have gotten help from the run game, which has been solid but not great, and the defense has allowed just 21.2 points per contest, 28th nationally.
The opportunities are there for Doeren and the Pack to have a successful Year 1 together, and perhaps a bye week is coming at the perfect time. But they need to get better and take care of business down the stretch against a lineup that features the likes of struggling North Carolina and nonconference foe East Carolina.
Offensive MVP
:
Joe Thuney
, OG/OT. Talk about versatility: The right guard filled in at right tackle in the opener in place of
Tyson Chandler
, replaced an injured
Rob Crisp
at left tackle in the Clemson game and, last year, was the No. 2 center. He has played every offensive line position but left guard so far for the Wolfpack, proving to be an invaluable piece to the unit.
Defensive MVP
:
Art Norman
, DE. The redshirt junior has been a force, tallying a team-best three sacks and six tackles for loss while generating three quarterback hurries. He also has a forced fumble and has a fumble recovery.
May, 30, 2013
May 30
2:00
PM ET
On Wednesday we started an interview with first-year NC State offensive coordinator Matt Canada. Here is the second part of our interview:
How is the running game looking? Who's coming back?
Matt Canada:
We've got Shad, [
Shadrach Thornton
] Shad's coming back.
Right, he was a nice surprise last year.
MC:
Yeah, he had a very good freshman year. And
Tony Creecy
is a great kid, a very durable, solid guy who had a very, very good spring. Those two guys certainly carried most of the load this spring. And we've got some guys coming in here in the fall, so there will be some freshmen at the skill positions who might be able to have an impact a little faster than the linemen, those types of spots. You never know.
[+] Enlarge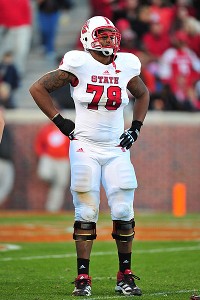 David Scearce /Icon SMIAfter losing four offensive linemen from last season, NC State will be relying on Rob Crisp for leadership.
And how do you look up front?
MC:
That's the key to everything.
Rob Crisp
, he's a guy who played a lot of football. He's a guy coming back, and we're certainly counting on him to be a leader in every way, starting with his play and the way he leads that group. I think he understands that. When you lose four linemen, there's a lot of leadership that left the room. You work through that and understand that. The other guys have played,
Tyson Chandler
has played, [Duran] Christophe, everyone is still competing. Competition is a great thing, and we're going to continue to have it every day until the opener.
Just in general, what was the most challenging thing for you guys this spring?
MC:
I don't know. Putting in a new offense is fun, it's exciting. Spring is the best time of year to do those things. You go out, you just ball. Changing the tempo, we've done it a couple times now -- once at Northern and once here now. Those are things you see and have to work through, those things have been good.
How has Pete [Thomas] done in the no-huddle?
MC:
Very good. He's a smart quarterback, understands it, and has done a good job.
What's your main priority to get done this summer?
MC:
We'll just continue to evaluate the spring film, look at what we did well, decide exactly where we're going to head, and how we're going to attack the season with the players we have. We've got 15 days of film.
You mentioned Asa Watson, what kinds of things can he do in this offense? How does he fit in?
MC:
He can do it all. He blocks well, he can catch the football. I think he's a very versatile player, so I'm excited about him and watching him develop. … He'll be full strength in camp. He's a leader. He's a very good person, a great kid, and a guy we're looking to to lead us.
May, 7, 2013
May 7
7:30
AM ET
2012 record:
7-6
2012 conference record:
4-4 ACC (third in Atlantic Division)
Returning starters:
offense: 5; defense: 5; kicker/punter: 2
Top returners:

WR
Quintin Payton
, OT
Rob Crisp
, OT
Tyson Chandler
, DE
Darryl Cato-Bishop
, CB
Dontae Johnson
PK
Niklas Sade
, P
Wil Baumann
Key losses:
QB Mike Glennon, WR
Tobais Palmer
, OG
R.J. Mattes
, C
Camden Wentz
, CB David Amerson, S Earl Wolff, S
Brandan Bishop
2012 statistical leaders (*returners)
Rushing:
Shadrach Thornton
* (694 yards)
Passing:
Glennon (4,031 yards)
Receiving:
Palmer (781 yards)
Tackles:
Wolff (119)
Sacks:
Cato-Bishop* (6.5)
Interceptions:
Amerson (5)
Spring answers
1. QB Pete Thomas is next in line.
Thomas edged out
Manny Stocker
for the majority of first-team reps this spring, and while the staff isn't ready to name Thomas the starter, it became clear he is the front-runner to take over for Mike Glennon.
2. Picking up the pace:
First-year coach Dave Doeren and his staff didn't install the entire offense, but the Wolfpack did begin to make the switch to an up-tempo, no-huddle offense this spring. Doeren wants to snap it every 15 seconds, and the players began to adjust to a different pace of play.
3. Solid specialists:
If there is one area the Pack shouldn't be concerned about this fall, it's the kicking game. The holder, punter and place-kicker are all true juniors who have been playing since they were true freshmen. Doeren said all of them had a great spring.
Fall questions
1. Unproven quarterbacks:
While Thomas took the majority of reps, Doeren has stressed this remains an open competition into summer, and none of them have yet to compose a résumé comparable to Glennon's.
2. Shuffling on the offensive line:
NC State has to replace three starters up front, and the new staff spent this spring experimenting with different combinations to try and find the best fits. The linemen have also had to adjust to different blocking schemes in the faster-paced offense.
3. New faces at safety.
It's been almost three and a half years since anyone besides Wolff and Bishop had to play safety at NC State. Replacing that experience will be difficult.
Hakim Jones
was a backup last year who has been penciled in as a starter, and
Jarvis Byrd
, a fifth-year redshirt senior who has been injured for most of the past two seasons and was a former cornerback, is another top option. Finding a rotation at safety will be a priority this summer.
April, 11, 2013
Apr 11
5:00
PM ET
NC State offensive tackle
Rob Crisp
thought the Cortisone shot would do the trick.
After breaking his tailbone last year in the fourth quarter of the season opener against Tennessee, Crisp was eager to get back on the field and help the Pack. He did everything asked of him during the rehabilitation process, and was cleared to play the final seven games of the season. Crisp took a Cortisone shot before the game against Maryland, his first game since the injury, but he also got hit with a numbing reality on the first play: he still wasn't 100 percent.
[+] Enlarge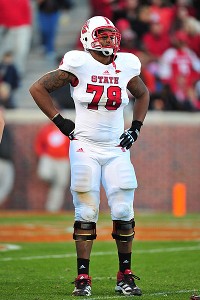 David Scearce /Icon SMIAfter losing four offensive linemen from last season, NC State will be relying on Rob Crisp for leadership.
"I just got put right on my butt," he said, "right on my tailbone where the injury was."
Crisp said he never played at full strength after that injury -- until this spring. Crisp is finally healthy and leading an offensive line in desperate need of some experience. With only two starters returning -- Crisp and tackle
Tyson Chandler
-- there have been some growing pains up front. Not only is NC State trying to learn a new playbook under first-year coach Dave Doeren, but it is also trying to rebuild the offensive line and protect a rookie starting quarterback -- whomever that might be.
"With a whole new coaching staff, everything is completely different, so everybody is doing a great job adjusting to that," Crisp said. "Being that we only have three guys returning who have played a lot of football, we have a lot of young guys, but those guys are doing a great job. Everyone is learning something new, so it's not like they're by themselves in a situation. They've grabbed their roles and are doing great.
"I'm sure they'll be ready," he said. "Our coaches have been doing a great job getting the team ready and learning new plays. I think they'll be fine."
Crisp is determined to do his part to make sure of it.
Of the 16 offensive linemen on the roster, only three are seniors -- Crisp,
Duran Christophe
, and
Isaac Swindell
. Christophe moved into the starting lineup in the fifth game last season, but was injured against Virginia and didn't play in the final four games. Crisp is easily the anchor of the line, and one of the leaders of the offense. He was a highly touted recruit who started to reach his potential in 2011 when he played in every game at right tackle and didn't allow a sack. The injury last season derailed his career, but he is back on track for his senior season.
His main goal, aside from staying healthy, is simply whatever it takes to help his team win.
"I want to lead the guys in the right way," he said. "We only have two seniors on the offensive line. A lot of the guys look up to me. I feel like if I do something I shouldn't be doing, or I don't work hard in practice, if I don't come to every meeting, I'm letting those guys down and setting a bad example. It's not so much about me and my goals in terms of my senior year, it's really about the team. Whatever I can do to help the team in terms of winning a championship is what's most important. I just want to go out there and have fun and win a championship, that's the most important thing."
October, 7, 2012
10/07/12
12:00
AM ET
RALEIGH, N.C. -- After last Saturday's games,
Mike Glennon
sent a text message to his good friend
EJ Manuel
, predicting an upset.


It was a boastful claim considering NC State had just looked awful in a loss to Miami (Fla), and Florida State was flying high and ranked third in the nation. Manuel was so amused, he shared the message with his defense as a bit of bulletin-board material.
Turns out, Glennon was right.
NC State's senior quarterback led a furious assault on the vaunted Seminoles defense in the second half, rallying the Wolfpack from a 16-point deficit for a
17-16
win.
It was over when:
Glennon hit
Bryan Underwood
for a 2-yard touchdown pass on fourth-and-goal with 16 seconds remaining in the game. It was the third time NC State was faced with a fourth down on the drive, which began after the Wolfpack blocked a late FSU punt. The touchdown tied the game, and the ensuing extra point gave them the lead as NC State knocked off a top-five opponent at home for the first time since 1998, when NC State dumped No. 2-ranked FSU.
Game ball goes to:
Glennon. After being demolished in the first half, completing just 6 of 13 passes for 41 yards with an interception, the senior quarterback was calm, cool and collected in the second half, delivering one big throw after another. Glennon finished the game 30-of-55 passing for 259 yards and two second-half touchdowns, including the game winner on fourth down with 16 seconds left.
Turning point:
Halftime. The first half was all Florida State, as the Seminoles dominated the line of scrimmage,
Chris Thompson
burned the NC State defense on the ground, and FSU went into the locker room leading 16-0. When the two teams emerged for the second half, it was a brand new ballgame. The NC State defense tormented Manuel, with FSU mustering just five first downs and 101 yards. NC State, meanwhile, sprung to life, quadrupling its first-half output with 257 yards of offense, most of it coming on short passes over the middle that FSU's linebacking corps had no answer for.
Stat of the game:
Four. That's the number of times FSU has started a season 5-0 since its 1999 national championship season, and on all four occasions it lost its next game. The questions will be awfully tough for Jimbo Fisher and the Seminoles to answer after this -- a game it dominated early. A week earlier, NC State allowed an ACC-record 566 yards passing, but Manuel couldn't solve the Wolfpack defense and another season of immense expectations fizzled with an unlikely loss.
Unsung hero:
The NC State offensive line. Missing three starters, the Wolfpack's offensive line stepped up and shut down a rather passive Florida State pass rush. The Seminoles had just one sack, which came early and from a defensive tackle. Fill-in offensive tackles
R.J. Mattes
and
Tyson Chandler
managed to keep
Cornellius Carradine
and
Bjoern Werner
off Glennon long enough for the Wolfpack quarterback to engineer one strong drive after another in the second half, including three huge fourth-down conversions late.
October, 4, 2012
10/04/12
4:00
PM ET
The stats don't line up in NC State's favor. Nor do the players up front.
No. 3 Florida State enters Saturday's Atlantic Division game in Raleigh ranked No. 18 in the country with three sacks per game. The Pack is No. 106 in the country in sacks allowed with 3.2 per game.
Quarterback
Mike Glennon
, who has already been sacked 14 times this season, might want to wear some extra padding this weekend.


If NC State is going to pull off yet another upset of Florida State, it's going to have to do a much better job of protecting Glennon, but it will have to do it against one of the nation's best defensive lines and with yet another patchwork offensive line. Three projected starters -- guard
Zach Allen
(foot), tackle
Rob Crisp
(lower back), and guard
Andrew Wallace
(foot) -- will all miss the Florida State game, according to NC State's Thursday injury report.
NC State has beaten Florida State in four of the past six games when the Seminoles were ranked. NC State will have the advantage of a raucous home-field crowd at Carter-Finley Stadium, but injuries and changes to NC State's offensive line this season give the edge to the Noles up front until proven otherwise.
Florida State defensive ends
Tank Carradine
and
Bjoern Werner
are currently sixth and eighth respectively in the NCAA in sacks. The pair is also No. 1 and No. 2 in the ACC in sacks. Werner and Carradine are the only teammates in the top 10 for sacks in the FBS.
"Well, they're big in the middle, and I think that's -- if you're going to be a four-down lineman team, you need to have those big 300-pounder strong guys that control and keep their linebackers free, middle linebacker free specifically, and then they have great skill on the outside," NC State coach Tom O'Brien said. "Carradine and Werner both lead the conference in tackles for losses; they lead in sacks. They turn those guys loose because the guys in the middle can eat up a lot of blockers, and those guys set the edge and get up the field and create all kind of havoc."
Heading into this season, NC State's offensive line was expected to be one of its biggest strengths. All five starters had previous starting experience. Injuries have changed the situation dramatically, and NC State has lacked continuity up front. The Pack will use its fourth different starting offensive line in six games against FSU.
Starting left tackle Crisp was injured in the season opener, and backup right tackle
Tyson Chandler
, a redshirt sophomore, has started in Crisp's spot in the past four games. Against The Citadel, starting right tackle Wallace suffered a foot injury, and missed the Miami game. Last week at Miami, right guard Zach Allen left the game with a foot injury and is out for the season for surgery, according to NC State's Thursday injury report.
"We only have one guy that we came into the season in the position that we wanted guys to be in," O'Brien said. "That's definitely going to be a concern for us Saturday night against this great front of Florida State."
September, 12, 2012
9/12/12
4:00
PM ET
There were a few injury updates today on the ACC coaches call. The two that are most pressing: Wake Forest nose guard Nikita Whitlock and North Carolina running back Giovani Bernard.
Wake Forest coach Jim Grobe said it was looking shaky for Whitlock to be able to play against Florida State. Whitlock hurt his ankle last week against North Carolina and was in a walking boot after the game.
"My experience has been with ankles no matter how slight or how serious, kids are all different, they all heal differently," Grobe said. "For him, he's pretty active so he needs to be full speed. He's probably the shakiest one right now but we'll see."
He offered a more hopeful outlook on defensive end Zach Thompson, who has an eye injury.
"He's been given a green light," Grobe said. "Not sure until he gets some activity what's going to happen. If he had any type of problems with his eye, we wouldn't take any chances."
As for Bernard, North Carolina coach Larry Fedora would only offer this: "Gio practiced yesterday and said he felt fine so we'll see how that goes."
NC State coach Tom O'Brien said left tackle Rob Crisp will miss the South Alabama game. Tyson Chandler will make his second straight start at the position, and O'Brien is hoping for better results from the offensive line. Last week, NC State gave up six sacks against UConn.
O'Brien also added that he was hopeful starting safety Earl Wolff will play Saturday, though he would not say whether Wolff practiced. Wolff was hurt late in the win over UConn.
One more injury note: Clemson coach Dabo Swinney said starting left guard David Beasley (ankle) would be a game-time decision against Furman.
There was one bit of terrific news to come out of the call as well. Duke coach David Cutcliffe said Blair Holliday has plans to attend Saturday's game against NC Central. Holliday has
progressed rapidly
since he was severely injured in a personal watercraft accident in July, and is now walking and talking.
"I know when I went down there two weeks ago on Wednesday, it lifted my spirits incredibly just to be with him, to sit and talk to him," Cutcliffe said. "His friends haven't seen him and talked with him in quite some time other than by text or phone. There's nothing like face-to-face contact. It would absolutely do great things for our squad."
June, 24, 2011
6/24/11
2:00
PM ET
Ranking offensive linemen is not easy. But hey, either is being an offensive lineman. Here are your best "big uglies."

1. North Carolina:
Three starters and one part-time starter return from last year's team, and this line could be the biggest and best since Butch Davis was hired. Guard Jonathan Cooper (22 starts), center Cam Holland (20) and tackle James Hurst (12) have combined for 54 career starts. Travis Bond has four starts and is the leading candidate to take over at the other guard position.

2. Miami:
The Canes return nine of their top 10 offensive linemen including four starters from last year, and Joel Figueroa was granted a sixth season of eligibility. Even with the coaching change, the Canes should be strong up front. Center Tyler Horn is a veteran, Brandon Washington is a difference-maker, and there's enough competition that Seantrel Henderson spent most of the spring as a backup.

3. Clemson:
First-year offensive line coach Robbie Caldwell has four returning starters to work with in Landon Walker, Antoine McClain, Dalton Freeman and David Smith. They also have top reserve Mason Cloy, who has 19 career starts and has played in 38 games. There is plenty of depth for a dependable rotation.

4. Virginia Tech:
All four returnees started every game last year, and there is enough depth that the Hokies should be able to rotate the most players up front they ever have. It's a veteran group led by Blake DeChristopher, Andrew Lanier, Jaymes Brooks and Greg Nosal.

5. Florida State:
Despite the losses of Rodney Hudson and Ryan McMahon, there's experience up front. This fall, the starting lineup will consist of tackle Andrew Datko, left guard Bryan Stork or David Spurlock, center Jacob Fahrenkrug, right guard Spurlock or Stork, right tackle Zebrie Sanders. Just how good they'll be remains to be seen as the majority of them were out with injuries this past spring.

6. NC State:
The Pack lost Jake Vermiglio and will be without injured left guard Andrew Wallace for about half of the season, but Zach Allen, Camden Wentz and R.J. Mattes are returning starters. There's also a lot of talent waiting to emerge with young players like Duran Christophe, Rob Crisp, Tyson Chandler, Torian Box and Andy Jomantas.

7. Virginia:
Four players return with a combined 64 career starts in Anthony Mihota, Austin Pasztor, Oday Aboushi and Morgan Moses, who started the final seven games of the season as a true freshman. Pasztor is in his fourth season as a starter and has 32 career starts.

8. Boston College:
Despite the losses of Anthony Castonzo, Thomas Claiborne and Rich Lapham, the Eagles are almost settled up front, it's the experience behind the starters that's reason for concern. The No. 2 offensive line is comprised entirely of redshirt freshmen. Mark Spinney returns at center, the projected starting guards are Nathan Richman and Ian White, who started three games as a freshman, and the tackles are Emmett Cleary and John Wetzel.

9. Maryland:
It's been an injury-prone group the past two seasons and that didn't change this past spring. Left tackle Justin Gilbert, one of the top linemen on the team, reinjured the same knee he had ACL surgery on and will be out until October. R.J. Dill was also injured this spring, though he played in the spring game, and Justin Lewis was rehabbing from offseason surgery. Pete White also missed practices, so the group needs to solidify the two-deep roster.

10. Georgia Tech:
The Jackets return three starters in guard Omoregie Uzzi, guard Will Jackson and tackle Phil Smith. Sophomore Jay Finch played extensively last season and Ray Beno and Nick McRae were key reserves. Redshirt freshmen Catlin Alford and Morgan Bailey could also work their way into the rotation. Uzzi will be the leader of the line, but they were outplayed by the defense this spring.

11. Wake Forest:
Four starters are back, but the Deacs will sorely miss the experience and leadership of former center Russell Nenon. Garrick Williams started the final three games of 2010 -- two at guard and one at center, but he struggled with the snaps towards the end of spring and isn't where the staff needs him to be yet.

12. Duke:
The Blue Devils should take another step forward this season under offensive line coach Matt Luke, and they need to -- Duke's running game was last in the ACC last year and 104th in the country. Brian Moore replaces a three-year starter at center, but given his experience at right guard the past two seasons, it should be a smooth transition. That will leave a hole, though, at the right guard position, where Laken Tomlinson and John Coleman are the top candidates.
ACC SCOREBOARD
Saturday, 12/21
Monday, 12/23
Tuesday, 12/24
Thursday, 12/26
Friday, 12/27
Saturday, 12/28
Monday, 12/30
Tuesday, 12/31
Wednesday, 1/1
Thursday, 1/2
Friday, 1/3
Saturday, 1/4
Sunday, 1/5
Monday, 1/6
Tweets from @ESPNCFB/acc