February, 20, 2014
Feb 20
9:00
AM ET
Florida State has had one of the best defensive fronts in the nation in the last two seasons, but the Seminoles will have a major challenger to that claim when 2014 rolls around.
Division rival Clemson has the potential to have one of the best defensive lines in school history, thanks to returning all of its starters -- including sack master
Vic Beasley
. So that leads us to this question: Which team will have the best defensive front in the ACC this upcoming season? Andrea Adelson and David Hale let the debate begin.

Andrea says Clemson
The moment Beasley decided to return to Clemson was the moment the Tigers became the favorite to field the best defensive line in the ACC next season.
Now, this is not to slight Florida State, which has dominated up front over the last two seasons. But the Seminoles have key players to replace again. Clemson, on the other hand, returns every starter on the defensive line, plus its top four backups. All told, eight linemen return who played at least 292 snaps a year ago.
Those top eight combined for 65 tackles for loss -- more than half the single-season school-record 122 tackles for loss Clemson had in 2013. They also combined for 26 of the team's 38 sacks.
Beasley, of course, leads the returning group after making 13 sacks and 23 tackles for loss a season ago, one of the top performances of any defensive end in the country. Had he decided to leave for the NFL, Clemson would have still had plenty of talent returning.
But with him, the Tigers could potentially have the deepest, most talented group of defensive linemen at the school since the 1981 national championship team featured future NFL players
Jeff Bryant
,
William Perry
, Andy Headen and Dan Benish in the starting lineup.
Clemson could potentially go 10 deep along the defensive line, especially when you consider the return of
Carlos Watkins
, expected to be healthy after missing most of last season following a car accident. That means the Tigers have the ability to rotate frequently and keep players fresh, perhaps more than they did last season.
Fresh players mean fresh legs, and fresh legs mean getting into the backfield at a much better clip. Last season, Beasley, starting tackle
Grady Jarrett
(11), starting end
Corey Crawford
(10.5) and backup end
Shaq Lawson
each finished with 10 or more tackles for loss. Now think about some of the best defensive fronts in college football. Florida State has zero defensive linemen returning with double-digit tackles for loss. Alabama? Zero. LSU? Zero. Stanford? Zero. Virginia Tech? One. Michigan State? One. Ohio State? Two.
Clemson leads them all.
Such an experienced group, with the ability to get into the backfield and get after the quarterback, should only get better with another year under Brent Venables, who is entering his third season as defensive coordinator. As Beasley told colleague Heather Dinich after he announced his decision to return, "I feel like we can be the best in the country."
And, yes, that means the defense could emerge as the strength of this team.
David says Florida State
The track record for Florida State's defensive front speaks for itself. During the past three seasons, only Alabama has had more success defending the run than Florida State, which has allowed just 2.8 yards per carry since the start of the 2011 season. Those Seminoles teams sent eight players from the front seven to the NFL -- and that number figures to increase by at least four this year -- yet the unit has seen little decline in production. With new personnel, a new scheme and new coaches last season, FSU's first-team defense didn't allow a rushing touchdown until the national championship game.
Of course, that's all in the past, and 2014 comes with some significant questions for Florida State.
Throughout the three-year run of success for the FSU front seven,
Christian Jones
,
Telvin Smith
and
Timmy Jernigan
have been anchors. All are gone now, and that means some significant vacancies on the defensive front, both in terms of on-field talent and off-field leadership. It means there will be questions surrounding the unit for the next few months, but it doesn't mean the Seminoles don't have answers.
Of the projected two-deep in the front seven, FSU projects to feature as many as 12 former ESPN 300 recruits. The talent is exceptional.
Mario Edwards Jr.
and
Eddie Goldman
were both top-10 recruits in 2012, and both have two years of experience under their belts. Edwards, in particular, took big steps forward throughout 2013, turning in perhaps his best game against Auburn's up-tempo ground attack in the VIZIO BCS National Championship.
The linebacker group lacks significant experience, but
Terrance Smith
is a physical clone of Telvin Smith, and he performed admirably after stepping into a starting role last season.
Matthew Thomas
and
Ukeme Eligwe
are both former elite recruits who project nicely in the hybrid role Jones handled so successfully in 2013.
Kain Daub
,
Demarcus Christmas
and
Derrick Nnadi
lead a stellar 2014 recruiting class that could make an instant impact.
That's not to say Florida State is prepared to move forward without Jernigan's presence up front or Telvin Smith's leadership in the middle of the field without missing a beat. There will be hiccups as the new group gets its feet wet and Edwards and Goldman learn to be leaders. But similar concerns existed a year ago when
Bjoern Werner
and
Tank Carradine
bolted for the NFL, and after some early missteps, Florida State again proved to be one of the fiercest defensive fronts in the country.
And, of course, the Seminoles have another weapon in this debate, too. No position group succeeds in a vacuum, and FSU's front seven gets a major boost from a secondary that projects to again be the best in the nation. If the Seminoles' defensive backs continue to make teams one-dimensional and continue to provide time for the pass rush to get to the quarterback, the odds of FSU's front seven making a smooth transition into 2014 get even better.
September, 25, 2013
9/25/13
1:00
PM ET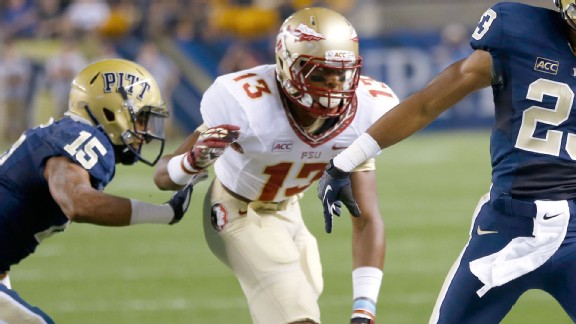 AP Photo/Keith SrakocicFreshman cornerback Jalen Ramsey jumped right in to a starting spot, beating out veterans Nick Waisome and Ronald Darby in the process.
TALLAHASSEE, Fla. -- Throughout the 68-yard dash,
Telvin Smith
never looked back. Seconds earlier, he'd stepped in front of a pass from Bethune-Cookman quarterback
Quentin Williams
, and a path cleared ahead of him as he charged to the end zone.
It was only after Smith crossed the goal line that he realized he wasn't alone. Two steps behind him was fellow linebacker
Matthew Thomas
, who'd kept pace with Smith step for step throughout the return.
"I turned around and he's standing right next to me," Smith said. "That's what the coaches and myself love about him."
That was hardly the only highlight of the game for Thomas, who dropped Bethune's quarterback in the backfield twice in a span of five plays in the third quarter. In a game in which Jimbo Fisher criticized his defense for ceding too much ground to an overmatched opponent, Thomas stood out.
That's been a theme of the early season for Florida State's defense. It's a unit in transition, having lost a bevy of veterans to the NFL draft and its coordinator to Kentucky. Changes have come at nearly every turn, and the youngest Seminoles are taking advantage.
"They're stepping up," Smith said. "The best man is going to play, and right now, they're proving themselves to be the best man. The young guys are coming. They're on our toes."
It's not just Thomas making an impact.
Jalen Ramsey
become the first FSU cornerback to start as a true freshman since Deion Sanders, then delivered the Seminoles' first interception of the season against Pittsburgh. He's sixth on the team so far with 12 tackles, including one sack.
Demarcus Walker got a start in the opener, too, and he's seen consistent work on the defensive line ever since.
Chris Casher
, a redshirt freshman, racked up 10 tackles -- including two for a loss -- against Bethune-Cookman and was named FSU's defensive player of the week. Second-year players
P.J. Williams
and
Mario Edwards Jr
. are now established starters, and a handful of other youngsters are getting regular reps on defense, too.
Fisher was so pleased with the work of his young defensive backs that he felt comfortable flipping veteran
Karlos Williams
from safety to tailback. Casher, Thomas and sophomore
Eddie Goldman
have helped pick up the slack for FSU's pass rush after its top three defensive ends all left for the NFL. Overall, nearly half of Florida State's tackles this season have come from defenders with zero previous starting experience.
"The platform is even because new [defensive coordinator], new philosophy, and you have to learn it," cornerback
Lamarcus Joyner
said. "Experience on the football field, those young guys haven't had it, but with their talent level and where they're coming in, it's good to see them playing and be able to play fast."
Of course, it's easy enough to chalk up the early success for the freshmen and sophomores to the lack of quality competition on the field, but Fisher said this isn't a passing fad. Florida State's schedule gets markedly tougher in October, and rather than shuffling the young defenders to the sidelines for the big games, he wants to ensure they're ready to play when it counts.
"Ability is never the issue," Fisher said. "It's about technique and assignments and getting playing time to be able to relax on the field and do what you do, taking it from the practice field to the game field. You see that more and more, you feel more comfortable. We're going to keep developing all those guys."
Ramsey already appears to have a starting job locked up moving forward, beating out junior
Nick Waisome
, who started all 14 games last season, and
Ronald Darby
, a freshman All-American in 2012. Fisher raved about Ramsey's combination of speed and physicality, but said it's the freshman's football acumen that has set him apart.
Thomas is a bit more of a work in progress. He's flashed potential, but he's spent much of his first few months on campus simply soaking in all he can about how to do his job.
"He's observing a lot of stuff," Smith said. "He's taking it in, and he's going to erupt when he gets the chance."
Fisher sees it coming, too.
Since arriving on campus in June, Thomas has already packed on nearly 25 pounds to his frame, but it hasn't slowed him down.
"He's gotten faster," Fisher gushed.
Walker and Casher are following a similar path, too, though they've had longer to learn the ropes.
Casher has been sidelined for the better part of the past two years -- first because of an eligibility issue his senior year in high school, then because of a knee injury that cost him nearly all of 2012. Walker arrived this spring to get a jump start on his college career, but an issue with the NCAA Clearinghouse meant he didn't practice with the team at all.
The down time might have been a blessing, however, as both were eager to learn.
"They came in with their eyes open and their notepad ready, listening to the older guys," Smith said.
That's been a trademark of the Class of 2013 in particular. When Joyner arrived in 2010, Florida State was in the midst of a culture change in the locker room that took a while to take hold. The latest batch of freshmen, however, look right at home from Day 1.
"Those guys are coming in here with the same talent level that guys took two to three years to develop," Joyner said.
That's exactly what Fisher wants to see. He doesn't promise playing time to his recruits, he said, but he offers opportunity. This latest crop of Seminoles was prepared when that opportunity arrived.
"When you get here, you get an opportunity, and if you're the best player, you're going to play," Fisher said. "A play don't care who makes it, and there isn't an age limit on being a good player."
September, 17, 2013
9/17/13
2:00
PM ET
TALLAHASSEE, Fla. -- The experiment was effectively over before the game even started.
It's not that Nevada posed much of a threat to begin with. Florida State entered Saturday's game as a five-touchdown favorite. But there was some intrigue, thanks to the Wolfpacks' up-tempo, pistol offense that promised to give an untested FSU defense a taste of what might be waiting on that crucial Oct. 19 showdown with Clemson.
Only the test never materialized. About an hour before kickoff, Nevada quarterback
Cody Fajardo
tweeted the news that he'd miss the game, and the Wolfpack offense that took the field didn't look anything like the frenetic, fast-paced unit that had averaged 84 plays per game since the start of the 2012 season.
Instead, Florida State's defense was subjected to slogging, methodical snooze. Nevada ran 26 fewer plays than its season average, in spite of a sizable edge in time of possession. The Wolfpack usually ran a play every 21 seconds of possession time, but against FSU, they averaged a snap every 32 seconds. In the end, the Nevada offense looked baffled, and the FSU defense remained something of a mystery.
"They were trying to shorten the game a little bit, try not to get as many at-bats and eat the clock," Jimbo Fisher said. "But I thought the defense did a really nice job and made some nice adjustments. The defense has played very solidly."
[+] Enlarge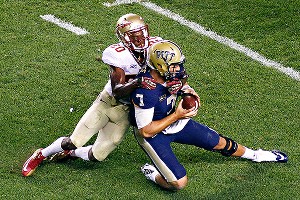 Justin K. Aller/Getty ImagesLamarcus Joyner gets a sack, which has been a rarity so far this season for Florida State.
It's tough to nitpick a defense that allowed just 511 yards and 20 points in its first two games, both against FBS opponents. And yet, questions linger.
Through two games, Florida State's supposedly aggressive new attack under coordinator Jeremy Pruitt has amassed just three sacks, two of which came from cornerback
Lamarcus Joyner
. Despite bringing the blitz on half of Nevada's passing plays Saturday -- against two backup quarterbacks, to boot -- the Seminoles didn't record a sack. (In fairness, one potential sack was overturned because
Timmy Jernigan
continued pursuit after his helmet came off.)
More often, Florida State has been burned on the blitz. When rushing five or more defenders this year, FSU has allowed the opposition to complete 64 percent of its passes. Both of the touchdowns FSU has allowed came vs. the blitz. When just four defenders rush, however, the opposition completes just 47 percent of its passes and has thrown two interceptions, according to ESPN Stats and Information.
Florida State has mustered just 10 tackles for loss thus far, a number bettered by 93 other FBS teams. Of the four TFLs the Seminoles managed against Nevada, two came late in a blowout game from backup defenders.
In both of its games, Florida State's defense has finished strong. But it's still tough to ignore that two supposedly overmatched offenses marched down the field for extended early drives. On the first four drives of the game, Pittsburgh and Nevada averaged 5.7 yards per play. Throughout the remainder of the game, that average dipped to just 3.1 yards per play.
"We've got to come out a little faster," corner
P.J. Williams
said. "We're letting teams [move], especially in the running. … We know the defense, but we've got to execute it better. It's different going against them in practice than when you go into the game."
That the FSU defense remains a work in progress at this point isn't really a surprise. A half-dozen regulars missed spring practice, and the shakeups on the depth chart have continued since then. Fisher announced Monday that defensive end
Mario Edwards Jr
. would likely miss this week's game against Bethune-Cookman after surgery on his hand, leaving a trio of freshmen --
Chris Casher
,
DeMarcus Walker
and
Ukeme Eligwe
-- to pick up the slack.
Edwards' absence may not last beyond this week, Fisher said, and Bethune-Cookman doesn't figure to provide much of a challenge for the defense anyway. But therein lies the problem.
That Oct. 19 date still lingers on the horizon, a game that is likely to define Florida State's season. Between now and then, Florida State plays an FCS opponent, a Boston College team that ranks 121st nationally in plays per game this year, and resurgent Maryland, the final tune-up before high-flying Clemson.
After Nevada downshifted its up-tempo attack, the Terrapins likely represent the only opportunity Florida State's defense will have to test its mettle against an offense with a modicum of the firepower Clemson possesses. That certainly figures to add some intrigue to the game, but it isn't likely to have too many Florida State fans feeling entirely comfortable in the interim.
"These last couple games, coming in with this new defense and just learning, we can do better," Williams said. "It has a lot to do with the new defense."
November, 16, 2012
11/16/12
11:00
AM ET
Here are the ACC injury reports for Week 12 from the schools that emailed them:

CLEMSON

Probable
Out for the season
DUKE

Probable
Doubtful
Out
Out for the season
FLORIDA STATE

Out
Out for the season
MARYLAND

Out for the season
Questionable
Probable
MIAMI

Out
Surgery/Out for the season:
NC STATE

Out for season
Out for game

October, 26, 2012
10/26/12
11:00
AM ET
Here are the ACC injury reports for Week 9 from the schools that emailed them:
DUKE
Probable
Questionable
Doubtful
Out
Out for season
FLORIDA STATE
Out
Out for season
MARYLAND
Probable
Questionable
Out
Out for season

NORTH CAROLINA
Out
NORTH CAROLINA STATE
Out for season
October, 12, 2012
10/12/12
11:00
AM ET
Here are the ACC injury reports for Week 7 from the schools that emailed them:

DUKE

Probable
Questionable
Doubtful
Out
FLORIDA STATE

Out
Out for season
MARYLAND

Out for season
Out
Probable
MIAMI

Probable
Out
Surgery/Out for season
NORTH CAROLINA

Out
VIRGINIA

Out
Questionable
Probable
Out for season
VIRGINIA TECH

Out for season
Out
Doubtful

October, 5, 2012
10/05/12
11:00
AM ET
September, 28, 2012
9/28/12
11:00
AM ET
September, 14, 2012
9/14/12
11:00
AM ET
Here are the injury reports from the schools who emailed them this week:
DUKE
PROBABLE
OUT
OUT FOR SEASON
FLORIDA STATE
OUT
OUT FOR THE SEASON
GEORGIA TECH
OUT
QUESTIONABLE
MARYLAND
OUT FOR THE SEASON
OUT
QUESTIONABLE
PROBABLE
VIRGINIA
Out
Doubtful
Questionable
Billy Schautz (lower extremity)
Probable
VIRGINIA TECH
Out for Season
Out
Probable