ACC:

UNC Allegations 2011
June, 21, 2011
6/21/11
9:51
PM ET
The unpaid parking tickets of several UNC football players pale in comparison to the 42-page document the NCAA just buried the University of North Carolina in.
This isn't just Butch Davis' problem. Consider it now a "major" problem for UNC's football program, athletic department and overall institution.
[+] Enlarge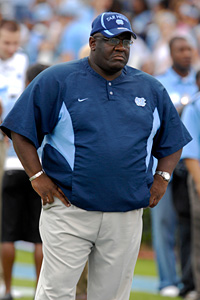 Sean Meyers/Icon SMIFormer assistant coach John Blake was sent one of three letters from the NCAA regarding allegations against the North Carolina football program.
The NCAA wrote three separate letters to former UNC assistant coach John Blake, former UNC tutor Jennifer Wiley and UNC chancellor Holden Thorp, informing them of the allegations against the football program:
"You should understand that all of the allegations charged in the notice of allegations are considered to be potential major violations of NCAA legislation, unless designated as secondary violations."
North Carolina has officially joined much of the college football world in the summer of discontent.
After a yearlong investigation into North Carolina's football program, the university on Tuesday released a 42-page document detailing the allegations, and it's not pretty:
Page 20: It was reported that during the 2009-10 academic year and August 2010, Jennifer Wiley, former academic support center tutor, provided approximately $3,500 in impermissible extra benefits to football student-athletes. ... Wiley paid $150 for an airline ticket in May 2010, and $ 1,789 in parking violation expenses on August 20, 2010, for then football student-athlete ...
Page 23: It was reported that during 2009 and 2010, seven football student athletes received $27,097.38 in benefits from individuals, some of whom trigger NCAA agent legislation.
Page 33: It is alleged that from 2007 to 2010, then assistant football coach John Blake partnered with Gary Wichard, National Football League Players Association (NFLPA) certified agent, and Pro Tect Management to represent individuals in the marketing of their athletic abilities in violation of NCAA legislation. Specifically, Blake was employed and compensated by Pro Tect Management to influence football student-athletes to hire Wichard to represent them in marketing their athletic abilities and reputations.
Page 35: It is alleged that from May 2007 to October 2009, then assistant football coach John Blake did not report $31,000 in athletically related outside income from Pro Tect Management, a sports agency representing athletes competing in the National Football League, National Basketball League and Major League Baseball.
Davis loyalists will be happy to know that no letters were specifically addressed to him, and that his name is mentioned only once in the entire document, in the context that the NCAA would like him to appear before the NCAA's Committee on Infractions on Oct. 28.
There were, however, allegations that the "institution" failed to properly monitor the conduct of Chris Hawkins, who was allowed access to the facilities and participated in one-on-one drills with the players. And the "institution" failed to monitor the social networking of the players in 2010. And here's the kicker ... the "institution" did not follow up on information that "indicated a risk of improper benefits being provided when reported by [a student athlete] to administrators within the football program."
Somebody knew something was going on and "the institution" let it continue.
North Carolina has 90 days to respond to this, and considering the massive, overwhelming amount of information the NCAA is seeking -- documents, transcripts, receipts, former players' previous tweets, phone records, Blake's credit reports -- odds are the university is going to need every one of them.
It's far from over. The NCAA wants answers. Lots of them.
How much Davis really knew now seems like only part of the equation.
This is bigger than Butch Davis.
June, 21, 2011
6/21/11
8:04
PM ET
The University of North Carolina
announced Tuesday
it has received a notice of allegations from the NCAA pertaining to its football program.
From the release:
The notice contains allegations of violation of NCAA bylaws including:
Allegations against former assistant coach John Blake:
- unethical conduct for providing false and misleading information to the NCAA enforcement staff and to the institution and for failure to cooperate with the investigation.
- marketed athletic abilities of student-athletes to agent Gary Wichard
- received outside income that he did not report to the institution
Allegations against alumna Jennifer Wiley:
- unethical conduct for refusing to provide information to the NCAA enforcement staff and to the institution
- provided extra benefits to student-athletes in the form of travel and parking expenses, and tutoring
Allegations of academic fraud against student-athletes and the tutor
Allegations that student-athletes received preferential treatment and accepted impermissible benefits
Allegations against a former student-athlete for unethical conduct
Failure by the institution to adequately monitor the conduct of Chris Hawkins, an individual triggering NCAA agent legislation; the social media activity of the football team for a period in 2010; and possible extra benefits to a student-athlete triggered by agent legislation.
The University has a maximum of 90 days to provide its response to the notice of allegations to the NCAA Committee on Infractions. University representatives are scheduled to appear before the committee in Indianapolis on October 28, 2011.
The actual notice of allegations is 42 pages long. I'm going to go through it and will be back with initial thoughts on what this means for the program.
June, 21, 2011
6/21/11
5:56
PM ET