June, 17, 2014
Jun 17
12:00
PM ET
May, 23, 2014
May 23
12:00
PM ET
Enjoy the holiday weekend!
May, 22, 2014
May 22
12:00
PM ET
May, 21, 2014
May 21
9:00
AM ET
Scheduling talk has consumed all of college football over the last month. But for all the chatter, there are no answers when it comes to getting scheduling right.
[+] Enlarge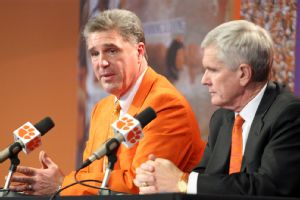 AP Photo/Anderson Independent-Mail, Mark CrammerAs Clemson's AD and a member of the playoff committee, Dan Radakovich (left) will get a first-hand look at how important scheduling becomes.
Eight conference games vs. nine conference games. One power-five opponent or more? Everything remains a guessing game until the College Football Playoff era begins because
nobody truly knows
how the playoff committee will evaluate strength of schedule.
Clemson athletic director Dan Radakovich, one of 13 members on the committee, said plainly, "It's going to be the totality of the schedule. Being a conference champ is one of the top priorities as is winning the games, so there's really not just one factor that is overwhelming the others. It's the body of work associated with the program."
In the
selection committee procedures
, released earlier this month, there is a brief mention about how strength of schedule will be evaluated. The committee will be given data from SportSource Analytics, which will provide stats on every FBS team, along with opponent records and opponents' opponents' records. Unlike the basketball model, which relies heavily on RPI, the committee will not use just one data point.
That means much of this is left up to interpretation. The Pac-12, for example, finished second in the ESPN Stats & Information
Conference Power rankings
to end the 2014 season. The Pac-12 plays nine conference games. The ACC, on the other hand, finished fifth in the same set of power rankings. The league decided to stick
with eight conference games
. Does this automatically mean the Pac-12 gets a built-in advantage based on playing a conference schedule that is perceived to be more difficult?
Nobody really knows until we see the committee pick four teams based on on-field results.
What we do know is three conferences have opted for nine league games. That is a big reason why the ACC will require teams to play at least one power-five opponent in nonconference per year, beginning in 2017. Notre Dame is included in that group; BYU is not.
Will that be enough?
The Pac-12 already plays a tougher conference schedule, plus most of its teams play power-five opponents. Last season, only four teams did not have at least one power-five nonconference game. Four -- including Oregon and USC -- had two.
"It's a wait and see," Miami athletic director Blake James said. "It will take some programs not making it to the final four and having the committee or someone come out and address that it was a scheduling issue that prevented them from being there. With that said, we all have to be cognizant of the fact that our schedules are going to be evaluated and you want to be one of the four teams. The challenge there is no one knows who is going to be the dominant program three, five, 10 years out, which is how we're doing our schedules. You can schedule an elite program right now and by the time you play them, they might not be an elite program and vice versa. It's a real challenge and it will be interesting to see how it plays out."
You saw examples of that throughout college football last year. Oregon had Virginia and Tennessee, power-five opponents, yes, but both teams finished with losing records. Ohio State scheduled Cal when the Bears were good, not knowing they would have a 1-11 season when the teams ended up playing. Perhaps more scheduling contracts will be broken in the playoff era, as teams jockey to get current elite teams on the slate.
[+] Enlarge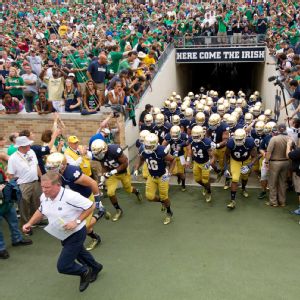 Matt Cashore/USA TODAY SportsACC teams get the opportunity to boost their schedules with Notre Dame.
ACC athletic directors also have the challenge of having Notre Dame on the schedule once every three years. League ADs already know when they will play Notre Dame several years down the road. So in years they play the Irish, do they add a second power-five team or take the brakes off so the schedule does not become too challenging?
"In Blacksburg, if we have Michigan and Notre Dame on the schedule, I think our fans would be fine with that," Virginia Tech athletic director Whit Babcock said.
Elite games like that are hard to find, because both parties have to be willing to play one another. That could make more scheduling challenges for everyone, especially since the Pac-12, Big 12 and Big Ten will have fewer nonconference spots open because they play more league games.
"The cost of guarantees continues to rise, too," James said. "You have three of the five conferences that are playing nine games so right away there are fewer games needed and geographically you want to try to stay within your area and schedule games that make sense for your fan base and alumni base. When you put all those things together it makes scheduling already challenging and I do think it will be more challenging in the future."
Given all the challenges and the uncertainty about strength of schedule during playoff evaluation time, ACC athletic directors left open the possibility that they could change their minds on scheduling. Like James said, it's wait-and-see.
"As we get through the first cycle of this new football playoff, I think it will be telling for us as to whether or not this decision is the right decision or whether we need to do something else," Florida State athletic director Stan Wilcox said. "I think we felt comfortable knowing we're not the lone conference out there, that we're comfortable being at eight."
May, 13, 2014
May 13
4:40
PM ET
AMELIA ISLAND, Fla. -- Up until Monday, there was a running joke whenever ACC administrators and athletic directors got together during meetings that went a little something like this: Scheduling on the agenda again? Better get used to it.
The joke can be retired now that the ACC has
decided to stay at eight conference games
. What ended up being the biggest surprise was not the choice to remain status quo, but how quickly the decision was made. Not only had the scheduling subject been going on for years, up until last week there was uncertainty about whether a vote would be taken here at all.
All that was solved in a matter of hours Monday.
So what changed in such short period of time? They simply could not wait any longer to take a vote, not when the other power five conferences had already made their scheduling decisions. They had gone over the scenarios enough and discussed the topic enough.
"I know we will always do what's in the best interest of the ACC. It probably would have been harder if the other four leagues had gone to nine, but that didn't dictate our decision," Virginia Tech athletic director Whit Babcock said Tuesday. "But I think everybody realized, 'Hey, we've talked about this for a long time, let's go ahead and figure this out.'"
[+] Enlarge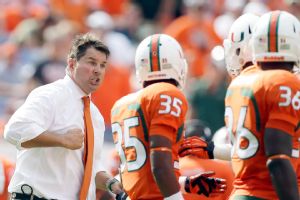 AP Photo/Alan DiazMiami coach Al Golden was in favor of a nine-game ACC schedule, but he'll be happy that there will be more uniformity in schedule strength going forward.
Staying at eight games ultimately won out for a variety of reasons:
Some schools that leaned toward nine games ultimately accepted eight because of the rule that now requires all league teams to play at least one tough nonconference opponent. Miami coach Al Golden, a proponent of nine league games, said, "As long as we're using the same metrics -- that's a little bit different than everybody doing their own thing. That's all we want, uniformity within our league -- not just comparing our league to anther league, but within our league itself."

Notre Dame did play a large role in staying with eight, as well. One athletic director said having the scheduling agreement with the Irish is like having 8½ conference games. Clemson, Florida State, Georgia Tech and Louisville already have an SEC rival on the schedule, making the Notre Dame agreement loom much larger in their scheduling decisions.

Home games. Many athletic directors want seven home games per year for a number of reasons, and staying at eight league games helps in that regard. Home-field advantage is obviously huge, but so is the revenue that is generated when you get to play at home.

Unbalanced conference schedule. That brings us to the next point. Many athletic directors who voted to stay at eight league games did not want to play five road conference games every other year. Babcock, who spent time at Missouri when the Tigers were in the Big 12, pointed out that the fifth conference road game ended up costing both Oklahoma State and Kansas State a chance to play for the national championship. In 2011, the unbeaten Cowboys lost at Iowa State 37-31 in double overtime, setting up the LSU-Alabama rematch in the BCS national title game. In 2012, unbeaten Kansas State lost at Baylor 52-24.
The wild card, of course, is how the College Football Playoff committee will view strength of schedule for conferences that play eight league games vs. conferences that play nine league games. Clemson athletic director Dan Radakovich, who will serve on the playoff committee, said the totality of the schedule must be considered regardless of how many league games are played.
"The eight-game [schedule], plus the one out-of-conference game, works best for us right now," he said. "Things could change down the road, four or five years from now after some experience with the College Football Playoff, but that's where we need to be right now."
May, 12, 2014
May 12
9:00
AM ET
The ACC opens its spring meetings today with critical decisions to be made about its future. And we are not just
talking about scheduling
.
Divisional structure, potential changes to the championship game and more discussion about a possible ACC Network are all on the table as league athletic directors, coaches and administrators gather in Amelia Island, Florida, for the next four days.
Each topic is carefully interlaced and fraught with its own complicated issues. No decision about one can be made without impacting another. Just as an example: Any new information on a possible ACC Network could end up determining whether the league stays with an eight-game or moves to a nine-game conference schedule. Then that decision could ultimately determine what the ACC does with its division and championship game format.
"It's like dumping out a Lego set and trying to piece it all together and do it right," Syracuse athletic director Daryl Gross said. "And it's not as simple as red goes with red, yellow goes with yellow. It's a little more complex. But all these things are such good, challenging things to look at. It's exciting, the discussions are really exciting right now because there are so many creative things that can happen out of all this."
[+] Enlarge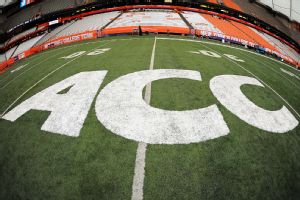 Rich Barnes/CSM/AP ImagesThe Atlantic Coast Conference begins spring meetings on Monday that will last through Thursday.
As it stands today, there is no clear consensus among athletic directors on what will best position the league moving forward into the College Football Playoff era. Because of that, nobody inside the league knows whether a vote on future scheduling will even happen when the meetings conclude Thursday. Considering the ACC is the last conference to determine what its future conference schedule will be, what happens here will be watched much more closely.
While there does seem to be more movement toward a nine-game schedule among the athletic directors than there was last year,
the league does not yet
have a simple majority in favor of adding another conference game.
There also is very little traction for changing the division format or championship game setup -- even though the
ACC petitioned the NCAA
to be granted the flexibility to determine its title game participants.
In interviews ESPN.com conducted with all 14 athletic directors leading up to the meetings, none were in favor of rearranging divisions. Nine were opposed to getting rid of divisions entirely, four remain undecided and one had no preference. Clemson athletic director Dan Radakovich, in the undecided camp, wants an answer on league scheduling before moving forward to the division and championship game discussion.
He agrees, however, with the decision to petition the NCAA to change title game legislation.
"Depending upon where the conversation goes with the eight versus nine games, I think that the lineup, whether it is 1-14, whether it's two seven-team divisions, whether the divisions are the same as they currently are, I think will be a totally separate discussion," Radakovich said. "But first, we have to make that other decision on the eight or nine games."
Getting rid of divisions altogether would relieve some of the headaches that go along with the current eight-game scheduling model, which features only one rotating crossover opponent. That has drawn criticism from both coaches and athletic directors who do not want to go as long as eight years between games against conference opponents.
Without divisions, teams could rotate through a cycle that would allow student-athletes to play every conference team at least once in their careers. But it could also mean getting rid of permanent crossover rivalries like Miami-Florida State, North Carolina-NC State and Duke-Wake Forest. And it could also mean chaos when it comes to determining who will play in the championship game.
[+] Enlarge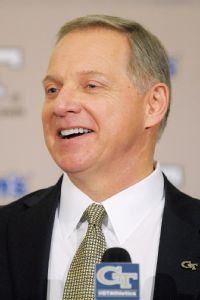 AP Photo/David TulisGeorgia Tech athletic director Mike Bobinski is satisfied with the current division setup in the ACC.
"You open up Pandora's box," Miami athletic director Blake James said. "At the end of the day you have two divisions that have shown over nine years they're very equitable. The Atlantic has won five, the Coastal has won four. That's the best way to determine who's in the championship game."
Only two athletic directors are in favor of the top two teams in the league playing in the title game, while five remain undecided on the format. If the goal of the pending NCAA legislation is ultimately for the ACC to try to get its two top teams in the championship game to improve its stature and bump up strength of schedule, there are perils that go along with that, too.
"What's the best way to make sure we have a team in that four-team playoff?" Georgia Tech athletic director Mike Bobinski said. "Obviously, multiple teams would be awesome, but if you really want them playing each other in that last week of the season, I'm not sure that's the best setup for having teams advance into that playoff. It's served us reasonably well.
"I would tell you that I'm OK with the flexibility and the possibility to rethink it in different ways, but I'm not sold sitting here today that we need to do it differently."
Over the past several months, the ACC has sent so many scheduling and championship game models to athletic directors to study, there are literally too many to count. Newer athletic directors like Brad Bates at Boston College and Whit Babcock at Virginia Tech remain undecided about what is best not only for their programs but the ACC in general.
Therein lies some more of the complexities. How do all these athletic directors put aside self interests to vote for what is in the best interest of the league?
"You can make compelling arguments for a lot of different models," Bates said. "Different institutions are going to look at the different models in ways that best impact each of us selfishly, but at the same time, we have to look at everything holistically and see how it best impacts the league. And I think that's probably where the discussion rests right now."
More discussion will follow over the next few days. But will it be enough to change minds?
"It's not a real simple solution," Babcock said. "That's why there wasn't anywhere near a unanimous thought process during our winter meetings, so it got pushed off. I'm not sure it will be any easier to solve in May than it was in January."
February, 21, 2014
Feb 21
2:00
PM ET
Virginia Tech
is well known for its Thursday night football games, a tradition that picks back up in 2014 after a one-year hiatus this past season.

Now that the Hokies have a new athletic director in place, will Thursday night games remain the norm in Blacksburg? I had a chance to ask athletic director Whit Babcock to weigh in on the possibility. Babcock cautioned he has only been officially on the job for a week, so he does not quite know the logistical demands midweek games entail.
Former athletic director Jim Weaver asked the ACC not to schedule any Thursday night games this past season as a way to thank fans who cannot travel during the week. Until this past season, Virginia Tech had hosted Thursday night home games for 11 straight seasons.
"My first response is I think Thursday night games really help the brand of Virginia Tech athletics and I would be in favor of it, but I haven't sat down with enough people on campus to also find out that, 'Hey when we do this, here are all the issues that make it really tough.' I've been at a lot of schools that have done it and it really works," Babcock said. "It's an exciting thing and national exposure."
Virginia Tech actually hosts two non-Saturday games in 2014. In addition to the Thursday night contest against Miami on Oct. 23, the Hokies host in-state rival Virginia on Black Friday. It will be just the fourth non-Saturday game in the series' history and the first since the two schools played on the Friday after Thanksgiving in 1996.
"I think it works," Babcock said. "I like playing a Friday game then on a holiday week, better than I do during the rest of the season when school is in session and you have high school football. But from an exposure standpoint, a national reach standpoint I'm in favor of that on that particular holiday weekend."
One other football-related matter, Babcock said the school is in the final stages of choosing an architect and construction company to build the already approved indoor practice facility. Ground is expected to be broken by May and the facility completed by Fall 2015. He added they still have to raise some more money to help with the costs, expected to be around $25 million. That includes renovations to the Rector Field House as well as track and softball enhancements.
January, 31, 2014
Jan 31
12:00
PM ET
Enjoy Super Sunday, gang.
January, 29, 2014
Jan 29
3:00
PM ET
New Virginia Tech athletic director Whit Babcock
said all the right things during his introductory news conference Wednesday, most especially when it came to his expectations for coach Frank Beamer.
[+] Enlarge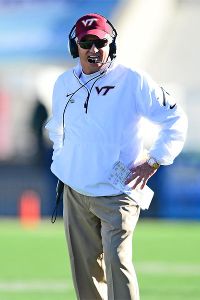 Andrew Weber/USA TODAY SportsVirginia Tech coach Frank Beamer is under pressure after 11 losses the last two seasons.
But the questions are only just beginning. Make no mistake -- Babcock and Beamer are now inexorably linked together for better or worse. The last two seasons have been trying for both Beamer and the football program, which hasn't won the way anybody is accustomed to in Blacksburg.
Given the twin disappointments of 2012 and 2013, the pressure is on to deliver a consistent 10-game winner and ACC championship contender once again, the way Beamer did for so many seasons until this recent stretch of adversity hit.
Babcock, then, steps into a delicate situation. Will he have to make a tough decision about the direction of the football program before Beamer is ready to leave? Or will he allow Beamer to coach out the string, so to speak? If Babcock hangs around as long as he says he will, then he will ultimately be charged with finding Beamer's successor no matter when that day arrives.
Or how it arrives.
Not surprisingly, he was asked multiple questions about Beamer, his philosophy on hiring coaches and whether he felt pressure knowing that he might end up being the one to have to hire a new football coach and replace a legend.
"I've done no succession planning for Frank Beamer at this time," Babcock told reporters. "I'd like to be on the job a lot longer than that. ... Pressure? Absolutely there's pressure any time you replace a Hall of Fame, legendary coach, you'd feel pressure, too. But I hope he coaches for a long time, wins a lot of games. In many facets, he's the brand of Virginia Tech athletics. I'm much more interested in finding out what I can do to support coach Beamer than I am at this point of eventually having to replace him whenever that time may be. He's a legend, he's a Hall of Famer, and I can learn a lot from him."
The two spoke on the phone after Babcock accepted the job, and more conversations will follow once the new AD officially starts next month. The goal when he settles in on campus is to do an evaluation of the entire athletic program before deciding how to move forward as an entire department.
"I don't have any time frame for anything," Babcock said. "We will have a sense of urgency, but we're not going to change for the sake of change."
Maybe not. But whenever change does come to the football program, Babcock will be the one under the microscope.
January, 29, 2014
Jan 29
12:00
PM ET
Seeing Super Bowl media day not at the stadium was an odd sight, no?
January, 28, 2014
Jan 28
12:00
PM ET
Can't play much better than Duke did Monday.
January, 27, 2014
Jan 27
12:00
PM ET
Didn't watch the Grammys. Can we still be friends?
January, 24, 2014
Jan 24
7:15
PM ET
Virginia Tech has hired Whit Babcock as its new athletic director, the school announced Friday.
Babcock, who has served as Cincinnati athletic director since 2011, has deep ties to the state. He was born and raised in Virginia, and played baseball at James Madison. He replaces Jim Weaver, who stepped down for health reasons.

"I would like to also thank the University of Cincinnati community which has been so wonderful to me and my family. I certainly owe a debt of gratitude to the students, staff, coaches, and administration there," Babcock said in a statement. "However, working for Virginia Tech is a unique and special opportunity. ... an opportunity to come home to Virginia and become part of the Hokie family is truly a dream come true. I am anxious to get started in Blacksburg and help build on Virginia Tech's success and upward trajectory."
While at Cincinnati, Babcock spearheaded facilities expansion projects, including the $86 million renovation of historic Nippert Stadium. He also pulled off one of the biggest football coaching hires of the 2012 season when Tommy Tuberville left Texas Tech to coach the Bearcats.
Before arriving at Cincinnati, Babcock served as executive associate athletic director at Missouri, where he oversaw all external relations and development operations in addition to serving as sport administrator men's basketball.
Desiree Reed-Francois will serve as interim athletics director at Cincinnati. She becomes the first Hispanic female athletics director on the FBS level.
Also Friday, the Hokies officially announced they hired former Texas assistant Stacy Searels as their new offensive line coach. Searels replaces Jeff Grimes, who resigned in January to accept a job at LSU. Searels spent the last three seasons with the Longhorns and also has coached at Georgia and LSU.