February, 21, 2012
2/21/12
2:00
PM ET
By
ESPN.com staff
| ESPN.com
Catching up on some FSU notes after the three-day weekend ...

MOVING PARTS
Coach Jimbo Fisher has made some personnel changes effective for spring practice, which begins March 19. Defensive end Dan Hicks moved to tight end, and defensive lineman Cameron Erving moved to offensive tackle. Safety Nick Moody is now at outside linebacker. Defensive end Toshmon Stevens will continue on the line, but could also play linebacker. No other position changes are expected.
MOVING ON
Backup quarterback Will Secord, who was a redshirt sophomore last season, will graduate this summer and has decided not to return for the 2012 season. Secord is on track to receive his degree in interdisciplinary social science. He played in two career games -- against Samford in 2010 and Charleston Southern in 2011. Linebacker Holmes Onwukaife was added to the medically disqualified list late in 2011 and will not play in 2012.
NUMBERS GAME
Defensive end Brandon Jenkins will wear No. 4, along with running back Chris Thompson, who has worn No. 23 the past three seasons. Along with their position changes, tight end Hicks will now wear No. 6, and Erving will wear No. 75 as an offensive tackle.
Other notable new jersey numbers for the spring are defensive back Tyler Hunter (1), running back Mario Pender (7), punter Cason Beatty (38) and offensive lineman Daniel Glauser (67).
June, 16, 2011
6/16/11
9:00
AM ET
We've already taken a look at the ACC's
Dream Team
, which was comprised of the top position groups across the league. Now it's time to go a little bit deeper and rank every position group for each team. We'll start with the most difficult position -- the quarterbacks. More than half of the teams in the conference will usher in quarterbacks who are in their first season as a full-time starter, and many of the teams in the ACC are struggling with depth and experience at the position. This is
not
solely a ranking of the best quarterbacks in the ACC (stay tuned for that, it will look different), so backups are an important part of the equation.
Bottom line:
Who's got the depth and talent to make it through a full season --
and win
-- if more than one quarterback is needed?
Here's a look at who's stocked and who's not at quarterback this year:

1. Miami:
The Hurricanes have a proven albeit embattled option in
Jacory Harris
, and
Stephen Morris
also has significant starting experience. Whoever doesn't win the job will be a more than capable backup. The Canes still need to add depth to the position, but they landed transfer
Ryan Williams
from Memphis.

2. Boston College:
Starter
Chase Rettig
should be better in his second season as starter, but he's not the only one on the roster with playing experience.
Dave Shinskie
has started 13 games, and
Mike Marscovetra
should be a familiar name to BC fans by now.

3. Duke:
It's possible coach David Cutcliffe could use three quarterbacks this year. He's got one of the best in the league in starter
Sean Renfree
, backup
Brandon Connette
has seen significant playing time, and the emergence of redshirt freshman
Anthony Boone
this offseason could give the offense yet another option.

4. Wake Forest:
Tanner Price
is the undisputed starter, but
Ted Stachitas
had a better spring than coach Jim Grobe had anticipated, and
Brendan Cross
has always been in the mix to earn some playing time.

5. Florida State:
The Seminoles haven't settled yet on a backup to
EJ Manuel
, but depth isn't a problem with both
Clint Trickett
and
Will Secord
competing for the No. 2 spot. It's not like it was last year, though, when there was a Gator Bowl MVP sitting on the bench.

6. North Carolina:
Not only is
Bryn Renner
unproven, so are his backups. Renner clearly distanced himself from the rest of the competition this spring. True freshman
Marquise Williams
will continue to compete with
Braden Hanson
and
A.J. Blue
, who was injured two years ago and redshirted last season, for the No. 2 spot.

7. Virginia Tech:
Logan Thomas
had an impressive spring and drew rave reviews from those within the program, but the backup situation remains a question. Redshirt freshman
Mark Leal
really pushed
Ju-Ju Clayton
for the No. 2 job and that competition will continue this summer.

8. Georgia Tech:
It's Tevin Washington's job to lose, but
Synjyn Days
had the better spring game and made the competition a bit more interesting heading into fall camp. True freshmen
Vad Lee
and
Demontevious Smith
would have to have stellar performances in camp to make a move, but there's definitely talent in the wings.

9. Clemson:
Tajh Boyd
was the only scholarship quarterback even on the roster until the early enrollees,
Cole Stoudt
and
Tony McNeal
, joined the team. The good news for Clemson fans is that Cole Stoudt, the son of former NFL quarterback Cliff Stoudt, had a productive spring and earned the No. 2 job.

10. Virginia:
If there's one problem the Hoos don't have, it's depth at the quarterback position. Mike London has yet to name a starter, and all of them lack significant game experience.
Ross Metheny
,
Michael Rocco
,
Michael Strauss
and
David Watford
all have a shot. Since they're all preparing as starters now, they should all have a good grasp of the offense if needed.

11. Maryland:
First-year coach Randy Edsall had five quarterbacks to work with when he was hired, and now he's down to two. He's got one of the best quarterbacks in the league to work with in
Danny O'Brien
, but he's got to keep him healthy.
C.J. Brown
and walk-on Troy Jones are the only other quarterbacks on the roster.

12. NC State:
If
Mike Glennon
gets hurt, the Wolfpack is in trouble. Redshirt freshman
Tyler Brosius
has a strong arm but no experience, and he's not ready for prime time yet. The departure of
Russell Wilson
might not affect the win-loss record, but it definitely hurt the depth.
May, 5, 2011
5/05/11
10:00
AM ET
By
ESPN.com staff
| ESPN.com
FLORIDA STATE
2010 overall record:
10-4

2010 conference record:
6-2
Returning starters
Offense: 8, defense: 8, punter/kicker: 2
Top returners
QB
EJ Manuel
, WR
Bert Reed
, WR
Taiwan Easterling
, LT Andrew Datko, RG David Spurlock, RT Zebrie Sanders, RB
Chris Thompson
, RB
Jermaine Thomas
, DE Brandon Jenkins, DT Jacobi McDaniel, LB Nigel Bradham, CB Greg Reid, CB Xavier Rhodes, PK Dustin Hopkins, P Shawn Powell
Key losses
LG Rodney Hudson, C Ryan McMahon, QB
Christian Ponder
, DE Markus White, LB Kendall Smith, LB Mister Alexander
2010 statistical leaders (* returners)
Rushing:
Thompson* (845 yards)
Passing:
Ponder (2,044 yds)
Receiving:
Reed* (614 yds)
Tackles:
Bradham* (98)
Sacks:
Jenkins* (13.5)
Interceptions:
Rhodes* and Mike Harris* (4)
Spring answers
1. Depth on both sides.
Florida State returns all three leading rushers from last year, each of whom had at least 400 rushing yards in 2010. All of the Noles' top receivers are back, but coach Jimbo Fisher was also pleased with young receivers like
Jared Haggins
and
Greg Dent
. The defensive line is deep, and the staff learned that Lamarcus Joyner can play safety at the collegiate level. The kicking game will be a strength, as FSU might have the best punter/kicker combo in the country. Dustin Hopkins booted a 60-yard field goal in the spring game.
2. Defensive improvement:
The defense really made some strides in terms of knowing what it has to do, and has become more comfortable in the second season under coordinator Mark Stoops. The Noles found more depth on defense, as playmakers emerged even with players sidelined with injuries. The young linebackers were a particularly promising group.
3. It's EJ's offense now.
In what was the first spring session he was healthy enough to participate in, quarterback EJ Manuel emerged as a leader heading into his first season as a full-time starter. He showed he can take command of the offense and goes into summer camp with nobody looking over his shoulder. He's 4-2 as a starter and was able to take another step forward this spring.
Fall questions
1. Backup quarterbacks:
Clint Trickett
and
Will Secord
will take their competition into the summer, but Trickett got more opportunities in the spring game and made the most of them. He completed 13 of 22 passes for 137 yards. Secord completed 3 of 9 passes for 25 yards, but a clear No. 2 has yet to be named.
2. What will the offensive line really look like?
It was a patchwork group this spring, as left tackle Andrew Datko was out with a shoulder injury, right tackle Zebrie Sanders was out after abdominal surgery, and left guard David Spurlock, who started the first seven games of 2010 before suffering a concussion, was only about 50 percent because of a hand/wrist injury. Key reserves like Rhonne Sanderson (foot injury) and Blake Snider (ankle injury) were missing. Jacob Fahrenkrug was supposed to take over at left guard, but finished the spring starting at center. This fall, the starting lineup will consist of LT Datko, LG Bryan Stork or Spurlock, C Fahrenkrug, RG Spurlock or Stork, RT Sanders. Despite the losses of Hudson and McMahon, there is experience up front, but building depth remains an issue.
3. How good is the defensive line?
There's no doubting Florida State's defensive line will be good, but with the offensive line riddled with injuries, it was impossible to tell how good it can be. Newcomer Tank Carradine didn't get a chance to go against Sanders or Datko, leaving for an unfair assessment.
April, 20, 2011
4/20/11
3:30
PM ET
With so much attention on the quarterbacks this year, their backups tend to get lost in the shuffle. But, as the coachspeak goes, they're just one play away. (See:
Tevin Washington
,
Stephen Morris
circa 2010). Here's a look at who's in good shape at No. 2, and who has reasons for concern:
GOOD SHAPE
Boston College --
It's
Mike Marscovetra
's turn.
Dave Shinskie
was the starter before he was benched in the Notre Dame game last year in favor of
Chase Rettig
, but he's since been demoted another spot. Marscovetra has played in 10 games in his career.
Duke --
Brandon Connette
is the unquestioned backup, and he's performed well enough that David Cutcliffe has used Connette's running abilities to add a different dimension to the offense. Connette played in all 12 games last season and ran for 321 yards and a team-high eight rushing touchdowns.
Miami --
The Canes might not know who their starter is, but whichever one doesn't win the job will be a more than capable backup. Morris was already thrown into the fire when he had to replace injured starter
Jacory Harris
last season in the Virginia game.
Wake Forest --
Ted Stachitas
had a good spring and threw better than coach Jim Grobe had expected. Stachitas has played before, and his ability to run could help the Deacs in the option offense if they need a spark. Stachitas started three games last season.
NAME, BUT NO EXPERIENCE
Maryland --
The Terps are set on
C.J. Brown
, who has played well enough this spring to push starter
Danny O'Brien
, according to coach Randy Edsall. Brown only has one collegiate pass attempt in one game, though.
North Carolina --
Braden Hanson
is the undisputed backup to
Bryn Renner
, but he hasn't seen the field since 2009, when he played in three games and completed 2 of 6 passes with two interceptions.
Virginia Tech --
Ju-Ju Clayton
was outplayed by
Logan Thomas
for the No. 2 job last spring, but now he's the unquestioned backup. He hasn't seen the field since 2009 when he was 1-for-5 passing.
Clemson --
Cole Stoudt, the son of former NFL quarterback Cliff Stoudt, won a battle of January freshman enrollees. At 6-foot-5 and because of his pedigree, Clemson fans wonder if he can be the next Charlie Whitehurst.
QUESTIONS REMAIN
Virginia --
Like Miami, the Hoos have yet to name a starter, but unlike the Canes, all of the quarterbacks lack meaningful experience.
Florida State --
Clint Trickett
and
Will Secord
are still competing for the No. 2 spot. Trickett had better numbers in the spring game, so he may go into the fall with a slight edge, but keep in mind that the offensive lines they played with weren't full strength.
Georgia Tech --
Entering summer camp,
Synjyn Days
is expected to be listed as the backup to Tevin Washington. True freshmen Vad Lee and Demontevious Smith would have to be especially impressive to move up, but there could be some good competition between now and the season opener.
NC State --
Technically, NC State might have one of the best backups in the country if former starter
Russell Wilson
decides to return. Let's take the Wolfpack's approach, though, and assume he doesn't. It's up to redshirt freshman
Tyler Brosius
, who has a strong arm but no experience.
April, 18, 2011
4/18/11
9:00
AM ET
By
ESPN.com staff
| ESPN.com
Florida State has a lot of reasons for optimism heading into the fall, but a healthy offensive line isn't one of them.

Starters Andrew Datko, Zebrie Sanders and David Spurlock, and key backup Rhonne Sanderson all missed Saturday's spring game, making it difficult to truly get a read on what kind of progress the Seminoles made this spring under first-year starting quarterback
EJ Manuel
.
Manuel was sacked six times. One interception was returned for a touchdown. And both teams
combined
for 19 rushing yards.
The numbers are deceiving not only because of the injuries but also because of the 12 sacks. With a young, patchwork offensive line leading the way, the defense
should
have the better day.
"Hard to tell either way," coach Jimbo Fisher said, according to
the team's practice report
. "It's hard to tell on offense, hard to tell on defense."
Manuel completed 17 of 37 pass attempts for 204 yards, one touchdown and two interceptions -- and his team lost, 19-17.
Clint Trickett
, who started for the Garnet, was 13-of-22 for 137 yards.
Will Secord
also played for the Garnet and hit three of his nine attempts for 25 yards.
Aside from kicker Dustin Hopkins, the highlight of Florida State's spring game was probably its announced attendance 53,818 -- 818 more than Florida's spring game. The score that counts, though, won't come until Nov. 26.
If there's one thing we learned from Florida State's spring game, it's that the Seminoles will at least need their veteran linemen healthy in order to live up to the preseason hype.
April, 15, 2011
4/15/11
8:00
AM ET
Spring game:
4 p.m. ET on Saturday,
ESPN3.com
.
Questions answered:
After losing two starting linebackers, the position was a concern, but the young players had good springs. Telvin Smith, Christian Jones and Nigel Terrell each seemed more comfortable with the position, and the entire defense has grown entering the second season under coordinator Mark Stoops.
[+] Enlarge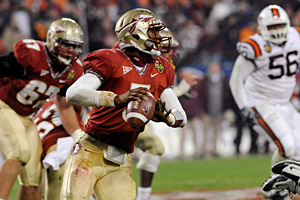 Sam Sharpe/US PresswireFlorida State is expecting big things from quarterback EJ Manuel this fall.
Questions unanswered:
The backup quarterback job is still a race between
Clint Trickett
and
Will Secord
. Offensive line issues still linger, particularly at center, where injuries have delayed progress. Three different players have rotated at the position this spring.
Spring stars:
Lamarcus Joyner has shown he can play safety at 5-foot-8, 192 pounds. It's more his natural position after playing cornerback. First-year starting quarterback
EJ Manuel
, who was healthy for spring practices for the first time, showed that he can run the offense, provide leadership, and the in-game experience has transferred over to his new role.
Of note:
Safety Avis Commack returned after missing last season with a broken leg he suffered while running hurdles with Seminoles' track team in February, 2010. The 6-foot-4 redshirt junior cornerback displayed good cover skills, has a big body, and adds some depth to the secondary as a backup. Offensively,
Jared Haggins
stepped in for
Taiwan Easterling
, who has been playing baseball. The converted high school quarterback made a seamless transition to the slot, was capable of playing the position, and earned the praise of coach Jimbo Fisher.
March, 18, 2011
3/18/11
10:30
AM ET
TALLAHASSEE, Fla. -- There's no question that quarterback
EJ Manuel
is now "The Man" at Florida State (coach Jimbo Fisher's phrase), entering spring practices on Monday as the unquestioned starter.
Manuel's backup? That's a different story, and it's one Fisher is eager to watch unfold this spring.
Clint Trickett
, son of offensive line coach Rick Trickett, and
Will Secord
, will compete for the No. 2 spot.
"That's a big spot for us," Fisher said. "That's one of the big things we have to establish this spring, is who the backup is going to be and what can he do, what can he not do? That will be a big one, who can win that battle, because the personality of your team when they come in the game -- what can they do, what can they not do? What do you feature when you call plays? What do you feature in the offense for that? That will be a big battle. It's going to be one of the interesting ones this spring."
A year ago, Secord was named the most improved quarterback of the spring. He completed 12 of 23 passes for 115 yards in the 2010 Garnet & Gold game, but that's where the lefty's game experience ends. Trickett, an early enrollee in 2010, hasn't taken a collegiate snap yet, either.
Despite the uncertainty and lack of experience, Fisher said he is confident in both players.
"I feel good about it. I really do," he said. "Will is a great guy, he's going to be a very good player, coach's son, he understands the game, played very well in the spring game here last year. When he got out there in the game with Clint, has a lot of confidence in himself and is a good leader, has good ability. He's gotten bigger and stronger. I think they'll be good players."
February, 15, 2011
2/15/11
9:00
AM ET
It's that time of year, ACC fans. Duke kicks off the ACC's spring football schedule with practice tomorrow, so it's time to take a look at three storylines to watch for each program. We'll start with the Atlantic Division:

BOSTON COLLEGE
Spring practice starts:
March 15
Spring game:
April 16
What to watch:

CLEMSON
Spring practice starts:
March 7
Spring game:
April 9
What to watch:

FLORIDA STATE
Spring practice starts:
March 21
Spring game:
April 16
What to watch:

MARYLAND
Spring practice starts:
March 29
Spring game:
April 30
What to watch:

NC STATE
Spring practice starts:
March 17
Spring game:
April 16
What to watch:

WAKE FOREST
Spring practice starts:
March 15
Spring game:
April 16
What to watch:
November, 12, 2010
11/12/10
7:59
AM ET
By
ESPN.com staff
| ESPN.com
Florida State quarterback
Christian Ponder
returned to practice on Thursday after missing three consecutive days after team doctors inserted a drain to help remove excess fluid from his right elbow related to his ruptured bursa sac.
"He did some," coach Jimbo Fisher said, according to the team's practice report. "I didn't want to take a chance, so we limited what he did. What we're doing right now, he feels very good about. He took some reps and did some things but we limited what he did as far as numbers. I didn't want the day after to be a bear. I think he'll feel good. I really do."
Ponder is listed as questionable on this week's injury report for Saturday's home game against Clemson. Sophomore quarterback
E.J. Manuel
still took the bulk of the practice reps Thursday. Fisher did say if Manuel was the starter Saturday that redshirt freshman
Will Secord
will be his backup.
"We haven't changed a bit [with E.J. in there]," Fisher said. "We're doing exactly the same thing we've been doing. "
Here is FSU's full injury report:
OUT FOR THE SEASON

DT Moses McCray (knee)
LB A.J. Land (knee)
DT Cameron Erving (back)
OUT

OG Blake Snider (ankle)
C A.J. Ganguzza (back)
LS Chris Revell (wrist)
OG David Spurlock (head)
OG Bryan Stork (illness)
S Jajuan Harley (groin)
WR Jarred Haggins (hamstring)
QUESTIONABLE

QB Christian Ponder (elbow)
S Gerald Demps (head)
WR
Cameron Wade
(illness)
April, 5, 2010
4/05/10
11:00
AM ET
Clemson wasn't the only ACC team to
hold a scrimmage
over the weekend.
FLORIDA STATE
Florida State held its final scrimmage before Saturday's spring game, and it turned into the Greg Reid show. Reid recorded four interceptions, including one that he returned 35 yards for a touchdown against the second-team offense. The sophomore cornerback picked off Clint Trickett and
Will Secord
in a matter of minutes.
"His instincts are incredible," Florida State quarterback Christian Ponder said. "He goes and makes plays and he loves the game of the football. ... He's everything you want in a football player."
Ponder also stepped up, completing 7 of 11 pass attempts for 188 yards while leading the first-team offense to a pair of scores. His 34-yard pass to Lonnie Pryor helped set up the first-team offense's only touchdown, a 1-yard Chris Thompson run. Secord led a seven-play scoring drive against the first-team defense and completed 2 of 7 passes.
Wide receiver Bert Reed recorded three receptions for 105 yards, and the run game got production from Pryor, Thompson, Ty Jones (5 carries, 33 yards) and Jermaine Thomas (3 carries, 21 yards).
"Lonnie Pryor, consistently day in and day out in everything he does ... is a really good football player," head coach Jimbo Fisher said. "There is no doubt, head and shoulders right now, he is the best pure football player. I think Chris Thompson did some things, I saw [Jermaine Thomas] do some things. I saw [Ty Jones] make a couple runs. ... Lonnie is Mr. Consistent, day in and day out."
GEORGIA TECH
The Yellow Jackets held their first spring scrimmage, highlighted by the run game and big plays from the secondary.
Quarterback
Tevin Washington
, who is competing for the backup job behind injured starter
Josh Nesbitt
, had runs of 55 yards and 40 yards and rushed for two touchdowns, but he struggled a bit in the passing game and threw an interception. Redshirt freshman
David Sims
tossed two interceptions.
"We missed reads and overall, we didn't do a good job of passing the ball," Washington told the Macon Telegraph. "I overshot some receivers a couple of times. Other than that, we've just got to settle down and get comfortable in the pocket. It'll progress as the spring goes on."
The Georgia Tech offense recorded four touchdowns but had several procedure penalties and fumbles on the center-quarterback exchange.
Safeties Jemea Thomas and Mario Edwards and linebacker B.J. Machen
recorded the interceptions
. Other defensive standouts included end Jason Peters and linebackers Brad Jefferson and Brandon Watts.
March, 29, 2010
3/29/10
11:30
AM ET
Florida State quarterback
Christian Ponder
looked like his old self Saturday.
Ponder, who had surgery on his right shoulder four months ago, took all the snaps with the first-team offense in the Seminoles' first full scrimmage of the spring. He went 6-for-12 for 91 yards, including a 19-yard touchdown pass to tight end
Beau Reliford
. More importantly, he threw without any pain.
"It's been a while and to get back and scrimmage and actually play a little football, it was fun," said Ponder. "We really know what we're doing, having everyone back, and we're only going to get better."
It's nice to have a veteran offensive line protecting you and a good running game to lean on. Florida State's rushing attack -- consisting of
Chris Thompson
,
Jermaine Thomas
,
Lonnie Pryor
,
Tavares Pressley
and newcomer Debrale Smiley -- combined for 262 yards on 31 carries with three rushing touchdowns.
Getting Ponder back, though, was the big story.
"His arm is getting stronger," coach Jimbo Fisher said. "He is starting to get a better feel for the pocket where he is flicking the ball around. He missed a few throws, one in the flats to the fullback. I thought overall he was solid. He didn't do anything bad, but overall he was just OK."
The second-team offense, led by quarterback
Will Secord
, didn't have as much success. Credit defensive end Brandon Jenkins for causing havoc, with five tackles for loss and three sacks.
April, 16, 2009
4/16/09
2:30
PM ET
By
ESPN.com staff
| ESPN.com
Posted by ESPN.com's Heather Dinich

Last week, Florida State coach Bobby Bowden saw backup quarterback E.J. Manuel throwing the football, "just foolin' around," and Bowden immediately told Manuel to stop and "wait a couple of weeks."
On the first day of spring football practice, during an 11-on-11 drill, Manuel threw a pass, and as he released the ball, his hand got caught on the helmet of a rusher and he suffered a compound fracture of his right index finger, and "dadgum, he missed all the spring," Bowden said.
The good news, Bowden said, is that Manuel's finger "looks like it's been repaired," and starting quarterback Christian Ponder benefited from the extra reps he got with Manuel out.
"There were some scrimmages out there where we let him take every bit of it," Bowden said of Ponder. "He really got a lot of work against a lot of different looks. That's what coach (Jimbo) Fisher wanted to do. He wanted to give him as many equations as he could give him in the secondary to make him be disciplined to read the coverage. He got a lot of work. We feel like he made good time out of it and so I think he's much more proven and he goes into the next year with 13 games under his belt and a good spring training."
Despite the lack of scholarship quarterbacks on the roster this spring, Bowden said on Wednesday that he's comfortable with the position heading into spring camp. He said Manuel should be ready, and walk-on Corey Eddinger got more repetitions than expected this spring because of Manuel's injury. The Noles signed a recruit from Texas, Will Secord.
Florida State will give them three scholarship quarterbacks and three walk-ons this fall, but because of the lack of experience behind him, Ponder has little margin for error and has to stay healthy.
"You look at it and say, 'Well, gee wiz, your second team quarterback got hurt,'" Bowden said. "Well, who else in the country has over two? Nobody else does either. It's a common problem."
Especially in the ACC this year.