March, 26, 2015
Mar 26
10:00
AM ET
Dave Clawson was only half kidding when he said the offensive line he inherited at Wake Forest last year would've struggled to match up physically with some high school teams. Talent was one problem, but the size and strength were the immediate concern.
A handful of incoming freshmen probably could've started, but Clawson redshirted them to give them time to bulk up. The rest battled through an unmitigated disaster -- one of the worst offensive performances by an FBS team in recent memory. But as the Demon Deacons hit the practice field this spring, there are only faint reminders of just how bad last year was.
"There will be some growing pains, kids getting out there for the first time," said Wake offensive coordinator Warren Ruggiero. "But physically, those younger guys are good players. They're getting better every day, and that's really where you see the biggest difference in our football team. That's really the one spot that's been different, no doubt.
[+] Enlarge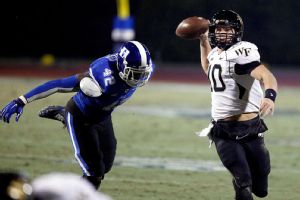 Mark Dolejs/USA TODAY SportsLast season Wake Forest quarterback John Wolford struggled behind an offensive line that allowed 26 more tackles for loss than any team in the country.
To truly appreciate the current state of affairs, it's best to understand rock bottom.
Last season, the line coughed up 26 more tackles for loss than any other team in the country.
Quarterback John Wolford was sacked once every 8.2 attempts, the worst rate of any QB in the nation.
When the QB wasn't on the ground, the running game mustered just 2.47 yards per rush -- the worst rate by any FBS program in more than 10 years.
For the year, Wake averaged just 3.4 yards per play. That's a half-yard less than any other Power 5 team in the last decade.
Turning those numbers around is a daunting task, but as gory as the results were at times last season, the momentum for Clawson's program is clearly pointed in a positive direction.
"We survived it," Ruggiero said. "Now, they're executing the offense a little better and things aren't breaking down as quickly. We've got to keep getting better and do that against Florida State and Clemson and Louisville, so it's certainly not going to be an overnight thing. But there's definitely optimism."
Ruggiero said he's confident that he'll at least have a solid five -- and maybe a few more for depth -- to start the season on the line.
Josh Harris, last year's best blocker, returns at left guard. Redshirt senior Dylan Intemann is getting work at both tackle and guard this spring, providing some much-needed versatility. Junior Will Smith got his first year of real experience under his belt last year, and he's shown marked improvement. Redshirt freshmen Justin Herron, Phil Haynes, Patrick Osterhage and Ryan Anderson have all looked vastly improved from where they were a year ago.
Most importantly, the entire group simply looks like a contingent of real ACC linemen.
"Just looking at the numbers they're lifting, it's just a lot different," Ruggiero said. "You add up the poundage, and we're just playing stronger and more physical. That's just guys in the weight room for one year."
It's not a fully-stocked cupboard yet, but when the Deacons line up during practice, they actually look like a functioning offense routinely.
There's a trickle-down effect. The line does its job, and everyone else can finally do theirs.
"John was avoiding disaster most of the time last year as opposed to actually running plays," Ruggiero said. "This year, he's getting to run some plays and actually execute things and get to the second receiver and third receiver in a progression and have guys in the right spot."
It may sound like marginal progress, but the starting point was so low that the steps Wake is taking this spring appear immense comparatively.
There are still concerns. Experience is lacking. The skill positions are young, too. There's no established depth at running back.
It's a process, and Wake's coaches are still digging for answers. But for the first time, there's a hint of what could be in store, a faint outline of the offense Clawson and Ruggiero envision for the future.
"The young guys are definitely giving us a chance to be a little more optimistic than we were last year," Ruggiero said. "As they continue to improve not just this year but next year and the year after, we'll keep on an upward swing."
February, 25, 2013
2/25/13
1:00
PM ET
The spring has not brought much relief to Wake Forest in the injury department.
Several projected starters are expected to miss all or parts of spring practice, which begins March 19. Offensive coordinator Steed Lobotzke said in telephone interview that he didn't expect to see receiver
Michael Campanaro
, starting tackles
Steven Chase
,
Colin Summers
or starting guard
Antonio Ford
participating in drills.
Lobotzke said, "'Camp' is going to have some ankle surgery on a bone chip floating around so we're going to miss him."
Chase (knee), Summers (concussion) and Ford (leg) are still rehabbing injuries sustained last season, when the Deacs saw an unprecedented number of guys go down on their offensive line. In all, Wake Forest lost nine offensive linemen throughout the course of 2012, including all five players it had moved over from the defensive line.
That is why one of the biggest priorities heading into spring was finding stability in the trenches. But Wake is going to have to wait until the fall at the earliest to begin working on its biggest offensive question mark.
"Even though we have high hopes for next season, spring ball's going to be tough," Lobotzke said. "Right now, we have a guaranteed seven offensive linemen for spring ball. We're hoping for eight, but hopefully by next season we'll have a full complement of guys out there healthy with Antonio, Colin and Steven Chase.
"I wish it was better than that, I wish it was cleaner than that. We were thinking if those five guys can go through spring together and Tanner [Price] could build confidence with them -- but it's not going to happen. We're going to have to have a great August I think. Because right now three of the guys we're counting on to be in our top five will not be out there this spring."
Lobotzke added the team is still unsure whether Summers will be able to resume his career because of lingering affects from a concussion.
While Wake could take a woe-is-me attitude, that is certainly not the case. The flip side is the ability to try to build some depth for this season, to avoid the nightmare that was 2012.
"It opens the door for young guys," Lobotzke said. "
Dylan Intemann
played as a freshman last year because of injury. Maybe this is the spring Dylan asserts himself, and says, 'I'm going to take Colin's job from him. I'm going to outplay him and I'm going to be the guy at right tackle.' Maybe we can build O-line depth because of these spring injuries and maybe we can get some young guys to step up. That would be a great side benefit with Steve, Antonio and Colin not being able to take spring reps."
Lobotzke also said a few other players are injured heading into spring and their status is up in the air: reserve offensive lineman
Will Smith
(knee), tight end
Neil Basford
(Achilles') and receiver
Matt James
(foot).
"A lot of the names we're counting on won't be out there for spring," Lobotzke said. "The biggest problem is putting 11 bodies out there, but we've got a lot of young guys that will get a shot."