August, 6, 2013
8/06/13
9:00
AM ET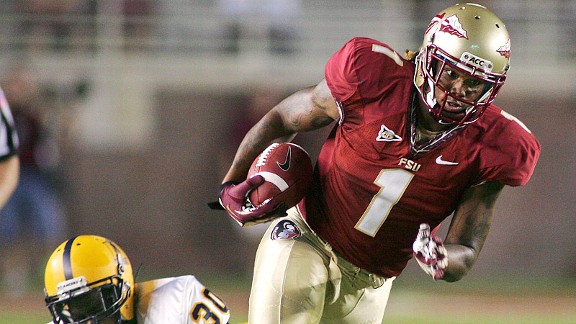 AP Photo/Phil SearsJunior wide receiver Kelvin Benjamin has shown flashes of potential in his two seasons at Florida State, but the Seminoles need him to truly break out this season.
TALLAHASSEE, Fla. -- Florida State is finally set to open fall camp today, and while the enthusiasm surrounding new faces on the coaching staff and the roster has been high, there are some big question marks remaining before Jimbo Fisher's crew takes the field at Pittsburgh on Sept. 2.
Here's a quick look at the biggest storylines to watch during the next few weeks.
Can anything keep Jameis Winston off the field?
While most Seminoles fans have anointed Winston the next big thing, Jimbo Fisher still hasn't officially handed him the starting job. Instead, Fisher said he expects
Jacob Coker
-- fully healed from a broken foot that hampered him this spring -- to push Winston for reps. Regardless, Fisher raved that both quarterbacks have handled the offseason work -- and the immense hype -- well.
Has progress been made on defense?
The Seminoles got a four-week crash course this spring on the scheme being implanted by new defensive coordinator Jeremy Pruitt, but that still left plenty of questions. It's a complex attack, and cornerback
Lamarcus Joyner
said FSU's defense -- which ranked among the top three in the nation in each of the past two seasons -- is still learning. The first few days of fall camp should provide some insight as to how far along they are in that process and how many of the incoming freshmen have proven to be quick studies.
Who's playing tight end?
Since the 2012 season ended, Florida State has lost its tight ends coach (James Coley) and three players (
Kevin Haplea
,
Christo Kourtzidis
and
Will Tye
), while the incumbent starter (
Nick O'Leary
) survived a horrific motorcycle accident. Needless to say, the position will be in flux this fall. Fisher said he plans to shuffle some players around, potentially giving one or more of his defensive ends a crack at playing tight end, to provide some depth.
Are some key third-year players ready to step up?
A lot might be riding on the likes of
Kelvin Benjamin
,
Bobby Hart
and
Karlos Williams
this season. All three members of the 2011 signing class will be stepping into bigger roles this season, and all three have ample talent to get the job done. Still, question marks surround all of them. Fisher specifically praised Benjamin's progress this offseason, but all three will have a spotlight on them as camp begins.
How will playing time be split in the secondary?
Joyner is perhaps Florida State's best defender, but his move from safety to corner this offseason certainly created some waves. He said he hopes to be on the field for nearly every snap this season, but that would cut into playing time for a slew of other talented DBs, including
Ronald Darby
,
Nick Waisome
and
Tyler Hunter
-- all three of whom missed spring practice with injuries.
Is four weeks enough time to prep for ACC play?
The clock is ticking from Day 1 for Florida State this season. Unlike recent seasons, there's no cupcake game against an FCS opponent to kick off the year. Instead, Florida State opens against ACC foe Pittsburgh -- on the road, in prime time on national TV -- meaning there won't be much time for refresher courses early on. FSU needs to hit the ground running to ensure its clicking on all cylinders when the season begins. Luckily for Fisher, he'll finally have the luxury of a new indoor practice facility to ensure the weather doesn't wreak havoc with the schedule for a change.
November, 16, 2012
11/16/12
11:00
AM ET
Here are the ACC injury reports for Week 12 from the schools that emailed them:

CLEMSON

Probable
Out for the season
DUKE

Probable
Doubtful
Out
Out for the season
FLORIDA STATE

Out
Out for the season
MARYLAND

Out for the season
Questionable
Probable
MIAMI

Out
Surgery/Out for the season:
NC STATE

Out for season
Out for game

August, 6, 2010
8/06/10
8:00
AM ET
By
ESPN.com staff
| ESPN.com
Here are highlights from Thursday's practices, as provided by the sports information directors:
CLEMSON
Practices are getting more and more physical at Clemson. After two days of working in helmets and shorts, the Tigers added shoulder pads to their uniform on Thursday for an early evening practice. On Saturday the team will be in full pads for the first time.

The Tigers got through the workout in good health as no injuries were reported. There were a few players who pulled up with cramps late in the practice due to the humid weather conditions, but fewer players had the problem than the previous night.

Swinney says: "We had another good day," coach Dabo Swinney said. "We are getting more and more physical as we work our way to the first day in pads on Saturday. There are some mistakes out there, but we have had a good tempo on both sides of the ball and that is good to see. I loved the spirit we have shown so far."

On the wide receivers: "I know that is the big question on offense, but I am not concerned. It is very close in terms of the competition for playing time. They have all had great moments so far. You want a highly competitive situation and that is what it has been.

"Xavier Dye and Terrence Ashe have had the most experience among the returning guys, but they have been mostly backups. I hope to have several guys involved at that position."

On the offensive line: "I feel good about the first six, the question is who will be seven, eight and nine [players on the second team]. Matt Sanders has been around and has played well. Phillip Price has looked good and is now up to 298 pounds. We also look for Brandon Thomas to make progress. Kalon Davis has made a big change physically since he came here in January. I think he is going to be a terrific player."

Schedule: The Tigers return to the practice fields on Friday and Saturday evening and will take Sunday off. The first two-a-day session is Monday. All practices are closed to the public. Fan Appreciation Day is Sunday, Aug. 22.

FLORIDA STATE
First-year coach Jimbo Fisher was greeted by photographers chronicling the historic moment as he crossed under the arched entrance to the Al Dunlap Practice Fields -- the first time since August 1976 that the Seminoles began a preseason with a new head coach.

"It was a good moment, but you had to put it behind you and go coach," said Fisher.

In all, 103 Seminoles took the field in 90-degree heat, under cloudless skies for the session that ran just over two hours.

"Everyone was excited," said senior quarterback Christian Ponder, who lined up alongside nine returning starters on offense. "Everyone's ready to start the year off. There was a little anxiety in the beginning and it was a little warm, but guys pushed, worked hard and were excited. Finally the season has started. … It's going to be a long camp but we're going to do a lot of work to get better."

Highlights: Ponder connected on a couple perfectly thrown deep balls to sophomore wide receiver Rodney Smith during 7-on-7 drills. Freshman wide receivers Christian Green and Kenny Shaw and junior Bert Reed, and freshman tight end Will Tye, all left impressions with catches in traffic. Ochuko Jenije, sophomore cornerback Greg Reid and junior safety Terrance Parks came up with hustling pass break-ups, while freshman safety Chad Abram collected an interception.

Comebacks: Offensive tackles Antwane Greenlee and safety Avis Commack returned to action on the field after recovering from significant injuries.

Schedule: The Seminoles will practice again Friday at 6 p.m.

WAKE FOREST
The Demon Deacons practiced for more than two-and-a-half hours at the Doc Martin Football Practice Complex on Thursday night. The Deacons ran through a number of standard blocking and passing drills with a good dose of emphasis on the fundamentals.

"What I was impressed with was the enthusiasm of the players and, especially, the enthusiasm of the coaching staff," said coach Jim Grobe. "You can tell that Coach [Ethan] Reeve and his [strength and conditioning] staff did a tremendous job of getting the guys in shape."

On the defense: "What we've got more than anything is an enthusiastic group that is excited about playing defense," said Grobe. "We have better overall team speed on defense. There's some young guys but it's a pretty physical unit, they like to mix it up. They like to get 11 guys around the football. They do all the things that coaches enjoy seeing on defense. I think if the group will come together and not give up big plays, and be more aggressive in taking the ball away from people. But this can be a pretty good defensive football team."

On offensive guard Joe Looney: "He's the most enthusiastic guy on the football team," said Grobe. "He's an Aaron Curry-type at offensive guard, as far as his attitude. As far as a guy who plays as well as Curry, I can't tell you that. But he's a guy who bounces to practice, likes to practice, loves to play on Saturday, lives for football and is liked by everybody on the team. He's one of our favorite guys because he's just such a good person. One of the main reasons he got on the field right away (as a freshman) is because of his enthusiasm. He's just so pumped up all the time. It doesn't matter where you see him, if you see him at breakfast at 6:30 in the morning or you've finished up a late night practice, he's bouncing around. He's enjoying life."

Schedule: Wake Forest will practice in shells again on Friday at 7:30 p.m. The Deacons will practice at 3:30 p.m. on Saturday afternoon.