November, 7, 2013
11/07/13
10:15
AM ET
Clemson and Georgia Tech have the weekend off. The other 12 ACC teams take the field for Week 11, which includes two nonconference contests, with one serving just
slightly
bigger than the other.
Here is what to keep an eye on as we enter the home stretch in the ACC:
1. FSU looks to avoid letdown:
The Seminoles have a lot to lose the rest of the way, starting Saturday in Winston-Salem, N.C., where they lost two years ago. It is telling, in a good way, that the word "adversity" has been thrown around so much in regard to Florida State's most recent contest. It was a 41-14 win against a previously undefeated and seventh-ranked Miami team. And its quarterback, despite whatever criticisms were lobbied his way, finished with an adjusted total QBR of 94.6, sixth best in the nation for the week. If this team ever got its act together …
2. Wake adjusts to life without Campanaro:
Wake Forest is without all-time leading receiver
Michael Campanaro
, probably for the season, after the redshirt senior broke his collarbone in a loss at Syracuse. Coach Jim Grobe was honest about how difficult things now are offensively without Campanaro, who, despite missing the first game of the season, had 67 catches -- or 52 more than
Jonathan Williams
and
Sherman Ragland III
, the Demon Deacons' next-highest catchers, with 15 apiece.
[+] Enlarge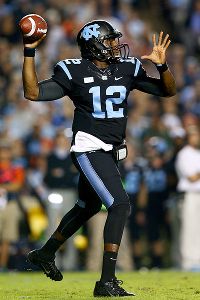 Streeter Lecka/Getty ImagesCan Marquise Williams lead North Carolina to a bowl game?
3. Marquise Williams' time at UNC:
Bryn Renner
's North Carolina career is over because of a detached labrum and fracture in his non-throwing shoulder suffered in a win over NC State. He had split plenty of time lately with Williams, who started the Virginia Tech game, but now it is the redshirt sophomore's chance to carry the Tar Heels to the postseason. They can inch a step closer toward with a win over Virginia that would make them 4-5. Williams has completed better than 60 percent of his passes this season for 537 yards with six touchdowns and three picks, adding 201 yards and a score on the ground.
4. C.J. Brown's return:
Maryland is on the brink of its first bowl berth under third-year coach Randy Edsall, and the expected return of its quarterback should provide a big boost against Syracuse.
Caleb Rowe
has been so-so in Brown's place as starter, going 1-2. Brown's return after a concussion and then a "trunk injury" cannot come at a better time for a Terrapins team that has dropped three of four, though he will have to adjust to a receiving corps that has been decimated by season-ending injuries to
Stefon Diggs
and
Deon Long
.
5. Terps honor former Cuse halfback:
Kudos to Maryland, which will pay tribute Saturday to Wilmeth Sidat-Singh, who was barred from the Syracuse-Maryland 1937 game because he was black. Orange players will wear No. 19 decals on their helmets in memory of Sidat-Singh, whose family will join both schools' athletic directors and Maryland pioneer Darryl Hill between the first and second quarters for an on-field tribute. Sidat-Singh had joined the Army after Pearl Harbor and was in the first graduating class of the group later known as Tuskegee Airmen. He was killed on a training flight in 1943 and is buried at Arlington National Cemetery.
6. Duke looks to finish strong:
Whether it is fair to criticize the Blue Devils' late-season slide last season, the fact remains that they went winless after clinching bowl eligibility in 2012. Things are different this time around, especially with a defense playing night and day from earlier this season and with the Coastal Division potentially up for grabs. Duke will need to keep its foot on the pedal as it comes off a historic win and a bye week to face a desperate NC State team that has dropped four straight and remains winless in ACC play.
7. Logan Thomas looks to rebound:
Virginia Tech's redshirt senior quarterback
was unusually defiant this week when speaking to reporters in Blacksburg, Va., about criticism that has come his way
. Thomas had appeared to turn a corner midseason but his turnovers woes have bubbled to the surface these last two weeks, as he threw four picks in a loss to Duke and threw two more, and lost two fumbles, in a loss at Boston College. Still, a strong performance at a Miami team coming off its first loss of the season could play the Hokies right back into the thick of things in the Coastal Division race.
8. Crawford, Miami look to rebound:
It's
Dallas Crawford
's time to step up, as the Hurricanes will turn to the redshirt sophomore first after losing
Duke Johnson
for the season. In looking to rebound from its loss No. 1 and maintain control of the Coastal Division, coach Al Golden said all three backs will probably see time in the first quarter Saturday against Virginia Tech. Crawford is expected to get the bulk of the carries after rushing for 294 yards and nine touchdowns so far this season.
9. ND-Pitt theatrics:
Will it be like the four-overtime game from 2008? The ugly 15-12 contest from 2011, a game that, fittingly, featured 666 total yards of offense? Or last year's triple-overtime near upset? When the Irish and Panthers take the field, craziness ensues, and who knows what awaits a prime-time audience at Heinz Field in a game featuring two banged-up teams.
10. Pitt's offense looks to get it together:
The Panthers defended the option well in recent weeks, holding Navy and Georgia Tech to 24 and 21 points, respectively. But the offense simply has to score points after breaking the 21-point plateau just once in its past five games, against Old Dominion (35). The run game in particular has struggled, tallying minus-5 yards last week against the Yellow Jackets, but the passing game could use some big plays as well.
November, 6, 2013
11/06/13
5:00
PM ET
Bravo, Maryland, for making the wise decision to try to make up for a mistake made 76 years ago.
The university will
pay tribute to former Syracuse halfback Wilmeth Sidat-Singh
when the teams play on Saturday, honoring a player barred from participating in their 1937 matchup because he was black.


The Sidat-Singh family will join Maryland athletic director Kevin Anderson, Syracuse athletic director Daryl Gross and Maryland pioneer Darryl Hill in an on-field tribute and recognition on the video board between the first and second quarters. Syracuse players will wear No. 19 decals on their helmets in his memory.
Sidat-Singh, a two-sport star in football and basketball, was banned from playing at Maryland because of segregation laws. He joined the Army after Pearl Harbor and was in the first graduating class of what later became known as the Tuskegee Airmen. He was killed when his plane went down in Lake Huron on a training flight in 1943 and is buried at Arlington National Cemetery.
In 2005, Syracuse raised his No. 19 jersey to the rafters at the Carrier Dome for his contributions to the university and its athletic program.
But the Sidat-Singh story was mostly lost to history until last year, when Maryland associate vice president/chief diversity officer Kumea Shorter-Gooden alerted Anderson to what had happened in 1937. Dave McKenna wrote a tremendous profile on
Sidat-Singh and the injustice done
to him at Maryland that is worth your time. In that piece, Lyn Henley, a Sidat-Singh cousin charged with keeping the legacy alive, said:
"This is something I've thought about my whole life, ever since my father told me about what happened to Wilmeth. Rightfully or wrongly, I've rooted against Maryland my whole life because of this. When I heard that after all these years, they would do the right thing, well, I just cried. You have no idea how important this is to my family."
In a statement, Shorter-Gooden said: "Today's presentation really speaks to the leadership of our athletic department. This tribute is about honoring Wilmeth, but it also stands for so much more. We know Wilmeth's name, but there are so many African-Americans whose names aren't known who experienced similar incidents of racism. I hope, in some way, this can help with healing for all of them. And I see this as a reaffirmation of the university's commitment to transcend its past and to be fully equitable, diverse and inclusive."
Syracuse coach Scott Shafer praised Maryland for attempting to right a wrong made some 76 years ago.
"I talked to the kids about the fact that Maryland was doing a good job at kind of taking the better-late-than-never approach to honor the Singh family," Shafer said Wednesday during the ACC coaches call. "It happened to be the Syracuse football team, one of our own, one of our great former football players. You look at it and it's an opportunity for our kids to say, 'We have a great opportunity to do what we should have always been able to do as an African-American athlete and that's to play a game and to play a game in a college setting.
"So it's going to be a really good experience for our kids to go down there and play in College Park against a good football team, and also it's a teaching moment and an opportunity for our kids to look backwards and look at the history of our country and the history of our country's ugliness at times in the past and be part of righting a situation that was horribly wrong."