January, 8, 2014
1/08/14
2:00
PM ET
Jimbo Fisher was still on the podium, gazing into the crystal trophy that comes with winning a national championship, when it was suggested that once the team returned to Tallahassee, it was back to work preparing for 2014.
First on the docket for FSU will be identifying which star players will be returning for next season. Running back
James Wilder Jr.
is
entering the draft, according to a source
, and more decisions will trickle in before the Jan. 15 deadline. Here are our best guesses at what's to come — and who might step in for departing underclassmen.
Likely going
[+] Enlarge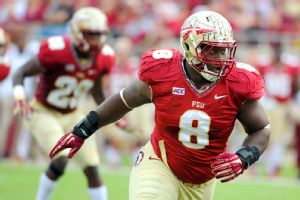 Melina Vastola/USA TODAY SportsFSU nose tackle Timmy Jernigan is a force inside, and how well the Tigers do against him could determine how well they run the ball.
DT Timmy Jernigan (junior)
Why he'd leave:
Entering the season, Jernigan was Florida State's top-rated underclassman by most draft experts, and that standing never changed. Jernigan was dominant all season, and his impact was never more noticeable than in the national title game. When he was on the field, Auburn found no running room between the tackles. When he was out of the game, the Tigers moved the ball with ease on the ground.
Next up:
Nile Lawrence-Stample
took a big step forward this season, gaining valuable playing time in the defensive line rotation. He started six games and finished with 15 tackles. Florida State has five current defensive tackle commitments, so it's certainly possible one of the incoming freshmen could make a big impact early — as Jernigan did in 2011 — but Lawrence-Stample is the safest bet to step in full time.
WR Kelvin Benjamin (redshirt sophomore)
Why he'd leave:
Benjamin was projected as a star from the moment he arrived on campus, but it took him a while to get acclimated. He enjoyed a breakthrough 2013 season, finishing with 1,011 yards and 15 touchdowns, including the game-winner in the VIZIO BCS National Championship. Some of his game could still use some refinement — as evidenced by two big drops vs. Auburn — but his physical skills already peg him as a likely first-rounder.
Next up:
Kermit Whitfield certainly projects as Florida State's next big-play receiver after an electric season as a freshman, but he fits more in the slot. Replacing Benjamin's size and physicality isn't an easy task, but 6-4 freshman
Isaiah Jones
figures to have the best chance. He saw limited playing time this year, catching two balls for 31 yards.
Possibly going
RB Devonta Freeman (junior)
[+] Enlarge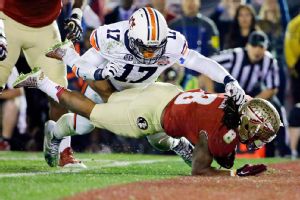 AP Photo/David J. PhillipDevonta Freeman became the first Seminoles tailback to gain 1,000 yards in a season since Warrick Dunn in 1996.
Why he'd leave:
Freeman has been the steadying force for FSU's running game for three years, and on Monday, he became the first Seminoles tailback to top 1,000 yards in 17 years. Wilder's role was smaller this year as injuries hampered his production, but that could also have served as a reminder why it's better to take the big hits with an NFL paycheck. Neither has a ton of early draft buzz which could convince them to return, but both could show out at the combine and work their way into the top three rounds.
Next up:
Karlos Williams
showed plenty of promise this season after moving from safety in Week 2, finishing with 748 rushing yards in reserve duty. He's largely a straight-ahead runner, but his combination of size and speed makes him a weapon. FSU will still need to develop depth, likely with
Mario Pender
or
Ryan Green
, but could get a boost from four-star commit Dalvin Cook.
LT Cameron Erving (redshirt junior)
Why he'd leave:
Erving has hovered near the top of the offensive tackle draft boards since the end of 2012, and in his second season since moving from the defensive line, he showed significant progress. Still, it's a deep draft at the position, and there were moments — including against Auburn's impressive defensive front Monday — when he showed some flaws.
Next up:
Florida State brought in two potentially strong replacements last year in
Ira Denson
and
Wilson Bell
. Injuries hampered the progress for both during the season, however, which makes Erving's decision potentially crucial for the stability of the line going into 2014.
Likely staying
G Tre Jackson and G Josue Matias (juniors)
Why they'd leave:
Matias and Jackson might be among the top underclassmen at the position, but both could benefit from another year working with line coach Rick Trickett.
Next up:
Florida State has struggled to recruit on the line the past few years, which makes depth — particularly on the interior — a significant concern. The Seminoles have a solid class coming in for 2014, but the loss of more than one of their underclassmen on the line would be a serious concern.
TE Nick O'Leary (junior)
Why he'd leave:
O'Leary made huge strides this season, developing into one of Jameis Winston's favorite targets and a legitimate red-zone threat. He's an adept route-runner, a sure-handed receiver and his blocking game has developed nicely. But with Florida State's receiving corps in transition, O'Leary could be in a position to post huge numbers in 2014 if he sticks around.
Next up:
Kevin Haplea
returns from a knee injury next year, but he's more of a blocking tight end than a true replacement.
WR Rashad Greene (Jr./WR)
Why he'd leave:
What more can Greene accomplish at Florida State? He's been the team's most reliable receiver for three consecutive seasons. He became the Seminoles' first 1,000-yard receiver since Anquan Boldin this year. He's quick, a great route-runner, and he has good hands. He does everything well, and his quarterbacks have taken notice. The problem for Greene is that he lacks the obvious physical skills that make scouts drool, so his draft value might not reflect his on-field contributions.
Next up:
It would be a surprise if Greene left, but it would also be a huge blow to Florida State's offense. Winston was a star this season in part because of an exceptional group of receivers, but the group will get a major makeover in 2014. The Seminoles need Greene to help ease the transition.
December, 18, 2013
12/18/13
10:30
AM ET
For the past four seasons, Florida State's seniors have worked to rebuild a program that was mired in mediocrity when they arrived. The project was a resounding success, but after the VIZIO BCS National Championship on Jan. 6, they'll be gone. If 2013 gave the seniors a chance to take that final step toward a title, it also offered a glimpse at what's to come, and Florida State appears well stocked to weather the inevitable losses.
Out: Lamarcus Joyner, CB
[+] Enlarge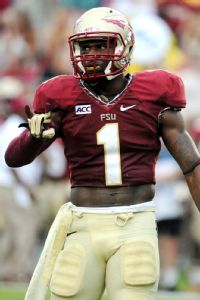 Melina Vastola/USA TODAY SportsTyler Hunter could replace cornerback Lamarcus Joyner for the Seminoles in 2014.
After moving from safety to corner, Joyner proved he was one of the nation's top defenders, leading FSU in sacks and finishing second in tackles.
In: Tyler Hunter, DB
Joyner is a huge loss, but Hunter is well prepared to step into the vacancy. His 2013 season was cut short by a neck injury, but he knows the defense well and his combination of size and speed allows him to fit well at safety, corner and nickel. Replacing Joyner is impossible, but Hunter could be in for a huge 2014.
Out: Terrence Brooks, S
He has been an under-the-radar performer since he arrived at FSU as a three-star recruit, but Brooks has been consistently good at safety for two years.
In: Nate Andrews, S
Brooks found a perfect protégé in the similarly underrated Andrews, and the relationship has already paid dividends. Andrews started just one game, but he leads the Seminoles with seven takeaways (four INTs, three forced fumbles) and is second on the team with eight passes defended.
Out: Telvin Smith, LB
For the past two years, there has been no louder voice in the locker room than Smith, and in 2013, he blossomed on the field, too, leading FSU in tackles.
In: Reggie Northrup, LB
Northrup hasn't started a game in his two seasons at Florida State, but when he's been on the field, he has proven to be a big-play defender. He has 46 tackles this season, and he has a skill set to both play the run and in coverage.
Terrance Smith
is FSU's only returning linebacker with starting experience, but there's ample depth at the position, led by Northrup.
Out: Christian Jones, OLB
Jones' move from traditional linebacker to edge rusher was a turning point for Florida State's defense, helping to seal the edge and add another dynamic pass rusher to the D line.
In: Matthew Thomas, OLB
An injury ended Thomas' season after just five games, but his potential is immense. He had two tackles for loss in his limited playing time, and his athleticism and strength could make for a smooth transition into the role Jones defined so well in 2013.
Out: Kenny Shaw, WR
Always a reliable option in the slot, Shaw blossomed as a senior and is on pace for 1,000-yard season while also handling punt return duties.
In: Levonte Whitfield, WR
Whitfield may lack Shaw's consistency, but his big-play potential is through the roof. He racked up 646 total yards and three TDs on just 21 touches (an average of 31 yards per touch) as a runner, receiver and kick returner. It was valuable experience as a freshman, and Whitfield should be an excellent fit in the slot in 2014.
Out: Bryan Stork, C
As Florida State's line developed from disaster in 2011 to dominant in 2013, Stork was the centerpiece. The veteran leader of the group has been the foundation for the unit's growth.
In: Austin Barron, C
Losing Stork is big, but Barron is no rookie. He has six career starts already under his belt, and he has worked routinely with the first-team line during practices this season while Stork has nursed a foot injury.
Out: The underclassmen
No one has made it official that they're leaving, and with so much talent on the roster, plenty of Florida State's draft-eligible underclassmen could decide to come back for what figures to be another big season in 2014. Of the group, defensive tackle
Timmy Jernigan
-- widely considered a first-round selection -- is the most likely to depart. Beyond that, tailbacks
Devonta Freeman
and
James Wilder Jr
., receiver
Kelvin Benjamin
, tight end
Nick O'Leary
, and lineman
Cameron Erving
will all have big decisions to make.
In: The next regime
Replacing Jernigan will be a tough task, but
Nile Lawrence-Stample
(14 tackles, 2 QB hurries) took some big steps in 2013.
Karlos Williams
(705 yards, 11 touchdowns) is ready to pick up the slack if either tailback leaves, while
Jesus Wilson
and
Isaiah Jones
will see their workload at receiver increase in 2014.
Kevin Haplea
returns from a knee injury, though he's unlikely to match O'Leary's productivity in the passing game.
Wilson Bell
earned rave reviews before an injury ended his season, but he could step into a vacancy at tackle should one arise in 2014.
March, 12, 2013
3/12/13
12:37
PM ET
By
ESPN.com staff
| ESPN.com
TALLAHASSEE, Fla. -- Two years ago,
Wilson Bell
wasn't exactly thinking about the NFL. His football prowess had grown by leaps and bounds over the past few seasons, but as a junior at Blount High School in Prichard, Ala., making the game his profession seemed a stretch.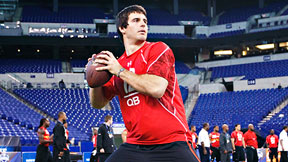 Joe Robbins/Getty ImagesChristian Ponder was FSU's most recent first-round draft pick and the first Seminoles QB taken in the first round.
Then came the letters, the phone calls, the text messages and the promises.
By the time Bell, a three-star offensive guard, signed his letter of intent to play at Florida State last month, he'd made the NFL his top priority, and he'd heard from dozens of coaches assuring him they possessed the perfect plan to get him there. He'd endured enough speeches to parse the good ones from the bad, he said, and Florida State's offensive line coach, Rick Trickett, sold it perfectly.
"Of course other guys sold better things to me about their school, but nobody could really compare to Trickett and the names he's put in the NFL," Bell said. "And that's what I really want to do."
Trickett wasn't simply talking a big game. He had references.
Trickett told Bell about a number of his success stories, including Rodney Hudson, a fellow Mobile-area native now playing for the
Kansas City Chiefs
. Many of Trickett's pupils had started their college careers as works in progress, and Trickett had transformed them into NFL linemen. Bell was convinced.
To read more of this story, click here.