January, 5, 2012
1/05/12
2:58
AM ET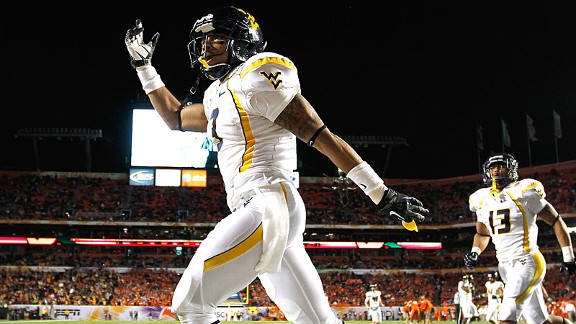 J. Meric/Getty ImagesStedman Bailey and West Virginia made a loud statement on their way out of the Big East.
MIAMI -- There is being disrespected. And then there is the Big East.
Er, the Big Least.
The league everybody wants to diss and dismiss. The league that does not deserve its automatic qualifying status. The league that nobody wants to invite to the party.
As much as the ACC has stunk up nearly every one of its BCS games, it is the Big East that gets derisively mocked. It is the Big East that does not belong. It is the Big East without a marquee national team.
Consider what happened Wednesday night.
No Big East team has been embarrassed in a BCS game the way West Virginia embarrassed Clemson in the Discover Orange Bowl. What was supposed to be an offensive shootout certainly was on the West Virginia side of the field. Clemson delivered duds in the form of turnovers, missed tackles and blown assignments.
The Mountaineers turned a first-quarter deficit into a rout behind a 35-point spree in the second period, scoring often and at will in a
70-33 victory
. No team has ever scored that many points in a bowl game. Quarterback
Geno Smith
teamed with nationally unheralded
Tavon Austin
to shred the Tigers. Smith, named the game's MVP, set a BCS and Orange Bowl record with six touchdown passes, and set an Orange Bowl record with 401 yards passing.
Know which quarterbacks he surpassed? A couple guys named Matt Leinart and Tom Brady. Not bad for Smith. Or West Virginia. Or the Big East, guaranteed to finish with a winning bowl record. Come to think of it, the Big East will have a winning bowl record in six consecutive seasons.
But before we get carried away with this Big East redemption story, there is one little problem.
West Virginia is headed out the door for the Big 12. So is this a West Virginia story, or a Big East story? Can it be both, with so much bad blood between the two?
It absolutely should be, for one final glorious night.
Just ask West Virginia coach Dana Holgorsen, who sounds just as perturbed as a perpetually disregarded fan base when asked about the bad rap the Big East gets, and whether this win says anything about his league.
"I've only been there a year, I know, but West Virginia has won three BCS games in the last six years, which is a pretty good track record," Holgorsen said. "West Virginia has been in the Big East for the last six years, last time I checked. So I think that's a pretty good track record.
"Then going through the Big East schedule one year, we had some pretty tough games. We lost a couple of those, and then the ones that we won were tough. So the product at West Virginia was out there. There was a lot of teams in the Big East that gave us all we wanted."
Clemson -- not so much. It is not lost on many Big East fans that West Virginia has more BCS wins (three) than the entire ACC (two). But again, the same sentiment follows -- what happens to this league when its best representative finally leaves?
Teams like Cincinnati, Connecticut and Louisville have played on this stage, but none impressed the way the Mountaineers did on Wednesday night. There was no doubting which team had the best quarterback, and the best wide receiver. National pundits wanted to talk
Tajh Boyd
and
Sammy Watkins
. Nobody wanted to talk Smith and Austin.
So yes, even though West Virginia is about to bid adieu, this team feels just as disrespected as everybody else in the Big East. The players saw that few national media members picked them to win. In an ESPN SportsNation poll, 73 percent of the country picked Clemson to win.
"That was huge for me," said Austin, who finished with a BCS and Orange Bowl record four touchdown catches and 280 all-purpose yards. "Me and
Devon Brown
were in the hotel, and it's the first time I'd seen it. I kind of got mad and turned the TV off and went to sleep. Coach Holgorsen got us together in our meeting and told us just to believe in ourselves and believe in the people in this room, and that's what we did. We bought into what he said, and we got the job done."
Let's just throw around the disrespect card a little bit more. All three Big East co-champions were underdogs going into their bowl games: NC State was favored to beat Louisville; Vanderbilt was favored to beat Cincinnati; and Clemson was favored to beat West Virginia.
The Cardinals faltered. But West Virginia and Cincinnati finished with identical 10-3 records as the two best teams in the Big East. These two teams have been tied together since Nov. 12, when West Virginia beat the Bearcats 24-21 after knocking starting quarterback
Zach Collaros
out for the rest of the regular season. That win ultimately decided the BCS representative in this game; Collaros returned to guide the Big East to yet another win over the SEC. You can understand why a few Cincinnati players were a bit salty on Twitter while they watched West Virginia dismantle the Tigers.
No word on whether commissioner John Marinatto felt just as salty. To root or not to root had to be the question. There is resentment and bitterness on both sides, but the Big East absolutely needed to have one of its teams deliver this type of performance on a national stage.
Even if it is one that is saying goodbye.
September, 22, 2011
9/22/11
9:00
AM ET
Just call me Oklahoma. I'm winning big. In each of the past two weeks I've gone 9-1 for a winning percentage of 80.6 after three weeks. Clemson proved me wrong last week with its upset of Auburn, but I'm not making the same mistake twice. Quarterback
Tajh Boyd
has me convinced about the Tigers' offense. Florida State? Not so much. Here's a look at this week's picks, and just for the record, I came really, really close to picking UMass …
Cincinnati 33, NC State 30:
The Bearcats' experience at quarterback and success in the running game will be too much for NC State's defense, which has been plagued by injuries to key players. Cincy quarterback
Zach Collaros
has thrown seven touchdowns and no interceptions in 69 pass attempts this season, and the Bearcats are averaging 51.33 points.
Clemson 24, Florida State 21:
The prediction is that
EJ Manuel
will play, but the Noles still won't be able to surpass Clemson's offensive output. Clemson hasn't been as good as advertised defensively, but Tajh Boyd is making a believer out of doubters, and he's got plenty of playmakers to get the ball to. FSU's running game is No. 100 in the nation, and the lack of production there will be a factor in this game.
Maryland 28, Temple 17:
The Terps will rebound at home and won't suffer the same kind of scare the Owls gave Penn State last weekend. Quarterback
Danny O'Brien
will redeem himself for his three interceptions against West Virginia, and Maryland will improve its record in the series to 7-0.
Boston College 14, Massachusetts 13:
UMass will play in the FBS next season, and this game will show you why. It's ranked No. 19 in the latest FCS coaches' poll, and has the No. 1 rushing defense in the Colonial Conference. BC is still looking for its first win of the season, has struggled in all three phases of the game, but should still be expected to beat an FCS team.
Duke 38, Tulane 24:
Unless the Blue Devils turn it over, they should get their second straight win. Quarterback
Sean Renfree
seemed to turn the corner in last weekend's win over Boston College, and the defense showed improvement. Tulane's biggest asset might be its ability to pressure quarterbacks this season, as it is No. 16 in the country with 3.3 sacks per game.
Georgia Tech 31, North Carolina 21:
The Yellow Jackets will be contained better than they have been all season, but not enough for the Tar Heels to get their second Coastal Division win. Georgia Tech will wear down UNC's defense, control the clock, and make one-too-many big plays. This game will determine whether Georgia Tech is for real, and based on what we've seen so far, UNC has reasons to worry.
Miami 45, Kansas State 14:
K-State barely beat Eastern Kentucky in its season opener, and its best win so far has been a 37-0 romp of Kent State. If Miami plays as soundly as it did against Ohio State, the combination of the Canes' running game and stingy defense should make for a convincing win.
Virginia 31, Southern Miss 24:
This should be a bounce-back game for the Cavaliers. This is not 2009, when Southern Miss edged the Hoos for a home win. Southern Miss does have one of the nation's best rushing defenses, but so does North Carolina, and UVa ran for 170 yards against the Tar Heels.
Virginia Tech 42, Marshall 7
: Virginia Tech's offense has been exposed the past few weeks, and this is the final opportunity for the Hokies to show improvement before conference play begins. Marshall's struggling defense should help them look good, though, and Virginia Tech's defense should have a chance for a shutout against a scoring offense that ranks No. 107 in the country with 15.33 points per game.