December, 30, 2013
12/30/13
9:00
AM ET
Editor's note: Each day this week, Florida State reporter David M. Hale and Auburn reporter Greg Ostendorf will preview a position battle in next Monday's VIZIO BCS National Championship. The first matchup is between Florida State's offensive line and Auburn's defensive line.


Florida State's offensive line:
The five starters on the line for Florida State are all NFL prospects. The group is led by senior center
Bryan Stork
, a first-team AP All-America selection. Tackle
Cameron Erving
and guard
Tre' Jackson
were first-team All-ACC selections.
The group excels at run-blocking, and Florida State topped 2,600 yards and 40 touchdowns on the ground for a second consecutive season. Factoring out yards lost to sacks, FSU is rushing for more yards per carry against FBS teams this season than Auburn.
The question — if there is one — for Floirida State is in its pass protection. The Seminoles have allowed a sack on 6.7 percent of passing attempts, which ranks 83rd nationally, and 13 of the 29 sacks allowed have came in the last five games.
While those numbers might be a cause for concern against an stout Auburn defensive front (28 sacks, tied for third in SEC), two factors mitigate any perceived struggles.
For one, teams have blitzed Florida State often in hopes of rattling quarterback
Jameis Winston
, as 36 percent of his throws come against the blitz. Occasionally they've gotten to him, with 12 sacks when rushing five or more defenders, according to ESPN Stats & Info. More often, however, he burns them. Winston is completing 71 percent of his passes against the blitz, with 20 TDs and three interceptions.
The second issue is Winston's desire to complete the deep ball. The redshirt freshman won the Heisman Trophy by being aggressive, but he admits there are times he needs to check down and get rid of the ball quicker rather than asking his line to hold blocks for a few extra seconds. The payoff to the approach, however, has been an array of big plays. Winston leads the nation in yards per attempt (10.9) and only LSU's
Zach Mettenberger
has a higher percentage of completions gain 15 yards or more than Winston (43 percent). Winston is tough against pressure, completing 62 percent of his throws when hit or hurried — nearly double the average for a quarterback from a BCS automatic-qualifying conference. Even getting him into third-and-long situations doesn't help much; he's an absurd 16-of-21 with 15 first downs on third-and-10 or longer.
Auburn's defensive line:
When Auburn last won the national championship in 2010, it had an above-average defense, but it was a defense that featured a dominant front line with All-American defensive tackle Nick Fairley and veterans Antoine Carter, Zach Clayton and Mike Blanc. The 2010 Tigers also had highly-touted freshman defensive end Corey Lemonier, who is now a rookie with the San Francisco 49ers.
[+] Enlarge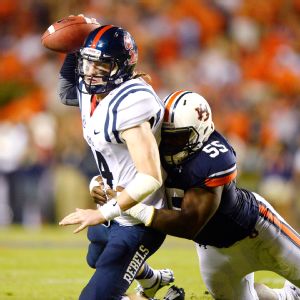 AP Photo/Todd J. Van EmstAuburn freshman Carl Lawson had four sacks this season.
This year's Auburn team is similar. The defense has struggled at times this season, but its strength is up front on the defensive line.
The star is defensive end
Dee Ford
, who leads the team with 8.5 sacks, 12.5 tackles for loss and 17 quarterback hurries. A senior, Ford missed the first two games with an injury but has since recorded a sack in seven of Auburn's last 11 games. He's a different type of animal than Fairley, but an animal nonetheless.
The rest of the line also has its share of veterans with senior
Nosa Eguae
and juniors
Gabe Wright
,
LaDarius Owens
and
Ben Bradley
. Eguae, who moved inside to tackle midway through the season, started in the 2010 BCS title game.
And then there are the freshmen. The trio of
Carl Lawson
,
Montravius Adams
and
Elijah Daniel
is as good a collection of young defensive linemen as there is in college football. Lawson, the nation's No. 2 player coming out of high school in the 2013 recruiting class, leads the group with four sacks.
Fairley was dominant in the 2010 game as Auburn's defensive line controlled the line against a smaller, quicker Oregon team. That likely won't be the case this time around against a Florida State offensive line that's much stronger and much more impressive, but the key to stopping the Seminoles will still begin and end with the front four. Auburn defensive coordinator Ellis Johnson will rely on his line to get pressure on Winston, knowing how good the Heisman Trophy winner has been against the blitz this season.
Hale:
Edge to Florida State
Ostendorf:
Toss-up
December, 18, 2012
12/18/12
2:00
PM ET
It's time for your bowl edition of the upset watch. Now remember, these are not predictions. It's a look at which teams in the ACC are the most likely to pull off a stunning upset, or be the team to be knocked down. Teams don't have to be ranked to be considered for the upset watch. The ACC only has six teams bowling this year, but three of them have a legitimate chance to be involved in an upset. Here they are, starting with the most likely:
1. Duke vs. Cincinnati in the Belk Bowl:
The Blue Devils will be motivated by playing in their first bowl game since 1994, and they'll have the advantage of playing near home, in Charlotte, N.C. Duke's biggest asset in this game will continue to be its pass offense, and the Blue Devils will have the edge at quarterback with
Sean Renfree
and receivers
Jamison Crowder
and
Conner Vernon
. Cincinnati's pass defense has been kind this year, and it's one weakness Duke coach David Cutcliffe should be able to exploit.
2. No. 14 Clemson vs. No. 8 LSU in the Chick-fil-A Bowl:
The Tigers should have learned a lesson from their loss to South Carolina, as they will face a similar challenge against LSU's stingy defense. Equally as important, though, is the fact that Clemson's defense has a chance to make a statement and help fans forget about that dreadful performance in last year's Discover Orange Bowl. LSU quarterback
Zach Mettenberger
has already given Clemson's D some bulletin board material when he said "they give up a lot of big plays in the passing game." Them's fightin' words.
3. No. 12 FSU vs. No. 15 Northern Illinois in the Discover Orange Bowl:
It's easy to forget the MAC champs are the No. 15 team in the country, according to the final BCS standings. The Huskies haven't been given much credit in the court of public opinion, but they're going to be playing to prove they belong in a BCS bowl. And they'll be facing an FSU team in the midst of transition on its coaching staff, as three assistants, including defensive coordinator Mark Stoops, have left for other jobs. FSU should win this game, there's no question about it. But FSU also should have beaten NC State, and it didn't look too convincing in the ACC championship game, or at Virginia Tech. The Noles have been inconsistent, and if they're not ready and focused, anything can happen in this game.
December, 2, 2012
12/02/12
9:32
PM ET
LSU Tigers (10-2) vs. Clemson Tigers (10-2)
Dec. 31, 7:30 p.m. ET, Atlanta (ESPN)
LSU take by GeauxTigerNation's Gary Laney:
How does one judge LSU's season?

At 10-2, the Tigers fell short of their preseason No. 1 ranking. They failed to make the SEC championship game, much less defend their conference title.
On the other hand, LSU masterfully overcame a ton of problems.
Tyrann Mathieu, the Tigers' Heisman Trophy finalist at cornerback, was dismissed from the team in August.
Chris Faulk
, the left tackle who seemed destined to be drafted by the second round, was lost to a knee injury after one game, and running back
Alfred Blue
was also lost to a knee injury a couple of weeks later. The Tigers finished the season with three offensive line starters who weren't starters at the beginning of the season.
Yet, by the end of the regular season, LSU seemed to have it figured out.
Zach Mettenberger
was much improved in the passing game, and
Jeremy Hill
emerged as one of the nation's best freshmen running backs. And the defense, though it gave up passing yards late in the season, remained solid, led by end
Sam Montgomery
and linebacker
Kevin Minter
.
So how LSU's season is perceived might come down to how the Tigers play in the bowl. If the offense continues its resurgence and the Tigers win, they will go into the offseason with a rosy outlook. If the Tigers lose and the defense continues to give up passing yards, followed by the seemingly inevitable loss of underclassmen like Montgomery and free safety
Eric Reid
to the NFL draft, it could be an offseason of worry on the bayou.
---

Clemson take by ACC blogger Heather Dinich:
Clemson, much like Florida State this year, was oh-so-close to something bigger than the Chick-fil-A Bowl, but the Tigers' losses to the Seminoles and rival South Carolina ruined the program's chances at a second straight appearance in the ACC championship and a BCS bowl.
That's not to say this wasn't a successful season for coach Dabo Swinney. The Tigers maintained their position as a top 15 team all year, and have thrived behind a high-scoring offense led by quarterback
Tajh Boyd
, who was named the ACC's Player of the Year. In his second season as a starter, Boyd helped lead Clemson to back-to-back 10-win seasons, the first Clemson quarterback to do that since Rodney Williams in1987-88. Clemson had the No. 6 scoring offense in the country this year (42.33) points per game, but was smothered in a 27-17 loss to South Carolina. The defense under first-year coordinator Brent Venables was better, but it wasn't championship-caliber, finishing No. 47 in the county, allowing 24.92 points per game.
Clemson's only ACC loss this year was in Tallahassee to a Florida State team that was ranked No. 4 in the country at the time. Clemson reeled off seven straight wins after that loss and had momentum heading into its regular-season finale against the Gamecocks, but for the fourth straight season, Clemson was outplayed and outcoached by its in-state rival.
Clemson will forever be remembered for its abysmal performance in last year's Discover Orange Bowl, but this matchup against LSU will be a chance for the Tigers to take a monumental step towards redeeming their postseason image.