May, 13, 2014
May 13
2:00
PM ET
The
NFL draft
concluded with 42 ACC players selected last weekend, and a slew more ended up signing free-agent deals in the days afterward.
Here's a quick rundown of where the ACC's undrafted free agents landed.

BOSTON COLLEGE
QB
Chase Rettig
,
Green Bay Packers
OLB
Kasim Edebali
,
New Orleans Saints
LB
Steele Divitto
,
New York Jets
OT
Ian White
,
San Diego Chargers
OT
Matt Patchan
,
Tampa Bay Buccaneers
DB Albert Louis-Jean, Chicago Bears

CLEMSON
K
Chandler Catanzaro
,
Arizona Cardinals
G
Tyler Shatley
,
Jacksonville Jaguars
LB
Spencer Shuey
, Jacksonville Jaguars
CB
Darius Robinson
,
Buffalo Bills

DUKE
RB
Juwan Thompson
,
Denver Broncos
DE
Kenny Anunike
, Denver Broncos

FLORIDA STATE
LB
Christian Jones
,
Chicago Bears
RB
James Wilder Jr
.,
Cincinnati Bengals
WR
Kenny Shaw
,
Cleveland Browns
FB
Chad Abram
,
Detroit Lions
DT
Demonte McAllister
,
Seattle Seahawks
DT
Jacobbi McDaniel
, Cleveland Browns

GEORGIA TECH
DT
Euclid Cummings
, Tampa Bay Buccaneers
CB
Lou Young
, Denver Broncos
DE
Emmanuel Dieke
,
New York Giants

LOUISVILLE
DT
Roy Philon
,
Pittsburgh Steelers
S
Hakeem Smith
,
Tennessee Titans
DT
Brandon Dunn
, Chicago Bears
WR
Damian Copeland
, Jacksonville Jaguars

MIAMI
WR
Allen Hurns
, Jacksonville Jaguars
QB
Stephen Morris
, Jacksonville Jaguars
TE
Asante Cleveland
,
San Francisco 49ers
DT
Justin Renfrow
, Arizona Cardinals
FB
Maurice Hagens
,
Atlanta Falcons
S
A.J. Highsmith
, San Francisco 49ers
OG
Jared Wheeler
,
Carolina Panthers
LB
Jimmy Gaines
, Buffalo Bills

NORTH CAROLINA
OT
James Hurst
,
Baltimore Ravens
QB
Bryn Renner
, Denver Broncos

NC STATE
DE
Carlos Gray
, Green Bay Packers
TE
Asa Watson
,
New England Patriots
DL
Deylan Buntyn
, New England Patriots

PITTSBURGH
P
Matt Yoklic
, Atlanta Falcons
SYRACUSE

CB
Keon Lyn
,
Indianapolis Colts
CB
Ri'Shard Anderson
, Tennessee Titans
RB
Jerome Smith
, Atlanta Falcons

VIRGINIA
DE
Jake Snyder
,
Minnesota Vikings
VIRGINIA TECH
DT
Derrick Hopkins
, Baltimore Ravens

LB
Tariq Edwards
,
Miami Dolphins
WR
D.J. Coles
,
Oakland Raiders
G
Andrew Miller
, Tampa Bay Buccaneers
DE
James Gayle
, Tennessee Titans

WAKE FOREST
DT
Nikita Whitlock
, Cincinnati Bengals
LB
Justin Jackson
, Detroit Lions
LB
Zach Thompson
, New York Jets
September, 20, 2013
9/20/13
12:00
PM ET
August, 6, 2013
8/06/13
10:30
AM ET
Today we're looking at the Deacs as they try to get back to a bowl game in 2013:
Wake Forest
Coach:
Jim Grobe (106-107-1 overall, 73-74 in 12 years at school)
2012 record:
5-7
Key losses:
FB Tommy Bohanon, C Garrick Williams, LB Joey Ehrmann, LB Riley Haynes, CB Kenny Okoro
[+] Enlarge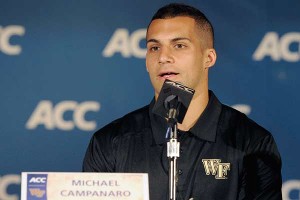 Sam Sharpe/USA TODAY SportsWide receiver Michael Campanaro leads a Deacs team looking to rebound from a 5-7 season in 2012.
Key returnees:
QB
Tanner Price
, WR
Michael Campanaro
, TB
Josh Harris
, G
Frank Souza
, G
Antonio Ford
, CB
Kevin Johnson
, CB
Merrill Noel
, FS
A.J. Marshall
, LB
Justin Jackson
, LB
Mike Olson
, NG
Nikita Whitlock
, DE
Zach Thompson
Newcomer to watch:
Cory Helms
, center. The Alpharetta, Ga., native was recruited by Jonathan Himebauch and chose the Deacs over offers from North Carolina, Syracuse and Florida. He was rated the No. 74 offensive guard in his class by ESPN.com, but the Deacs plan on using him as a center.
Biggest games in 2013:
Oct. 5 vs. NC State; Nov. 23 vs. Duke; Nov. 2 at Syracuse
Biggest question mark heading into 2013: The running backs.
Top running back Josh Harris is
still awaiting word from the NCAA
as to whether he will be academically eligible. Harris led the team with 608 yards and five touchdowns last fall.
Deandre Martin
(484 yards) would be next in line. "That running back group is probably the biggest disaster we've got right now," Grobe said at ACC media days. "We don't have a dependable guy right now. We'll see how it sorts out."
Forecast:
Things should be looking up for the Deacs, who haven't had a winning season since 2008. Wake Forest got to a bowl game in 2011, and the goal is to return to the postseason this fall. With a veteran quarterback in Tanner Price, who is entering his fourth season as a starter, and a stingy defense, it's a realistic goal.
Wake Forest returns 17 starters -- including eight on defense -- and both specialists. The headliner of the group is receiver Michael Campanaro, who leads all active ACC players with 162 catches. The Deacs will need somebody to complement him, and they've got to find some depth up front on the offensive line. The Deacs feel good about their starting five, as long as they can all stay healthy. Guard Antonio Ford broke his leg in three places last fall at Maryland, and he was still recovering this spring. Tackle
Steven Chase
missed spring practices with a torn ACL. Senior center
Whit Barnes
, senior right guard Frank Souza and Ford, a junior at left guard, will give the group a veteran look, but a freshman or sophomore will likely have to fill in at right tackle.
Defensively, this could be one of the best groups Grobe has had in recent years. The Deacs have put an emphasis on takeaways this offseason -- a trademark of the most successful years under Grobe. Noseguard Nikita Whitlock (three sacks, 5.5 TFLs) returns, along with cornerback Kevin Johnson, who finished eighth nationally last year in passes defended with 18. Two starters also return at linebacker, including Mike Olson and Justin Jackson.
This year's schedule is conducive to a six-win season for the Deacs, but there's no margin for error with Clemson and Florida State both in the Atlantic Division. Wake Forest should come out of its nonconference schedule with at least three wins (Presbyterian, Louisiana-Monroe, at Army, at Vanderbilt), and should find a way to steal a few wins against the likes of Boston College, NC State, Maryland, Syracuse and/or Duke.
March, 19, 2013
3/19/13
11:00
AM ET
Wake Forest opens spring practice today after a disappointing 5-7 season marked by injuries and off-the-field issues. I had a chance to catch up with coach Jim Grobe to review what happened last season and take a quick preview of how spring ball looks for his team. Here is a little of what he had to say.
After the season ended, there were some players who described the negativity that surrounded the team toward the end of the year. What do you make of their frustrations?
JG:
I've never been on a team that didn't have a winning record that didn't have negativity. If anybody's happy that you're not winning then you've got the wrong guys on your football team. It's overblown that a football team that doesn't win has negativity because I think disappointment is maybe a better word than negativity. This is a team last year, I told our athletic director, Ron Wellman, that was a bowl-caliber team. A couple things affected that. We had more injuries than I've ever had in my coaching career. Not an excuse, but a fact. And we had some behavior problems that hurt our chances of winning a game, so we just were one of those teams that was real, real close. We won five games, played three top-10 teams. It's a broken record here about how tough our schedule is. I felt like last year was an underachieving year for us and I was as disappointed as the rest of our players were.
[+] Enlarge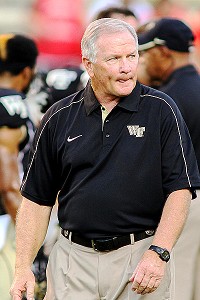 Jeremy Brevard/US PresswireCoach Jim Grobe expects his team to improve upon last season's disappointing 5-7 record.
You return a lot of guys off that team so how do you feel they will be able to channel the disappointment of last season as you get ready for the spring?
JG:
Every team, every coach, every player wants to feel like every year you're capable of making a run at a championship. Last year, I really felt like we had the talent to be a bowl team and I was very disappointed that didn't work out, but I also told our athletic director I thought this year was a year we would have an opportunity to maybe have an opportunity to play for an ACC championship again. Those pieces are still in place. The biggest problem we have, aside from playing other good teams, is we had so many injuries last year, so we've had so many offseason surgeries. A big key for us is can we get all these guys healthy and back on the field and not just get them back on the field, but get them playing at a high level? That's going to be huge for us. Getting a guy like
Steven Chase
, our left tackle, to recover from his knee surgery and come back full speed. Get
Antonio Ford
back from serious surgery to repair a broken leg. Those are things that will be really important to us. A lot of our guys have missed winter workouts with surgeries. Some of our guys will miss spring practice with surgeries. If you look at our depth chart, we feel good about our starting 22 if all the guys we have penciled in are healthy.
We know about some of the offensive guys who are going to be limited during spring. How about some of the defensive guys who were hurt last year. Will they be back for spring?
JG:
Two of the guys we counted on that were mentioned preseason last year for All-ACC honors stayed hurt most of the year --
Merrill Noel
stayed banged up most of the year and had shoulder surgery in the offseason. I don't think they'll let him go for spring practice. He's healing nicely and should be fine for the fall. With
Nikita Whitlock
, he got hurt in the North Carolina game and came back and had good games but stayed banged-up most of the year. I think getting him healthy is going to be really important. He's pretty healthy right now. He broke his hand during winter workouts, but we'll pull him out of the cast, so I think he's going to be in spring practice. That will be important.
Zach Thompson
, he's back full speed and ready to go, so for the most part we're going to be fairly healthy.
Zach Allen
is not going to be in spring practice; he had shoulder surgery after Christmas. We will have a chance to plug some young guys in that need more work than Zach does. Defensively, we're probably a little bit like the offense. We have a chance with the talent we've got coming back to improve defensively, I don't think there's any question.
When you have guys you are counting on who aren't going to be out there, how do you view the spring?
JG:
One of the issues we have to deal with is that there are probably 15 or 20 guys on our football team that we know hands down are good enough to play and win in this league. Now they've got to do it. We just know they can, we know they're capable of it. Several of those are injured guys that we probably don't need to beat them to death in spring practice, but we probably do need to work out the young guys more than the old guys. We redshirted a lot of our kids last year. There were five or six true freshmen we kept on the shelf that we should have played. Down at the end of the year we were just a terrible football team because we had all these freshmen redshirting, we had so many injuries, we just couldn't go back and pull a shirt off all these freshmen. But some of them we felt were very capable of going out and helping us win games. Those are the kids we have to push this spring, we've got to get a lot of reps for a bunch of young players. The key for us is developing these young guys as quickly as possible to try and find out where our depth is going to come from next fall. That's what caught us last year. The depth really got us late last season. When we needed a win late, we couldn't come up with one.
Who are some of those freshmen you're looking at?
JG:
Josh Banks
is a defensive end; he's put on some weight and looked really good this spring. Depth up front is important for us, so he's a guy we have to look at pretty hard.
Kevis Jones
is an outside linebacker, and Stevie Donatell is a guy that we have to look at, two young outside linebackers that I think are guys we have to look pretty hard at.
Ryan Janvion
, a safety, we thought could have been on the field last year.
Dominique Gibson
is another safety, he had some knee surgery early in the year last year and that precipitated a redshirt year for him, but he's another safety we probably need to take a good look at. On the offensive side, we've got a couple young offensive linemen we weren't able to get on the field, a guy like Ty Hayworth is a kid we need to take a look at. Probably at running back, we had
Josh Harris
who had a pretty healthy year last year. He pulled a hamstring running indoor track. I don't know if he's going to be able to go for us. We have to find some of those young running backs that might be able to help us in the spring. As you go through our lineup, there's so many of these kids that we kept on the shelf last year that may have to jump up and be good players for us this spring.
September, 24, 2012
9/24/12
12:30
PM ET
Here are the ACC's Players of the Week for Week 4 as announced by the leauge offices in Greensboro, N.C.:
OFFENSIVE BACK – EJ Manuel, Florida State, Senior, QB, 6-5, 240, Virginia Beach, Va.
Manuel turned in one of the most complete performances by a Seminole quarterback in ACC play, passing for a career-high 380 yards (27-35-0) and two touchdowns, while adding 102 rushing yards on 11 carries in the 49-37 victory over No. 10 Clemson. He is the first Seminole quarterback since Charlie Ward in 1992 against Maryland to pass for more than 300 yards and rush for more than 100 yards. Manuel calmly led the Seminoles back from a 14-point, second half deficit, completing 12 of 17 second half attempts for 199 yards and a pair of scores. The Seminoles erased a 28-14 deficit by outscoring Clemson 28-3, a streak that included TD passes of nine yards to Rashad Green and 29 yards to
Rodney Smith
. Manuel was named National Offensive Player of the Week by the College Football Performance Awards. His performance was also notable because he moved to the No. 1 spot in ACC career history in completion percentage (67.2) and passing efficiency (151.41).
OFFENSIVE LINEMAN – Menelik Watson, Florida State, Junior, OL, 6-6, 320, Manchester, Great Britain
Making just his second career start at the Division I level, Watson was a force from his right tackle position for the Seminoles. Florida State amassed 667 yards of total offense – 287 rushing and 380 passing – against the Tigers. Watson was often at the point of attack on a day when the Seminoles pounded out five rushing touchdowns, pushing their ACC-leading total to 20 on the year. It was Florida State's most productive effort in an ACC game since compiling more than 700 yards against Clemson in 2000. Watson graded out at 82 percent with just one missed assignment in 78 snaps. He was flawless in pass protection as the Tigers managed just one sack, which came on a blitz from the opposite side.
RECEIVER – Phillip Dorsett, Miami, Sophomore, WR, 5-9, 187, Ft. Lauderdale, Fla.
Dorsett tallied career highs with nine receptions for 184 yards and a touchdown in Miami's thrilling 42-36 come-from-behind overtime win at Georgia Tech. His first catch of the game came on a career-long 65-yard TD reception in the first quarter, and his 184 receiving yards are the seventh-most in a single game in school history. The Ft. Lauderdale, Fla., native also added a 41-yard reception in the second quarter. Dorsett entered the game with 12 catches for 89 yards through first three games of season and only 236 receiving yards in 15 career games.
DEFENSIVE LINEMAN – Zach Thompson, Wake Forest, Junior, DE, 6-5, 255, Ashburn, Va.
Thompson, a 6-5, 255-pound redshirt junior defensive end from Ashburn, Va., recorded a career-high 12 tackles and tied for the team high as Wake Forest downed Army, 49-37. Thompson had seven solo stops and five assists versus the Black Knights.
LINEBACKER – Eddie Johnson, Miami, Freshman, LB, 6-1, 238, Atlanta, Ga.
The Atlanta native had a career-high nine tackles (six solo) and assisted on a tackle-for-loss in front of his hometown crowd during Miami's 42-36 overtime road win at Georgia Tech. The biggest tackle came on 4th-and-1 on Miami's 2-yard line in overtime as Johnson stopped Yellow Jacket quarterback
Tevin Washington
for no gain, giving the ball to Miami that led to the eventual game-winning overtime drive.
DEFENSIVE BACK – Jabari Price, North Carolina, Junior, CB, 6-0, 195, Pompano Beach, Fla.
Price posted eight tackles (five solo, three assists), had a 13-yard sack, and broke up a pass in Carolina's 27-6 victory over East Carolina. Price's sack was the first of his career and it forced ECU to punt. The Tar Heels accumulated seven sacks on the day, the most since 2000 vs. Wake Forest. Price was part of a defensive effort that limited the Pirates to 233 total yards.
SPECIALIST – Lamarcus Joyner, Florida State, Junior, DB, 5-8, 195, Ft. Lauderdale, Fla.
Joyner was responsible for perhaps the biggest momentum changing play of the 49-37 victory over No. 10 Clemson when he raced 90 yards with a third quarter kickoff return in response to the Tigers taking a 31-21 lead with 7:32 remaining in the quarter. Joyner, who finished with 185 kickoff return yards on five attempts, was brought down at the Clemson 10-yard line. Two plays later, EJ Manuel completed a 9-yard touchdown pass to
Rashad Greene
as the Seminoles reeled off 28 unanswered points. In addition to his return work, Joyner was also instrumental on defense, contributing three tackles.
ROOKIE – Stefon Diggs, Maryland, Freshman, WR, 6-1, 185, Gaithersburg, Md.
Diggs made the most of his three touches on offense, turning three receptions into 113 yards and a pair of touchdowns in Maryland's 31-21 loss to No. 8 West Virginia. The freshman had a 42-yard touchdown catch in the first quarter on a highlight-reel play in which he raced down the sideline and dove into the end zone from four yards out. In the fourth quarter, he had a 56-yard touchdown catch. Diggs also added 63 kickoff return yards and 25 punt return yards to total 201 all-purpose yards, his second straight game with 200-plus.
September, 19, 2012
9/19/12
4:00
PM ET
The ACC has featured some pretty terrific defenses over the past several years, and has another outstanding one this season in No. 1 ranked Florida State.
But beyond the Noles, there have been several bumpy defensive performances through the first three weeks of the season. Last week alone, four ACC teams gave up 35 or more points. Wake Forest and Virginia gave up more than 50, in league play no less. In all, four different teams have given up 50 or more points in the first three weeks of the season. Is this a growing trend or just happenstance?
Though it is early in the season, four teams are allowing 30 or more points per game, and three are giving up 400 or more yards a game. Last season, only Duke and Wake Forest gave up more than 30 points and 400 yards a game.
Let us look at the happenstance argument, which seems to apply in the cases of Wake Forest and Virginia. One week after limiting up-tempo North Carolina to 27 points, the Deacs allowed Florida State to score 52. Coach Jim Grobe said he was extremely disappointed in his team's performance and that he thought injuries played a key role. Wake was without starting noseguard
Nikita Whitlock
and used several other players who either did not practice or were limited in the week leading up to the game, including starting defensive end
Zach Thompson
.
Still, his team ran into what is looking like a pretty powerful Noles squad, one Grobe called "a pretty special football team."
"As good as Florida State is, we saw some things in the game that we could have done better," Grobe said Wednesday. "I think we saw where some of our weaknesses are. We've got some things we can work on. I think we have the potential to be a good football team, but I don't feel like we're there, so it exposed us on Saturday. We have thoughts personnel-wise, guys that need to go up on the depth chart, but overall we came away feeling we played a very good team."
Grobe said it would be a stretch to think that Whitlock would be able to play this week against Army.
[+] Enlarge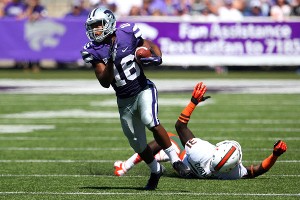 Scott Sewell/US PresswireThe Hurricanes are the only team in the ACC that has given up 30 or more points twice already this season.
At Virginia, the Hoos played pretty well in their first two games, but things snowballed on this team against Georgia Tech in a 56-20 loss. A key point to remember is that they only had a week to prepare for the Georgia Tech offense and have young players who have not seen extensive action previously against the Jackets.
"Defensively, guys have played well, but you get into a special type of offense that requires details ... you can't play cautious, you can't play intimidated, you can't guess on reads," London said Wednesday. "They got on us early and they stayed on us. You've got young guys back there in the back end ... we didn't play as well as we needed to. So you move forward with that mindset that you don't dwell on what they didn't do and you start focusing on the style of offenses we'll play from this point on."
TCU presents a huge challenge for a young Virginia secondary because it has athletic receivers and a quarterback in
Casey Pachall
who has gone 33-of-39 for 536 yards, five touchdowns and no interceptions. We will have a better idea about this Virginia defense after its trip to Fort Worth.
Miami, on the other hand, may be in for a long season. The Hurricanes are the only team in the ACC that has given up 30 or more points twice in three games, including that ugly 52-13 loss at Kansas State. Injuries and youth have really impacted this team, which seems to have the furthest to go at improving. Miami currently ranks No. 100 in total defense and will have its hands full against Georgia Tech on Saturday.
The defenses across the ACC may end up being just fine, but there is no question several teams need much better performances this weekend to make up for some early missteps.
September, 13, 2012
9/13/12
9:22
PM ET
Wake Forest starting noseguard
Nikita Whitlock
has
been ruled out
for Saturday's game against Florida State with a sprained ankle.

Whitlock was hurt last week against North Carolina and has been unable to practice. On the ACC coaches call earlier this week, Grobe talked about the prospect of playing without his top defensive lineman.
"I like
Tylor Harris
," Grobe said. "He's a true freshman, but he's a big guy, he's very athletic, he's a pretty physical kid. I really like the things that he's doing right now. Some of our other guys that have been very productive, I thought the nice thing was when we didn't have
Zach Thompson
last week that
Hasan Hazime
came in and played absolutely great, and now he'll be starting at defensive end. That might give us a chance to move Zach down inside.
"It's really hard to replace Nikita, but I think the thing we've got is we've got about five guys in that defensive front for those three positions where we've kind of through practice in August rotated those guys around, and most of those guys have played either noseguard or defensive end.
"We've got enough athletes that we can move those guys around. We'd hate to miss Nikita, but I think Tylor Harris will be the guy starting out, but we'll have to roll some of those guys in behind him to try to keep him fresh."
September, 12, 2012
9/12/12
4:00
PM ET
There were a few injury updates today on the ACC coaches call. The two that are most pressing: Wake Forest nose guard Nikita Whitlock and North Carolina running back Giovani Bernard.
Wake Forest coach Jim Grobe said it was looking shaky for Whitlock to be able to play against Florida State. Whitlock hurt his ankle last week against North Carolina and was in a walking boot after the game.
"My experience has been with ankles no matter how slight or how serious, kids are all different, they all heal differently," Grobe said. "For him, he's pretty active so he needs to be full speed. He's probably the shakiest one right now but we'll see."
He offered a more hopeful outlook on defensive end Zach Thompson, who has an eye injury.
"He's been given a green light," Grobe said. "Not sure until he gets some activity what's going to happen. If he had any type of problems with his eye, we wouldn't take any chances."
As for Bernard, North Carolina coach Larry Fedora would only offer this: "Gio practiced yesterday and said he felt fine so we'll see how that goes."
NC State coach Tom O'Brien said left tackle Rob Crisp will miss the South Alabama game. Tyson Chandler will make his second straight start at the position, and O'Brien is hoping for better results from the offensive line. Last week, NC State gave up six sacks against UConn.
O'Brien also added that he was hopeful starting safety Earl Wolff will play Saturday, though he would not say whether Wolff practiced. Wolff was hurt late in the win over UConn.
One more injury note: Clemson coach Dabo Swinney said starting left guard David Beasley (ankle) would be a game-time decision against Furman.
There was one bit of terrific news to come out of the call as well. Duke coach David Cutcliffe said Blair Holliday has plans to attend Saturday's game against NC Central. Holliday has
progressed rapidly
since he was severely injured in a personal watercraft accident in July, and is now walking and talking.
"I know when I went down there two weeks ago on Wednesday, it lifted my spirits incredibly just to be with him, to sit and talk to him," Cutcliffe said. "His friends haven't seen him and talked with him in quite some time other than by text or phone. There's nothing like face-to-face contact. It would absolutely do great things for our squad."
August, 21, 2012
8/21/12
4:30
PM ET
Wake Forest held its second scrimmage of the preseason on Tuesday morning at BB&T Field. Here are the highlights,
according to the team's practice report
:
Offensive highlights:
Sherman Ragland III
had three catches for 32 yards and scored both touchdowns.
Michael Campanaro
caught three passes for 31 yards. For the second straight scrimmage, Tyler Jackson was the leading rusher with 44 yards on nine carries.
Orville Reynolds
rushed the ball just five times but gained 26 yards, including an 18-yard run.
Jackson carried the ball eight times on an 11-play scoring drive. He had seven carries for 34 yards on the drive and caught a pass from
Patrick Thompson
for 11 yards. Tanner Price completed 8 of 18 passes for 78 yards with one touchdown and one interception.
Defensive highlights:
The Deacs held the offense scoreless for the first 13 possessions and finished with nine tackles for loss, including five sacks, and two turnovers.
Zach Thompson
led with two sacks, while
Nikita Whitlock
,
Kris Redding
and
Joey Ehrmann
each made one sack.
Kevin Johnson
had an interception, and
Chibuikem Okoro
recovered a fumble on a botched handoff. Johnson also broke up one pass, as did Ehrmann,
Tylor Harris
and
Hunter Williams
.
Merrill Noel
and
Brandon Chubb
each had five tackles.
July, 30, 2012
7/30/12
9:00
AM ET
Week 11
: Nov. 17 vs. Wake Forest (at Notre Dame Stadium in South Bend, Ind.)
Time/TV
: 3:30 p.m. ET, NBC
Series
: Notre Dame leads all-time, 1-0
2011 record
: 6-7 (5-3 ACC; tied second place, Atlantic Division)

Head coach
: Jim Grobe (68-67, 11 years)
Returning starters
: Offense: 3; defense: 7; kicker/punter: 2
Top returners
QB
Tanner Price
, WR
Michael Campanaro
, C
Garrick Williams
, DE
Zach Thompson
, NG
Nikita Whitlock
, OLB
Joey Ehrmann
, ILB
Scott Betros
, ILB
Riley Haynes
, CB
Merrill Noel
, FS
Kenny Okoro
Key losses
RB Brandon Pendergrass, WR
Chris Givens
, TE
Cameron Ford
, T Dennis Godfrey, T Doug Weaver, G
Joe Looney
, G Michael Hoag, DE Tristan Dorty, DE
Kyle Wilber
, SS Cyhl Quarles, FS
Josh Bush
2011 statistical leaders (*returners)
Rushing
: Brandon Pendergrass (823 yards)
Passing
: Tanner Price* (3,017 yards)
Receiving
: Chris Givens (1,330 yards)
Tackles
: Cyhl Quarles (101)
Sacks
: Kyle Wilber/Nikita Whitlock* (3.5)
Interceptions
: Josh Bush (6)
Three questions for ...
ACC blogger Heather Dinich:
Wake returns plenty of talent at the skill positions, but it is tasked with replacing four starters on the offensive line. What's a realistic timeline for the newcomers to jell and form a cohesive unit?
Heather Dinich:
Well, it's more like three starters at this point, because
Steven Chase
, who missed the spring for undisclosed reasons, has since returned. The group also got a huge boost from the move of
Frank Souza
from the defensive line. Chase's return has allowed the staff a little more flexibility with the depth chart. He or Souza -- whoever develops into the better pass protector — will likely slide into the right guard position. Souza was backup to talented noseguard Nikita Whitlock and saw the writing on the wall: Whitlock wasn't coming off the field anytime soon. So he jumped at the opportunity to see more snaps on offense. Coach Jim Grobe told me they "hit a home run with Souza." Right now he's got five guys he's comfortable with. Depth? That's another question.
Head coach Jim Grobe rarely has much staff turnover, but three new assistants are aboard for 2012. What's new, and how will that translate on the field this season?
HD:
Yes, the Deacs have long been one of the most stable staffs in the ACC, but there are a few new faces in new positions, and I think overall, it will make Wake Forest a better team. Tim Duffie will be in his first season coaching the secondary, and he has lots of talent to work with back there, particularly at the corner position. Jonathan Himebauch is in his first year coaching the offensive line, and
Derrick Jackson
is in his first season coaching the outside linebackers. The move of OC Steed Lobotzke to tight ends and fullbacks should help him manage his time better as a coordinator because he won't have to deal with so many offensive linemen.
The Deacs surprised everyone but themselves last season, falling a field goal short of playing for the ACC title. There are obvious shortcomings (O-line, secondary) on this year's roster, but will they be able to overcome those and make another push at a division crown?
HD:
If they did it last year, I don't see any reason why they shouldn't be able to make another run at it. They've got to be able to win those close games, though. The close losses to Syracuse, Clemson -- and of course Notre Dame -- are still stinging, and just about anyone in that program will tell you they could've played better against UNC. Jim Grobe has a very good football team to work with this year, and he has a defense that could be reminiscent of the old days with Aaron Curry and Alphonso Smith. There are some diamonds in that group, they're just not very experienced. It wouldn't be wise, though, for Wake Forest opponents to take this year's team lightly.
June, 6, 2011
6/06/11
3:30
PM ET
By
ESPN.com staff
| ESPN.com
The
series continues
today with Wake Forest ...

A reminder of how we're defining breakout players: players who haven't seen the field yet but showed they could be major contributors this fall; players who have seen limited time but could earn significantly bigger roles this season; and players who have started but could blossom into stars. The top candidates at Wake Forest:
Tanner Price, QB:
He earned his first start as a true freshman. On the road. At Stanford. Yikes. That experience should pay dividends this fall, though. Price started nine games last season and completed 56.8 percent of his passes for 1,349 yards and seven touchdowns. He also ran 75 times for 120 yards and four more touchdowns. He should show significant progress in Year 2 as a full-time starter for the Deacs.
Zach Thompson, DE:
He played in nine games last season and started five. He brings speed off the edge and has the ability to get after quarterbacks, but he's got to do it on a consistent basis. Coach Jim Grobe said following the spring game that Thompson had all-ACC-caliber talent, and the Deacs' defense could use it.
More in this series:
May, 5, 2011
5/05/11
6:00
AM ET
By
ESPN.com staff
| ESPN.com
WAKE FOREST
2010 overall record:
3-9

2010 conference record:
1-7
Returning starters
Offense: 7, defense: 9, kicker/punter: 1
Top returners
WR
Chris Givens
, G Joe Looney, DE Tristan Dorty, DE Kyle Wilber, SS Cyhl Quarles, PK Jimmy Newman, QB
Tanner Price
, RB
Josh Harris
, NG Nikita Whitlock
Key losses
C Russell Nenon, RB
Josh Adams
, WR
Marshall Williams
, WR
Devon Brown
, LB Hunter Haynes, LB Matt Woodlief, P Shane Popham
2010 statistical leaders (* returners)
Rushing:
Harris* (720 yards)
Passing:
Price* (1,349 yds)
Receiving:
Brown (302 yds)
Tackles:
Hunter Haynes (77)
Sacks:
Wilber* (6)
Interceptions:
Alex Frye (3)
Spring answers
1. Solidified secondary.
All four starters return in CB Josh Bush, SS Cyhl Quarles, FS Daniel Mack and CB Kevin Johnson, and the Deacs are two-deep at every position. It's a much better scenario than it was a year ago, when Wake had to start two true freshmen corners. The Deacs will also have Dominique Tate, who missed all of last year for academic reasons, and two players who redshirted last year in Desmond Cooper and Merrill Noel. The Deacs ranked 11th in the ACC in pass defense last year, but saw signs this spring of that improving.
2. Sold on the 3-4 defense.
The staff is confident in the defensive tackles and committed to the scheme, which it began using last year. Nose guard Ramon Booi, the backup to Nikita Whitlock, might have been the most improved player on the roster this spring, and is a good contrast to Whitlock, who is 5-foot-10 and more of a speed guy. Booi is a 6-foot-6, 300-pound man-wall. At tackle, Grobe singled out defensive end Zach Thompson as a possible all-ACC candidate, and Tristan Dorty moved from linebacker to defensive end.
3. Staff changes were a positive.
Without disrespecting former defensive coordinator Brad Lambert, who left to become head coach of the fledgling Charlotte program, Grobe said he was pleased with the promotions of Tim Billings and Brian Knorr to co-defensive coordinators, and Lonnie Galloway, who was hired to coach the wide receivers. Knorr's knowledge of the 3-4 scheme has been an added bonus.
Fall questions
1. Which running back will take over?
Josh Harris is the most talented back on the roster, but he missed several spring practices with a hamstring injury he suffered while competing in the 100-yard dash with the track team. He'll have to get healthy and earn the starting job this summer despite competition from senior
Brandon Pendergrass
. Harris, though, scored the only touchdown of the spring game.
2. Will dependable receivers emerge?
The Deacs didn't chart every one, but there were about eight or 10 dropped passes by wide receivers in the spring game. Wake Forest is looking for a playmaker to emerge like Kenny Moore did in '07 and D.J. Boldin in '08. Chris Givens,
Michael Campanaro
,
Danny Dembry
and
Terence Davis
are lead candidates, but redshirt freshmen
Matt James
(6-foot-6) and
Brandon Terry
(6-5), could both work their way into the rotation.
3. Will the offensive line improve?
Four starters are back, so it looks better on paper, but the Deacs will sorely miss the experience and leadership of former center Russell Nenon. Garrick Williams started the final three games of 2010 -- two at guard and one at center, but he struggled with the snaps towards the end of spring and isn't where the staff needs him to be yet.
October, 1, 2010
10/01/10
9:00
AM ET
By
ESPN.com staff
| ESPN.com
Here's your weekly dose of ACC fun facts, thanks to sports information directors in the league:
NC State wideout Jarvis Williams has averaged a touchdown every 5.9 catches for his career, the best mark in school history. Tight end George Bryan's mark of 6.3 ranks third. In fifth place is Owen Spencer, who has scored every 7.3 times he makes a grab.
Georgia Tech has not lost back-to-back games in three seasons under coach Paul Johnson.
Georgia Tech and Wake Forest have identical turnover margins -- zero. The Jackets have gained six and lost six, while the Deacs have gained seven and lost seven.
Florida State's Jimbo Fisher and Virginia coach Mike London have the same birthday, Oct. 9. Fisher's FSU team will face rival Miami that day, while the Cavaliers will play at Georgia Tech. Dabo Swinney's Clemson squad will play at Wake Forest on his 41st birthday.
Wake Forest has three sets of brothers on the team this year: senior linebacker Hunter Haynes and sophomore linebacker Riley Haynes from Ponte Vedra Beach, Fla.; sophomore wide receiver Chris Givens and freshman running back Nick Knott from Wylie, Texas; and redshirt freshman defensive end Zach Thompson and true freshman quarterback Patrick Thompson from Ashburn, Va. The Thompson brothers are twins who joined the Demon Deacons a year apart.
Boston College saw its consecutive game scoring streak stopped at 148 games last week in a 19-0 loss to Virginia Tech. BC had gone 12 years without failing to score; the last time the Eagles were shutout was on October 8, 1998 by Virginia Tech.
Since 2005 when the ACC began competing in divisions, Virginia Tech has been the most successful team in interdivisional play. The Hokies are 14-5 against the Atlantic Division during that time, a .737 winning percentage.
Clemson and Miami have played to overtime each of the past three meetings, just the second FBS series that has occurred in. The only other series that took place was the Central Michigan vs. Eastern Michigan series. Those two schools played overtime games every year between 2004-06. What is even more strange about the Clemson vs. Miami series is that the visiting team has won all three overtime games. That includes last year when Clemson won 40-37 in overtime in "walk-off" fashion on a Kyle Parker to Jacoby Ford 26-yard touchdown pass.
Maryland has been one of the top scoring teams in the league (34.5 ppg) despite posting 319.0 yards per game in total offense thanks to the big play. The Terps already have 27 plays of 20 yards or longer this year, which has resulted in 10 touchdowns. In 2009, Maryland had just 13 touchdowns off explosive plays. The Terps had four scoring plays over 50 yards against FIU last week. The Terps have 10 plays of 50 yards or longer this year (three on punt returns, three on passes, three on rushes and one on an interception return) after only eight last season.
This is only the second time since 1994 that an unranked Virginia Tech team will play a true road game at a ranked opponent's stadium (using the AP poll). The only other time came in 2008 when Tech lost at No. 24 Florida State. Under head coach Frank Beamer, this has happened only 13 times and the Hokies' only win in this scenario came in 1989 when the Hokies went to Morgantown and beat No. 9 West Virginia, 12-10.
Virginia's 1995 33-28 win against then-No. 2 Florida State featured a total of 62 players (32 FSU, 30 UVA) who went on to the NFL. Of the 62 players, 45 combined actually played in the game. Surprisingly, 24 were Virginia players and 21 were from FSU. Paul London, Mike London's brother, started as a cornerback and made four tackles in that game - two assisted and two unassisted.
This is the latest start to the ACC schedule for Clemson since 1982 when the Tigers had their first league game on Oct. 9 at Virginia. The Miami game will be the first of eight straight ACC games on eight straight Saturdays. It is the first time since 2003 that Clemson has played eight straight ACC games, and the first time in history Clemson will play eight straight league opponents in eight consecutive weeks.
In the first two games of the season, three different Tar Heels played center, including sophomore Jonathan Cooper, junior Cam Holland and senior Alan Pelc. The Tar Heels have played at least eight linemen in each of the first three games. Against LSU, 10 different linemen played at least one offensive series.
Duke coach David Cutcliffe has an overall head coaching record of 21-9 (.700) in the month of October. Cutcliffe led Ole Miss to a 17-6 record in October and is 4-3 in the month at Duke.
Over the past two seasons, the Blue Devils are 3-1 in road games played in October with wins against Vanderbilt (2008), NC State (2009) and Virginia (2009). The lone loss was a 27-0 defeat at Georgia Tech in 2008.
ACC SCOREBOARD
Saturday, 12/20
Monday, 12/22
Tuesday, 12/23
Wednesday, 12/24
Friday, 12/26
Saturday, 12/27
Monday, 12/29
Tuesday, 12/30
Wednesday, 12/31
Thursday, 1/1
Friday, 1/2
Saturday, 1/3
Sunday, 1/4
Monday, 1/12
Tweets from https://twitter.com/ESPNCFB/lists/acc