August, 30, 2013
Aug 30
9:00
AM ET
BLACKSBURG, Va. -- The transformation of Virginia Tech quarterback
Logan Thomas
literally began from the ground up.
It started this past spring, with a focus on his legs, especially his footwork. Next was his upper body, then his throwing motion, and, finally, his eyes and how he read defenses. There was an emphasis on taking the proper drop with the proper rhythm to improve his accuracy. They were subtle changes -- like correcting a golf swing -- so that his upper and lower body are coordinated in one fluid motion.
"If you saw Logan earlier, he just was all off -- not using his legs to throw the ball," receiver
D.J. Coles
said. "Now, he's using his whole body. He's got more velocity."
They were small changes with the hope of one drastic result: reducing last season's 16 interceptions -- a number that has come to define Thomas' 2012 season, fair or not.
"I used to step away from my target, and that would cause my ball to float or dive into the dirt," Thomas said. "We've cleaned it up to where I step to my target, through my target, and everything is driven and way more accurate now. All of my receivers who were here before can definitely tell a difference. In the past three days of practice, they've said, 'You've been as accurate, and your ball has been as hard as it ever has before.' It's nice to go out there and just do what you want with the ball and not worry about where it's going to end up."
Like in the hands of Alabama's defense.
To see the complete story,
click here
.
August, 24, 2011
8/24/11
3:31
PM ET
Virginia Tech redshirt freshman defensive end Zack McCray sprained his right foot near the end of Tuesday's practice, according to trainer Mike Goforth.

"X-rays were negative and he was placed in a walking boot as a precaution," Goforth said, according to a school spokesman. "He is out for today's scrimmage, but is expected back full on Monday."
April, 21, 2011
4/21/11
10:00
AM ET
One of the biggest question marks facing defending ACC champ Virginia Tech this year is the revamped defensive line, which has to replace three starters. I caught up with defensive line coach Charlie Wiles on Wednesday afternoon to see what kind of progress the group has made.
Overall, he said he was pleased with the starting four, which, if they played today, would be: tackles Antoine Hopkins and his brother, Derrick Hopkins, and defensive ends J.R. Collins and James Gayle. The backup positions are where he has the most concerns, and depth remains an issue as the Hokies wrap up spring ball on Saturday and prepare for summer camp.
The Hopkins brothers are two players to watch this fall. Antoine Hopkins is nicknamed "Hop," and his little brother, Derrick, is "Skip." They've got a younger brother who … you guessed it, is "Jump."
If Virginia Tech lined up today, Hop and Skip would be in the starting lineup, much like the brother-tandem of Kevin Lewis and Jonathan Lewis once did for the Hokies.
"I love the way our first group has been playing," Wiles said.
Here's a closer look at the starters:
[+] Enlarge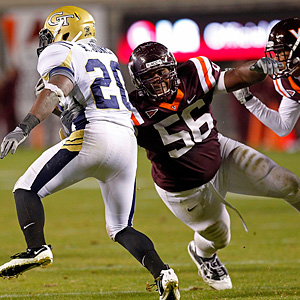 Geoff Burke/Getty ImagesThe Hokies are expecting big things out of Antoine Hopkins in 2011.
DT ANTOINE HOPKINS:
Wiles said Hopkins has really elevated his game this spring. Hopkins started 12 games last year and had 45 tackles, including 6.5 for losses.
DT DERRICK HOPKINS:
He was in the two-deep as a true freshman last year, but Wiles said he "kind of leveled off a little bit" at the end of the year. Not this spring. "Derrick came out and really has had a superb spring. He's a playmaker. He has all those things I saw in camp that have been elevated through a year of growth and a year of maturity not only in the weight room, but he's mentally grown up a little bit. He's made a lot of plays -- a lot of plays this spring."
DE JAMES GAYLE:
He showed flashes last year, but was a better practice player than he was a gamer. Wiles guessed it was a matter of confidence, but he brought a new attitude into the offseason and won the Hokies' prestigious Excalibur Award for his work in the weight room. He's now playing with a purpose. "He made his mind up after the year was over that he was going to be a difference-maker," Wiles said. "He had a phenomenal offseason. ... The transition rolled right over into spring ball. He's been a special cat out there."
DE J.R. COLLINS:
He started the spring a little bit slow, but continued to show progress with each practice and scrimmage. Last Friday night in one of the Hokies' scrimmages, Collins earned the highest points on the team and was awarded the famed lunch pail. "He really got on an upward trend," Wiles said.
Wiles knows he can't play the whole season with just those four players, so developing the depth between now and the season opener will be critical. Right now, Tyrel Wilson is a No. 2 defensive end and Duan Perez-Means is the other backup end. They're being pushed, though, by former linebacker Quillie Odom and Zack McCray.
At 6-foot-5, 260 pounds, McCray is still learning the position as a redshirt freshman. He could still be a year away from a strength standpoint, Wiles said.
"He's got to become more physical," Wiles said. "He thinks he's playing hard when he's not all the time. It's my job to get him over the hump and to get him to that point where he can be real productive for us, but he does have the tools."
Inside, Wiles is looking for five defensive tackles he can count on, and Kwamaine Battle, who tore his ACL, came back this spring about 15 pounds overweight and out of shape.
"I trust the kid," Wiles said. "I know what I'm going to get out of him, but we have to have a great summer with him."
Dwight Tucker had a high-ankle sprain and missed all of the spring, but he could be in the mix, and Isaiah Hamlette got a lot of reps this spring. Wiles said redshirt freshman Nick Acree isn't ready to go yet. Because they're looking for another playmaker inside, Wiles said there won't be any hesitation to audition some of the true freshmen who will join the team this summer, starting with Kris Harley.
"We've got to bring along some guys," Wiles said. "People are going to get nicked up. We're not going to play guys just to play guys. We want production. We're not going to change our expectations. You've got to come up to where we are and the level of defense we have to play. We've got some guys who need to get better."
March, 24, 2011
3/24/11
9:00
AM ET
One question I get asked almost weekly is who the new stars will be in the ACC this year -- players who aren't household names right now, but have a legitimate chance to play their way into your living room conversations this season. Right off the bat, I'll tell you most of them aren't true freshmen. Unless they're at the top of the depth chart this spring (as in the unusual case of Miami's Thomas Finnie), there's no way to tell how much of an impact, if any, they'll have. The redshirt freshmen, first-year starters and junior college players are the ones most likely to truly leave a lasting impression. And while you might be familiar with some of these names, the rest of the college football world likely isn't.
Here are this season's group of rising stars in the ACC:
BOSTON COLLEGE:
CB C.J. Jones. The Eagles are looking for a starter to replace the spot manned by both Chris Fox and DeLeon Gause last season. Jones earned time as a backup and played in 12 games with 16 tackles.
[+] Enlarge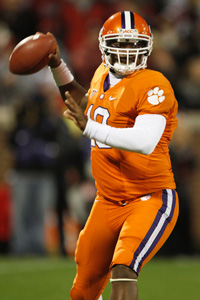 AP Photo/Patrick CollardTajh Boyd will get his shot at being the full-time starter at Clemson.
CLEMSON:
QB
Tajh Boyd
. This one was tough because there are a lot of familiar names returning on Clemson's roster, and most of the incoming class won't arrive until summer camp. So we'll go with the one new starter the rest of the college football world will be introduced to. Boyd will be tasked with leading Clemson in a new offense in his first season as full-time starter.
DUKE:
WR
Brandon Braxton
. He played sparingly last year as a true freshman (14 receptions, 180 yards, 1 TD) and has established himself as the No. 3 receiver, replacing
Austin Kelly
.
FLORIDA STATE:
JUCO transfer Jacob Fahrenkrug. He's the heir apparent on the offensive line to Rodney Hudson and the coaches have raved about him.
GEORGIA TECH:
CB Ryan Ayers. The redshirt freshman can compete with anyone on the team for the title of fastest player on the roster. With the Jackets losing all four starters in the secondary, he becomes an important part of the equation.
MARYLAND:
PK Nathaniel Renfro or Nick Ferrara. The Terps lost a four-year starter in punter/placekicker Travis Baltz, and this is one of Maryland's biggest areas of concern. Ferrara handled kickoffs last year and was No. 2 behind Baltz at both kicker and punter, but he's a placekicker first, and has to get back on track with consistency. Renfro joins the team this summer.
MIAMI:
CB Thomas Finnie. The Miami Central grad enrolled in January and has been listed as a starter on coach Al Golden's first two depth charts. He had 45 tackles and one interception as a high school senior.
NORTH CAROLINA:
JUCO transfer Sylvester Williams. He enrolled at Carolina in January after two seasons at Coffeyville (Kan.) Community College He had 52 tackles, 12.5 tackles for loss, two sacks and five blocked kicks in 2010. He could contribute immediately as a starting defensive tackle.
NC STATE:
LB D.J. Green. He played mostly on special teams and some at safety last year, but has been listed as a starting linebacker for spring workouts.
VIRGINIA:
WR
Miles Gooch
. He made the switch this spring from quarterback to receiver and could be a dependable option this fall behind the two most productive returners,
Kris Burd
and
Matt Snyder
. With Burd and
Tim Smith
(still recovering from his fall surgery) limited this spring, Gooch will get a lot of work catching passes and learning routes as he makes the position switch. He has been a big, physical, athletic receiver this spring, and depending on how several incoming freshmen develop, Gooch can find himself in the rotation.
VIRGINIA TECH:
DE Zack McCray. He enters the spring at the No. 2 spot, but the staff likes his potential. The redshirt freshman was listed as the No. 35 defensive end in his class by ESPN's Scouts Inc.
WAKE FOREST:
OLB Zachary Allen. The true freshman from Pahokee, Fla., has made an immediate impression on the staff since enrolling in January. He had 53 tackles, six sacks and a pair of interceptions as a high school senior.
February, 15, 2011
2/15/11
10:00
AM ET
We've already looked at who and what to watch in the Atlantic Division this spring. Here's a breakdown of three issues facing each program in the Coastal Division:

DUKE
Spring practice starts:
Feb. 16
Spring game:
March 26
What to watch:
Jim Knowles taking over as defensive coordinator. After coaching the safeties last season, Knowles was promoted in late January following the departure of Marion Hobby to coach Clemson's defensive line. It's not a complete overhaul on defense, but for the third time in as many seasons, a different person will be calling the plays. Knowles has also assumed the lead role with Duke's practice scheduling and weekly preparation.
New faces at linebacker. Duke graduated its leading tackler from 2010, Abraham Kromah, and freshman All-American Kelby Brown is out while recovering from knee surgery. Those two slots will be wide open this spring and the competition will be among Austin Gamble, C.J. France, Tyree Glover and Kevin Rojas.
Offensive line shuffling. The Blue Devils return four starters up front, but they'll be missing the glue of the line in Bryan Morgan, who graduated. Brian Moore, who has started the past two seasons at right guard, will make the transition to center. John Coleman and Laken Tomlinson are expected to compete for the right guard spot.

GEORGIA TECH
Spring practice starts:
March 28 (tentative)
Spring game:
April 23
What to watch:
Starting quarterback competition. Tevin Washington enters the spring at No. 1 on the depth chart, and it's his job to lose, as he has the most experience after taking over for injured starter Joshua Nesbitt in 2010. Synjyn Days will give him legitimate competition this spring, though, and it will increase this summer with the addition of standout recruit Vad Lee to the roster. For now, though, it's between Washington and Days, as David Sims is expected to move to B-back.
Offensive line reshuffling. Georgia Tech will have to replace three starters in all-conference center Sean Bedford, right tackle Austin Barrick and left tackle Nick Claytor, who decided to leave early for the NFL draft. Phil Smith, Barrick's backup last year, is the only one with any experience at tackle. The staff will likely have to move a player or two from guard to tackle, and only it knows who those candidates might be right now.
Revamped secondary. Jerrard Tarrant's decision to leave school early and enter the NFL draft left the Jackets without any returning starters in the secondary. Junior cornerback Rod Sweeting, sophomore cornerback Louis Young, redshirt freshman cornerback Ryan Ayers and sophomore safety Fred Holton are front-runners, but they all have a lot to prove this spring. Holton and Young played sparingly as true freshmen and combined for 21 tackles. Sweeting played in all 13 games and had one fumble recovery and eight passes defended, including one interception. Senior cornerback Michael Peterson may help, and safety Jemea Thomas played as a true freshman in 2009 but redshirted last year. There's some talent, but the inexperience makes it a question mark.

MIAMI
Spring practice starts:
March 5
Spring game:
April 9 or 16
What to watch:
New staff, new schemes. Defensively, first-year coordinator Mark D'Onofrio will work with two other assistants who were with him and first-year coach Al Golden at Temple, so there is familiarity there. Linebackers coach Michael Barrow has to learn D'Onofrio's system, but the players tend to pick it up faster if the majority of the staff is already acclimated to it. Offensively, everyone will be working together for the first time. Jedd Fisch wants to run a pure pro-style offense based on matchups, and the good news is that several of the assistants, because of their respective backgrounds, are already schooled in at least a version of it.
Quarterback battle. Golden has said he would like to name a starter by the end of the spring, making these practices critical auditions for both Jacory Harris and Stephen Morris. Harris has both flourished and flopped as a starter for the Canes, and his injury last year gave Morris the opportunity he needed to win the people's choice award. Has a new era of quarterback begun, or will Harris finally have the breakout season Miami fans have waited for in his final year as a Cane?
Corner competition. Following the departures of Ryan Hill, DeMarcus Van Dyke and Brandon Harris, Brandon McGee is the only corner remaining on the roster with any significant experience. He played in 11 games, started one, and had 15 tackles. Redshirt freshman Devont'a Davis, sophomore Kacey Rodgers, and redshirt sophomore Jamal Reid will also compete for playing time. There are also several incoming freshmen who could be immediate contributors.

NORTH CAROLINA
Spring practice starts:
March 16
Spring game:
April 9
What to watch:
The rookie quarterbacks. There's no guarantee that Bryn Renner will be the Tar Heels' starter in 2011, but he enters the spring slightly ahead of the race, as he was No. 2 on the depth chart last season and was pushing T.J. Yates for the starting job at this time a year ago. The staff would also like to see what true freshman Marquise Williams, who enrolled in January, has to offer. Braden Hanson and A.J. Blue will also compete for playing time. Blue was injured two years ago and redshirted last season.
Running backs race. The Tar Heels graduated three key players from 2010: Johnny White, Anthony Elzy and Shaun Draughn. Ryan Houston is back for his fifth year after redshirting last year and is the most experienced of the returnees. Giovani Bernard was a true freshman last year and had been expected to get some playing time, but he tore his ACL on the third day of training camp. It's not clear yet how much he'll be able to participate this spring. Hunter Furr played sparingly last year and true freshman Travis Riley, who enrolled in January, are also in the mix.
Another strong defensive line. If Quinton Coples was an all-conference selection as a defensive tackle, he could be scary good at his natural position, defensive end. Coples played there as a freshman and sophomore, but switched to tackle out of necessity last season. The defensive line should once again be the strength of the team, but it will be reconfigured again, as Coples' move will leave a defensive tackle spot up for grabs. Junior college transfer Sylvester Williams, who enrolled in January, could fill that role.

VIRGINIA
Spring practice starts:
March 16
Spring game:
April 2
What to watch:
The search for a new starting quarterback. With Marc Verica graduated, the lead contenders to replace him are the ones who saw the field last year -- Michael Rocco and Ross Metheny. Neither of them started, but Rocco played in six games and Metheny five. Nobody has thrown the ball more than Rocco's 25 times. The staff will also look at Michael Strauss, who redshirted last year, Miles Gooch, and David Watford, who enrolled in January.
Competition at running back. With leading rusher Keith Payne graduated, the question becomes what can Kevin Parks do after redshirting last year? There's a lot of depth at the running back position, but Parks, the No. 56 running back in his class by ESPN.com and national prep record-setter out of the state of North Carolina, came to Charlottesville facing high expectations. With Payne gone, this could open the door for him to meet them, but returning starter Perry Jones will also be competing for carries.
Development of the receivers. In January, Jared Green Tweeted that he had decided to transfer after finishing his degree in Charlottesville this spring, according to a school spokesman. His departure, coupled with the graduation of Dontrelle Inman, leaves the Cavaliers without two of their top wideouts from 2010. With Tim Smith coming off an injury, the development of other receivers will be critical -- especially with a new starting quarterback.

VIRGINIA TECH
Spring practice starts:
March 30
Spring game:
April 23
What to watch:
Quarterback Logan Thomas. The Tyrod Taylor era is over, and Thomas is the front-runner to succeed the winningest quarterback in school history. Ju-Ju Clayton is the only other quarterback on the roster who's ever taken a snap, and he'll push Thomas this spring. It's Thomas' job to lose, but the staff is looking for him to improve his accuracy. He played quarterback in only his final two high school seasons and was projected as a tight end. He's still raw and learning the position, but physically, he's a clone of Cam Newton. If he develops some poise in the pocket, look out.
Competition on the defensive line. The Hokies have to replace starters John Graves (defensive tackle) and Steven Friday (defensive end), who both graduated. They've got Antoine Hopkins and Chris Drager back, but it's possible Drager could move back to tight end after starting 10 games at defensive end last year. Tackle Kwamaine Battle, who started the first two games before he tore his ACL and Hopkins took over, is another front-runner. Hopkins' younger brother, Derrick, will also be in the mix, along with James Gayle and J.R. Collins. Redshirt freshman defensive end Zack McCray, the cousin of Logan Thomas, has also impressed the staff so far.
Tight end auditions. The graduation of Andre Smith leaves the Hokies with only one returning tight end who's caught a pass in a game, Randall Dunn (one). Redshirt freshman Eric Martin was the second tight end when the Hokies used two-tight end sets, but he missed three games mid-season with an injury.