November, 4, 2014
Nov 4
8:00
AM ET
Just a few weeks ago, Mike London was being hailed as coach of the year in the ACC, and Virginia looked to have righted the ship. The Cavaliers led the Coastal, had lost two relatively close games to ranked opponents (UCLA and BYU) and had knocked off Louisville.
Now, with just three games left to play, the Hoos are riding a three-game losing streak, bowl eligibility seems like a longshot with a tough upcoming schedule and London is once again squarely on the hot seat.
As the Richmond Times Dispatch writes, the last month of the season for Virginia is less about capping a magical season and more about
preventing disaster
.
Still, it would be silly to ignore the obvious progress Virginia has made this year. As the Times Dispatch points out, last week's loss to Georgia Tech was the first real blowout of the year for a team that, in 2013, lost 10 games by an average of 21.4 points.
In fact, across the board, this season the Hoos have shown solid improvement.
Comparing the first eight games against FBS foes in 2013 to 2014:
In adjusted QBR, UVa has improved from 39.4 to 48.2
In TD:INT ratio, UVa has gone from 5:9 to 11:12
In passing, UVa has improved from 4.9 yards per attempt to 6.5
In rushing, UVa has jumped from 3.4 yards per carry to 4.1
In total defense, UVa has improved from allowing 460 yards per game to 335
In points off turnovers, UVa went from a minus-70 last year to plus-13 this year
The biggest problems for UVa during this recent stretch have been
a lack of turnovers forced
, as the Roanoke Times points out, and a serious dip in the production of the ground game.
Against BYU, Kent State and Pitt, Virginia averaged 5.2 yards-per-carry (on non-sack plays) and scored six rushing touchdowns. In losses to Duke, UNC and Georgia Tech, that's dipped to 4.0 yards-per-carry with just one rushing TD. Last week against the Yellow Jackets, UVa had just 38 rushing yards (not counting sacks), its lowest output since a 2007 loss to Wyoming and worst production in an ACC game in more than a decade. The QB play has improved some, but at this point, the Hoos aren't a team that should be reliant on the passing game --
particularly now that one of their top receivers is done for the year
.
Still, the point is that the Cavaliers aren't that far from being a contender, but the losing streak -- which figures to climb to four with Florida State on the docket next -- could well mean that London isn't around to see it through.
A few more links:
August, 12, 2014
Aug 12
12:00
PM ET
Checking in on Syracuse's fall camp with linebacker
Dyshawn Davis
.
David Hale: You've got a week of camp under your belt. How do you feel like things are going?
[+] Enlarge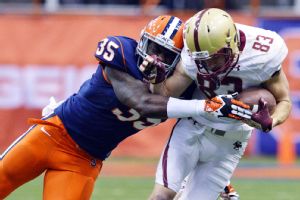 Mark Konezny/USA TODAY SportsSyracuse linebacker Dyshawn Davis is ready to take on a leadership role this fall.
Dyshawn Davis:
It's going smoothly. I feel like I'm getting better every day. With the older guys, on the field, when things get tough and your tired, you know how to fight through it, to mentally be strong and lead the way for my teammates. In our position group, we've got a lot of young guys coming in [who] are going to be special in the next couple years, and I just try to show them great leadership so when their time comes, they can just follow in my footsteps.
Hale: You and Cam Lynch are both going into your senior seasons as two of the top linebackers in the conference. Have you guys talked about wanting to end your Syracuse careers with a bang and doing something special before you leave?
Davis:
Absolutely. You know, me and Cam came in together. I came in the spring before him, but we ended up learning a lot and it later came down to a time when me and Cam had to compete for a spot. I ended up beating him out, but we built a relationship strong. Now Cam is my roommate, so I'm kind of with him 24/7. We're in camp, the same position group, we go home and sleep in the same apartment.
That relationship is like no other, and to be able to be leaders on this team and lean on each other for anything and everything — it's just wonderful. And Cam is a great guy, he's been through a lot, but he's always been there for me. I'm looking forward to having a special season with him and doing some great things this year.
Hale: You mentioned the young guys have impressed you. Anyone in particular standing out so far?
Davis:
Parris Bennett
,
Zaire [Franklin]
, we've got
Jonathan Thomas
— they've been doing a great job. To me, what's impressive, they came in and we were doing conditioning, and they came in in shape. I always lead the way, me and Cam, pushing the group, pushing the team, and a lot of freshmen, the bigger guys come in overweight and out of shape and were kind of falling down. But the young freshmen linebackers were just right there by me and Cam's side, picking the team up, picking other players up.
For them to be so young and have that fire and drive and show us they're willing to do whatever they can to compete and play and make our group better, it was pretty special to see that. I'm just always reminding them that if they keep that fire and that drive, that's going to take them a long way.
Hale: There's been so much debate about how good Terrel Hunt can be in his second season as the starting quarterback. As you've gone against him in seven-on-seven drills over the summer, have you seen a real improvement in his game?
Davis:
I've been competing with Terrel all summer and now into camp. To see his confidence, to see his poise of how he controls the offense, it's been great. You can see the difference from last year to this year. He's getting great with his mechanics, calling the offense.
Terrel will be good for us this year, and he knows that our season is his destiny. However far he takes us, that's how far we're going to go. I've got 110 percent confidence in him, right behind him while he's leading us to compete for an ACC championship.
Hale: The other buzzword on the offense seems to be tempo. As a defender, has it felt different going up against that up-tempo offense in camp?
Davis:
The tempo has been great. They've got some speed over there,
[Prince] Tyson Gulley
,
George Morris
, a great rotation at running back.
Brisly Estime
in the slot,
Jarrod West
,
Ashton Broyld
-- all those guys have been doing a good job of keeping the tempo up. We've got linemen who lost weight and are able to move faster now, in better shape. The offensive tempo is good, especially for us going against them. They have us prepared for the other offenses in the ACC that run that tempo.