May, 5, 2011
5/05/11
6:00
AM ET
WAKE FOREST
2010 overall record:
3-9

2010 conference record:
1-7
Returning starters
Offense: 7, defense: 9, kicker/punter: 1
Top returners
WR
Chris Givens
, G Joe Looney, DE Tristan Dorty, DE Kyle Wilber, SS Cyhl Quarles, PK Jimmy Newman, QB
Tanner Price
, RB
Josh Harris
, NG Nikita Whitlock
Key losses
C Russell Nenon, RB
Josh Adams
, WR
Marshall Williams
, WR
Devon Brown
, LB Hunter Haynes, LB Matt Woodlief, P Shane Popham
2010 statistical leaders (* returners)
Rushing:
Harris* (720 yards)
Passing:
Price* (1,349 yds)
Receiving:
Brown (302 yds)
Tackles:
Hunter Haynes (77)
Sacks:
Wilber* (6)
Interceptions:
Alex Frye (3)
Spring answers
1. Solidified secondary.
All four starters return in CB Josh Bush, SS Cyhl Quarles, FS Daniel Mack and CB Kevin Johnson, and the Deacs are two-deep at every position. It's a much better scenario than it was a year ago, when Wake had to start two true freshmen corners. The Deacs will also have Dominique Tate, who missed all of last year for academic reasons, and two players who redshirted last year in Desmond Cooper and Merrill Noel. The Deacs ranked 11th in the ACC in pass defense last year, but saw signs this spring of that improving.
2. Sold on the 3-4 defense.
The staff is confident in the defensive tackles and committed to the scheme, which it began using last year. Nose guard Ramon Booi, the backup to Nikita Whitlock, might have been the most improved player on the roster this spring, and is a good contrast to Whitlock, who is 5-foot-10 and more of a speed guy. Booi is a 6-foot-6, 300-pound man-wall. At tackle, Grobe singled out defensive end Zach Thompson as a possible all-ACC candidate, and Tristan Dorty moved from linebacker to defensive end.
3. Staff changes were a positive.
Without disrespecting former defensive coordinator Brad Lambert, who left to become head coach of the fledgling Charlotte program, Grobe said he was pleased with the promotions of Tim Billings and Brian Knorr to co-defensive coordinators, and Lonnie Galloway, who was hired to coach the wide receivers. Knorr's knowledge of the 3-4 scheme has been an added bonus.
Fall questions
1. Which running back will take over?
Josh Harris is the most talented back on the roster, but he missed several spring practices with a hamstring injury he suffered while competing in the 100-yard dash with the track team. He'll have to get healthy and earn the starting job this summer despite competition from senior
Brandon Pendergrass
. Harris, though, scored the only touchdown of the spring game.
2. Will dependable receivers emerge?
The Deacs didn't chart every one, but there were about eight or 10 dropped passes by wide receivers in the spring game. Wake Forest is looking for a playmaker to emerge like Kenny Moore did in '07 and D.J. Boldin in '08. Chris Givens,
Michael Campanaro
,
Danny Dembry
and
Terence Davis
are lead candidates, but redshirt freshmen
Matt James
(6-foot-6) and
Brandon Terry
(6-5), could both work their way into the rotation.
3. Will the offensive line improve?
Four starters are back, so it looks better on paper, but the Deacs will sorely miss the experience and leadership of former center Russell Nenon. Garrick Williams started the final three games of 2010 -- two at guard and one at center, but he struggled with the snaps towards the end of spring and isn't where the staff needs him to be yet.
October, 27, 2010
10/27/10
2:30
PM ET
Wake Forest senior receiver
Marshall Williams
said he was "miserable" last year watching other teams play in bowl games from the comfort of his home.
Odds are he'll be even more miserable if it happens a second time.
"You know you have the capability to play with those teams," Williams said. "You know you have the talent. I feel like we were the best five-win team in nation last year, even though that's not really saying anything. You see teams on the bowl-game schedule making plays, and we just need to make more plays. We definitely are motivated to make it to a bowl game, even though our chances of making it to the ACC championship, which we originally set out to do, are not great. We've got to go for what's attainable right now. We're definitely focusing on coming out here and winning these games."
For the seniors on the roster, becoming bowl eligible has inspired a greater sense of urgency as the Demon Deacons head to College Park this weekend to face a much-improved Maryland team from the one they beat a year ago. There's very little margin for error, though, as Wake Forest now has to win four of its remaining five games to reach the postseason. Three of those games -- Maryland, NC State and Vanderbilt -- are on the road.
Coach Jim Grobe said the most important priority now should be snapping the five-game losing streak.
"We're really not trying to use bowl games as a motivator right now," he said. "When you're 2-5, you're just looking to win a game. If we win a game Saturday, that gives us an opportunity to get to a bowl game. We know we have to win four out of the next five, and that's not going to be an easy task with the teams that we are playing. The thing that we have to focus on is just playing better. If we play good football, all of the other stuff will take care of itself."
Senior safety Alex Frye said the team hasn't lost sight of returning to the postseason.
"It's definitely still motivation," he said. "It's my senior year, and we want to go out on top, or at least in some type of spotlight. It's definitely a motivation for the entire team, not just myself."
September, 15, 2010
9/15/10
2:00
PM ET
Go ahead. Try and guess who the ACC's leading rusher is right now.
It's not
Ryan Williams
. It's not
Darren Evans
. It's not
Montel Harris
. It's not
Joshua Nesbitt
. And it's not
Da'Rel Scott
-- all returning 1,000-yard rushers.
It's Duke sophomore
Desmond Scott
, who is averaging 99.5 yards per game. Last season, the Blue Devils ranked 120th in the NCAA in rushing as a team with 63.5 yards per game. Scott recorded his second career 100-yard game at Wake Forest, rushing for a career-high 122 yards and one touchdown on just 11 carries. His other 100-yard game came against N.C. Central last year when he rushed for 100 yards on 16 carries in his collegiate debut.
There are new names all over the ACC's list of leading rushers, including
Keith Payne
and
Perry Jones
at Virginia, and
Davin Meggett
at Maryland. That's just one example of how the stats reflect the disjointed start in the ACC.
Guess who's leading the ACC in passing average per game? North Carolina's
T.J. Yates
, whom Carolina fans were ready to send packing. (Oh, and he's followed by Duke's
Sean Renfree
and Virginia's
Marc Verica
.
Christian Ponder
is No. 9).
Pass efficiency? Duke's Renfree, a first-year starter.
Receptions per game? Duke's
Conner Vernon
.
Tackles for loss? Wake's Kyle Wilber.
Interceptions? Wake's Alex Frye.
About the only sense of normality in the ACC stat world right now is at Maryland, where linebacker Alex Wujciak is leading the conference in tackles, followed by BC linebacker Luke Kuechly.
Sure, we're only two weeks into the season, but after only two weeks, Duke, Wake Forest, North Carolina and Virginia have all produced a few surprises worth keeing an eye on.
September, 12, 2010
9/12/10
1:56
AM ET
Can I give a helmet sticker to James Madison? ...
Here are this week's top performers in the ACC:

Wake Forest safety Alex Frye:
He had two interceptions, a forced fumble and four tackles in Wake Forest's
54-48 win over Duke
on Saturday. Frye's first interception led to a Wake Forest touchdown which put the Deacons ahead 21-14 in the second quarter. His second interception, also in the second quarter, was returned 28 yards to the Duke 16 and the Demon Deacons scored two players later for a 35-21 lead. Frye has now intercepted a pass in each of his last three games dating back to last season. He has five career interceptions and three this season.
BC's defense.
The Eagles held Kent State to 4 rushing yards and forced five turnovers in
a 26-13 win.
Kent State had two fumbles and three interceptions. Alex Albright had his first career interception, and Wes Davis also picked off a pass for the Eagles.
Virginia coach Mike London.
He has already proven himself as an FBS coach. London took his team across the country -- a team picked to finish last in the ACC -- and put it in position to beat No. 16 USC. He flew the Cavaliers out there on Thursday, took them to the Coliseum on Friday to help ease their nerves, and
almost beat the Trojans on Saturday
. There were one too many mistakes and penalties, but it was a gritty effort to be commended.
Maryland's defense.
The Terps held Morgan State to just 85 total yards and forced three turnovers in a
62-3 rout.
It was the fewest yards allowed under coach Ralph Friedgen. Freshmen Matt Robinson and David Mackall were Maryland's leading tacklers with seven each. Demetrius Hartsfield's pick-six in the second quarter was Maryland's first since Alex Wujciak scored on a 70-yard interception return on Nov. 14, 2009 at NC State.
NC State linebacker Audi Cole.
He led the team with 12 tackles, including 3.5 for loss (19 yards), one sack (10 yards) and an interception in the Pack's
28-21 win over UCF
.
September, 10, 2010
9/10/10
12:30
PM ET
Who's staying up to watch Virginia this weekend? C'mon, who's with me? Who's with me?!!
September, 9, 2010
9/09/10
3:30
PM ET
Wake Forest coach Jim Grobe conceded his program might have gotten a little lucky against Duke in recent years, but with a 10-game winning streak against the Blue Devils, the Deacs have also created some of their own luck.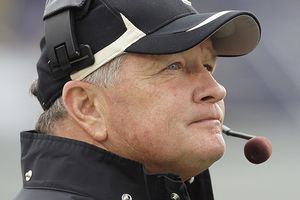 AP Photo/Rob CarrJim Grobe, entering his 10th season as Wake Forest's coach, has not lost to Duke.
Wake Forest has dominated the series since Grobe arrived in Winston-Salem, but not the games. Seven of the past nine games at BB&T Field have been decided by eight points or less, and another tight one is expected on Saturday when the two schools open conference play. Both are under the direction of first-year starting quarterbacks, coming off convincing wins against FCS opponents, and trying to get back to the postseason. The two schools are about 80 miles apart, and a combined 10 players from both programs were teammates at four area high schools.
"I think the two schools are similar," Grobe said. "We basically have the real student-athlete, guys that are good students and character kids that also play in a BCS conference, so we're very similar as institutions. But one of the things that stirs it up a little bit is I think we both have a lot of North Carolina kids on our roster. I think Duke has almost 30, and we're somewhere around 35 North Carolina kids on our roster. So, when you have a lot of kids that have played against each other in high school and in some cases gone to school with each other, I think it stirs things up a little bit."
There's plenty already riding on this one. A win Saturday will go a long way in helping get either program back to a bowl game, plus will factor into the ACC race. And of course, it's a natural rivalry.
"I think it's fair to say (that Duke is one of our biggest rivals)," said senior safety Alex Frye, who had an interception return for a touchdown in last year's 45-34 win. "Especially with the way that they play us every year, I think that you can say that they are definitely our biggest rivalry. I know they want this game probably more than any other team that we play."
The last time Duke won on the road in the first ACC game of the season was in 1981, with a 29-24 win against Virginia. The Blue Devils have lost the past 13 conference openers on the road, including in 2006, the only time Duke has started league play against Wake Forest (14-13 loss in Winston-Salem).
Duke coach David Cutcliffe knows every milestone is important for his program, and he'll be chasing another one on Saturday.
"I don't think you run and hide from the fact that it's a big football game for us," Cutcliffe said. "Anytime you play a conference game early, it helps set up a season. I've lived with that a big part of my career. They're critical games and you have to deal with it after, whether you win or lose. It factors in both ways for you.
"But I think certainly we know at Duke that every opportunity we have to stop a streak or to win a milestone game, that's kind of what we've had to do. We had to overcome the hurdle of winning just the first ACC game after three years not winning one. Then you had to try to win an ACC game on the road or maybe back-to-back ACC games.
"We've passed a lot of those milestones. Certainly losing to Wake for 10 years is something we have to address. It's fact. We're big boys. We've got to be able to handle that."
The question is whether or not they can handle the Deacs.