October, 19, 2014
Oct 19
10:45
AM ET
A look at what's going on around and inside the
New York Jets
:
1. Help for Geno:
I'm not really buying this, but, in theory, the addition of
Percy Harvin
should help the Jets with their evaluation of
Geno Smith
, who has only nine more games to prove he can be the long-term answer at quarterback. In 23 games, he's never had a true speed receiver, a player who can turn a 5-yard pass into a 55-yard gain. Smith had one of those players at West Virginia,
Tavon Austin
, and they both enjoyed tremendous success.
Harvin has been one of the most prolific screen-pass receivers in the NFL. Since 2010, he has 49 receptions on screen passes, behind only Antonio Brown (68) and
Pierre Garcon
(64), according to ESPN Stats & Information. Look for offensive coordinator Marty Mornhinweg to dial up more screens than usual. It's already part of the offensive package, as Smith is fifth in screen-pass attempts (24). The problem is, they're not very productive. His passer rating is 75.5, second worst in the league.
[+] Enlarge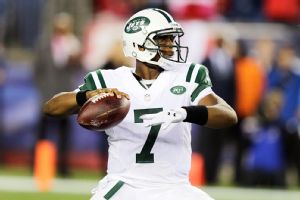 AP Photo/CharlThe Jets hope the addition of wide receiver Percy Harvin will help the development of quarterback Geno Smith.
Harvin wasn't an every-down receiver with the Seattle Seahawks, part of the reason he became unhappy, but he'll eventually become a full-time guy for the Jets. Whether he can elevate Smith's play remains a question. He's not a traditional receiver, meaning he doesn't use his speed to stretch defenses vertically. If anything, he stretches them horizontally, as most of his touches come within 5 yards of the line of scrimmage -- quick passes and handoffs.
He didn't do much for
Russell Wilson
, evidenced by this stat: Wilson's QBR with Harvin on the field this season was only 45.3; it was 71.o when he was off the field. For all his speed and acceleration, Harvin's career average is only 11.3 yards per reception. And if he takes a 5-yard hitch and goes 55, it'll be the longest pass play of his career.
Basically, the Jets put an expensive hood ornament on a Ford truck. That's just my opinion. Obviously, the Jets believe he will bolster their moribund offense.
2. The need for speed:
They were so desperate to put speed on the field Thursday night that Mornhinweg used kickoff returner
Saalim Hakim
for seven snaps at wide receiver. Technically, Hakim is a receiver by trade, but he has no career catches. The
New England Patriots
must have been laughing to themselves. They put
Darrelle Revis
on
Eric Decker
, so that should've created opportunities for the other wideouts, but they combined for only three receptions.
It reminded me of the
New Orleans Saints
game in 2009. The Jets' wide receivers couldn't gain any separation,
Mark Sanchez
struggled and they traded for Braylon Edwards a few day later. Here's the difference: The Jets were 3-1 at the time. Now, at 1-6, they're too far gone to make a run.
3. Loaded question
: The Jets' hope is that Harvin's presence will alter the way defenses attack them. With no threats on the perimeter, opponents overplay the run, daring Smith to beat them by throwing the ball. ESPN Stats & Information compiles the number of times a team faces a "loaded" defense -- defined as a defense having more players in the box than available offensive blockers.
The Jets have rushed a league-high 51 times against a loaded box, averaging an impressive 4.7 yards per carry. So now you're wondering, "How well do they pass the ball against a loaded box?" Good question. The answer is, not well. The Jets are 24th in passer rating (76.5) -- 40-for-74, 375 yards, four touchdowns and two interceptions. When you're averaging only 5.42 yards per attempt against mostly man-to-man coverage, it's not efficient offense.
4. Money matters:
If the Harvin experiment is a success and he returns for 2015, he'll be due to make a non-guaranteed $10.5 million. I wonder if the cap-conscious John Idzik would try to renegotiate the remaining four years to lower his cap number.
5. Mulligan?
The Harvin acquisition is a tacit acknowledgement by Idzik that he botched the wide-receiver position in the offseason. The depth chart at the start of training camp, starting at the top, was Decker, Stephen Hill,
Jeremy Kerley
,
David Nelson
, Jacoby Ford,
Jalen Saunders
and
Shaq Evans
. Only Decker and Kerley remain on the active roster. So does this mean Idzik will give Rex Ryan a mulligan for the first seven games? Doubt it.
6. It's never dull
: Even at 1-6, the Jets will hold the public's fascination for the next two months. Think of the storylines: A coach fighting for his future. A quarterback fighting for his future. And a new wide receiver just ... well, fighting. See
Golden Tate
's black eye at the Super Bowl.
7. Coples fading away:
Ryan gave a technical, convoluted explanation for why linebacker
Quinton Coples
played only 19 snaps against the Patriots. He said he started
Jason Babin
and safety
Antonio Allen
because he was "trying to show (
Tom Brady
) some 46 looks, some Cover 1 looks. I wanted Brady to think we were going to play a lot of Cover 1, and I was trying to set the table for the game plan. So, I did a lot of that, some mix and matching of different guys." That may be true, but the fact that Coples -- a former No. 1 pick -- didn't factor prominently in the plan is a bit alarming, no?
8. The AWOL CB:
Had to laugh Friday when Ryan made a passing reference to Dimitri Patterson. Saying that injuries, not lack of talent, have caused the demise of the cornerback position, Ryan claimed, "When you lose a (Dee) Milliner, you lose (Dexter) McDougle – two guys you're really counting on. You have a guy go AWOL on you, that's hard to anticipate." True, but Patterson was hurt and struggling before he disappeared.
AFC EAST SCOREBOARD
Thursday, 10/16
Sunday, 10/19