April, 20, 2014
Apr 20
6:00
PM ET
Nearly four months removed from the feel-good finish to their 8-8 season, the
New York Jets
return to work Monday for the official start of the offseason -- a nine-week program that gradually increases in intensity and culminates with a mandatory minicamp, June 17-19.
The offseason program is voluntary (wink, wink), although many players are required to attend to collect workout bonuses. The Jets' top storylines:
Smith
Vick
1. A new locker room culture
: The Jets dumped three high-profile players,
Mark Sanchez
,
Santonio Holmes
and
Antonio Cromartie
, all of whom wielded considerable influence in the locker room (for better or worse). The team will experience a natural change in leadership as the new players are integrated. The most compelling dynamic will be the
Geno Smith
-
Michael Vick
relationship and how it impacts the team. Smith won the team's respect last season with his resilience; Vick will command it as soon as he walks in the door.
2. The quarterback competition:
It will take four months to decide Smith vs. Vick, but you can bet every pass, every action and every word uttered by them and their teammates will be micr0-analyzed by the media. Practices (OTAs) don't start until May 27, so prepare for five weeks of rhetoric, followed by pass-by-pass analysis on Twitter. Hey, it's New York and we love a good quarterback controversy. The pre-camp favorite? All things being equal, Smith gets the job, but Vick has a lot going for him and could outplay Smith in the preseason. Presumably, the Jets won't botch the competition this time, allowing them to -- you know -- actually declare a winner.
3. Sophs under the microscope:
The offseason program always is important for second-year players because ... well, it's their first full offseason in the NFL. For cornerback
Dee Milliner
and guard
Brian Winters
, it's doubly important. Milliner was forced to sit out last year's workouts because he was recovering from pre-draft shoulder surgery, putting him behind everybody -- and it showed. For Winters, who played tackle in college, this will be his first offseason to train as a guard, where he struggled for most of his rookie season.
4. Learning MartyBall
: It's a new-look offense, with possibly four new starters -- Vick, running back
Chris Johnson
, wide receiver
Eric Decker
and right tackle
Breno Giacomini
. Offensive coordinator Marty Mornhinweg set a foundation last season in Year 1 of his system, but he may have to circle back because there are so many new pieces -- and that number will grow after the draft. Vick's familiarity with Mornhinweg's offense will help a lot because it means every quarterback in the room knows the system, an important springboard in any offseason.
5. Blissfully quiet
: A year ago, the Jets and
Darrelle Revis
' camp were locked in a dispute over whether the star cornerback had to work out with the team to collect bonus money. It didn't last long, as Revis was sent packing. There are no such distractions this year -- yet.
April, 11, 2014
Apr 11
1:45
PM ET
Say this for
Muhammad Wilkerson
: He's consistent when it comes to discussing his future with the
New York Jets
. He's sticking with the "Jet-for-life" stance, which probably sends shivers through the fan base because
Darrelle Revis
used to say the same thing -- and look what happened to him.
"I told (the front office) at the end of the year last year that I want to be a Jet -- a Jet for life," Wilkerson told the New York Post on Thursday. "I'm from the area (Linden, N.J.), I'm a local guy, so I would love to be here and finish my career here."
[+] Enlarge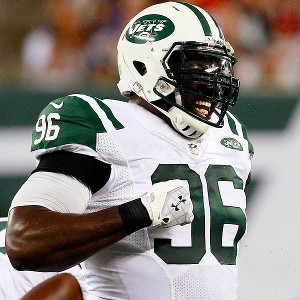 William Perlman/The Star-Ledger/USA TODAY SportsWith the likes of Muhammad Wilkerson, the Jets have one of the better defensive lines in the NFL.
Back in October, Wilkerson gave the same response, almost verbatim,
in an interview with ESPNNewYork.com
. Like we said, he's consistent. Some might say he's hurting his leverage by professing his devotion to the Jets, but that's not the case at all. It's actually a smart approach from a public-relations standpoint because it shifts the focus to the Jets, who, in terms of public perception, bear the onus of making him a Jet for life.
So what are the chances of them locking up their best player to a long-term extension before the start of the season? Let's examine the situation:
Wilkerson is entering the fourth and final year of his rookie contract, due to make $1.2 million. By May 3, the Jets are expected to exercise a fifth-year option that will set his 2015 salary somewhere in the $5 million to $6 million range. (For players drafted from 11th through 32nd in 2011, the fifth-year salary is the average of the 25 highest-paid players at the position, excluding the top three.)
In essence, the Jets are under no sense of urgency to renegotiate Wilkerson's deal because they will have him under contract for two more years. Actually, you might say three years because they can slap him with the franchise tag in 2016. Do the math, and it comes out to three years for about $19.8 million, based on the current franchise-tag amount for a defensive end. For the Jets, that's a heck of a bargain for one of the top, young defensive players in the league.
The only motivation for the Jets to re-work his contract this year is if he accepts a team-friendly deal. Wilkerson's only leverage is to stage a holdout, but he reiterated in his interview with the New York Post that he has no intention of going that route. (Unlike his Jet-for-life comment, his recent no-holdout statements have weakened his bargaining power.) He'd be taking a risk by playing for $1.2 million because the fifth-year option isn't fully guaranteed until the fifth day of the 2015 league year. It's partially guaranteed (for injury only) as soon as the team picks up the option. General manager John Idzik hasn't revealed his plans, but it's a no-brainer.
Even though Wilkerson is operating under a different set of rules (the current collective bargaining agreement went into effect in 2011), his situation is similar to the Revis drama of 2010. Entering his fourth season, Revis refused to play for $1 million, staging a long and nasty holdout.
Wilkerson reiterated that he won't pull a Revis.
"I'm not holding out," he told the Post. "My agent is talking with Idzik, and that's all I can say. I have nothing to do with that. I'm just going to let him take care of that. That's his job. I'm just here to play ball."
The Jets should do the right thing and take care of Wilkerson before his contract becomes an issue, taking advantage of their significant cap space, but it's a bottom-line business. Teams are rarely motivated to make their players happy unless they get something out of it as well.
March, 17, 2014
Mar 17
10:30
AM ET
The
New York Jets
' current cornerback crisis reminds me of an anecdote shared by former general manager Mike Tannenbaum. This was back in April 2010, when they had just used their first-round pick on cornerback
Kyle Wilson
. They already had
Darrelle Revis
and
Antonio Cromartie
, so there was some question about the wisdom of adding another corner.

Ryan
Tannenbaum recalled a conversation with
Baltimore Ravens
general manager Ozzie Newsome. When he hired Rex Ryan from the Ravens' staff in 2009, Tannenbaum asked Newsome what to expect.
"(Newsome) said, 'I'm shipping him up I-95, and he has a little sign around his neck that says, 'I need corners,'" Tannenbaum said at the time. "That's just who Rex is. He cannot have enough corners."
So it doesn't take a lot of imagination to understand how Ryan is feeling these days: He's freaking out.
The Jets cut Cromartie (an expected move), showed no interest in Revis when he became a free agent and haven't added any veteran corners. (Sorry, we're not counting
San Diego Chargers
castoff
Johnny Patrick
.) Their top corners, as we speak, are
Dee Milliner
, Wilson, Patrick and
Darrin Walls
.
Oh, boy.
Free agent
Dominique Rodgers-Cromartie
visited Saturday before heading over to the
New York Giants
for a sitdown. He's the best available corner in a thinned-out market. He's far from perfect (he was awful for the
Philadelphia Eagles
in 2012), but he's 28 years old, can play man-to-man and is coming off a good season with the
Denver Broncos
. He might not be a 10, but when an 8 hangs out with a bunch of 5s and 6s, he looks like a super hero. (Kind of reminds me of that funny nightclub scene in "Hall Pass," a very under-rated movie, if I must say.)
The ESPN free-agent tracker
rates Rodgers-Cromartie,
Dimitri Patterson
(cut by the
Miami Dolphins
) and
Carlos Rogers
(cut by the
San Francisco 49ers
) as the best available corners. I'd add Cromartie to that list.
The tracker scouting reports:
Rodgers-Cromartie:
"One of the best corners on the market, Rodgers-Cromartie was a solid starter on a unit that struggled in 2013. He has good size, and his length and ball skills allow him the chance to make a lot of plays. On film it looks like his pedal and turn are not always consistent, which is why he gets beaten deep too often, but he will show some good flashes in man coverage and can be effective in sub packages. He can be susceptible to double moves."
Patterson
: "Patterson has very good ball skills and the route recognition to play man-to-man defense as a perimeter cornerback. Was productive when he played in 2013 but a groin injury limited him and eventually led to him being placed on injured reserve. Does not have great size or length but can be a short-term starting option for a defensive back-needy team."
Rogers
: "A soon-to-be 33-year old who is now best suited to handle slot duties after several productive seasons with both Washington and then San Francisco. Rogers' injury issues have been concerning in recent seasons, and after a standout 2011, he's regressed in overall play. He has strong ball skills but lacks the burst to stick with wideouts on the perimeter."
March, 16, 2014
Mar 16
11:00
AM ET
A few thoughts and observations on the
New York Jets
:
1. Reality bites
: The irony of the
Eric Decker
signing is that general manager John Idzik, who has spent a year trying to eliminate the Jets' "Hard Knocks" image, took on a player with his own reality TV show. Decker and his wife, country singer Jessie James, are preparing for their second season on E!'s "Eric and Jessie: Game on." The season premiere is March 30. His former team, the
Denver Broncos
, said last year it had no problem with Decker doing the show. "To each his own," team exec
John Elway
said.
[+] Enlarge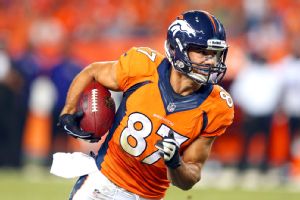 AP Photo/Paul SpinelliIt doesn't appear that new Jets receiver Eric Decker's reality show was a huge deterrent in the team's decision to sign him.
Privately, the organization wasn't thrilled, especially when Decker's impending free agency was mentioned in one of the early shows. It wasn't a distraction to the team because there were no cameras at the facility. Obviously, it didn't affect Decker, as he finished with 87 receptions for 1,288 yards. It was one if E!'s top-rated new shows, so they booked another season -- obviously, long before he signed his five-year, $36.25 million contract with the Jets. The network didn't waste any time jumping on the New York angle, releasing new promos: "New Team, New City (and coming soon), New Baby."
Some people wonder if Decker picked the Jets over the
Indianapolis Colts
because he wanted to raise the show's profile by playing in the No. 1 media market. He downplayed that notion, saying he picked the Jets with football in mind. As for his wife's input, Decker said, "She obviously wants what's best for me in my profession. She spent a lot of time in New York with her career when she was younger, and she's excited again to have an opportunity to work now again and to be able to have some resources and things. I think that overall it is a great decision and place for us as a family and career wise."
Idzik isn't a show-biz kind of guy, and I find it hard to believe he likes the idea of a player having his own show. It creates the perception that he's bigger than the team. But in the end, the No. 1 reality was this: Idzik was willing to put aside any concerns to land their top-rated free-agent receiver. The GM hasn't been made available to comment on any of his signings.
2. Decker vs. Holmes
: Not to pick on
Santonio Holmes
or anything, but ...
Decker produced five 100-yard receiving games last season, one more than Holmes managed in four years with the Jets. Decker is counting $4 million on this year's cap, $6.5 million less than Holmes would've counted. Just saying.
3. Strength in numbers
: The Jets have six experienced wide receivers under contract, and they could add another two through free agency and the draft. Overkill? Not really. Teams always look beyond the current year when making personnel moves, and when the Jets look at 2015, they see only two of those six receivers under contract -- Decker and
Stephen Hill
. That's why stockpiling makes sense.
4. Go west, men
: Offensive coordinator Marty Mornhinweg , accompanied by two members of the scouting department, attended two important pro days on the West Coast -- USC and Oregon State. The main attractions were wide receivers
Marqise Lee
and
Brandin Cooks
, respectively. In each case, the Jets' contingent spent private time with the players. It's not unusual for Mornhinweg to scout on the road. In fact, he attended
Geno Smith
's pro day last year, taking him out to dinner the night before. With the 18th pick, the Jets are thinking strongly about a receiver.
5. Revis Inc.:
Darrelle Revis
' contract with the
New England Patriots
sheds light into his thinking as a player/businessman. Technically, it's a two-year, $32 million deal, but the second year is bogus because of a $25 million cap charge. They added a second year for cap purposes and because Revis is hellbent on a $16 million-per-year average. Has been since 2010, when he staged his second holdout with the Jets. At the time, he proposed a 10-year, $160 million deal. He refused over the years to bend on the APY, finally finding a team (the
Tampa Bay Buccaneers
) willing to pay it. Why $16 million? I think it goes back to
Nnamdi Asomugha
's $16 million-a-year deal from the
Oakland Raiders
in 2009. As soon as Revis surpassed Asomugha as the top cornerback, in the eyes of many, he considered $16 million his birthright.
For an interesting take on the Revis contract from the Patriots' perspective, check out
ESPN.com colleague Mike Reiss
.
6. California dreaming
: The quarterback-needy Raiders are targeting two players likely to be released --
Matt Schaub
and
Mark Sanchez
(in that order), according to a report by
ESPN.com colleague Paul Gutierrez
. Sanchez makes a lot of sense. Joey Clinkscales, the team's director of player personnel, is a former Jets executive and was heavily involved when they drafted Sanchez in 2009.
The Jets are running out of time to make a decision on Sanchez, who's due a $2 million roster bonus March 25. If they don't sign another quarterback (
Michael Vick
?) before then, what then? Do they turn to Sanchez, trying to get him to take a major pay cut? If Sanchez balks, he will be released -- unless the Jets pay the $2 million, buying more time. It's not Idzik's style to cut a player before his replacement is on the roster. It hurts leverage. If the Raiders want him badly enough, maybe they'd be willing to make a trade.
7. Tony the recruiter
: Former Jets offensive coordinator Tony Sparano, now the Raiders' offensive-line coach, was instrumental in recruiting right tackle
Austin Howard
. Said Howard: "I really love his style of coaching. Once we got that call, it was honestly a no-brainer decision to get on the plane and make the trip out to Oakland." Obviously, the five-year, $30 million contract had something to do with it, too. Sparano was a key Howard ally in the summer of 2012, when the Jets replaced
Wayne Hunter
.
8. A tale of two kickers
:
Nick Folk
was the only kicker this year to receive a franchise-tag designation, which usually translates to a top-of-the-market contract. In Folk's case, his four-year deal is actually similar to what
Dan Carpenter
just landed from the
Buffalo Bills
-- at least in terms of first-year compensation. Folk gets $3.6 million in total compensation (the amount of the franchise tender), Carpenter scores $3.425 million. Carpenter was given a chance, albeit brief, to take Folk's job last preseason, but he lasted only a few days. Now he's making nearly as much as him.
9. DRC on ED
: Came across this quote from Super Bowl week. Broncos cornerback
Dominique Rodgers-Cromartie
was asked which of his team's receivers is the hardest to cover. His answer:
Wes Welker
. "
Demaryius Thomas
and Eric Decker are great receivers, but you can kind of break their moves down," he said. "Wes, he does too much." DRC could end up reunited with Decker.
10. Hurting at OLB:
It didn't get any attention, but the Jets decided not to tender restricted free agent
Garrett McIntyre
, making him unrestricted. It would've cost them $1.4 million. It came as a surprise because McIntyre was a decent backup, good for about 20 defensive snaps per game. With
Calvin Pace
also an unrestricted free agent, the Jets are perilously thin at outside linebacker.
March, 12, 2014
Mar 12
2:00
AM ET
A few thoughts on the
New York Jets
did (correction: didn't do) on the first day of free agency:
1. Rough start:
It wasn't a productive day for the Idziks. They lost right tackle
Austin Howard
to the
Oakland Raiders
, watched as the three highest-rated corners came off the board and began to hear the rumblings of a
Darrelle Revis
-to-the-
New England Patriots
scenario -- a potential nightmare. But, hey, they re-signed kicker
Nick Folk
to a long-term deal.

2. Patience:
The lack of activity set off a near panic among fans who wanted general manager John Idzik to put in dent in that $39.6 million cap surplus. Relax, people. It was only the first day, when desperate teams throw ridiculous money at players not worthy of superstar paychecks. Championships aren't won in March. Jets fans should know that better than anyone.
3. Howard's end:
The Jets liked Howard, they really did, but they liked him only to a certain point. Idzik didn't want to match the five-year, $30 million offer from the Raiders, and that was that. His fallback option appears to be former
Seattle Seahawks
right tackle
Breno Giacomini
, who was good enough to start for the Super Bowl champions.
4. They like Mike:
It has been rumored for weeks, but now it can be confirmed: Yes, the Jets have interest in quarterback
Michael Vick
(
Philadelphia Eagles
), according to a league source. They also scheduled a visit with
Josh McCown
(
Chicago Bears
), who also has visits set up with the
Tampa Bay Buccaneers
(the favorite) and the
Houston Texans
. Vick reportedly is drawing interest from the
Buffalo Bills
and Raiders. The Jets would like to get it wrapped up quickly, but it sounds like Vick will take his time. Meanwhile,
Mark Sanchez
is twisting in the wind, waiting to learn his fate.
5. Dangerous corner:
It's too soon to say the Jets are desperate at cornerback, but I bet Rex Ryan is feeling a bit uneasy about his current situation. The Jets expressed a strong interest in
Vontae Davis
, but he re-signed with the
Indianapolis Colts
for four years, $39 million.
Alterraun Verner
was on the Jets' radar, but he signed with the Buccaneers for four years, $25.5 million. The
Denver Broncos
took
Aqib Talib
away from the New England Patriots with a crazy contract -- six years, $57 million. The cornerback market isn't barren yet, but the Jets might want to get busy. Keep an eye on
Captain Munnerlyn
(
Carolina Panthers
) and
Dominique Rodgers-Cromartie
(Denver Broncos). And, of course,
Antonio Cromartie
is out there. Remember him?
6. 'Folk Hero' gets paid:
Folk wore the franchise tag for only two weeks. On Tuesday, he signed a four-year, $12 million contract. The deal reportedly includes only $2.1 million in guarantees, about $1.4 million less than what he would've received if he had signed the $3.55 million franchise tender. Folk wanted a long-term deal for security, but in reality, it won't be hard to cut him if he has a bad year. Good deal for the Jets.
7. Quiet at receiver:
Not much action for the free-agent wide receivers. Here's a name to watch:
Miles Austin
, who was released by the
Dallas Cowboys
. The receiver-needy Jets are expected to have interest. They're also showing interest in running back
Maurice Jones-Drew
(
Jacksonville Jaguars
) at "the right price," a source said. They're eyeing other backs as well.
March, 11, 2014
Mar 11
11:40
PM ET
The
New York Jets
have a gaping hole at cornerback, the free-agent market is shrinking and
Darrelle Revis
is on the verge of becoming a free agent. Are the stars (or, in this case, the star) aligning for the Jets?
The Jets missed out on the top three cornerbacks Tuesday on the opening day of free agency, as
Vontae Davis
re-signed with the
Indianapolis Colts
and
Alterraun Verner
signed with the
Tampa Bay Buccaneers
, essentially taking Revis' spot on the roster. The Bucs are expected to cut Revis on Wednesday. On Tuesday night,
Aqib Talib
signed with the
Denver Broncos
, meaning the
New England Patriots
could make a push for Revis.
[+] Enlarge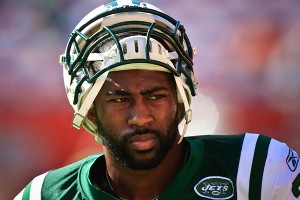 Ronald C. Modra/Sports Imagery/Getty ImagesWould Darrelle Revis consider reuniting with the Jets? Or would a contract with the divisional-rival Patriots be more appealing?
Concerned about his cornerback situation, Rex Ryan is "absolutely" interested in a Revis reunion, according to a person familiar with the coach's thinking. If it were up to Ryan, they'd be dusting off Revis' old No. 24 jersey as we speak. As for Revis, he reportedly would "love" to return to the Jets and Ryan -- although that screams of posturing.
There are two things standing in the way: Woody Johnson's pride and Revis' ego.
After years of acrimony, stemming from two nasty holdouts, Johnson couldn't wait to ship Revis out of town last spring. The Jets' owner was tired of the annual contract dramas, frustrated by the inability to sign him to a long-term contract. Unless Johnson does a 180, it's hard to imagine him signing off on Revis 2.0. Imagine how foolish they'd look if they sign him and, a year from now, he starts threatening another holdout.
Fool me once ...
Others may take a different viewpoint, saying it would be a genius move to re-acquire their former best player only one year after trading him for a first-round draft pick. It would be like subletting your house for a year and receiving the full-sale price.
The big question is, would Revis' ego permit him to re-sign with the organization he accused of lying to him before last year's trade? He felt betrayed by general manager John Idzik, who was simply carrying out Johnson's trade order.
In the end, money talks. It talks loudly to Revis, as we know. He'll pick the team that offers the sweetest deal. If it's close, he'll go where he has the best chance to win a title, which means he'll probably be looking for a team with a franchise quarterback. That eliminates the Jets. If he returns to the Jets, it'll be a tail-between-the-legs moment. That would be a sight to see.
The Patriots are a better fit than the Jets, and you know Revis would love to stick it to it former team by signing with their No. 1 rival. He'll take revenge over reunion any day.
March, 11, 2014
Mar 11
4:00
PM ET
Hottest question of the day: Would the
New York Jets
want to reunite with
Darrelle Revis
if he gets cut by the
Tampa Bay Buccaneers
?
There are mixed signals on this one. The Jets "absolutely" would be interested in the star cornerback, according to a person familiar with the team's thinking -- assuming Revis is willing to take less than his current $16 million-a-year salary. Rex Ryan has a deep affinity for Revis and, according to a person close to the coach, he likely already has brought up Revis' name is discussions with general manager John Idzik.
While the football side of the organization would love a Revis reunion, the feeling probably isn't the same on the management/ownership level. Years of acrimony between the front office and Revis' camp culminated last April with a bitter divorce, and it's unlikely Woody Johnson would sign off on a Revis 2.0, according to a person familiar with the owner's thinking.
"Woody's not going to allow Revis back in the building," the person said. "He's so anti-Revis. It would happen over his dead body, and I don't think he's ready to leave us."
The biggest question might be, would Revis even consider returning to the Jets? Unless they meet his asking price (not likely), he'd have to be desperate.
This could all be moot, of course, because the Bucs are attempting to trade Revis. The
Cleveland Browns
and
Oakland Raiders
reportedly have interest. Both teams have New York ties to Revis. The Browns' coach is former Jets defensive coordinator Mike Pettine, and the Raiders' assistant GM is Joey Clinkscales, the former Jets director of college scouting. The Bucs want to trade him before Wednesday. If not, they'll cut him before a $1.5 million roster bonus us due.
February, 26, 2014
Feb 26
6:30
PM ET
The
New York Jets
are rooting for cornerback
Darrelle Revis
to remain with the
Tampa Bay Buccaneers
.
When the Jets dealt Revis to the Bucs last April, they received a first-round pick (13th overall) and a conditional fourth-round choice that improves to a third-rounder if Revis is on the Bucs' roster for the third day of the 2014 league year -- March 13.
General manager John Idzik probably thought that was a gimme when he made the trade, but now there's speculation that Revis could be traded again. CBS Sports reported that the Bucs were approached at the scouting combine by teams inquiring about his availability. If the Bucs decide to move Revis, their motivation is to get it done by March 13, allowing them to retain their third-round pick.
It's not that hard to trade Revis because he signed a six-year, $96 million contract last year that included no guarantees, meaning no cap hit for the Bucs if they cut or trade him. New coach Lovie Smith is installing a Tampa-2 system -- not a good move for Revis' elite man-to-man skills -- another factor that has people wondering about a trade.
I thought the Bucs made a bad trade last year for Revis, who was coming off major knee surgery, and now it looks really bad. If they do ship him out, they wouldn't get the 13th pick (or anything close) in return. Maybe the Bucs realize what the Jets knew last year: Revis is a terrific player, but he's not worth a $16 million cap charge.
Could Revis return to the Jets? That's funny. Even if they cut
Antonio Cromartie
, I can't see them turning to Revis unless he gives them a huge discount -- and we all know that's not happening. The Jets are committed to
Dee Milliner
, and I have a feeling things will work out with Cromartie. Why would they want to go back to the bargaining table with a player who called their general manager a liar last spring? Why would Revis want to go back?
If the Bucs decide to trade him (a big "if" at this point), they'd look like idiots to send him back to the Jets, probably receiving 75 cents on the dollar. But they could impact the Jets by dealing him in the AFC East -- like, say, the
New England Patriots
, whose best corner,
Aqib Talib
, is set to become a free agent.