June, 11, 2014
Jun 11
2:55
PM ET
FLORHAM PARK, N.J. -- Notes and observations from Wednesday's OTA practice:
1. He-e-e-e-re's Dex
: Third-round pick
Dexter McDougle
, who missed the final nine games of his senior year due to major shoulder surgery, made his practice debut for the
New York Jets
. After three weeks of wearing a red (non-contact) jersey, the rookie cornerback wore green with the rest of his defensive teammates and impressed Rex Ryan so much that the coach called him out in front of the team afterward. McDougle worked with the second-team nickel package and didn't seem tentative at all. This, of course, is good news for the Jets' revamped cornerback position.
[+] Enlarge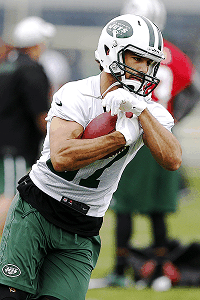 AP Photo/Julio CortezThe Jets will be counting on receiver Eric Decker to produce in the red zone this season.
2. Rex comes clean:
The Jets received mild criticism for taking McDougle in the third round, considering the time he missed at Maryland. Ryan admitted he, too, thought it was a risky pick, but others in the organization -- mainly defensive coordinat0r Dennis Thurman -- "eased my doubts" about McDougle. Ryan said Thurman, after watching McDougle on tape for the first time, came up to him and said, "I've got the guy right here." Ryan said they graded McDougle as one of the top "character" players in the draft. Assuming he has no setbacks, he will be able to participate in next week's minicamp.
3. Changing of the guards:
'Tis the time of year to experiment. With
Willie Colon
(arthroscopic knee surgery) sidelined for the remainder of the offseason, the Jets have been rotating players at right guard. On Wednesday, it was
Brian Winters
' turn. He traded places with
Oday Aboushi
, who moved to Winters' spot at left guard. No, this doesn't mean Colon is in danger of losing his starting job. Ryan acknowledged that Colon, who is expected to return for training camp, is a likely starter, but not necessarily at right guard. Interesting. Moving the players around in June creates competition and flexibility that could help in training camp.
4. Geno and Vick
: There was a concentration on the two-minute offense and the red zone in practice. Both
Geno Smith
and
Michael Vick
looked sharp in the red zone, each quarterback completing four of five passes in team drills. Smith got most of the work with the starters. His best moment came when he stepped up in the pocket and found wide receiver
Eric Decker
in the back of the end zone for a touchdown. Decker dominated in the red zone, one of the reasons why the Jets are paying him $7 million a year. Vick displayed his old form, scrambling for a touchdown. He also made a nice scoring pass to rookie wide receiver
Jalen Saunders
.
5. Two-minute hiccups
: Smith wasn't nearly as crisp in the hurry-up situation. He started off with a deep ball to Decker, but the drive stalled as he misfired on three of his last four passes. First-round pick
Calvin Pryor
came on a safety blitz to disrupt Smith on one play.
6. Rex on the QB competition/non-competition
: Not surprisingly, Ryan spoke glowingly on the Smith-Vick battle -- even though it's not really a battle, if you ask Vick. "Both guys are sharp," Ryan said. "They're pushing themselves and pushing each other. That's exactly what we wanted to have happen. ... I've been really impressed with it."
7. Attendance report
: Players that didn't participate in the voluntary practice included wide receiver
Jeremy Kerley
(personal), running back
Mike Goodson
(undisclosed), running back
Chris Johnson
(knee), running back
Daryl Richardson
(toe), wide receiver
Jacoby Ford
(undisclosed), Colon (knee), rookie wide receiver
Shaq Evans
(school obligation) and linebacker
Antwan Barnes
(knee). Ryan said he expects Goodson to show up for next week's mandatory minicamp. As expected, Johnson -- six months removed from knee surgery -- isn't expected to do much, if anything, in the minicamp. Ford will be full speed by next week.
8. Dee's cranky hammy:
Cornerback
Dee Milliner
, who sat out last week's open practice, participated on a limited basis. Officially, the team is calling it hamstring "tightness," not a pulled hamstring. Got that? Ryan said they kept him out for precautionary reasons.
9. Odds and ends
: Pryor continued to work with the starters. It was Pryor and
Antonio Allen
at safety, with
Dawan Landry
practicing with the second team. Landry already knows the defense; the plan is to let Pryor and Allen get as many reps as possible. ... The Jets are continuing their penalty/push-up tradition. When a penalty is committed, the entire team drops for 10 push ups. General manager John Idzik was among the non-players that did pushups. ...
Matt Simms
, battling rookie
Tajh Boyd
for the No. 3 quarterback job, threw an interception. ... Rookie tight end
Jace Amaro
, coming off a three-drop day last week, had another drop but looked much better catching the ball.
April, 29, 2014
Apr 29
6:30
PM ET
The
New York Jets
' three coordinators fulfilled media requirements Tuesday by speaking to reporters via conference call. A few takeaways:
Smith
1. It's Geno's job -- for now
: Offensive coordinator Marty Mornhinweg, speaking to reporters for the first time since the
Michael Vick
signing (yes, really), made it quite clear they really want
Geno Smith
to emerge as their starting quarterback. He didn't use those words, but the tea leaves are obvious. Mornhinweg talked about how he doesn't want the competition to impede Smith's progress and that Vick is here to "push" Smith. Predictably, he said Smith would get more first-team reps than Vick in organized team activities, which became the headline. All things considered, Mornhinweg's comments weren't a revelation. I mean, when was the last time you heard an organization say it wants a 33-year-old to replace a young incumbent with upside -- a quarterback who happens to be the hand-picked choice of the general manager?
2. Chris squared
: Mornhinweg said
Chris Johnson
and
Chris Ivory
will form "a pretty good, little 1-2 punch." He spoke of Johnson as if this were 2009, mentioning his "electric" speed. Look, I get it, he's excited to have Johnson in the backfield. Even if he's not CJ2K, Johnson should have enough left to help the Jets.
3. Cornerback problem, what problem?:
Defensive coordinator Dennis Thurman insisted he's "comfortable" with the current state of the cornerback position. I'm not sure I'm buying that. It wouldn't surprise me if they use their first-round pick on a cornerback, creating more flexibility. Right now,
Dimitri Patterson
is projected to start opposite
Dee Milliner
, but he could slide inside to the slot (his best position) if another corner is added in the first round. Asked if the current secondary will be better than last season, Thurman said, "No one really knows," adding he won't know until the games start.
Milliner
4. Big Dee:
Thurman spoke optimistically about Milliner, saying he's hopeful the former top pick can build off his strong finish last season. "If he does, the sky's the limit," Thurman said. "I believe he will be a very good corner." He has to be. Otherwise, the defense is in big trouble.
5. New special teams coach
: Thomas McGaughey spoke to reporters for the first time since being hired in February (yes, really). He said his top priority is to shore up the punt coverage (the Jets finished 27th). "I've had a history of being able to coach that part of it pretty well," McGaughey said. "Hopefully, these guys can back up my words." He likes
Jacoby Ford
's potential as a kickoff returner, but he'd like to add competition. He talked about the differences between coaching special teams on the pro and college level (he spent the three previous years at LSU), mentioning that he always had to be prepared for trickery at LSU. The Tigers were usually up by a lot, prompting opponents "to do anything they can to get back in the game."
6. LSU intel:
Yes, McGaughey shared his thoughts with the scouting department on the various LSU prospects in the draft. The most high-profile player is wide receiver
Odell Beckham Jr.
, who could be the Jets' pick in the first round. McGaughey said his opinions will remain in-house.
7. Westie the consultant
: McGaughey said he speaks to former special teams coach Mike Westhoff about once a month. "Obviously, he's one of the best to have ever done it," he said. " We've had a relationship for about five, six years now. He's a great man, and he's really helped me along the process. He really has. [He's] a good dude."