January, 19, 2014
Jan 19
1:25
PM ET
By
ESPN.com staff
| ESPN.com
Join our ESPN.com NFL experts for the AFC Championship Game between the New England Patriots and the Denver Broncos.
Contribute your thoughts and questions beginning at 3 p.m. ET. See you there.
January, 17, 2014
Jan 17
10:00
AM ET
And then there were two -- two teams that know most of what there is to know about each other, two future Hall of Fame quarterbacks who add to their legacies with every pass, all with a Super Bowl trip on the line.
The
Denver Broncos
and
New England Patriots
, who have faced each other in each of the past three seasons and in the divisional round of the 2011 season, took it to overtime Nov. 24. The Broncos let a 24-0 halftime lead get away, and the Patriots won 34-31 after a punt bounced off Broncos cornerback
Tony Carter
's leg in overtime on a frigid night in Foxborough, Mass.
ESPN.com Broncos reporter Jeff Legwold and Patriots reporter Mike Reiss discuss Sunday's AFC Championship Game in Sports Authority Field at Mile High.
Legwold:
Peyton Manning
and Bill Belichick yet again. Do you think, in all your time around Belichick, that he tries to bring something new to the table every time he faces Manning? Or does he assume Manning has done the homework and put his efforts into getting people in the right position?
Reiss:
I'd say there's always a new wrinkle or two, Jeff. Belichick has said in the past that Manning is too smart to just do the same thing over and over again -- both within a game and from matchup to matchup. Part of that discussion is also the state of the Patriots' personnel entering the matchup. A player like rookie linebacker
Jamie Collins
, for example, might give Belichick the flexibility to introduce something unique based on his breakthrough since the Nov. 24 meeting between the teams.
The weather forecast looks promising for Manning. No icy cold forecast. How do you think he approaches this game compared to the Nov. 24 contest? Do you think he will be less reluctant to hand the ball off?
Legwold:
It will be a postcard day Sunday with the temperature expected to be 58 degrees with 0 percent chance of rain and light winds. So any decisions the two teams make on offense will have to do with what's in front of them on defense only. Manning will be inclined to hand the ball off if he sees the Patriots in some of those lighter personnel groupings deployed to handle Denver's three-wide-receiver look. Offensive coordinator Adam Gase has a run option built into most things Manning can change into at the line of scrimmage. The Broncos certainly like how
Knowshon Moreno
and
Montee Ball
are trending in the run game. They have split carries down the stretch, and both run with tackle-shedding power.
Gase, with coaching DNA that includes his time with Mike Martz, is an aggressive sort. With the next-generation numbers the Broncos' offense has put up this season, it's easy to forget they still averaged 28.8 carries per game and topped 30 carries per matchup nine times this season. If they get a look from the New England defense that calls for a run, the Broncos will be inclined to pound away.
Where is
Tom Brady
's game and the offense right now after some rough moments early in the season? Has Brady benefited from a run-heavy approach down the stretch and into the postseason?
Reiss:
The biggest benefit for Brady with the run-heavy approach has been how it opens play-action opportunities.
Danny Amendola
's 53-yard catch in the divisional round is one of the best examples. Also, part of the reason the Patriots have gone so run-heavy is that it's the area where they have their most assets. They are limited when it comes to pass-catchers who create consistent separation at tight end and receiver. As for Brady's game, there have been no signs of decline in arm strength, accuracy or decision-making. The main reasons for the struggles early in the year, from my view, were more about the changes around him. That's not to say Brady didn't make his mistakes, but it's sort of interesting to look back on some of the media-based discussion around Weeks 6 to 8 about how maybe Father Time had caught up to him.
Now that we're a full season in, how would you sum up the
Wes Welker
signing? Just as the Broncos hoped for? Better? Worse?
Legwold:
Welker finished the regular season with 73 catches for 778 yards and 10 touchdowns. His presence in the slot, along with
Julius Thomas
at tight end, is part of the reason the offense had a historic season. With the Broncos lining up in a three-wide-receiver set the majority of the season -- and every snap of the divisional round win over the
San Diego Chargers
-- they force defenses into some difficult choices. Thomas is often in the slot on one side of the formation, and Welker is in the slot on the other side. When Thomas missed two games earlier this season with a knee injury, both the Patriots and the
Kansas City Chiefs
(Dec. 1) elected to double-team Welker. He missed three games after suffering his second concussion in a four-week span Dec. 8 against the
Tennessee Titans
but played last week against the Chargers without issue.
Welker did have some spells this season when he had a cluster of dropped passes -- three against the Patriots on a frigid night to go with drops against Washington and San Diego in the regular season. Overall, though, he was exactly what the Broncos hoped he would be in their offense. He meshed with Manning quickly and was a big part of the plan right from his nine-catch performance against the
Baltimore Ravens
in the season opener.
The Patriots did not face Thomas in the Nov. 24 meeting. Do you think they will try to match up Collins on Thomas this time around?
Reiss:
That seems like the natural matchup, especially after seeing Collins splitting out wide on Colts tight end
Coby Fleener
on Saturday night and playing very well. Collins is unique in that, at 6-foot-3 and 250 pounds, he is fast enough to be competitive down the field in coverage (e.g., fourth-quarter interception versus the Colts) but powerful enough to play in the box and deliver a blow in the running game and as a pass-rusher. The Patriots' top draft pick in 2013, selected 52nd overall out of Southern Mississippi, he is an intriguing player whom Patriots fans really got their first extended look at Saturday as he played every snap against the Colts. He had been groomed behind the scenes up to that point, playing just 25 percent of the defensive snaps on the season in more of a reserve role.
Thomas may not have played in the first game between the teams, but
Von Miller
did. How does Miller's season-ending knee injury affect the Broncos' defense?
Legwold:
Of all the players who were signed in the weeks after the initial leaguewide binge in free agency, the Broncos' signing of
Shaun Phillips
was easily one of the best. Denver signed Phillips to a one-year, $1 million deal during the draft weekend in April, well over a month after free agency had opened, a deal that didn't have a signing bonus but did have some incentives based on sack totals.
Phillips was initially how the Broncos planned to deal with the loss of
Elvis Dumervil
in free agency. When Miller was suspended for the first six games of the season, Phillips had 5.5 sacks in those games to lead the way. He finished the regular season with 10 sacks to lead the team. In Sunday's win, with Miller on injured reserve, Phillips had two sacks against the Chargers. He is the single-most important player in the Broncos' pass rush in Miller's absence. Denver may have to take more risks without Miller on the field, and that's always a tough choice against someone like Brady, who can easily find the holes in coverage. But if Phillips can consistently create pressure -- with both sacks on three-man rushes against San Diego -- it allows the Broncos to move things around a little more and cover more of the bases.
Did Belichick make a conscious effort to get big backs like
LeGarrette Blount
and
Stevan Ridley
in the lineup when he knew he would get smaller defensive personnel against the team's passing attack?
Reiss:
That's fair to say, as the Patriots pride themselves on creating those matchups during the game, with coordinator Josh McDaniels finding his groove in recent weeks. They refer to themselves as a "game plan" offense because they tailor their plan weekly based on what they perceive to be the weakness of the opposition. They'll shuttle in different personnel groupings early -- multiple receivers, two backs, two tight ends, etc. -- to get information on how the opponent is matching up and then focus on the one they like best. This week, what's fascinating to me is that I think they probably see vulnerability in the Broncos' secondary, but I wonder how they feel about their own personnel in being able to exploit it. So that could keep them grounded.
The Patriots have been running the ball very well. How is the Broncos' run defense?
Legwold:
In a year when the Broncos have been forced, by injuries and Miller's suspension, to mix and match on defense, their run defense has likely been more consistent in comparison to some of the other issues they've had. When defensive tackle
Kevin Vickerson
went to injured reserve Nov. 27 with a hip injury, they did wobble a bit, surrendering 159 yards rushing to the Chiefs and 177 yards rushing to the Chargers in two of the three games that immediately followed.
They have regained their balance a bit since, moving
Paris Lenon
into the middle linebacker spot in the base defense, and rookie defensive tackle
Sylvester Williams
has played better each week. Overall, the biggest issue for the Broncos will be how they defend the run if the Patriots get them in nickel or dime personnel on defense and then run the ball at the smaller looks. The Broncos' safeties will have to tackle and tackle well to make it work.
Belichick has always tried to make "other" people beat him and take away an offense's front-line players. How do you think he would rank the Broncos' threats in the passing game, and where do you think the one-on-one matchups will be?
Reiss:
One insightful point that ESPN analyst
Tedy Bruschi
made in his weekly chat was the idea of defending the Broncos from the inside-out. Manning is still an accurate marksman, one of the greatest of all time, but I'm guessing that even he would agree that some of the downfield and outside-the-numbers throws he used to make don't come as easily to him. So it makes sense that the Patriots would focus more resources on the inside part of the field, where it would seem we would most likely see Welker and Thomas. With this in mind, I could envision the Patriots matching up cornerback
Aqib Talib
with
Demaryius Thomas
on the outside and cornerback
Alfonzo Dennard
with
Eric Decker
and taking their chances that those one-on-one matchups will be competitive. Trusting those cornerbacks in those one-on-one matchups would allow the defense to focus extra attention/personnel to the inside part of the field.
Any X factors or special-teams contributors we should keep on the radar?
Legwold:
The Broncos have usually been lockdown tight on special teams -- opening the season with two touchdown returns and two blocked punts, one of those returned for a score, in the first four weeks of the season. Those normally reliable units, however, have wobbled plenty down the stretch. The Chiefs'
Knile Davis
had a 108-yard kickoff return for a touchdown, the Titans'
Leon Washington
had a 95-yard kickoff return, and the Texans'
Keshawn Martin
had a 51-yard punt return. Toss in the first blocked punt of
Britton Colquitt
's career in Oakland to go with
Trindon Holliday
's occasional adventures catching the ball, and it's been an unpredictable stretch. But Holliday is always a threat to uncork a return because of his breathtaking speed. The Broncos used wide receiver Decker as the primary punt returner against the Chargers last week, and he had a 47-yarder. So the Broncos have the potential to pop one at any time, especially in Denver, where Holliday returned both a kickoff and a punt for touchdowns in last January's playoff loss to the Ravens.
November, 22, 2013
11/22/13
10:00
AM ET
FOXBOROUGH, Mass. -- One week after an entertaining game with a new-school/old-school quarterback duel between
Cam Newton
and
Tom Brady
, it's pure old-school this week.
Peyton Manning
versus Tom Brady.
Need we say much more?
This is one of those games that is circled the day the NFL schedule is released in April, and as we know, there is much more than just the quarterbacks to highlight when dissecting a matchup between the visiting
Denver Broncos
and the
New England Patriots
. Receiver
Wes Welker
, for one, adds another intriguing storyline as he returns to town for the first time since signing with the Broncos this year.
The Broncos (9-1) are the class of the AFC, and arguably the entire NFL, after knocking the
Kansas City Chiefs
from the unbeaten ranks this past Sunday. Now comes a tough test against a resilient but depleted 7-3 Patriots club that needs a victory to keep pace in the overall AFC playoff race.
Here to break it down for us are NFL Nation reporters Mike Reiss (Patriots) and Jeff Legwold (Broncos):
Reiss:
Jeff, let's get right to the news before we dive into the X's and O's. I expect Welker to receive rousing cheers from the fans here because he was a beloved player from 2007 to 2012. Most Patriots fans, as I sense it, didn't want to see him go and hold the team more responsible for the departure. Any chance Welker's "homecoming" actually doesn't happen because of the concussion he sustained?
Legwold:
Mike, because Welker was removed from Sunday night's game with a concussion, he is subject to the league protocol. That means he won't be allowed to practice fully until Friday at the earliest and then only if he has passed a baseline test early in the week. The Broncos have said they expect him to be OK and he will obviously want to play, but Friday would be the first real litmus test of their plans with him. Welker has dealt with some ankle issues this season as well, but he has had every bit the impact in the offense the Broncos had hoped to have when they signed him. He has lined up much of the time in the slot, but offensive coordinator Adam Gase has also put him out wide and he scored a touchdown earlier this season on a route that began with Welker in the backfield. Manning knows why Brady liked throwing Welker the ball so much.
That said, people here asked Welker plenty about his departure and while he's said all the right things, what were Brady's thoughts on the matter?
Reiss:
No question that he was personally disappointed. Welker remains one of his closest friends. I think Brady even said it at one point, you go through an initial period of dealing with the emotions and then you move forward and focus on the task at hand. That's part of what makes Brady the great competitor that he is, the ability to compartmentalize things and have that laser-like singular focus. There were quite a few growing pains for the passing offense through the first eight games, but it has looked better the past two contests. It's no coincidence that the results have improved as tight end
Rob Gronkowski
has rounded into form, receiver
Danny Amendola
seems to be taking steps forward and running back
Shane Vereen
has been activated from the injured reserve list.
The Patriots are going to need to put up some points to help a depleted defense. So what type of defense can they expect to see from the Broncos?
Legwold:
Jack Del Rio is the Broncos' interim head coach these days after John Fox's open-heart surgery earlier this month, but Del Rio is still calling the defense on game day as well. The players like and respect Del Rio and have responded to him since his arrival before the 2012 season. Del Rio uses everybody in uniform on game day -- he's used nine different defensive backs in varying roles in the defense in some games, for example -- and overall he's aggressive. He likes to change things up in the pass rush and match up on the outside with plenty of man coverages. It is no accident the past three games have been the best for the Broncos' defense after a rough start to the season in pass defense, particularly with so many teams trying to play catch-up against the Broncos. But the past three games are also the first
Wesley Woodyard
and
Von Miller
have played at the same time. Miller missed six games with a drug policy suspension and Woodyard then missed two games with a neck injury he suffered against Dallas. With them both in there, Del Rio can do more things. The Broncos know they have to get some pressure in the middle of the field against Brady and get the receivers out of their routes if they can.
Defensively, how concerned are the Patriots about the health of their own secondary at the moment?
Reiss:
Very concerned, and it's why I thought they might have made a more aggressive push for free-agent safety
Ed Reed
when he became available last week. Especially in a game like this, it's not a good time to be short in the secondary, and it's a banged-up group for the Patriots. All three of their top cornerbacks --
Aqib Talib
(groin),
Alfonzo Dennard
(knee) and
Kyle Arrington
(groin) -- are dealing with ailments that will affect their availability and/or effectiveness in some form. Starting safety
Steve Gregory
(broken thumb) missed Monday's loss but returned to practice Wednesday and that probably means he will play. So that helps them a bit. Still, this has the potential to be a bad matchup for the Patriots this week based on the health snapshot.
If they could order up some bone-chilling temperatures for a Sunday prime-time game in late November, maybe it helps a bit. But is there any reason to think, based on what you've seen, that would even slow down Manning at this point?
Legwold:
Folks both near and far have talked about Manning's wobbly passes all season. His ankle and whether or not he wears a glove on his throwing hand are always cause for a this-just-in bulletin. In the end, bad ankle and all, he leads the league in completions (286), yards passing (3,572) and passing touchdowns (34). Those 34 touchdowns still top the number of touchdowns scored by any other team in the league -- New Orleans, Seattle and Cincinnati have 33 touchdowns overall. After four neck surgeries he's a pitcher now, working the corners. He throws the fastball when he needs it and while it may not always be as pretty as people would like, he gets the ball where it needs to be. How he plays in the cold is still a bit of a question mark given his performance on a historically cold day here in the playoff loss, but this Broncos offense has a lot of ways to come at a defense and the only real way to slow Manning down is to get consistent pressure in the middle of the field so he can't work his progressions in the comfort of the pocket.
This is the 17th time, including three playoff games, Bill Belichick has faced Manning since Belichick accepted the New England job. That's a lot of road traveled. How do you think he wants to defend this offense as compared to how he's attacked Manning in the past?
Reiss:
Personnelwise, we can expect the Patriots to be in their sub packages (either nickel or dime) for the majority of the game. That's a contrast from what we saw Monday night when the Patriots mostly played their base defense against the power-running Panthers. In this game, when factoring in the Broncos' three-receiver offense and the view that tight end
Julius Thomas
is probably going to be seen more as a receiver, I'd project them to go much lighter in the box and almost dare the Broncos to run against them. Of course, the other factor with Manning is maintaining discipline pre-snap and not tipping intentions, which is what opponents often say about facing Brady. If Manning has the answers to the test before the snap, it's going to be tough to win. He's just too smart. So those are some general thoughts on a defensive approach as I think the Patriots will have to get creative to cover up for some of their personnel issues, and take some chances on third down.
The Patriots really struggled on third down against the Panthers, who were 8-of-11. Offensively in that game, the Patriots didn't cash in enough in the red zone. Those are two big areas of focus for them. What are the top areas the Broncos are talking about for improvement?
Legwold:
Offensively, they've surrendered just 13 sacks -- Detroit's
Matthew Stafford
is the only quarterback to have started every game who has been sacked less than Manning -- but the Broncos want to limit the hits. Manning was not sacked or barely touched for that matter by the Chiefs this past Sunday, but the Broncos need that to continue to keep Manning's ankle from getting any worse. They also, even as they line up in their beloved three-wide receiver set (75 snaps against the Chiefs including penalty plays), have to find a way to run with some more efficiency to keep the play-action game at least on the minds of the defenders. To that end the Broncos had a season-high 21 running plays out of the shotgun against Kansas City. Defensively they do plenty of good work only to watch it unravel in one big play. Last season they surrendered 38 pass plays of at least 20 yards in the entire regular season. This season that total is already 46. They've been better over the past month -- they haven't given up a pass play of at least 31 yards in the past four games -- but the trend has to continue.
In terms of big-play threats, where is Gronkowski in his return in terms of his health and performance right now?
Reiss:
I'd say somewhere between a Half-Gronk and the Full-Gronk, so maybe about 80 percent. He's getting closer to a full workload after playing 51 of 79 snaps in his debut versus the Jets, followed by 33 of 65 against Miami, 48 of 75 against Pittsburgh and 63 of 72 on Monday night against the Panthers (snaps included penalties). Since Gronkowski didn't have a preseason, we've reached the point now where he's had what is essentially a preseason within the regular season. The past two games, in particular, things have seemed to click.
One of the fun parts about these "Double Coverage" assignments is to learn something about the opposing team that maybe slips beneath the everyday radar. Do you have a player or X factor that might be easy to overlook?
Legwold:
Easy for the Broncos because he's often camouflaged by his more famous teammates, but the fact Woodyard has never been voted to the Pro Bowl says a lot of his peers just aren't doing their homework when they fill out the ballots. Last season Woodyard was the first player since
Brian Urlacher
in 2007 to finish a season with at least 100 tackles, five sacks and three interceptions. And he wasn't even voted as a Pro Bowl alternate despite being just the 12th player to put together that stat line since the sack because an official statistic in 1982. Woodyard is an every-down player in an age of specialists, a leader with top-end work ethic and elite speed to the ball. Mike Shanahan, who kept Woodyard as an undrafted rookie in '08 -- Shanahan's last year in Denver -- called him "everything you want in a football player." The teams that don't pay attention to him have a long day on offense.
From your end -- and I know everyone is going to talk about the quarterbacks -- but is there a player, or players, who can make a difference in this one other than Brady?
Reiss:
I'll go with the returners on special teams --
Julian Edelman
(punt) and
Josh Boyce
(kickoff). This is one of those games where the Patriots are going to need all the points they can get to keep up with Manning and the NFL's top-scoring team, and maybe special teams can chip in. The inclusion of the speedy Boyce as the primary kickoff returner caught my eye Monday night, even though he didn't have any opportunities. The ball likely won't be carrying as far on Sunday night in Foxborough, Mass., so Boyce should have a greater chance to make an impact. Edelman is excellent in his role as a punt returner. For the Patriots to win, they will need to play a good complementary game and special teams are a big part of that.
August, 31, 2013
8/31/13
12:45
PM ET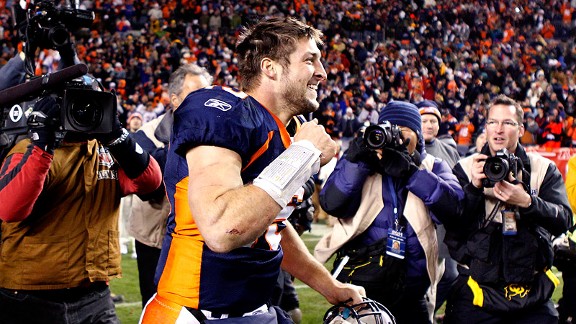 Ron Chenoy/US PresswireTim Tebow was all smiles after Denver's overtime victory against the Steelers in 2012.
In the end he'll always have Pittsburgh.
For yes, the zenith of
Tim Tebow
's ride in Denver, really his ride in the NFL to this point, came Jan. 8, 2012, when a player who didn't complete 50 percent of his passes in an offense that unveiled the NFL's first full-time read-option look during a wild, made-for-TV season had what was -- and what now might forever be -- the game of his professional football life.
Tebow went 10-of-21 passing against the Steelers' No. 1 defense that day for a staggering 316 yards -- 31.6 yards per completion -- and two touchdowns, the second of which came on an 80-yard catch-and-run by
Demaryius Thomas
to finish off the 29-23 Broncos win just 11 seconds into overtime. That's the play, the game, that Tebow's most zealous supporters will always point to as a measure of his NFL worthiness.
About what he can do if given a chance; if nurtured, coached and simply let be to do what he does.
Six days later, however, Tebow was tied in football knots by largely the same Patriots coaching staff that released him Saturday. Tebow went 9-of-26 passing for 136 yards in that AFC divisional-round game, was sacked five times, suffered a rib injury and looked lost, out of place in such a marquee affair. It also started the clock in earnest for the end of Tebow Time in Denver.
A couple days after the loss to the Patriots, the Broncos' chief football decision-maker, John Elway, said this about Tebow's future:
"At the same age, I had a long way to go, too. But I probably, at times, moved too much, relied too much on moving around. Hopefully I can relay that [to Tebow], because my progression as a quarterback was that I finally realized later in my career that I wished I'd learned [earlier] the fact that you do have to win from the pocket."
And there it is, the bottom line. It's why the Broncos chased
Peyton Manning
, why they traded Tebow, why they moved on when they had the chance. They simply decided a running quarterback is fine, but he has to throw better, be more accurate to win trophies in the Sunday league.
There are many inside the Broncos' Dove Valley complex who have said all through the preseason that it would be telling about Tebow's future, and his current spot on the developmental curve, if the Patriots released him. Because whenever criticisms of Tebow came, many folks in the public domain would say something on the order of "Well, if Bill Belichick had him ... "
And the Patriots also have Josh McDaniels as their offensive coordinator. And McDaniels is, in many ways, the first to believe in Tebow as an NFL quarterback. As in believe it enough to, as the Broncos' head coach, the guy with the final say on personnel did in 2010, select Tebow with the 25th pick of that April's draft. McDaniels, by all accounts, was simply floored by Tebow's interview with the team at that year's scouting combine, intrigued by the highest of personal character in an imposing football body. McDaniels wanted Tebow enough to have traded three picks to the Ravens to take him in that 25th spot.
But even McDaniels -- after getting a day-to-day look at Tebow in practice in the weeks and months that followed, even as Spygate unfolded in that 2010 season and the losses mounted -- didn't play Tebow as a rookie. No, it's often forgotten now in all of the water that's passed under the bridge that Tebow didn't see the field in the Mile High City until after McDaniels had been fired and the franchise, for the first time in its history, faced the very real prospect of sections of empty seats and an apathetic fan base.
They benched
Kyle Orton
in 2011 after a training camp and September worthy of any three-ring circus. They put Tebow in the lineup, eventually chucking their playbook and making a new one simply to play in the short term. And, looking back, many with the Broncos privately say all of the seemingly endless talk about Tebow's throwing motion, footwork and throwing mechanics overshadows the fact that he really needs to learn defenses, understand where the ball needs to go in the situations that present themselves in the passing game.
That his confidence on the field, which he always says is unshakable, seems to be waning; that a 1-of-7 for minus-1 yard and an interception is not the passing line any fourth-year quarterback can have in any game preseason or not. That even in a league with some of youngest, brightest starters being of the mobile quarterback variety, throwing the ball on time with accuracy will always be the top priority for those behind center.
And that a player, even one who was for his time in Denver a global cultural phenomenon, who didn't audible much, if ever, as a quarterback may simply have to rethink how he plays the game.