May, 20, 2014
May 20
12:00
PM ET
If
Tajh Boyd
is on the field this season, it's a bad sign for the
New York Jets
.
Nothing against Boyd, a record-setting college quarterback who seems like a terrific young man, but he's starting out as No. 4 on the depth chart. He will compete with
Matt Simms
for No. 3, meaning the ideal scenario for Boyd is a season of clipboard-holding duty. And yet there's something intriguing about the former Clemson star. It's probably because he's a quarterback, and we tend to obsess over quarterbacks. But there's more to it than that. Here's a player who, going into his senior year, was regarded as a potential high draft pick. He tumbled all the way to the sixth round, the kind of fall that always prompts two contrasting questions:
[+] Enlarge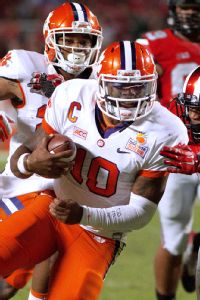 Joshua S. Kelly/USA TODAY SportsCurrently the No. 4 quarterback on the roster, Tajh Boyd has a long road ahead of him if he wants to be the starter for the Jets.
What's wrong with him?
Did the team get a steal?
Boyd said he was sitting in the Jets' cafeteria the other day when a couple of his new teammates asked if he regretted returning to school for his senior year. Tough crowd, huh?
"I don't regret the decision at all," Boyd told reporters at last weekend's rookie camp. "I wanted to finish."
He wanted to win the national championship and the Heisman Trophy, neither of which happened. His motivation was admirable, but the extra year allowed pro teams to dissect the perceived flaws in his game. Among the criticisms:
1. Disappointing senior year
: Boyd is puzzled by this school of thought. "My stats were actually better this year than my junior year," he said. He's right. He improved his accuracy (67.2 percent to 68.5) and cut down on his interceptions (13 to 11).
2. Mechanics need work
. Boyd has a funky delivery, sometime throwing sidearm or three-quarters. He sometimes did it out of necessity, but quarterbacks coach David Lee -- a stickler on fundamentals -- is working with Boyd to get him to throw over the top.
3. Height:
Officially, he's a shade under 6-foot-1. No amount of coaching can change that.
4. Benefited from an outstanding supporting cast
: No doubt, Boyd was surrounded by a lot of talent at Clemson, but he doesn't believe that should count against him. "In my eyes, everybody has to have somebody to throw to," he said. "My guy just happened to be
Sammy Watkins
" -- the top receiver in the draft.
Boyd has a lot of work ahead of him, trying to learn the nuances of a pro-style offense. Much like
Geno Smith
last year, he has to get comfortable under center, a big transition after playing almost exclusively in shotgun. Boyd said he's surprised that Smith, Simms and
Michael Vick
have been so helpful. His figured the NFL is such a cut-throat business that he wouldn't get much positive input from players at his own position.
"It has a certain perception, aura of what you think is going to happen," Boyd said. "When I got here, it was totally different, like those guys were pretty excited that I was in the room."
The Jets will be excited if Boyd develops into an NFL-caliber quarterback, but the odds are against him.
Tom Brady
came out of the sixth round in 2000, but he's a once-in-a-generation player. Over the last 20 years, the Jets have drafted five quarterbacks in the fourth round or later, none of whom did much in the league --
Greg McElroy
(seventh round, 2011),
Erik Ainge
(fifth, 2008),
Brooks Bollinger
(sixth, 2003),
Chuck Clements
(sixth, 1997) and
Glenn Foley
(seventh, 1994).
Their last late-round quarterback pick to make an impact was
Jeff Blake
(sixth, 1992) -- and that happened with the
Cincinnati Bengals
.
February, 26, 2014
Feb 26
8:00
AM ET
When it comes to drafting quarterbacks, the
New York Jets
take more shots than most. In fact, only one team has drafted more quarterbacks over the last 10 years than the Jets -- the
Denver Broncos
.
ESPN.com colleague Paul Kuharsky, our
Tennessee Titans
team reporter, did the research and came up with this nugget on the number of
quarterback selections since 2004
:
Denver Broncos: 7
New York Jets: 6
Philadelphia Eagles
: 5
Green Bay Packers
: 5
Cleveland Browns
: 5
Baltimore Ravens
: 5
San Francisco 49ers
: 5
Washington Redskins
: 5
During his run as general manager, 2006 to 2012, Mike Tannenbaum subscribed to the Ron Wolf theory on quarterbacks: It never hurts to draft one every year because of the value in the position. There's also the need factor. You could argue the Jets haven't had a true franchise quarterback since Joe Namath. Tannenbaum selected five quarterbacks, and his successor, John Idzik, took one in his first draft. It wouldn't be a surprise if they add another in May. A look at the six:
Geno Smith, 2013, second round
: He went 8-8 in an up-and-down rookie year. He hasn't been anointed yet, but he's the likely opening-day starter.
Greg McElroy, 2011, seventh round
: He started only one game for the Jets (it was ugly) and was released last preseason. He's on the
Cincinnati Bengals
' roster after spending last season on their practice squad.
Mark Sanchez, 2009, first round:
He was the Sanchize for two seasons, but it fell apart and now he's a likely salary-cap casualty. His career record is 33-29, plus four playoff wins.
Erik Ainge, 2008, fifth round
: He never played a down for the Jets. His career was derailed by substance-abuse problems and he's out of the league.
Kellen Clemens, 2006, second round
: He was drafted as
Chad Pennington
's heir apparent, but he played poorly in 2007 and never regained the confidence of the organization. He will be a free agent after spending the last three years as a backup for the
St. Louis Rams
.
Brad Smith, 2006, fourth round
: The Jets converted him to wide receiver, used him in the Wildcat and made him a kickoff returner. His quarterback days are over, but he's still hanging around, playing for the Philadelphia Eagles.