AFC East:

Indianapolis Colts
January, 12, 2014
Jan 12
8:00
AM ET
By
ESPN.com staff
| ESPN.com
January, 11, 2014
Jan 11
6:30
PM ET
By
ESPN.com staff
| ESPN.com
Join our ESPN.com NFL experts for playoff football between the Indianapolis Colts and the New England Patriots.
Contribute your thoughts and questions beginning at 8:15 p.m. ET. See you there.
January, 10, 2014
Jan 10
10:00
AM ET
Some might say this is just like old times.
The
Indianapolis Colts
visit the
New England Patriots
in a highly anticipated playoff game. We've seen this script before, and it was often extremely entertaining, not to mention history-making.
But in a way, this is also much different.
The marquee players have mostly changed. Furthermore, because the Colts are in the second year of a new front-office and coaching regime, there's a new face on what was once arguably one of the NFL's greatest rivalries. Maybe a game like Saturday's sparks it up again.
We can hardly wait, and here to break it down for us are ESPN.com NFL Nation reporters Mike Reiss (Patriots) and Mike Wells (Colts):
Reiss:
Mike, it used to be the
Tom Brady
versus
Peyton Manning
storyline. Now it's Brady against
Andrew Luck
. From having watched Luck throughout the season, what have you noticed about him that reflects his growth as the Colts' franchise player in his second season?
Wells:
His maturity and will to win. Both of those elements were on display last weekend when Luck led the Colts to an improbable 45-44 come-from-behind victory over Kansas City after being down by 28 points in the third quarter. It looked like the Colts were going to have a difficult time winning the AFC South after receiver
Reggie Wayne
was lost for the season with a torn ACL, but Luck continued to work with his young receivers to develop continuity with them. Luck didn't pass for as many yards this season as he did during his rookie season, but he improved his completion percentage and also cut his interceptions in half from 18 to nine. Reducing his turnovers was huge for Luck. He went from trying to force the issue with his arm to tucking the ball and running or just taking the sack.
I've said all season that there's no better quarterback in the NFL than Brady when it comes to getting the most out of his receivers. Some Colts fans don't agree with me. You're around Brady on a regular basis. Why is he able to be successful with a group of relatively unknown receivers?
Reiss:
Where to begin? Brady is exceptionally smart, with the recall of a golfer who might go through each shot of his round with vivid detail. Former offensive coordinator Bill O'Brien once
nicknamed Brady's brain "IBM"
because it is computer-like, and when you consider that Brady has essentially been in the same offensive system for 14 years, that's a major advantage. Brady also takes great care of himself physically, having just played every snap of a regular season for the first time of his 14-year career. I think it starts there, and it trickles down to his competitive drive and the feeling that he has an ownership stake in this team. He's been having weekly film sessions with the young receivers on Tuesdays this year, as he's almost morphed into another coach who demands excellence. He previously acknowledged that he had to learn to have more patience because of the unique situation and he's been rewarded for it. It's been impressive to watch.
We covered the quarterbacks, but let's not stop there. Tell us more about the Colts' defense and what linebacker
Robert Mathis
has done to put himself in the discussion for NFL Defensive Player of the Year.
Wells:
Mathis hasn't hidden the fact that he came into this season with a glacier-sized chip on his shoulder. He wanted to prove to people that he didn't need
Dwight Freeney
starting opposite of him to be effective. Mathis backed it up by leading the league in sacks with 19.5. He became the 30th player in league history to record at least 100 sacks in a career earlier this season. He also set the Colts' single-season and career sack records. I think Mathis is the frontrunner for Defensive Player of the Year. Mathis has a knack for pulling off one of his customary strip-sacks at the right time. He did it against Manning and the
Denver Broncos
in Week 7 and he did it again against Kansas City last weekend. Chiefs quarterback
Alex Smith
was having his way against the Colts when Mathis forced the turnover. The Colts scored five plays later.
Speaking of defense, how much will the loss of linebacker
Brandon Spikes
impact New England?
Reiss:
I thought Patriots linebacker
Dont'a Hightower
summed it up nicely when asked what the Patriots would miss without Spikes. He said, "Intimidation. Fire. He brings that spark to the defense that a lot of people don't." Spikes was most effective playing downhill in the running game, which was especially important for the team after losing powerful defensive tackles
Vince Wilfork
(Sept. 29) and
Tommy Kelly
(Oct. 6) to season-ending injuries. At times, the Patriots just sent Spikes straight into the heart of the opposing offensive line to account for those injuries. So they'll have to piece things together, with top draft pick
Jamie Collins
(52nd overall) and four-year veteran
Dane Fletcher
the two linebackers who figure to see a spike in playing time. Spikes wasn't a big factor in sub packages as pass coverage isn't his forte, so he probably wasn't going to have a very high snap count in this game anyway. He played 59 percent of the defensive snaps on the season.
We heard Bill Belichick say that if ever there was a Hall of Fame kicker, it was
Adam Vinatieri
. He just turned 41, is the oldest player in the NFL, and is scheduled to be an unrestricted free agent in the offseason. What are your thoughts on his future with the Colts?
Wells:
This is going to be a tough decision for the Colts in the offseason. Vinatieri was 35-of-40 on field goals, including four from at least 50 yards, and a perfect 34-of-34 on extra points in the regular season. But he'll be 42 years by the end of next season. Age and the fact that Vinatieri just handles field goals and extra points are two major things that the Colts will take into consideration this winter. Punter
Pat McAfee
, who also handles kickoff duties, will be a free agent, too. The Colts have to decide what direction they want to go in the kicking department. If I were a betting man, which I'm not outside of penny slot machines, I'd say Vinatieri will not be back next season. He may end up being a Hall of Famer like Belichick said when he finally decides to hang up his cleats.
The Patriots were a perfect 8-0 at Gillette Stadium during the regular season. Half of those wins were by three points or less, though. Is Gillette Stadium really a home-field advantage for New England?
Reiss:
I don't think this is a home-field advantage like I've seen for other teams, such as Seattle with the "12th Man." That, to me, is at the top of the list based on tough places to play because of the crowd and other factors. In this case, I think what makes the Patriots tough at home is that they are a good team that plays smart, and almost annually develops the type of mental toughness that is necessary to have when playing in the Northeast at this time of year. The Patriots' home record (regular season and playoffs) since 2002 is 91-18, easily the best mark in the NFL over that span. I see where the Colts are 79-27 at home in that same period, third in the NFL. The Patriots have had some close calls at home this year and no one should be surprised if this game also comes down to the wire.
September, 15, 2013
9/15/13
9:30
PM ET
INDIANAPOLIS –
Indianapolis Colts
cornerback
Greg Toler
sat in the chair at his locker, still not showered long after their
24-20 loss
to the
Miami Dolphins
on Sunday.
"Man, I should have played better," Toler said.
Toler was talking in general terms at that time, but the play that really ate at him was the one that led to Miami's game-winning touchdown.
[+] Enlarge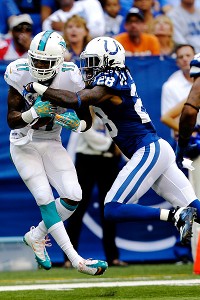 AP Photo/Michael ConroyGreg Toler (right) and the Colts struggled to contain Mike Wallace.
Knowing that Toler jumped the previous route when quarterback
Ryan Tannehill
looked his way, Dolphins receiver
Mike Wallace
gave Toler a fake and took off down field. Toler fell for it and tried to grab Wallace as he ran by him. That didn't work, either, and Wallace ended up with a 34-yard reception down to the Colts' 1-yard line. Miami declined the holding penalty, as expected, and scored on the next play.
"The deep pass I gave up, my eyes, like, played tricks on me," Toler said. "They set me up for it. They saw that I was playing aggressive. I overplayed it. You just have to go back to the film room and study that."
Wallace had a big day against Toler and the rest of the Colts' secondary a week after drawing unwanted attention in Miami following his one-catch performance against Cleveland. On Sunday, Miami's $60 million receiver had nine catches for 115 yards, and the Dolphins took advantage of big plays to beat the Colts.
"We were getting hands on him, but they were doing a good job of hiding him behind stacks so you couldn't get a good press on him," Toler said. "That's when he does his most damage."
The Colts didn't help themselves on defense in the first half either. Tannehill connected with tight end
Charles Clay
for a 67-yard catch when Clay beat linebacker
Pat Angerer
and safety
Antoine Bethea
went for the interception. The Dolphins needed only three plays to go 80 yards and take a 14-3 lead.
"They capitalized on a couple of mistakes, especially early," Angerer said. "That long pass was my fault, and you know, they played good when they needed to."
The Colts sacked Tannehill five times – two each by
Robert Mathis
and
Jerrell Freeman
– but the Miami quarterback still threw for 319 yards and made the Colts pay for their miscues.
"Defense, we came out a little sluggish in the first half and kind of put it behind the eight ball, so it's a collective effort," Bethea said. "Our job is to not let them in the end zone."
September, 15, 2013
9/15/13
9:55
AM ET
By
ESPN.com staff
| ESPN.com
Join our ESPN.com NFL experts as they break down the Miami Dolphins' visit to the Indianapolis Colts. Contribute your thoughts and questions beginning at 1:00 p.m. ET. See you there.
September, 12, 2013
9/12/13
12:01
PM ET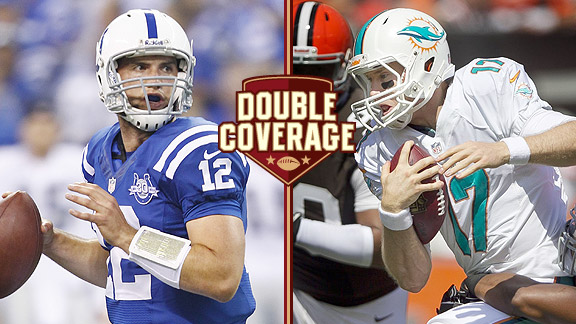 Getty ImagesSecond-year quarterbacks Andrew Luck and Ryan Tannehill face off in Indianapolis on Sunday.
The
Miami Dolphins
and
Indianapolis Colts
are two undefeated teams trying to establish themselves in the AFC. Both have young quarterbacks with promise and solid second-year head coaches.
Indianapolis beat Miami last year, 23-20, in an exciting matchup in which quarterbacks
Andrew Luck
and
Ryan Tannehill
both played well.
But who will win this season's matchup? ESPN.com Colts reporter Mike Wells and ESPN.com Dolphins reporter James Walker weigh in.
Wells:
Sunday will come down to which quarterback from the Class of 2012 -- Luck or Tannehill -- can limit his mistakes. And I'm sure we'll talk about them before we end this conversation, but before that, James, we have to address the
Mike Wallace
situation. It seems like Wallace was being selfish by making Sunday's win over Cleveland all about him because he only had one catch. For a Dolphins team that's had only one winning season since 2006, Sunday should have been about getting a nice road victory to open the season. Not about Wallace. I know Wallace cleared up his comments Monday, but it shouldn't have gotten to that point. Is that a sign of things to come out of Wallace, the $60-million man?
Walker:
The situation was not ideal, but I thought the Dolphins did a masterful job putting the Wallace issue to bed during the week. Miami's coaches supported Wallace's competitiveness and desire to make an impact. Wallace also clarified that he was more upset at himself, and I expect he will be extra motivated to have a big game. Speed kills in domes, and I don't think there will be a faster player in Sunday's game than Wallace. Look for Miami to find more creative ways to get him the football in the event the Colts consistently double Wallace, which was Cleveland's strategy. Speaking of strategy, I was surprised to see how much Indianapolis struggled last week with the
Oakland Raiders
. The Colts trailed Oakland at home with less than 6 minutes left in the game. Was this first-game jitters and what needs to be fixed?
Wells:
You weren't the only one surprised. I think most people were, especially when you look back at the Colts' first two offensive series. They scored with ease and all indications pointed to Luck having a special day after he started 11-of-11 with two touchdowns. But you have to give credit to Oakland quarterback
Terrelle Pryor
. He did an excellent job creating with his feet. He kept the Colts off balance and his team in the game until Luck became the hero. Tannehill is a more traditional quarterback. Luck,
Robert Griffin
III and
Russell Wilson
are the quarterbacks everybody talks about from 2012 -- and they should be talked about after they led their teams to the playoffs -- but do you get a sense down there in South Florida that Tannehill has the tools and work ethic to close gap on the three QBs I just mentioned?
Walker:
I really like Tannehill's tools, Mike. He can make all the throws, has good mobility and feet as a former college wide receiver, and he doesn't get rattled often. Those are all qualities you want in a quarterback. He looks the part, but I still need to see him win consistently. What was interesting about last week's win over Cleveland is Tannehill took over the game in the third and fourth quarters. Last year Tannehill played not to lose games. Last week Tannehill went out and won the game. That's probably the biggest thing that separates Tannehill from Luck and other members you mentioned from the 2012 quarterback draft class. Tannehill can certainly learn from Luck and his fourth-quarter comebacks. Mike, where is Luck in his development in Year 2?
Wells:
Everybody talks about sophomore slumps with players. You should go ahead and look elsewhere because that won't be the case with Luck. He refuses to settle. The only thing he wants to talk about is getting better. That's what you like to hear from your franchise player. Luck likely won't pass for as many as yards this season because the Colts are putting an emphasis on the running game with
Vick Ballard
and
Ahmad Bradshaw
. Those two players should take a significant load off Luck's shoulders. But it won't be easy for Luck this weekend. Miami's defense looked pretty good last week against the Browns. Six sacks and three interceptions. What makes the defense so dangerous?
Walker:
The Dolphins focused in the offseason and training camp on forcing turnovers and pressuring the quarterback. The work clearly paid off with the stats you mentioned. But perhaps the most impressive stat is Miami hit Browns quarterback
Brandon Weeden
16 times, which included the six sacks. The Dolphins' front seven is both fast and physical. They have a deep rotation on the defensive line. For example, No. 3 overall pick
Dion Jordan
is a backup who only gets limited snaps. Dolphins defensive coordinator Kevin Coyle has done a good job and really likes the group he has. I think the best way for Miami to beat the Colts is the rattle Luck, force turnovers and try to make it a low-scoring game.