July, 22, 2014
Jul 22
4:15
PM ET
You know the drill. The
New York Jets
' training camp opens Wednesday, which means there are questions. We've got answers.
1. When will Rex Ryan name his starting quarterback?
Smith
Technically, we've been waiting 11 months, but that is an old story and this is no time to look back. The conventional approach is to name the starter after the third preseason game (Aug. 22 against the
New York Giants
), but it wouldn't be a surprise if Ryan moves up the timetable. It all depends on
Geno Smith
, the front-runner. If he plays lights-out in the first two games and gets the nod over
Michael Vick
versus the Giants, it will be a
fait accompli
. Memo to Ryan: The health of your quarterback is more important than the Snoopy Trophy.
2. Are there any injured players that bear watching as camp opens?
Yes, three in particular: Running back
Chris Johnson
(knee), right guard
Willie Colon
(knee/biceps) and linebacker
Antwan Barnes
(knee). Obviously, Johnson's health is a big key to the Jets' season, so you can count on his surgically repaired knee being a topic of conversation throughout camp. The plan is to put him on a modified practice schedule, building toward the Sept. 7 opener. It will be interesting to see how they use him in the exhibitions. Johnson likes his touches; he's had anywhere from 19 to 33 carries in the preseason over the course of his career. It wouldn't be a shock if Colon and/or Barnes begin camp on the physically-unable-to-perform list as they work their way back into shape. It will be a breath of fresh air, not having to chronicle the "will-he-or-won't-he?" whims of
Santonio Holmes
and his damaged wheel.
3. Is there strength in numbers at wide receiver?
Decker
The Jets have seven receivers with NFL experience, including marquee newcomer
Eric Decker
, plus three draft picks. Not one of them, however, is a true game-changer. You can still win with solid, dependable receivers (look at the
Seattle Seahawks
), and the Jets have three in Decker,
Jeremy Kerley
and
David Nelson
. You will read a lot this summer about
Stephen Hill
, who almost certainly will make the all-Cortland team, as usual. The question, as usual, is whether he can sustain it for the regular season. If you are looking for a dark horse, keep an eye on veteran
Greg Salas
, who impressed the coaches in minicamp.
4. Which returning starters are in danger of losing their jobs?
Not counting Smith, who will be "pushed" by Vick (that is the oft-used company line), the players facing the most competition are Colon, tight end
Jeff Cumberland
and safety
Dawan Landry
. In each case, there is a young player in the picture battling for playing time. Chances are, the tight-end situation will be a time-share between Cumberland and second-round pick
Jace Amaro
, whose role will hinge on how quickly he can absorb the offense. Based on minicamp, it will take some time.
5. Is there anything to worry about on defense?
The secondary is the No. 1 concern. This probably will be the youngest defensive backfield of the Ryan era, with a second-year cornerback (
Dee Milliner
), a rookie safety (
Calvin Pryor
), a third-year safety (
Antonio Allen
) and a rookie cornerback (
Dexter McDougle
) projected to play prominent roles. Can you say "growing pains"? If veteran corner
Dimitri Patterson
gets hurt, which he tends to do, it will put a strain on this rebuilding unit.
6. What's the deal with all the playoff chatter? Is the optimism justified?
Sure, why not? 'Tis the season for happy talk. The Jets finished 8-8, added some talent and lost only two players that played more than 500 snaps last season -- right tackle
Austin Howard
and cornerback
Antonio Cromartie
, who stunk. Expressing confidence is fine as long as it doesn't cloud their minds with unrealistic expectations.
June, 19, 2014
Jun 19
3:25
PM ET
FLORHAM PARK, N.J. -- The
New York Jets
wrapped up minicamp -- and the offseason -- with a 90-minute practice Thursday in a light rain. A few takeaways:
Smith
1. Quarterback hiccups:
One day after his coaches lavished praise upon him for a terrific offseason,
Geno Smith
ended on a down note, throwing two interceptions in team drills. One was an ill-advised throw, a pass into double coverage. He was looking for
Eric Decker
, who was covered by CB
Dee Milliner
, and it was picked off by rookie S
Calvin Pryor
. Later, Smith (2-for-6 in team drills) was intercepted by Milliner on a deep ball that went off the hands of Decker. It's important to keep this in perspective. Two turnovers on the final day of minicamp doesn't change anything. As Marty Mornhinweg indicated Wednesday, it's Smith's job to lose.
Michael Vick
was 2-for-7, with a couple of overthrows.
2. Young ball hawks
: Turnovers are always a good news-bad news story in practice. The good news is that the secondary, which produced very few big plays last season, came up big. In addition to Pryor and Milliner, rookie CB
Dexter McDougle
made a big play, intercepting Vick in a 7-on-7 drill. (Vick seemed upset; there might have been a miscommunication with WR
Jeremy Kerley
). Afterward, Rex Ryan praised McDougle as one of the standouts in minicamp. This will be the youngest secondary of the Ryan era. The upside is the improved team speed on the back end; the downside is the lack of experience, which will inevitably lead to mental errors.
3. Another Hill to climb:
WR
Stephen Hill
, who could be fighting for his roster spot, finished with a terrific practice. This was a positive offseason for Hill, who needed a jolt after a second straight disappointing season. He worked with the starting base offense, with
David Nelson
replacing him in some three-receiver packages. Nelson, too, looked sharp, hauling in two completions from Smith. Unlike past years, the Jets actually have some depth at receiver. It'll be interesting to see which players separate from the pack in training camp.
4. Dawan is da man:
Veteran S
Dawan Landry
became the forgotten man in recent weeks, especially with Pryor and
Antonio Allen
working exclusively with the first team. After practice, Ryan tossed a bouquet to Landry, mentioning him as one of the standouts in minicamp. Ryan also revealed that Landry won an "Iron Jet" award for his exploits in the conditioning program, noting that he reported to the offseason program in superior condition. Funny how that works; they draft a safety in the first round and the aging incumbent shows up looking better than ever.
5. Attendance report
: LB
David Harris
(hamstring tightness) and TE
Jeff Cumberland
(undisclosed) sat out. As expected, RB
Chris Ivory
(ankle) didn't participate. With
Chris Johnson
(knee) also out,
Bilal Powell
and
Alex Green
had busy days.
6. Have a nice summer:
The offseason program is over. The team won't be together again until training camp. Reporting day is July 23 in Cortland, New York.
June, 16, 2014
Jun 16
10:45
AM ET
Interesting battle brewing for the No. 2 job at wide receiver -- aka The Guy Opposite
Eric Decker
. Will it be
Stephen Hill
?
David Nelson
? One of the rookies? It certainly will be one of the things to watch this week during the
New York Jets
' three-day mandatory minicamp, which opens Tuesday.
[+] Enlarge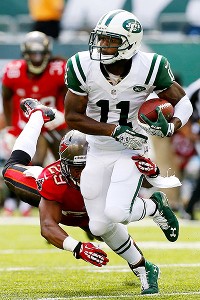 Jim McIsaac/Getty ImagesJeremy Kerley did much of his damage last season from out of the slot.
Based on experience and production, the job should go to
Jeremy Kerley
, who led the New York Jets last season with 43 receptions. But here's the thing: Kerley is more efficient in the slot. Like a lot of 5-foot-9 receivers, his efficiency declines when he lines up on the perimeter.
In 2013, 29 of his 43 receptions came from the slot, according to ESPN Stats & Information. Let's take it a step further: Kerley was targeted 47 times in the slot, giving him an impressive catch rate of 62 percent. All told, he ran 206 routes from the slot.
When lined up wide left or wide right, Kerley ran only 60 pass routes and was targeted just 21 times. The significance? Offensive coordinator Marty Mornhinweg played to Kerley's strength, finding ways to get him the ball in the slot even though he was often considered the No. 1 or No. 2 receiver on the field because of injuries to
Santonio Holmes
, etc. Look for more of the same in 2014.
Now, in the interest of fairness, we have to point out that Kerley did well with his limited opportunities on the outside. In fact, he caught 14 passes on those 21 targets (67 percent), although many of those were short, high-percentage throws. He made seven catches on seven targets on throws to the right, but the average throw was only 4 yards.
We just threw a bunch of numbers at you, and we all know numbers don't always tell the entire story. Here's the bottom line: The Jets can use Kerley and Decker in two-receiver sets while putting Kerley in places where he's most effective -- i.e., the slot. Mornhinweg has a myriad of ways to attack, especially with the addition of rookie
Jace Amaro
, a "flex" tight end who can line up just about anywhere.
The idea is to put the best players on the field, so, no, the Jets won't force a receiver into action simply to have a traditional starting lineup. Chances are, it'll be a committee approach, with Decker and a host of role players -- unless, of course, someone steps up in training camp and blows away the competition.
June, 11, 2014
Jun 11
2:55
PM ET
FLORHAM PARK, N.J. -- Notes and observations from Wednesday's OTA practice:
1. He-e-e-e-re's Dex
: Third-round pick
Dexter McDougle
, who missed the final nine games of his senior year due to major shoulder surgery, made his practice debut for the
New York Jets
. After three weeks of wearing a red (non-contact) jersey, the rookie cornerback wore green with the rest of his defensive teammates and impressed Rex Ryan so much that the coach called him out in front of the team afterward. McDougle worked with the second-team nickel package and didn't seem tentative at all. This, of course, is good news for the Jets' revamped cornerback position.
[+] Enlarge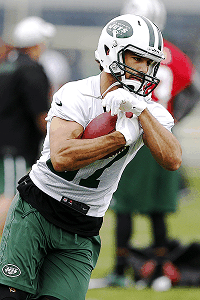 AP Photo/Julio CortezThe Jets will be counting on receiver Eric Decker to produce in the red zone this season.
2. Rex comes clean:
The Jets received mild criticism for taking McDougle in the third round, considering the time he missed at Maryland. Ryan admitted he, too, thought it was a risky pick, but others in the organization -- mainly defensive coordinat0r Dennis Thurman -- "eased my doubts" about McDougle. Ryan said Thurman, after watching McDougle on tape for the first time, came up to him and said, "I've got the guy right here." Ryan said they graded McDougle as one of the top "character" players in the draft. Assuming he has no setbacks, he will be able to participate in next week's minicamp.
3. Changing of the guards:
'Tis the time of year to experiment. With
Willie Colon
(arthroscopic knee surgery) sidelined for the remainder of the offseason, the Jets have been rotating players at right guard. On Wednesday, it was
Brian Winters
' turn. He traded places with
Oday Aboushi
, who moved to Winters' spot at left guard. No, this doesn't mean Colon is in danger of losing his starting job. Ryan acknowledged that Colon, who is expected to return for training camp, is a likely starter, but not necessarily at right guard. Interesting. Moving the players around in June creates competition and flexibility that could help in training camp.
4. Geno and Vick
: There was a concentration on the two-minute offense and the red zone in practice. Both
Geno Smith
and
Michael Vick
looked sharp in the red zone, each quarterback completing four of five passes in team drills. Smith got most of the work with the starters. His best moment came when he stepped up in the pocket and found wide receiver
Eric Decker
in the back of the end zone for a touchdown. Decker dominated in the red zone, one of the reasons why the Jets are paying him $7 million a year. Vick displayed his old form, scrambling for a touchdown. He also made a nice scoring pass to rookie wide receiver
Jalen Saunders
.
5. Two-minute hiccups
: Smith wasn't nearly as crisp in the hurry-up situation. He started off with a deep ball to Decker, but the drive stalled as he misfired on three of his last four passes. First-round pick
Calvin Pryor
came on a safety blitz to disrupt Smith on one play.
6. Rex on the QB competition/non-competition
: Not surprisingly, Ryan spoke glowingly on the Smith-Vick battle -- even though it's not really a battle, if you ask Vick. "Both guys are sharp," Ryan said. "They're pushing themselves and pushing each other. That's exactly what we wanted to have happen. ... I've been really impressed with it."
7. Attendance report
: Players that didn't participate in the voluntary practice included wide receiver
Jeremy Kerley
(personal), running back
Mike Goodson
(undisclosed), running back
Chris Johnson
(knee), running back
Daryl Richardson
(toe), wide receiver
Jacoby Ford
(undisclosed), Colon (knee), rookie wide receiver
Shaq Evans
(school obligation) and linebacker
Antwan Barnes
(knee). Ryan said he expects Goodson to show up for next week's mandatory minicamp. As expected, Johnson -- six months removed from knee surgery -- isn't expected to do much, if anything, in the minicamp. Ford will be full speed by next week.
8. Dee's cranky hammy:
Cornerback
Dee Milliner
, who sat out last week's open practice, participated on a limited basis. Officially, the team is calling it hamstring "tightness," not a pulled hamstring. Got that? Ryan said they kept him out for precautionary reasons.
9. Odds and ends
: Pryor continued to work with the starters. It was Pryor and
Antonio Allen
at safety, with
Dawan Landry
practicing with the second team. Landry already knows the defense; the plan is to let Pryor and Allen get as many reps as possible. ... The Jets are continuing their penalty/push-up tradition. When a penalty is committed, the entire team drops for 10 push ups. General manager John Idzik was among the non-players that did pushups. ...
Matt Simms
, battling rookie
Tajh Boyd
for the No. 3 quarterback job, threw an interception. ... Rookie tight end
Jace Amaro
, coming off a three-drop day last week, had another drop but looked much better catching the ball.
May, 19, 2014
May 19
11:09
AM ET
Saturday's drops notwithstanding, Rex Ryan likes the look of his 2014 receiving corps. The
New York Jets
spent money ($15 million guaranteed for
Eric Decker
) and draft picks (three) to improve the weakest position on the team.
"From top to bottom," Ryan said, "it's a much better group of receivers than we had probably at any point last year."
[+] Enlarge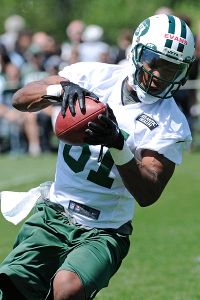 Bill Kostroun/AP PhotoPerhaps rookie Shaq Evans could develop into the Jets' No. 1 receiver role this season.
Let's examine that statement.
The high point last year, if you could call it that, was the start of the season, when the Jets' top three wideouts were
Santonio Holmes
,
Stephen Hill
and
Jeremy Kerley
. (Incredibly, the trio played only one game together -- the opener.) You could argue they ended the season in better shape, with the surprising
David Nelson
replacing the injured Hill. Either way, the narrative is the same: It was a deficient receiving corps that lacked speed, depth and a true No. 1, because even when Holmes was healthy, he wasn't really healthy. Clearly, he was a diminished player because of his surgically repaired foot from 2012.
You know what? For the sake of comparison, let's drop the "at-any-point" qualifier and look at the group as a whole. The top receivers last year, in my opinion, were Holmes, Kerley, Nelson, Hill,
Clyde Gates
,
Greg Salas
and
Josh Cribbs
, who really didn't play much receiver. The latter three are marginal NFL players.
The top receivers this year, as of now, are Decker, Kerley, Nelson, Hill,
Jacoby Ford
, Gates,
Shaq Evans
,
Jalen Saunders
and
Quincy Enunwa
. This time, the latter three are rookies with varying degrees of upside. Based on what I saw from rookie camp, and from talking to talent evaluators around the league, Evans has the best chance to make an immediate contribution among the rookies. His skill set is more complete than the others.
"We'll see what kind of receivers we have," Ryan said, "but you could put out an unbelievable (4x100) relay team."
To me, Decker is an upgrade over Holmes, although there are many who question whether Decker is a legitimate No. 1 receiver. Beyond Decker, the top four could be the same as last year, with Kerley, Nelson and Hill filling out the top spots. The Jets still lack a home-run hitter, a need they failed to address in the offseason. Someone has to develop into that guy and crack the top four. Maybe it can be Hill -- if he's healthy and consistent. Maybe it can be Ford -- if he's healthy and can recapture the promise he showed as a rookie with the
Oakland Raiders
in 2010. Maybe it can be one of the rookies.
So, yes, I'd agree with Ryan's statement that it's a better overall unit than last season, but I wonder whether it's as good as it needs to be.
March, 7, 2014
Mar 7
6:30
PM ET
John Idzik showed last year what he can do on a shoestring budget. Now, to use a variation of a Lou Carnesecca line, the
New York Jets
' general manager gets a chance to shop in Macy's window.
The free-agency season is upon us, and the Jets have about $23 million in cap space, which will grow to more than $40 million if/when they dump
Santonio Holmes
,
Antonio Cromartie
and
Mark Sanchez
. It's "go" time for Idzik, whose long-term plan -- presented to owner Woody Johnson when he was hired 14 months ago -- is predicated on stockpiling talent in 2014.
[+] Enlarge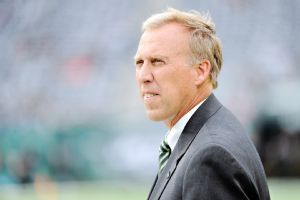 AP Photo/Bill KostrounJets GM John Idzik will enter the free-agency period with money to burn; so, how will he spend it?
The story last March was the "Rex-odus," five starters bolting the Jets. Now Idzik has roster flexibility, and we get to see how he attacks the team's weaknesses. A man with money doesn't always translate to success, as we've seen plenty of teams over the years spend money foolishly, wrecking their future cap. No championships are won in March. If they were, the Jets would have more Lombardi Trophies than the
New England Patriots
.
People who know Idzik say he won't take a "shop-till-you-drop" mentality into free agency. They say he will spend, but won't forget his core principles. He won't give lucrative, long-term deals to players over 30 or those with injury concerns. He won't sell out to sign "the big star." He won't deviate from his "the-draft-is-our lifeline" philosophy. He won't pay top-dollar prices for middle-of-the-road players.
Pardon me, but I'm skeptical of the last one, because most teams overpay in free agency. Do you think starting-caliber receivers will be beating down the Jets' door to play with
Geno Smith
and the 31st-ranked passing offense? Of course not; the Jets will have to pay to attract the top talent.
Former longtime NFL GM Bill Polian, now an ESPN analyst, cautioned that free agency isn't a cure-all.
"The best players are signed," he said on a media conference call. "These (free agents) are essentially 'B' players whose agents are looking for 'A' money. That, in itself, is not the best of buys. You recognize that as a general manager."
Ideally, you want to use free agency to fill needs, allowing you to take a best-available-athlete approach in the draft. It's easy to preach that, but quite another to practice it. When the bidding starts and the money starts flying, it's easy to get sucked into the madness of free agency. Idzik is known for his deliberate approach; we're about the find out how deliberate. The "legal tampering period" begins at midnight; the signing period commences at 4 p.m. Tuesday.
A few thoughts on what to expect from the Jets:
1. Keeping their own
: Unlike last year, the Jets are actually trying to retain some of their free agents-to-be, namely RT
Austin Howard
and TE
Jeff Cumberland
. They're deep into negotiations with both players. It wouldn't be a surprise if both re-up by Tuesday. They're interested in keeping LB
Calvin Pace
, 33, but they won't shower him with money because of his age. They told RG
Willie Colon
, almost 31, he's free to test the market. Once again, it's the age factor. Former second-round pick
Vladimir Ducasse
also is unlikely to return. In his case, it's not age, it's a talent thing.
2. Resolve the QB situation
: If I were Idzik, I'd address this ASAP. How can you convince free-agent receivers to sign if you're selling the still-unproven Smith and a bunch of question marks at quarterback? They should make an immediate run at
Michael Vick
, with
Josh McCown
the No. 2 option. Vick isn't what he used to be, but he has more credibility than Smith at this point. If Idzik strikes out in free agency and the trade market, he might have to turn to Sanchez, whose cap charge ($13.1 million) and surgically repaired shoulder make him a less-than-ideal option.
3. Go wide
: There are two ways to approach the wide-receiver search. Idzik can go long and invest significant money in
Golden Tate
, a solid No. 2 receiver, or he can go short and take a chance on
Hakeem Nicks
, who might be ammenable to a one-year deal. Nicks has No. 1 talent, but he hasn't played like a lead receiver since 2011. Obviously, there are other options as well, including
Emmanuel Sanders
. Stay away from
Eric Decker
; he'll cost too much and he's not a true No. 1. If the Jets can sign a No. 2, pairing him with
Jeremy Kerley
,
Stephen Hill
and
David Nelson
, they'd be in position to look for a No. 1 in a receiver-rich draft.
4. The big splurge
: Even though the Jets have a ton of cap space, I can't see Idzik spending franchise-type money for one player -- unless he makes an exception for S
Jairus Byrd
. Even that would be a long shot. With the possibility of 12 draft choices (counting possible compensatory picks), Idzik can afford to be relatively patient, building for sustainable success and avoiding the quick fix. The goal should be to build around Smith, letting him grow with those around him. That was part of the problem for the previous regime. They put Sanchez in charge of a win-now team and, by the time Sanchez was ready to take the next step, the talent around him had eroded. They couldn't get it going at the same time. This is Idzik's chance to make that happen.