AFC East:

New Orleans Saints
March, 13, 2014
3/13/14
8:00
AM ET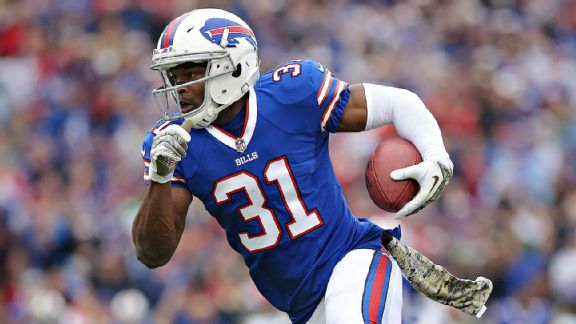 Tom Szczerbowski/Getty ImagesThe Saints were aggressive early in free agency by striking a deal with Pro Bowl safety Jairus Byrd.
None other than
Seattle Seahawks
safety
Earl Thomas
himself nailed it on Tuesday night when he tweeted the words, "Copy cat league ..#NFL"
Teams around the NFL spent big Tuesday on safeties who might be able to make the kind of impact that Thomas has made with the reigning Super Bowl champs. None more so than the
New Orleans Saints
, who agreed to a six-year deal with former
Buffalo Bills
safety
Jairus Byrd
.
The deal is worth $9 million per year – a hefty price, indeed. But Byrd was rated by several media outlets as the No. 1 free agent available in the NFL, regardless of position.
Byrd has made three Pro Bowls in his five seasons with the Bills, racking up 22 interceptions and 11 forced fumbles.
ESPN Saints reporter Mike Triplett and Bills reporter Mike Rodak break down the move from both perspectives:
Triplett:
So how much of a game-changer did the Saints get in Byrd?
Rodak:
There's potential for him to be one, Mike. Byrd's absence early last season hurt the Bills. Their secondary stumbled its way through a Week 3 loss to the
New York Jets
, which wound up being one of
Geno Smith
's best games of the season. He tossed two long touchdown passes, exposing a weakness at safety when Byrd was injured. Overall, opposing quarterbacks had a 46.0 QBR and a 7.19 yards per attempt when Byrd was out. When he came back, that dropped to a 30.1 QBR and a 6.18 yards per attempt. Had he played the full season, Byrd statistically projected to have seven interceptions, which would have been the second-best mark of his career.
Mike, how the heck did the Saints manage to fit Byrd under their cap? I think that's what surprised Bills fans the most -- that a team with about $2 million in cap space at the start of this week managed to nab one of the top free agents on the market.
Triplett:
Where there's a will, there's a way, right? Especially when it comes to salary-cap management.
I was a little surprised that the Saints aimed THAT high. But I fully expected them to make one or two aggressive moves, like when they signed cornerback
Keenan Lewis
last year under similar cap constraints. The Saints are bona fide Super Bowl contenders as long as quarterback
Drew Brees
remains in his prime. And they've shown that they're willing to keep pushing salary-cap costs into future years as long as they're in this window (
Byrd's deal only counts $3.5 million against the cap in 2014
).
Of course, it has meant releasing a ton of beloved veterans this offseason, when the Saints feel like their values no longer match up with the price tag. But the Saints clearly figured that Byrd could make a bigger impact going forward.
So I'll ask you the flip side, Mike. Why do you think the Bills let Byrd get away? Any reason to worry that he won't continue at this pace for another four or five years?
Rodak:
I think that the Bills had reached a point with Byrd where they felt like there wasn't going to be much of a future. They had been negotiating with him for over a year and once they decided not to franchise him, the writing was on the wall for his departure. Why didn't they franchise him? I think that's a decision that can be debated for years. General manager Doug Whaley said that they wanted "more amicable" negotiations, but it never seemed like talks changed course in the final week before free agency. Ideally, I think the Bills would have liked to franchise and trade him, but Whaley admitted that was a difficult proposition.
As for Byrd's future, there are two concerns: his speed and his feet. ESPN NFL analyst Bill Polian gave Byrd a B-minus for his free-agent tracker, calling him a "speed-deficient safety." As Byrd gets into the later years of his Saints deal, that could become a greater concern. There's also plantar fasciitis, a chronic foot condition that kept Byrd out of the first five games last season. He's said that's something he dealt with even before last season, and it's something to monitor going forward.
Mike, do you think the pairing of Byrd and
Kenny Vaccaro
is now the best safety tandem in the NFL?
Triplett:
Maybe outside of Seattle, anyway. Vaccaro showed a lot of promise as a rookie last year, and I think this frees the Saints up even more to use him as an attacker all over the field while trusting Byrd to help from the back end. Throw in Lewis, whom I thought deserved to go to the Pro Bowl as a No. 1 cornerback last year, and it's quite the secondary the Saints are putting together. Not a bad complement to the Saints' offense, obviously.
Hopefully it winds up as a win-win, with the Bills spending wisely on their future. I don't mind saying that having covered Doug Marrone here in New Orleans, he's one of my absolute favorites in the league.
March, 12, 2014
3/12/14
4:45
PM ET
METAIRIE, La. --
Jairus Byrd
said it was the "winning culture" that drew him to the
New Orleans Saints
in free agency.
Byrd obviously had a number of interested suitors once he hit the open market. But he scheduled his first visit to New Orleans and was barely off the plane before he agreed to a six-year contract. Obviously it didn't hurt that the Saints offered a whopping $54 million, with $28 million guaranteed, according to ESPN NFL Insider Adam Schefter.
Byrd
"The winning culture. What coach [Sean] Payton has done and what
Drew Brees
has done here," Byrd said when asked why he chose the Saints during a conference call with the New Orleans media on Wednesday.
Byrd said he likes the "yin and yang" relationship he sees between the Saints' dynamic offense and up-and-coming defense.
"Anytime you have that explosive offense, it always helps," Byrd said. "If you're a guy on defense and you know a team is able to get leads on people, jump out to early leads, that bodes well for guys like me who want to get turnovers and create turnovers because it makes another team one dimensional. That's a really big factor and what allowed me to weigh all my options and think about what the best situation was for myself."
The idea of forcing turnovers must be music to the Saints' ears. As good as their defense was last year (fourth in the NFL in yards allowed, second in pass defense), they struggled to force turnovers during the second half of the season. They finished fourth from the bottom in the league standings with just 19 takeaways.
Byrd, meanwhile, has snagged 22 interceptions and forced 11 fumbles during his five-year career.
According to ESPN Stats & Info, Byrd's 22 interceptions rank second in the NFL over that span, behind only cornerback
Asante Samuel
(25).
"That's what I pride myself being able to do is create turnovers -- force fumbles or whatever it might be," Byrd said. "That's something I'm looking forward to coming in and doing. Just doing what I normally do -- and that's what I do."
Byrd didn't reveal too many details about how the deal came together so quickly. He said his agent Eugene Parker and Saints contract negotiator Khai Harley worked out the finer points.
But Byrd said he made the choice to make his first visit to New Orleans because of how much he liked the potential fit.
Byrd said he hadn't had a chance to talk specifics with new defensive coordinator Rob Ryan yet (they were planning to meet shortly after his conference call once Ryan and coach Sean Payton returned from Alabama's pro day). But Byrd said he got a good firsthand impression of the Saints' defense when the Bills lost to New Orleans 35-17 in Week 8 last season.
"Just from watching, it seems aggressive and attacking," said Byrd, who also liked the impression he got from New Orleans' home-crowd atmosphere in the Mercedes-Benz Superdome.
"That was big. Playing here last year, I saw how the atmosphere was. It was electric," Byrd said. "They're really behind their team. The Dome was rocking when I was here. They feed off that, and I think that's really big. Anytime you're playing football on defense you always want to have that noise. That's big."
March, 11, 2014
3/11/14
8:00
AM ET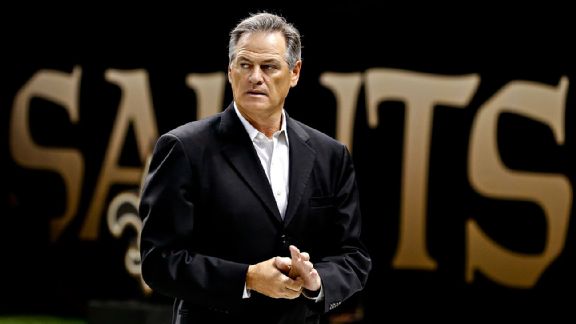 Derick E. Hingle/USA TODAY SportsMickey Loomis hasn't been afraid to make tough personnel decisions as Saints GM.
No, this isn't a fire sale you're witnessing in New Orleans.
The
New Orleans Saints
aren't succumbing to the salary cap.
It wouldn't even be accurate to say they're in a rebuilding mode this offseason. Because much of the new foundation is already in place.
The Saints have remained perennial Super Bowl contenders because they haven't allowed themselves to be paralyzed by their salary-cap predicament.
Instead, they've continued to aggressively spend money in free agency in recent years on new core leaders such as cornerback
Keenan Lewis
, linebacker
Curtis Lofton
and guard
Ben Grubbs
-- not to mention running back
Darren Sproles
when he arrived in 2011.
And they'll likely make one or two similar investments in free agency this year.
Of course it's difficult -- for the fan base and the organization alike -- to see the Saints part ways with so many of their all-time great players. The Saints' recent news releases have read more like the induction of a Ring of Honor class than a series of roster cuts:
Lance Moore
,
Will Smith
,
Jonathan Vilma
,
Roman Harper
and
Jabari Greer
, with Sproles reportedly next.
But the Saints haven't been forced into any of these moves. They've been tough but calculated decisions, made when the Saints feel a player's value no longer matches his salary.
And if anything, the team should be applauded for the way it has planned ahead for these departures.
I'm not saying I love every move the Saints have made. I'm especially leery about the decision to part with Sproles, who will be much harder to replace than anyone else on the list, even if he is starting to slow down at age 30.
I was equally leery about the decision to let left tackle
Jermon Bushrod
get away last year, since New Orleans didn't have a proven alternative in-house. But I appreciate that those decisions were value-based.
It's also worth noting that Bushrod is the only example that comes close to the Saints being burned by a decision to let go of one of their core veteran players during the tenure of general manager Mickey Loomis and coach Sean Payton.
"We're always trying to improve our team," Loomis said earlier this offseason, when I asked him about the way the Saints have stayed aggressive in free agency in recent years despite their cap limitations. "I think the biggest challenge of that is that you just can't afford to make many mistakes. That your margin for error is decreased."
Every year, people tend to determine the free agency "winners" and "losers" by the size of the haul.
But the Saints deserve credit for making so many choices that have panned out in recent years despite such a slim margin for error.
"It's exceptionally hard to do," said Bill Polian, the ESPN analyst and a former longtime general manager who raved last month about the job that Loomis and Payton have done in recent years to continually reshape the roster.
"It is this kind of cap management when you're a good team, a contending team, that is most valuable. And in almost every case it goes unnoticed," Polian said. "[Teams like the Saints that] continue to add good players deserve a great deal of credit."
Polian knows of what he speaks, having previously managed the
Indianapolis Colts
with quarterback
Peyton Manning
as their high-priced centerpiece.
The Saints made quarterback
Drew Brees
the first NFL player to make $20 million per year in 2011. In turn, they entered each of the past two offseasons at more than $10 million over the salary cap.
And now they're poised to make free agent
Jimmy Graham
the highest-paid tight end in NFL history -- likely more than $10 million per year. But I still expect the Saints to keep an aggressive eye on the open market, as they have in recent years.
To do so, Loomis and his staff have had to become masters in mathematics, continually restructuring contracts and back-loading deals to push cap costs into future years.
Sure, the Saints are just delaying the inevitable. But they figure they can wait to pay those bills whenever Brees retires. Their window of opportunity to win titles is now.
[+] Enlarge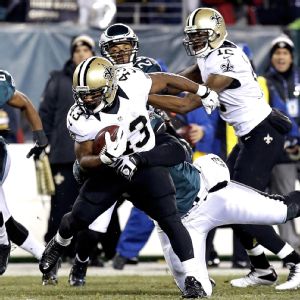 Geoff Burke/USA TODAY SportsThe Saints may have a difficult time replacing Darren Sproles if they decide to cut him.
Not all NFL teams like to approach the cap that way. The
Green Bay Packers
, especially, have never liked to spend big in free agency. And former Packers executive Andrew Brandt, currently an NFL business analyst, has pointed to the way the Saints back-loaded Brees' contract as a reason for all of these recent veteran cuts.
"I was, and am, much more conservative," Brandt said recently. "You know, having
Brett Favre
all those years, I never wanted to leave the team with a big hole based on pro-ration of an old contract. ... You're always going to be either releasing veteran players and/or doing these cap restructures that put more pressure on the future. They're gonna continue to have challenges. I don't think they can continue to be aggressive.
"But they've got this window. And if they keep deleting and pushing out cap, I guess they can."
One thing both Brandt and Polian agreed on is that the Saints, led by Loomis and Payton, have been successful with recent choices made in both free agency and the draft. Player personnel director Ryan Pace, college scouting director Rick Reiprish and football administration director Khai Harley -- as well as others in the front office -- also deserve plenty of credit for that.
The Saints' success with personnel decisions was never more evident than last month, when they bid farewell to longtime defensive greats Smith, Vilma, Greer and Harper. Those moves didn't hurt too much, because their replacements -- Lewis, Lofton and recent first-round draft picks
Cameron Jordan
and
Kenny Vaccaro
-- are already in-house.
Now the Saints are hoping that emerging young offense playmakers such as
Mark Ingram
,
Khiry Robinson
and
Kenny Stills
can help fill the voids left by Sproles and Moore.
Perhaps they're playing with fire. But that's not the same thing as a fire sale.
October, 28, 2013
10/28/13
9:30
PM ET
Picked-up pieces from third-quarter review of the
New England Patriots
' 27-17 win over the
Miami Dolphins
:
1. The Patriots changed personnel in their hybrid 4-3/3-4 base defense for the first two series in the third quarter, subbing out rookie
Jamie Collins
at outside linebacker, moving
Chandler Jones
from defensive end to that outside linebacker spot, and inserting newly signed veteran
Andre Carter
at defensive end/tackle. The thought seemed to be that it would make them a bit stouter against the run. Furthermore, they also introduced a three-cornerback base defense that we first saw this season against the Buccaneers. The other personnel-specific change came in the nickel package, with rookie cornerback
Logan Ryan
coming on in place of
Marquice Cole
. When the words "halftime adjustments" are mentioned in the Patriots' turnaround in the third quarter, those are the main ones that come to mind.
2. When did the game officially turn? We'd argue it began on the Dolphins' opening drive of the third quarter, as they faced a second-and-2 from the New England 19. Holding a 17-3 lead at the time and the Dolphins' defense having just forced a three-and-out in which the Patriots' offense looked uninspiring once again, quarterback
Ryan Tannehill
threw slightly behind receiver
Mike Wallace
, who found an opening in the Patriots' zone coverage down the right sideline at the 3-yard line. Not a perfect throw, but it seems fair to say that's a catch that a $12-million-per-season receiver should make. On the next play, defensive end
Rob Ninkovich
came free around right tackle
Jonathan Martin
, who instead blocked down on tackle
Joe Vellano
, for an initial pressure that
Dont'a Hightower
cleaned up for a sack. Going into the wind, that turned what would have been a 37-yard field goal into a 46-yarder and
Caleb Sturgis
clanked it off the right upright. The Patriots then scored touchdowns on their next two possessions. If Wallace makes that catch, we might have a different story.
3. It's rare to see left guard
Logan Mankins
beaten twice by the same player for a sack, but that's what happened on the team's first drive. Once again, Mankins' technique was a bit off as he lunged out at
Jared Odrick
at the snap, with Odrick eluding his initial attempt to get his hands on him and then surging by Mankins' outside shoulder to bring down
Tom Brady
. Odrick, a late first-round pick in 2010 out of Penn State, has impressed us in recent weeks. Meanwhile, this wasn't Mankins' best game. On Brady's 14-yard touchdown pass to
Aaron Dobson
, Mankins was late in picking up blitzing linebacker
Philip Wheeler
as Brady's right hand took another shot. Great throw by Brady to hang in as the pressure was closing on him.
4.
In last week's "Bruschi's Breakdown
," the struggles of Dolphins running backs in pass protection was noted by ESPN analyst Tedy Bruschi. "In terms of
Daniel Thomas
, if you get him in one-on-one pass protection, that's a quarterback sack waiting to happen," Bruschi wrote. It appeared to be Thomas who blew the blocking assignment on Ryan's corner blitz that produced a strip sack midway through the quarter. Thomas stepped into the middle of the line and didn't block anyone as Ryan came in untouched off the defensive right side into the area Thomas vacated. That's a critical error and highlights how the Dolphins' pass protection issues, which are considerable, extend beyond the offensive line.
5. Tight end
Rob Gronkowski
had a quiet day on the stat sheet (two catches, 27 yards in 33-of-65 snaps), but his presence was still felt in the red zone. The Patriots' red zone offense has been better the last two weeks and Gronkowski is a major reason why, as evidenced by the 8-yard Tom Brady-to-
Danny Amendola
connection that preceded
Brandon Bolden
's 2-yard touchdown run. The play won't show up on the stat sheet but Gronkowski drew significant attention as he released off the right side of the line, creating a sizable opening underneath for Amendola, who had shaken safety
Jimmy Wilson
after coming in motion from left to right before the snap. Not good coverage by Wilson, but what stood out more than anything from this perspective was how Gronkowski drew two defenders and also created a bit of traffic for Wilson to get where he needed to be in his loose coverage of Amendola.
6. Big blocks on
Brandon Bolden
's 2-yard touchdown run from Gronkowski and receiver
Julian Edelman
. Those are also the types of things that can go unnoticed, but they helped Bolden get to the edge. Edelman's block, in particular, ties to the idea that Patriots' receivers are aggressive in that area of the game. Receivers coach Chad O'Shea seems to do a nice job with the team's receivers in that area.
7. The third-and-5 holding penalty on Dolphins cornerback
Dimitri Patterson
late in the quarter, which extended the drive in which the Patriots went ahead 20-17, seemed questionable at best. While Patterson had his hands on receiver
Aaron Dobson
, it looked more as if Dobson fell down than him being inhibited by a hold. Likewise, the holding penalty on left tackle
Nate Solder
on the next play, which nullified a 30-yard touchdown pass, was equally questionable. They ultimately canceled each other out. Like the players themselves, and those writing on the game, the officials aren't going to get it right all the time.
8. Bill Belichick preaches situational football and his timeout at the end of the third quarter, with the wind in mind, turned out to be a smart decision along those lines. It ultimately allowed
Stephen Gostkowski
to kick a 48-yard field goal with the wind at his back, and also kick off in the same direction to create solid field position for the team entering the final quarter. For more on the times Belichick learned about managing the game with the wind in mind,
check out his comments from his Monday conference call
. He credits Bill Parcells.
October, 28, 2013
10/28/13
8:00
PM ET
FLORHAM PARK, N.J. -- Listening to
Chris Ivory
speak Monday, you wouldn't have known whether he was preparing for a meaningless preseason game or readying for the team that traded him this offseason.
Ivory
"No special meaning," Ivory said of facing New Orleans this Sunday. "Just another game that we're trying to get a win."
Ivory downplayed playing the Saints for the first time as a Jet. The Jets acquired Ivory for a fourth-round draft pick after three injury-riddled seasons in New Orleans, and he said he doesn't see this as an opportunity to prove to New Orleans it shouldn't have dealt him.
"I feel like you should treat every game like the same. It's just another game. It's just the team I came from," Ivory said. "I don't feel like I have to prove anything. Go out and play and try to come out with a win."
Ivory had a good rookie season with the Saints in 2010, rushing for 716 yards and five touchdowns, but couldn't stay healthy. He played a combined 12 games the next two years, rushing for a total of 591 yards and three touchdowns. With Ivory's injury history, and the Saints already using
Darren Sproles
,
Mark Ingram
and
Pierre Thomas
in the backfield, Ivory became expendable.
The Jets acquired Ivory, and aside for his performance against the Patriots on Oct. 13, he hasn't provided much thus far. Against New England, he rushed for 104 yards on 34 carries. In his other six games, he's rushed 40 times for 126 yards. He has yet to score.
When asked what his best memories were of his days with the Saints, Ivory was brief: "Making plays."
October, 27, 2013
10/27/13
10:00
AM ET
By
ESPN.com staff
| ESPN.com
Join our ESPN.com NFL experts as they break down the Buffalo Bills' visit to the New Orleans Saints. Contribute your thoughts and questions beginning at 1 p.m. ET. And, be sure to visit our
NFL Nation Blitz page
for commentary from every game, as well as fan photos and the latest buzz from Twitter. See you there.
October, 25, 2013
10/25/13
10:00
AM ET
METAIRIE, La. -- The
New Orleans Saints
are well aware of the challenge they'll face Sunday when
Buffalo Bills
pass-rusher
Mario Williams
comes to town. The Saints got to know the 6-foot-6, 292-pounder up close and personal during his years with the
Houston Texans
from 2006-2011.
During that span, they faced Williams twice in the regular season and four times in the preseason. The Saints and Texans also got together for a week of joint practices in three straight preseasons from 2008-2010.
Veteran players and coach Sean Payton all agreed, however, that Williams is playing as well as ever now in his eighth NFL season. Williams has already racked up 10 sacks -- including a game-changer last week that forced a fumble and led to the Bills' come-from behind win over the
Miami Dolphins
.
Here's what the Saints have been saying about Williams this week:
Payton:
"You know, he plays that weakside/outside linebacker position which can put him right or left based on your formation in the base. In the nickel snaps, he's more to our right and to his left. He's had an exceptional season. He's had sacks from inside. He's had sacks from outside. He's someone who is comfortable on either side of the tackle. So you've seen that production. He's healthy. He's long. Certainly he is a player that you have to account for because he changed the game last week, we saw in the final snaps. He's really playing well."
Offensive tackle Zach Strief:
"The scouting report? He's really big. He's a really good athlete for a guy with that kind of size. He's moving well, he's really productive this year. I think you see him, he's given a couple teams a lot of trouble. So he's a guy, you don't want him to get going.
"Obviously he's highly talented, and I think they're putting him in good positions out there to rush the passer. And he's responded. I think he's a better rusher from their left, and he's been more productive there. And obviously there's a lot of things you can do games-wise, movement, to get a guy in a good matchup, to keep him away from double teams. They've done a good job with that. And at the end of the day, he's beat a lot of blockers.
"And I think it's probably nice for him to be healthy. I think last year he dealt with some things. I think you're seeing someone playing healthy, and that helps a lot."
Saints quarterback Drew Brees:
"Yes (this is the best he's looked). We played against him a lot, practiced against him a lot when he was with the Texans at those training camps and we played against him, that type of thing. He's always been a physical presence, but over time you just develop certain skills and techniques and master certain things. And I definitely think he's gotten better as the years have gone on. He's always had that big physical presence, but he has the tools to go along with it and you see the results."
Guard Jahri Evans:
"Oh, man, he's one of those guys like (Julius) Peppers, man. He's a freak of nature. Just one of those guys who can really dominate up front and do a lot of things well. And I think it's showing in their play this year. He's just a great competitor."
October, 24, 2013
10/24/13
12:00
PM ET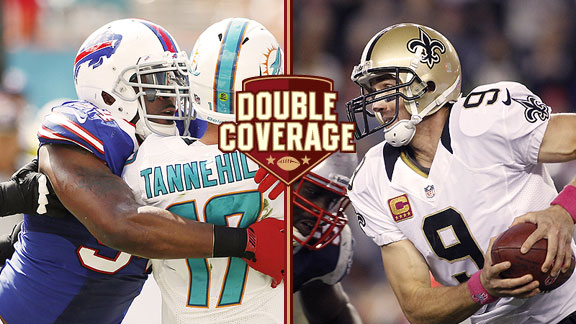 USA TODAY SportsMario Williams and the Bills' defense will attempt to slow down Saints QB Drew Brees.
The
New Orleans Saints
(5-1) are one of the NFL's most dominant home teams (3-0 this year, 32-11 since 2008). They've also won four straight games following bye weeks. So Sunday's matchup against the
Buffalo Bills
(3-4) certainly seems like a favorable one.
However, the Bills have proven to be a tough out. They're coming off of a 23-21 victory at Miami. All but one of their games has been decided by a touchdown or less. And they'll bring one of the NFL's most disruptive pass rushes into the Superdome, led by
Mario Williams
.
Injuries will be a key issue, especially on offense. Saints tight end
Jimmy Graham
(foot) and Bills running backs
C.J. Spiller
(ankle) and
Fred Jackson
(knee) all are battling ailments.
ESPN.com Saints reporter Mike Triplett and Bills reporter Mike Rodak break down the matchup:
Triplett:
I saw that Williams and the Bills' pass rush certainly delivered last week with a game-changing sack and forced fumble in the fourth quarter to beat the Dolphins. How good is that pass rush? And do you think the Bills' defense overall is capable of slowing down
Drew Brees
and the Saints' high-powered offense?
Rodak:
Mike, the pass rush has been the strength of what has been a banged-up defense. Williams has 10 sacks this season and the Bills are disrupting 20.1 percent of opponent dropbacks (measured by sacks, passes defensed, interceptions and batted balls), which is second to the 7-0 Chiefs (26.5 percent).
As for facing the Saints' offense, I think the Bills are better equipped for the challenge now than they would have been earlier this season. With
Jairus Byrd
and
Stephon Gilmore
back from injuries and being eased into action, the Buffalo defense will have its best playmakers on the field. Still, we're talking about a middle-of-the-pack defense that has yet to have everything click. The run defense has struggled and the Bills have shown a tendency to give up the big play at times. The Saints will have their chances.
I haven't had a chance yet to watch the Saints live this season, but I can tell you that those who were left in the Ralph Wilson Stadium press box two weeks ago had their eyes glued to that Saints-Patriots thriller. If the Saints pull that out, they're 6-0. Can we attribute their success early this season entirely to Sean Payton's return, or is there more to it?
Triplett:
Payton's return is a huge part of it. Essentially, the Saints have been proving that their 7-9 season in 2012 was a fluke. I think many people nationally forgot just how good this offense was in 2011, when Graham and
Darren Sproles
emerged as weapons for them. They went 13-3 that year and set the NFL record for yards gained. Now, they're back in their comfort zone with Payton back as one of the NFL's best game planners and motivators.
This year, the biggest surprise is how well the defense has been playing after such an abysmal performance in 2012. New defensive coordinator Rob Ryan, young pass-rushers
Cameron Jordan
and
Junior Galette
and the entire secondary have been huge for them. And I think it's legit.
Speaking of coaches, Mike, I have to ask about the impact Doug Marrone is making there. He has ties here after serving as Payton's first offensive coordinator and offensive line coach from 2006-08.
Rodak:
Indeed, Marrone does have ties to New Orleans, not only as a coach, but also as a player. He was asked about it Monday and, probably trying to keep the focus on this week's game, didn't wax nostalgic about his time there, but simply said it was a good experience in his progression to becoming an NFL head coach.
As far as what he has done in Buffalo, I'd say it's so far, so good. But naturally as a first-year coach, the jury is still very much out on him. A lot will depend on how
EJ Manuel
performs when he returns this season and then beyond. But most importantly, Marrone has been able to avoid distractions or controversy, like what we saw with the Greg Schiano-
Josh Freeman
situation after Schiano made the jump from the college game. This seems to be a tight-knit locker room and a team that has closely contested each of its games this season.
Mike, there's a pair of recent first-round picks in
Kenny Vaccaro
and Jordan who have helped anchor the new-look Saints defense under Ryan. Tell me about what they've done, but also about what holes on defense the Bills might exploit.
Triplett:
Jordan has been the Saints' defensive MVP so far. In fact, he was probably their defensive MVP last year, too. But this year he's starting to gain national attention for the impact he's making as a power pass-rusher and standout run defender. He's a big athlete at 6-foot-4 and about 290 pounds. So he's a good fit at 3-4 end but also at 4-3 end, where he's essentially lined up for most of this year since they play so much nickel and dime. Jordan has five sacks, a forced fumble and 24 hurries, according to Pro Football Focus.
Vaccaro, meanwhile, has been fun to watch since Ryan moves him around so much (deep safety, in the slot, blitzing, sometimes even at linebacker and corner). It's similar to the way the
Pittsburgh Steelers
use
Troy Polamalu
, though Vaccaro is obviously not at that level yet. He's still developing, but he's played almost every snap this year and has made several impact plays.
If the Bills' run game is going strong, that could give the Saints a few problems. Their run defense hasn't been their strength. But it's something they've been willing to sacrifice while making it a priority to prevent big plays. The Bills need to keep this game close so they're not forced to play catch-up -- which is no easy task. Do you think they've found some stability with
Thad Lewis
at quarterback? Or might we see
Matt Flynn
instead this week?
Rodak:
They've definitely found some stability with Lewis at quarterback. While I don't think there's much of a chance that Lewis remains the starter when Manuel returns, it's not a stretch to say that Lewis has actually played better than the rookie. He has shown better accuracy on some of his passes and also seems more willing to drive the ball downfield when he needs to. His statistics haven't blown anyone away -- he ranked in the bottom third of the NFL in QBR in each of his two starts -- but the Bills seem more than happy with what they're getting out of him.
Flynn was inactive Sunday against the Dolphins, six days after arriving in Buffalo. I think the Bills would ideally like to have him as their backup instead of undrafted rookie
Jeff Tuel
. But as far as surpassing Lewis, I think that would take a collapse by Lewis over the next few games and an impressive showing by Flynn in practice.
Mike, how do you see this game playing out? Do you expect Graham to be available for the Saints?
Triplett:
I think Graham will be highly questionable all week. I wouldn't be surprised at all if he's out or limited, which would obviously put a dent in the Saints' offense. But I still think Brees has enough weapons -- starting with Sproles,
Marques Colston
and
Pierre Thomas
in the passing game -- to move the ball and put up close to 30 points or more.
If New Orleans scores early and forces Buffalo to play catch-up, the Bills could really be in trouble. And if the Saints are the ones who have to play catch-up, they've proven they can do that. Buffalo's best chance is to control the clock with its run game, win the turnover battle and force the Saints to settle for field goals.
October, 24, 2013
10/24/13
5:00
AM ET
ORCHARD PARK, N.Y. -- It's been five years since Doug Marrone served as the offensive coordinator in New Orleans, but when he heard the familiar voice of
New Orleans Saints
coach Sean Payton on a conference call with
Buffalo Bills
reporters Wednesday, he couldn't resist the chance to poke fun at his former boss.
"This is Doug Marrone from the Bronx Times," the now-Bills head coach said, leaning into the speakerphone.
"I recognize that voice," Payton responded. "They just let anybody in there, don't they?"
Earlier in the call, Payton noted that Marrone -- along with
Oakland Raiders
head coach Dennis Allen -- were among coaches who helped get the "program" off the ground in New Orleans. The Saints wound up winning a Super Bowl the year after Marrone departed for Syracuse in 2009, but the two maintain close ties.
"Sean and [general manager] Mickey [Loomis] and the guys there made me feel more a part of [the Super Bowl win] than I probably was," Marrone said. "They called me, invited me, come to the Super Bowl. Asked me if I needed anything. 'Miss you, you're a big part of this, we want you to know.' I think that's the type of people they are. They're just good people. They didn't have to call; they didn't have to say anything. They didn't have to make me feel that way. Those are the types of people they are and I have a great appreciation for that."
Marrone said he couldn't make the trip for the Saints' win over the
Indianapolis Colts
because he was on the recruiting trail, but had he had time, he would have joined Payton in Miami.
Shortly after Payton and Marrone joined the Saints in 2006, they invested heavily in
Drew Brees
, who arrived via a free-agent deal from San Diego. Brees has gone to six Pro Bowls since and is held in highest regard by his former coach, Marrone.
"[The success of the Saints offense] starts with Drew. I think he's an outstanding competitor. I was very fortunate to be around him," Marrone said. "Many people don't know that he defeated Andy Roddick in tennis when he was in high school. That's the type of athlete and competitor that he is."
Now running the show in Buffalo, Marrone has taken on the challenge of developing a rookie quarterback,
EJ Manuel
. In doing so, he hopes to draw the experience of coaching Brees from 2006-2008.
"When you think about it, people like Drew, and I can't speak for
Tom Brady
and
Peyton Manning
because I haven't been around them in that type of setting, but when you look at what does a quarterback need to do to get himself ready, how does he handle his business off the field as well as on the field, how about his leadership?" Marrone said. "I always feel fortunate to be with someone like that because at least you know how it should be done."
With an injury sidelining Manuel for the next several weeks, Marrone must prepare
Thad Lewis
, in just his fourth career start, to go head-to-head with Brees in the Superdome.
It's not an easy task, but for Marrone, whatever success he achieves as a head coach he will one day trace back, in part, to his days in New Orleans.
"I always appreciated, one Mr. Benson and I were kind of back to back, I always appreciated what he did for me," he said. "Sean and I, we had a working relationship and we had a close friendship. To be close to him and see what he went through as a head coach was obviously very helpful. ... I was very fortunate to have that and it's been a big part of who I am today and what I've learned."
September, 30, 2013
9/30/13
7:00
PM ET
By
ESPN.com staff
| ESPN.com
Join our ESPN.com NFL experts for the "Monday Night Football" match up of the undefeateds, the Miami Dolphins at New Orleans Saints.
Contribute your thoughts and questions beginning at 8:30 p.m. ET. See you there.
September, 26, 2013
9/26/13
7:00
PM ET
DAVIE, Fla. -- It's an old story in South Florida, but it's definitely an interesting one. There was a time when
New Orleans Saints
Pro Bowler
Drew Brees
nearly became the
Miami Dolphins
' franchise quarterback.
Brees
Brees was a free-agent quarterback in 2006. The Dolphins and Saints were the two biggest suitors. However, Brees was coming off a major shoulder injury, which put fear in the Dolphins.
Miami wound up backing out of the Brees sweepstakes and signed
Daunte Culpepper
instead. New Orleans signed Brees and went on to multiple playoff seasons and one Super Bowl victory, while the Dolphins struggled with the quarterback position.
"I do believe I was their first choice, but at the end of the day I felt like New Orleans was the best fit for me for a lot of reasons, not just football," Brees said on Thursday's conference call with the Miami media. "I know they ran me through a round of physicals and evaluations and all kinds of stuff when I was there, which was not a good experience obviously. But I understood. They were going to put a big investment in me, so they wanted to make sure."
Brees said he recalls Miami's doctors saying he had about a 25 percent chance of playing in the NFL again. Obviously, they were wrong. Brees, 34, has been one of the NFL's most durable and productive quarterbacks. He missed just one game in New Orleans over the past eight seasons.
It's a small sidebar to Monday's battle of undefeated teams, but it's interesting nonetheless. Brees has moved on and so have the Dolphins, who finally have a young gunslinger in second-year quarterback
Ryan Tannehill
.
"Here's the thing: We can sit back and chuckle at it now, but there's no hard feelings," Brees explained of his Miami experience. "Everything happened the way it was supposed to. I don't think about it for a second. I really don't."