July, 23, 2014
7/23/14
8:00
AM ET
Rex Ryan showed his new boss last season that, even when speaking softly, he still carried a big enough stick to squeeze eight wins out of a team with modest talent. The
New York Jets
' coach received a well-deserved contract extension.
Now, with the Jets reporting to training camp Wednesday in Cortland, New York, for Year 2 of the Ryan-John Idzik era, we start to learn a lot more about the other half of the leadership tandem, the quiet man who prefers to stay out of the spotlight.
This is Idzik's time.
[+] Enlarge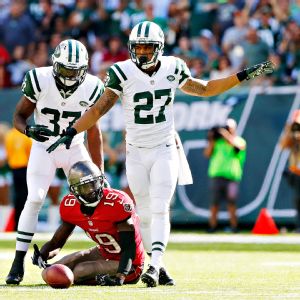 Jim McIsaac/Getty ImagesDee Milliner is one of John Idzik's draft picks that needs to produce for the Jets.
It's impossible to evaluate a general manager after one season, especially in a rebuilding situation, but the landscape changes after two drafts and two rounds of free agency. In the NFL, that's enough time to get a team from the 6-10 mess that Idzik inherited into the playoffs.
Idzik's predecessors, Terry Bradway in 2001 and Mike Tannenbaum in 2006, reached the postseason in their first seasons as GMs. Go back further, and you will remember that Bill Parcells made it to the AFC Championship Game in his second year as the GM/coach.
Even though Idzik is operating on a long-term plan, evidenced by his emphasis on the draft and his deliberate approach in free agency, an 0-for-2 start wouldn't look good on his résumé. He shouldn't be on the New York Mets' Sandy Alderson timeline, meaning he has to move faster than a glacier. It's just the way of the NFL.
Idzik has been around long enough to put his stamp on the team. He signed, re-signed and drafted most of the projected starters. In fact, only seven starters can be considered true holdovers from the previous administration:
D'Brickashaw Ferguson
,
Nick Mangold
,
Muhammad Wilkerson
,
David Harris
,
Damon Harrison
,
Quinton Coples
and
Demario Davis
.
It's easy to notice they're the best guys on the team, Tannenbaum guys. Idzik needs to get some of his guys on that list. He already has
Sheldon Richardson
. By the end of the season, the list of top homegrowns should also include
Geno Smith
,
Dee Milliner
and
Calvin Pryor
. If Smith and Milliner are missing, the Jets will miss the playoffs for the fourth straight season, which won't bode well for Ryan's job security.
Idzik has the Jets pointed in the right direction, and the strides they made last season can't be dismissed. But let's be honest: They overachieved. They were one of the softest 8-8 teams in history, and you can look it up. Their point differential was minus-97, the largest since the 1970 merger for any team with at least eight wins.
The talent base should be improved this season, especially with the additions of
Eric Decker
and
Chris Johnson
. Decker was Idzik's one big splurge in free agency, his one Tannenbaum-like move. Johnson and
Michael Vick
will be one-and-done players, worthwhile Band-Aids who won't ruin the master plan if they fizzle. The offseason proved, once again, that Idzik won't deviate from his script no matter how much salary-cap room he has at his disposal. For the record, there's about $22 million as of today.
Idzik is doing it the right way, avoiding the temptation of the quick fix. That will pay off in the long run, but there will be problems along the way. For instance: Failing to sign a top cornerback in free agency was a mistake that could be exposed early in the season, when they face several elite quarterbacks. The cornerback issue will be exacerbated if Milliner fails to develop as hoped.
The Jets believe Milliner, drafted ninth overall, will be a special player, basing much of their opinion on his strong finish. The same theory can be applied to the quarterback situation with Smith. They're placing a lot of weight on those last four games, and that can be dangerous when you consider the competition. They beat three also-rans, three teams with mediocre (at best) quarterbacks: the
Oakland Raiders
,
Cleveland Browns
and
Miami Dolphins
.
Now, after seven months of positive mojo, the Jets can prove it wasn't a mirage. If Idzik's investments mirror the stock market, they'll be a playoff team. If it goes the other way, he'll hear the criticism, good and loud. The honeymoon is over. This is Idzik's time.
May, 7, 2014
5/07/14
3:45
PM ET
Despite an obvious tight end need, the
New York Jets
have expressed little interest in North Carolina's
Eric Ebron
, the consensus top tight end in the draft. Ebron said Wednesday he hasn't spoken to anyone in the Jets' organization other than linebacker
Quinton Coples
, a former college teammate.
Could it be a smokescreen? It's possible, but it would be an all-timer.
"As far as I know, they like me," Ebron said at a league-sponsored event in lower Manhattan. "That's every team. Every team likes me as an athlete."
It was previously reported that Ebron visited the Jets, but he was evasive and wouldn't confirm that. Being unnecessarily coy, he said only that he visited "New York" -- as he tweeted a few weeks ago, which fueled the speculation. If it's true that he's only had contact with Coples, it appears that his visit never took place -- unless, of course, Coples is running the draft.
Could it be that he visited the
New York Giants
? I'm not sure about that, but I can tell you the Giants probably won't take Ebron with the 12th pick. Chances are, he won't make it to the Jets at 18.
One thing about Ebron: He's not lacking for confidence. He's a self-proclaimed
Vernon Davis
wannabe, believing he can make the same impact as the
San Francisco 49ers
' star tight end.
"I watch his highlights, I watch his film, I watch everything Vernon Davis does and I mold it into Eric Ebron," he said.
Ebron described himself as a fun-loving person off the field. On the field, "I'm a beast, I'm an animal. It's like Dr. Jekyll and Mr. Hyde."
April, 27, 2014
4/27/14
5:00
AM ET
Checking up on the
New York Jets
:
1. Woe-ffense
: For too long, the Jets have been playing offense with hand-me-downs from other teams -- free-agent pick ups, trade acquisitions and an assortment of castoffs. The list is long:
Brett Favre
,
Thomas Jones
,
LaDainian Tomlinson
,
Santonio Holmes
,
Braylon Edwards
,
Kellen Winslow
, etc. The Jets' best offensive player of this generation,
Curtis Martin
, came from the
New England Patriots
.
Eric Decker
,
Chris Johnson
and
Michael Vick
are the latest to join the recycled crowd, although Decker was a premium free agent. There's no law that says you can't build this way, but the lack of homegrown talent is both alarming an mind-boggling.
[+] Enlarge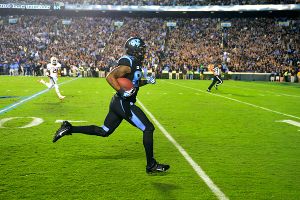 Bob Donnan/USA TODAY SportsCould North Carolina tight end Eric Ebron be the homegrown skill player the Jets desperately need?
Try to wrap your brain around this: The last-drafted skill-position player to make the Pro Bowl on offense was wide receiver
Keyshawn Johnson
, the first overall pick in 1996. As Keyshawn himself would say, "
Come on, man!"
They've drafted some "almosts" over the years, players such as
Mark Sanchez
,
Shonn Greene
and
Dustin Keller
, but they never hit it big for various reasons.
Santana Moss
and
Laveranues Coles
made the Pro Bowl, but they did it with the
Washington Redskins
. The point is, the Jets never will escape also-ran status until they draft and develop their own stars. They should keep that in mind when they start drafting in 11 days.
2. Dreaming of a tight end:
The Jets really like North Carolina tight end
Eric Ebron
. They see him as a wide receiver/tight end hybrid that would be a matchup nightmare in a flexed position. Problem is, it's hard to imagine him falling to 18th. The
Buffalo Bills
(ninth) and
New York Giants
(12th) need a tight end and could take Ebron. If he gets past the Bills, what would it take to get ahead of the Giants? According to the draft value chart, the Jets would have to trade their third rounder and their two non-compensatory fourth-round picks to move up to the 11th spot, currently held by the
Tennessee Titans
. That's a lot to give up for a tight end.
2.a. Scouting term of the week
: In a conference call with the NFL Nation reporters, ESPN draft analyst Todd McShay used the term "buffet blocker." What is a buffet blocker? "He kind of picks and chooses when he wants to get interested," McShay said. In case you're wondering, he was referring to Ebron.
3. The Fab Four
: If I had to select the four most likely picks for the Jets at 18, I'd say: wide receivers
Brandin Cooks
and
Odell Beckham Jr.
, and cornerbacks
Darqueze Dennard
and
Justin Gilbert
. That could change by draft day, of course, but that's what I'm hearing right now.
4. Don't forget the D
: For those who believe the Jets absolutely must go heavy on offense in this draft, consider this: The Jets recorded sacks on only 4.6 percent of third-down dropbacks, the only team in the league under 6.5 percent, according to ESPN Stats & Information. You know what that tells me? The "Sons of Anarchy" could use some help.
5. Q's time is now:
The Jets made the no-brainer decision by exercising the fifth-year option for
Muhammad Wilkerson
($6.97 million). Next year, the decision might not be so cut-and-dried with 2012 first-rounder
Quinton Coples
, who has yet to approach his potential. The fixed salary won't be set for another year, but they're looking at about $7 million for Coples. They're expecting big things this year from Coples, whose development was impeded last season with the switch to rush linebacker.
6. Double rejection:
Rex Ryan is popular coach, evidenced by his fourth-place finish in a 2013 ESPN.com survey that asked players across the league to name the coach they'd most like to play for. But the notion all players are dying to play for Ryan and the Jets is a bit ridiculous. For instance: They were spurned by two free agents that took
less
money to play for other teams. Wide receiver
Sidney Rice
, who recently visited with the Jets, said he decided to return to the
Seattle Seahawks
(one year, $1.4 million) even though the Jets offered him more. Safety
Kurt Coleman
, who signed with the
Minnesota Vikings
(one year, $900,000) after visiting the Jets, said the Jets offered some guaranteed money. The Vikings didn't, but he opted for them anyway. Apparently, some players can resist Ryan's charm and the Jets' money.
7. Cornering the market:
If the Jets don't pick a cornerback in the first round, I wouldn't be surprised if they explore the possibility of acquiring a veteran, perhaps in a trade. There has been speculation about the
Dallas Cowboys
trying to deal the disappointing
Morris Claiborne
, the sixth overall pick in 2012, but they'd take a major cap hit. Right now, his cap charge is $4.4 million, but it would explode to $9.6 million if they trade him, counting the bonus acceleration. The Cowboys would have to receive an offer they can't refuse to absorb that kind of hit.
8. From the what-if dept.:
This never became public, but the Jets showed interest in wide receiver
Julian Edelman
during free agency. Ryan, in particular, was intrigued by the idea of stealing a weapon from the rival Patriots. Edelman ended up re-signing with the Patriots for $17 million over four years. Landing Edelman would've been quite a coup.
9. Sign of the times
: In 2014, the Jets will pay kicker
Nick Folk
($3.6 million) almost as much as running back Chris Johnson ($4 million), once regarded as one of the elite players in the league. It's a tale of two markets: Kicker salaries are increasing, running-back prices are plummeting.
10. Not what you think:
I've heard coaches over the years say they prefer to face teams with new head coaches early in the season, figuring they still will be getting acclimated to new schemes. This may surprise you, but there's no evidence to suggest those particular teams are more vulnerable early in the season than late. Since 2000, new head coaches have a .453 winning percentage in the first month, followed by .427 in October, .455 in November and .451 in the final month, per ESPN Stats & Information. The Jets play three teams with new coaches, only one of which comes early -- the
Detroit Lions
(Sept. 28). They also have the Minnesota Vikings (Dec. 7) and Tennessee Titans (Dec. 14).
October, 9, 2013
10/09/13
6:55
PM ET
FLORHAM PARK, N.J. --
New York Jets
cornerback
Dee Milliner
(hamstring) did not practice Wednesday, while linebacker
Quinton Coples
(ankle) also didn't go.

Milliner has not practiced since straining his hamstring on Sept. 25, and has missed the last two games. He did some individual work during the portion open to the media on Wednesday. It's too early in the week to know whether he has a chance to return Sunday against Pittsburgh.
Coples missed practice as he continues to work his way back after suffering a hairline fracture in his right ankle and undergoing surgery. Jets coach Rex Ryan didn't seem concerned about Coples' absence.
Safety
Jaiquawn Jarrett
was a surprise non-participant in practice as he sat out with a knee issue. He rode the stationary bike during the portion open to the media.
Offensive lineman
Oday Aboushi
(knee) returned to practice in a limited capacity. He hasn't played yet this season.
Here's the full injury report:
JETS

Did not practice
LB
Quinton Coples
(ankle)
DL
Kenrick Ellis
(personal reason)
WR
Clyde Gates
(knee)
RB
Mike Goodson
(illness)
WR
Santonio Holmes
(foot/hamstring)
DB
Jaiquawn Jarrett
(knee)
DB
Dee Milliner
(hamstring)
TE
Kellen Winslow
(knee)
Limited practice
OL
Oday Aboushi
(knee)
RB
Chris Ivory
(hamstring)
DB
Darrin Walls
(shoulder)

Full practice
DB
Antonio Allen
(finger)
OL
Willie Colon
(knee)
DB
Antonio Cromartie
(hip)
DL
Sheldon Richardson
(shoulder)
STEELERS
Out
WR
Markus Wheaton
(finger)
Limited practice
S
Da'Mon Cromartie-Smith
(hip)
Full practice
OG
Ramon Foster
(pectoral)
QB
Ben Roethlisberger
(right finger)