September, 20, 2013
9/20/13
6:00
PM ET
Has it been pretty? Far from it, but the Patriots started their preparation for the
Tampa Bay Buccaneers
in a situation that only seven other teams could lay claim to: unblemished through two games.

The payoff of defeating the Jets during a short Week 2 is that the team had 10 days to prepare for its next opponent, the Bucs, who travel to town this weekend with an 0-2 record following disappointing last-second defeats.
The Bucs aren't shying away from their record, but to cast them as an incapable team is shortsighted -- talent exists up and down the roster, with star power on both sides of the football.
One has to figure that Tampa Bay will be playing with an extreme sense of urgency, looking to avoid an 0-3 hole to start the season, while the Patriots have a chance to capture their first 3-0 start since the 2007 season.
With kickoff closing in, here are our five items we'll be watching for.
[+] Enlarge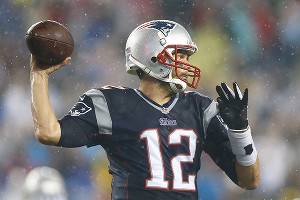 Jared Wickerham/Getty ImagesWill Tom Brady have better luck with his young receivers this week?
1. Return of Gronk; improved passing game?
This much we know for sure about Patriots tight end
Rob Gronkowski
: He's improving, but still day-to-day. Will Week 3 mark the return of Gronk? He hasn't been ruled out for Sunday's game (he's listed as questionable), but it's possible he needs just a little more time before seeing game action. Gronk or no Gronk, will the passing game pick up enough after a disappointing Week 2 performance? The rookie receivers need to sharpen their games with another likely absence from
Danny Amendola
, with
Julian Edelman
likely to be prominently featured as well.
2. Revis Island.
Make no mistake about it, even as he continues to work his way back from an ACL tear suffered early last season, cornerback
Darrelle Revis
has played at a high level since joining the Bucs. He's familiar with the Patriots after several seasons with the Jets, and it will be interesting to see how the Bucs deploy Revis on Sunday and whether the Patriots test the All-Pro. Might Tampa Bay use Revis to blanket Edelman, the Patriots' top receiving option right now (he's hardly been used in the slot thus far, where Edelman primarily lined up last week)? Conversely, if Revis aligns to just one side of the field, will
Tom Brady
stay away from him and look for other options? He's the type of player defenses construct their coverages around and offenses often shy away from.
3. Power running game of Tampa Bay.
The Patriots dressed just three defensive tackles in Week 2, relying upon defensive end
Chandler Jones
as a reserve-level option periodically. If there were a week where dressing an additional defensive tackle -- former Buc
Chris Jones
? -- could be needed, this is it, as the Bucs possess one of the biggest and most powerful offensive lines to lead the way for sensational second-year back
Doug Martin
.
Donald Penn
controls the left side, while star guard
Carl Nicks
(foot) has been a limited practice participant this week. Regardless of who lines up for the Bucs, it'll be a test for the Patriots' interior defensive line, where
Vince Wilfork
and
Tommy Kelly
will need to set the tone in building the first line of run stuffing.
4. Replacing Slater.
Special-teams ace
Matthew Slater
has been unable to practice this week due to a wrist injury and looks unlikely to play. The question immediately turns to the kicking game and how the Patriots can attempt to fill the void, or at least partially do so. One area that we'll be keeping a particularly close eye on is the gunner spot on the punt team. If there's one area where Slater has routinely made a difference, that's it, as he has terrific open-field speed and the strength and toughness to beat the vices at the line of scrimmage.
Marquice Cole
is likely to occupy one gunner position, but how will the team account for Slater's absence? Could it be a player like
Brandon Jones
,
Tavon Wilson
or
Kyle Arrington
? Practice squad defensive back Kanorris Davis seems like a candidate to be promoted on Saturday as well.
5. Handling exotic schemes/pressures.
The Bucs are off to a red-hot start with nine sacks in their first two games, but they don't just generate pressure with conventional looks. They attack opposing offenses with a number of unique fronts, tilting their defensive linemen, using their linebackers and safeties in pressure packages, and consistently disrupting the integrity of the pocket. That puts the onus on center
Ryan Wendell
and quarterback Tom Brady to identify rushers and anticipate where the pressure will be coming from and in turn communicate it to the rest of the line. Defensive tackle
Gerald McCoy
is a name to keep in mind, as he has unique first-step quickness and the ability to cross the face of an opposing guard to work his way toward the quarterback.
August, 15, 2013
8/15/13
9:37
PM ET
FOXBOROUGH, Mass. -- The Patriots host the
Tampa Bay Buccaneers
on Friday in the second preseason game for both teams (Fox, 8 p.m. ET), and here are a few things we'll be keeping a close eye on:

1. Brady and the quarterback reps.
After Wednesday's scare, in which he suffered a bruised left knee, quarterback
Tom Brady
returned to practice Thursday and wore a knee brace while going through the entire practice without limitation. Brady played 16 snaps in the preseason opener, and perhaps the coaching staff alters its plans against the Buccaneers based on the injury. Top backup
Ryan Mallett
played 25 snaps in the opener and could be line for more work.
Tim Tebow
was on for 31 snaps in the opener. One more thought on this: Let's also watch the matchup of Patriots left tackle
Nate Solder
versus Buccaneers defensive end
Adrian Clayborn
, since it was Clayborn's bull-rush -- during which he pushed Solder back -- that led to Brady's injury.
2. Sturdy run defense with the front seven.
Buccaneers running back
Doug Martin
can be a handful and represents a good test for a Patriots front seven that should have
Rob Ninkovich
and
Chandler Jones
at end,
Vince Wilfork
and
Tommy Kelly
at tackle and a linebacker trio of
Brandon Spikes
(middle),
Dont'a Hightower
(strongside) and
Jerod Mayo
(weakside). Not that there figures to be any big game planning for a preseason game, but the Patriots talk often about making the opposition one-dimensional by taking away the run. With limited opportunities in preseason to work on run fits with live tackling, this will be one of their best chances to do so.


3. Ballard ready for increased workload?
Tight end
Jake Ballard
remains a player of interest from this perspective. Returning from serious knee surgery in 2012, he has been managed carefully in practice and played 12 snaps in the preseason opener, all with the first-unit offense. The top tight-end pairing of late has been Ballard and rookie free agent
Zach Sudfeld
. With veteran
Daniel Fells
unlikely to suit up -- he's been out of practice the past few days due to an undisclosed injury -- is Ballard ready for some more work? If so, the areas we'll be watching closest are his inline blocking and how more snaps might affect his knee.
4. Bounce-back for Gostkowski and field goal operation.
Kicker
Stephen Gostkowski
missed field goals from 44 and 53 yards in the preseason opener -- not exactly chip shots -- and, as Bill Belichick sometimes points out, it isn't always on the kicker. It's the entire operation -- snap, hold, kick. Gostkowski, who hit from 34 yards in the game, looks like he's had a strong week of practice. Also on special teams, the ongoing competition between incumbent punter
Zoltan Mesko
and rookie
Ryan Allen
is a good one. Allen has a strong leg but the key for both is going to be consistency.
5. Can the rookie receivers do it again?
We've spent a lot of time focusing on the rookie trio of
Aaron Dobson
(second round),
Josh Boyce
(fourth round) and
Kenbrell Thompkins
(undrafted) and their assimilation into the offense. So far, so good. Brady had made the point that by the middle of training camp the team would have a better feel on its receiving corps, and one thing is clear: The rookies are a big part of it. Of the group, Thompkins might be the most impressive to this point. He had four catches in the preseason opener and was on the same page with Brady early.