Parcells does not regret drafting Jake Long
April, 13, 2011
4/13/11
2:00
PM ET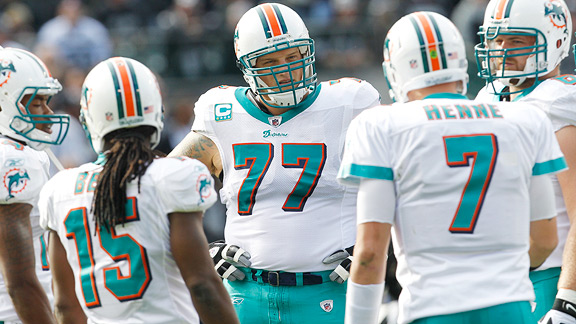 AP Photo/Tony AvelarJake Long has been an anchor on Miami's offensive line and a three-time Pro Bowler.
Four words Bill Parcells uttered as a musing exploded into a sexy headline that bothered him:
"Parcells: Dolphins should have taken Ryan, not Long, in '08."
The NFL.com headline was 150 percent longer than the actual quote. The former
Miami Dolphins
personnel executive, a bit stunned, also insisted it was inaccurate.
Parcells said he doesn't lament drafting Michigan left tackle
Jake Long
first overall in 2008 and claimed if he had to do it all over again -- even knowing what we know three years later -- he would still select Long ahead of quarterback
Matt Ryan
.
"Absolutely," Parcells told me Wednesday morning. "I do not regret taking Jake Long."
Parcells recently told Miami Herald columnist Armando Salgeuro he could understand the idea that
"maybe we should have" taken Ryan instead of Long
in 2008. Salguero treated the comment appropriately. The quote appeared in the 21st paragraph in a story that was 31 paragraphs long. The quote wasn't significant enough to make the front page of the sports section.
"Maybe we should have" doesn't equal an apology to Dolfans or anyone else.
"You always wonder if you should've taken a quarterback," Parcells said when I called him Wednesday. "You always wonder about that. But I don't regret taking Jake Long. The guy has been in the Pro Bowl every season he's played. What else you want?"
[+] Enlarge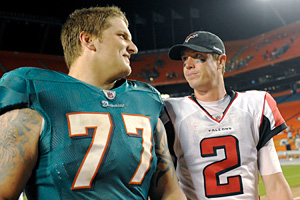 Steve Mitchell/US PresswireTaking Jake Long instead of a quarterback like Matt Ryan was part of Miami's overall draft strategy in 2008.
"Perhaps Matt Ryan instead," I replied.
There was silence for a few seconds.
"Well," Parcells said, "I've seen him as well."
The comparison to be made is not between Long and Ryan. The Dolphins already have been proven correct with their decision. Long has been to three Pro Bowls in three seasons. He was voted first-team All-Pro last season. He's an elite performer at a critically important position.
Miami was so certain of Long's future it signed him four days before the draft.
"Historically, offensive tackles are the position with the least margin for error," Parcells said.
Any debate is rooted in the Dolphins' broader approach to the 2008 draft. They decided to take Long first and a quarterback with one of their two second-round draft choices. The latter part of the plan has failed.
The Dolphins selected Michigan quarterback
Chad Henne
with the 57th pick. Henne's struggles in two years as the lead quarterback have Dolfans on edge. Fifteen starters after
Dan Marino
retired in 1999, the
Dolphins are still on the lookout for a satisfactory answer
.
The
Atlanta Falcons
drafted Ryan third overall. He has guided them to the playoffs twice. His 33 victories tied Marino for the most in an NFL quarterback's first three seasons.
Given all that, Parcells is content the Dolphins made the proper choice for the foundation of a franchise that was in cinders. Long was the first draft choice under Parcells, general manager Jeff Ireland and head coach Tony Sparano after a 1-15 season.
"No matter who he is or where he played, a quarterback has to make a major transition to professional football," Parcells said. "Offensive tackle, the game is faster and against bigger, stronger guys. There is a transition. But it's not as great. He's doing his job in one-on-one situations. If he's capable of doing that, there really aren't any overriding factors.
"But the quarterback, there's a lot of other moving parts. The cast around the quarterback has a lot to do with his success. The system he gets into and the coach that he has and the vision for the player and all that."
The flip side of that philosophy is never passing on a great quarterback. Snap him up and build around him.
A common sentiment specific to the Long-versus-Ryan argument is that Ryan couldn't have succeeded in Miami the same way he has in Atlanta because Miami's offensive line would be so much worse.
That's not true. The year before Ryan and Long entered the NFL, the Falcons gave up 47 sacks. Only six clubs allowed more. The one-win Dolphins gave up 42 sacks.
In their rookie seasons, the Falcons yielded 17 sacks. Just four teams were better. The Dolphins also improved to 10th in the league, allowing 26 sacks.
The Falcons found a way to draft a franchise quarterback and, with a first-year head coach and general manager (just like the Dolphins), build a supporting system around him.
"We did our homework," Parcells said. "We sent everybody, the head coach, the general manager, offensive coordinator, the quarterback coach to work out all the quarterbacks.
"When we came back, we decided to take Jake Long and try to draft [a quarterback] second. That's exactly what we did."
The Falcons took the opposite approach, picking the best quarterback in the draft and targeting protection in the 21st slot. It was such a deep draft for tackles. The first eight tackles taken that year -- as late as the 59th pick -- have started at least two seasons. The Falcons went with USC tackle
Sam Baker
, who was limited by injuries as a rookie, but has been their left tackle the past two years.
Nevertheless, Parcells is convinced the Dolphins did the right thing.
"Jake Long's a very good player," Parcells said. "I'm happy that we drafted him, and I'm certain the Dolphins are happy they have him."