Kiper evaluates our AFC East reader mock
April, 27, 2011
4/27/11
9:15
PM ET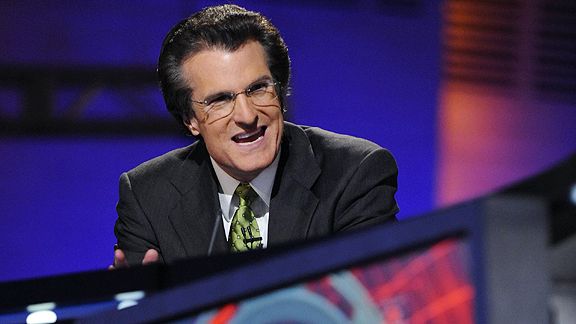 Howard Smith/US PresswireMel Kiper largely agreed with AFC East readers and the blog's mock draft.
U.S. Department of Labor analysts have confirmed Mel Kiper is the second-busiest man in the country this week and would have been first had the president not felt compelled to hold a weird news conference Wednesday.
Even with Kiper's heavy workload -- imagine how much care must go into crafting his final notes and hair the night before the draft -- he took the time to share his thoughts on our AFC East reader mock draft.
We verified our first round Wednesday with a long-form certification process: a six-week, pick-a-day reader vote.
Kiper's intrepid editor, Chris Sprow, caught up with him to go over the AFC East reader mock draft.
Here are Kiper's thoughts:
It's hard to argue with any of the top three picks here. If the trade domino doesn't fall, no reason this couldn't happen.

I'm going to stick with A.J. Green to the Bengals. Blaine Gabbert makes some sense, but if they still believe there's hope they can somehow hold onto Carson Palmer, they don't make that pick. But this could be one they are still undecided on, which is a theme this year.

If Green isn't there for Cleveland, I don't expect them to pass on Julio Jones, which means I don't think he's still there at No. 10 for the Redskins.

I like the pick of tackle Anthony Castonzo to Detroit because my gut says they know protecting Matthew Stafford is priority No. 1. I just think they might still see Tyron Smith there.

Texans defensive coordinator Wade Phillips will love Robert Quinn if he's around with the 11th pick. If Quinn is not, Aldon Smith could go that high. His tape is phenomenal in spots.

J.J. Watt and Cameron Jordan are perhaps the most interchangeable picks, so these picks don't seem off at all for the Patriots and Chargers. Could play out that way.

I'm not as high on Derek Sherrod as some, but would love to be proven wrong. I just think he's there past Philly at No. 23. Slight reach for me.

Danny Watkins is a definite possibility at No. 28, but I think New England can go in so many different directions because of how many picks they have.

No Jake Locker? No Andy Dalton? I wouldn't count on it.
The last point lends itself to the nature of our project. We began six weeks ago, and quarterback buzz always ramps up as we draw closer to the draft.
Mock drafts also can't accurately factor trade scenarios, and those kinds of draft-day maneuvers will dictate where quarterbacks are drafted after
Cam Newton
and Gabbert.
It was nice of Kiper and Sprow to share some bonus analysis for us. Much thanks.
It won't be long until we find out how well we did.