Football journey: Matthew Mulligan
September, 14, 2013
9/14/13
5:00
AM ET
Every Saturday, the "football journey" of one New England Patriots player will be highlighted as part of a regular feature.
This week, tight end
Matthew Mulligan
is in the spotlight. He was signed as a free agent Sept. 3, released by the team two days later, then re-signed Sept. 10.
He played 10 snaps in Thursday's 13-10 victory over the
New York Jets
, used mostly as a blocker.
Mulligan has a different-from-the-norm journey in the sense that he didn't play football at Penobscot Valley (Maine) High School because there was no team. The 28-year-old comes across as down-to-earth and appreciative of his unexpected success in playing in the NFL.
When he first started playing football
: "I guess it really depends on how you define it. My first opportunity was in my sophomore year at Husson College. But they didn't require much of me, really. They basically said, 'Run out and we'll throw you the ball.' As far as blocking went, it was just 'kind of get in front of someone.' I was thankful for the opportunity, but I always attribute, really, that I first started playing football my junior year of college [at Maine]. I played two years there."
Recollections of attending Husson College
: "When I first got there, I went to play basketball, for coach Warren Caruso, and then after that I played for Gabby Price. It was a great opportunity to get my feet wet playing football and just kind of grow up a little bit. You're still young at 18 and 19 years old."
How he got into football at Husson:
"My cousin's friend had been pushing me for a while, ever since he had met me when I was 13 years old. He was saying, 'Look, you're playing the wrong sport. You need to play football.' But we didn't have it at my high school, so I just played soccer and basketball. When I was at Husson my sophomore year, he called Gabby Price and said 'You should go talk to this kid. He should be playing football.' I don't know if I ever would have played, because I was comfortable playing basketball and everything. He kind of went around me and did it anyways, and Gabby came and talked to me. I always wanted to play football, but basketball was my first love and I wasn't going to jeopardize that. When Gabby Price came to talk to me, I've been real thankful since then. That's how it got started."
Top memories at University of Maine, where he played in 21 games (18 starts):
"Catching my first touchdown. Being on local television, people talking about that, it was a great experience. Just initially getting there, and the type of atmosphere that coach [Jack] Cosgrove has up there, it's a good place. I'm from the area anyways, and that's the big program in our state. So it was just an all-around amazing experience."
[+] Enlarge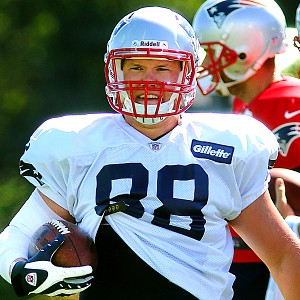 John Tlumacki/The Boston Globe via Getty ImagesSigning with the Patriots was a homecoming for tight end Matthew Mulligan, a Maine native.
Favorite football players growing up:
"I can remember loving Emmitt Smith. Not playing football, I didn't really know the positions, I just knew who the big names were. Troy Aikman, Michael Irvin, Charles Haley."
Signing as an undrafted free agent with the Dolphins in 2008:
"Very difficult. The learning curve was so steep, having really no football experience besides Maine, going to a different offense. Maine did a really good job of catering to my strengths and trying to bring me along. Once you get into the NFL, they're like, 'Either you can do it or you can't.' The tight end group I had down there was a really good group --
Anthony Fasano
,
Justin Peelle
,
David Martin
,
Sean Ryan
. They really did a good job with me, but it was tough -- the heat, I'm a Maine boy and was in Miami. The temperature difference was crazy for me. Just the whole experience, it was difficult, but at the same time I was thankful to go through it because it's made everything a whole lot easier, too."
Landing with the Tennessee Titans' practice squad and staying there through 2009 training camp:
"Jeff Fisher is a tremendous coach. The tight ends that were there --
Alge Crumpler
was a great leader, and I learned a lot from him blockingwise. That's when I really felt like I started to work on my craft, being able to watch him. Also with the other tight ends that were there, one of my close buddies
Craig Stevens
, who is still there. That was a good learning experience, seeing another side of football, because the way Jeff runs his camp is different than most."
Signing with the Jets in Rex Ryan's first year as coach in 2009 and spending three seasons with New York:
"I really owe a lot to them because they really gave me my first shot -- keeping me for three years and grooming me. I was behind
Ben Hartsock
, and he taught me a lot about being a professional. It was awesome. My best friend,
Mike DeVito
, played there. He and I lived together when I first got there, and it helped me transition."
After becoming a free agent in 2012, signing with the Rams:
"[Former Jets offensive coordinator Brian] Schottenheimer was there, and I felt like it was too good of an opportunity to pass up to go with him. I knew the offense, and he's been great to me. That was one of my most fun years in athletics in general, just being there with those guys and the camaraderie we had."
Signing with the Packers as a free agent:
"My agent [Kristen Kuliga] had a lot of teams calling, and it came down to Green Bay and the 49ers. We felt like Green Bay was the best decision, and I wouldn't change anything. Things didn't necessarily play out the way we wanted, but it's a very stand-up organization, a lot of history, with a great head coach in Mike McCarthy and a great tight ends coach in Jerry Fontenot. The players over there, it's almost like a college atmosphere there. They really accepted me."
Getting released after training camp and hooking on with the Patriots:
"I didn't expect it, but you never know who is looking at you. The news was out before I had actually signed, and everybody in Maine was blowing up my phone. It was just awesome. When they called, I was really happy because it's basically like coming home. I know a lot of people. Obviously, it's a fantastic organization and a chance to further my career."
Role models in his life:
"My parents. Still to this day, I run everything by them, what my wife and I do -- big decisions. Also, my church family. I've had a great pastor my entire life, as well. That type of stuff, when you have people you can trust and lean upon, I feel like I've been very fortunate and blessed -- to not just have a great set of parents and a brother but also a great church [community]."
What he loves about football:
"Sometimes it can be the most difficult thing, but sometimes it can be the most rewarding thing. You can always get better. There is not a day where you're coming in to play football and you say, 'I have it all down today.' Technique, your plays, your sharpness, there's always a way to get better, and I feel that stimulates your mind. The ceiling is as far as you can push yourself."
Summing up his football journey with numerous stops along the way:
"I joke with my wife that it's her fault because she said she always wanted to travel the country; that's what God is doing to us, putting us all over the place. I just feel really blessed to have an opportunity to play for so many different teams and meet so many great teammates. There is something to be said about a guy who is good enough and respected enough that the team loves him to stay in one place. But I wouldn't change what's happened to me."