For the first time since the Buffalo Bills drafted him in 2007, Trent Edwards has lost his job as starter.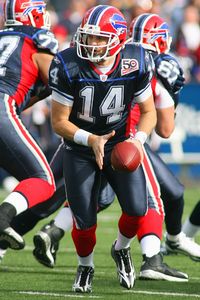 Rick Stewart/Getty Images
Bills quarterback Ryan Fitzpatrick has been named the starter by interim coach Perry Fewell.Edwards has missed games due to various injuries, but he always got his job back when he was ready to play again. Never before had a quarterback overtaken him until Wednesday, when interim had coach Perry Fewell named Ryan Fitzpatrick the starter for Sunday's game against the Jacksonville Jaguars.
Dick Jauron, fired as head coach Tuesday, yanked Edwards from the final minutes of Sunday's loss to the Tennessee Titans after throwing an interception that was returned for a touchdown. The Titans also brought back a Fitzpatrick interception for a touchdown.
Buffalo's offense has been horrible under both quarterbacks, but Fitzpatrick did go 2-1 while Edwards was out with a concussion.
Edwards has completed 62 percent of his passes, averaging 6.5 yards per attempt with six touchdowns and seven interceptions. He has a 74.1 passer rating.
Fitzpatrick owns a 49.8 passer rating. He has completed 49.4 percent of his passes at 4.7 yards an attempt with two touchdowns and four interceptions.
If you're looking for reason to start Fitzpatrick other than a mere shakeup, the most notable advantage he has over Edwards (aka Captain Checkdown) is in downfield passing, which could get receivers Terrell Owens and Lee Evans more involved in the offense.
ESPN Stats & Information ranks Fitzpatrick third in the NFL in average distance thrown at 10.2 yards per attempt. But that doesn't suggest success. Tampa Bay Buccaneers quarterback Josh Freeman is first at 10.7 yards, while Oakland Raiders quarterback JaMarcus Russell is second at 10.3 yards.
Edwards averages 7.1 yards in the air per attempt, tied for second to last in the NFL among quarterbacks with at least 50 throws.
So Edwards must at least excel at the short passes, right?
ESPN Stats & Information shows he ranks 32nd in the NFL in passer rating for throws 10 yards and shorter. He is 95 of 142 for 779 yards and four touchdowns with four interceptions for a 78.3 passer rating.
That's why Edwards has such a pedestrian passer rating despite being known for making the type of throws that inflate most quarterbacks' numbers.