For a day at least, the New York Jets can claim they have the league's No. 1 defense.
The Jets are allowing an average of 276.4 yards per game, fewest in the NFL.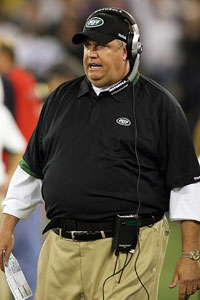 Luc Leclerc/US Presswire
Jets coach Rex Ryan has his defense ranked first in the league.Jets head coach Rex Ryan is used to having a top-ranked defense from his days with the Baltimore Ravens, but the last time the Jets have led the league in total defense this late in a season was 1968. They allowed 240.2 yards per game, fewest in the league, on their way to winning Super Bowl III. Rex's father, Buddy Ryan, was the linebackers coach.
The Jets also rank first in pass defense at 167.0 yards a game.
Last year's club ranked 16th in total defense, yielding 329.4 yards a game, and 29th in pass defense, allowing 234.5 yards a game through the air.
"It's something to be proud of, hang our hats on and build off of," Jets linebacker Bart Scott said. "I know in trying to establish a tradition, it's important to get the first one so we can see what it looks like. This can be our measuring stick. ... We can try to establish this as the norm and not a trend and something that's not expected."
The Jets, however, might no longer lead the NFL in total defense when they wake up Tuesday morning.
The Green Bay Packers, who play the Baltimore Ravens on Monday night, rank second in total defense. The Packers are allowing only 5.1 more yards a game, and if they can stuff the Ravens, they'll regain the top spot they had when they entered Week 13.
Either way, the Jets being rated first or second after 12 games is impressive. They've done it under a rookie head coach who made significant changes to Eric Mangini's crew and have been carrying on without star nose tackle Kris Jenkins.
"This is humbling to me, knowing the great work of the coaches and all the players having to come in and learn an entirely new system on defense," Ryan said. "It's hard to achieve this kind of ranking. You're doing something right. There's no question."
In Thursday night's victory, the Jets limited the Buffalo Bills to 36 yards in the second half.
"It's a tribute to the system that Rex brought in," Jets outside linebacker Calvin Pace said. "To be honest with you, it would be better for the team to have more wins and to be better at this point in time in the season. I think it goes to show that it is definitely a team effort. Week-in and week-out, a different guy steps up and everybody's [working hard]."
The Jets are 6-6, which would seem like an underachieving record for a team that leads the NFL in total defense and rushing offense. The Jets are the only team to have eclipsed the 2,000-yard rushing mark so far this year and are averaging 168.6 yards a game on the ground.
"I think having those two things shows you how close our football team is to really doing some amazing things," Ryan said. "We found a lot of ways to lose games, close games. We've really been completely outplayed in the one game against New England. Other than that, we've been right in every game this year. This team is close."