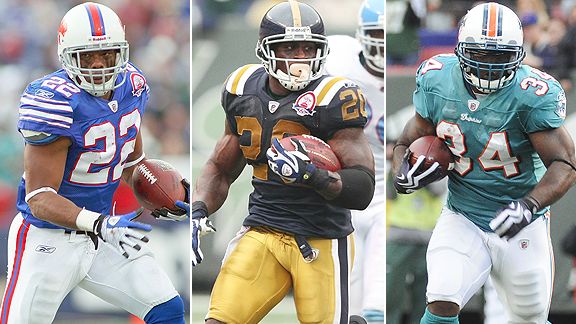 David Butler II/US Presswire
Who was the AFC East's best running back this season: the Bills' Fred Jackson, the Jets' Thomas Jones or the Dolphins' Ricky Williams? Lend your vote. What a perfect time to take a look back at the AFC East's best players in 2009.
2009 All-AFC East Team
All of the teams have completed their seasons, and we're a couple days from a screwy Pro Bowl that's taking place in Miami a week before the Super Bowl with the best players from the two best teams not participating.
Here on the AFC East blog, we endeavor to honor the best properly.
That's why I'm soliciting your opinions to help me determine the All-AFC East squad.
I'm not too proud to admit I flat-out stole this format from NFC North bigwig Kevin Seifert. Some players are obvious, so I've slotted them in already.
I need your input for the rest.
We're going to pick the players based on the positions they actually played as much as possible. In other words, there won't be enough room for New England Patriots left guard Logan Mankins and New York Jets left guard Alan Faneca.
We do have to fudge the defense a bit. The Buffalo Bills use a 4-3 scheme, but because the rest of the AFC East operates out of a 3-4, that's the standard lineup we'll fill out.
I was tempted to consider a nickel defense because the AFC East featured so many talented defensive backs -- an All-Pro cornerback and three Pro Bowl safeties -- but we'll have to make some tough decisions.
Please place your vote and provide your reasons in the comments section below. I will sort through the responses to tally the votes and extract the most astute observations for a post that will reveal the 2009 All-AFC East team next week.
Disagree with the players I've already selected for the All-AFC East squad? Feel free to let me know. I can be convinced to change my mind if you state a compelling enough case.
But I was careful to name players who were dominant relative to the rest of the division. I have strong opinions on other positions but left them open for the sake of debate.