AFC East:

041110 Santonio Holmes
April, 12, 2010
4/12/10
1:11
PM ET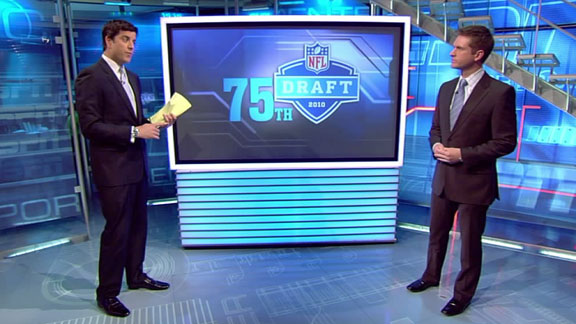 Todd McShay talks about how the Santonio Holmes trade impacts the NFL draft for the Steelers and Jets.
Also,
Mel Kiper writes

that while the trade might seem like a big deal to Steelers and Jets fans, it really shouldn't alter the early-round priorities for either team. As for the draft, the Steelers should have some solid options in Round 3 and the Jets are probably further dissuaded from reaching for a wide receiver in Round 1.
April, 12, 2010
4/12/10
12:46
PM ET
By
Scouts Inc.'s Matt Williamson
| ESPN.com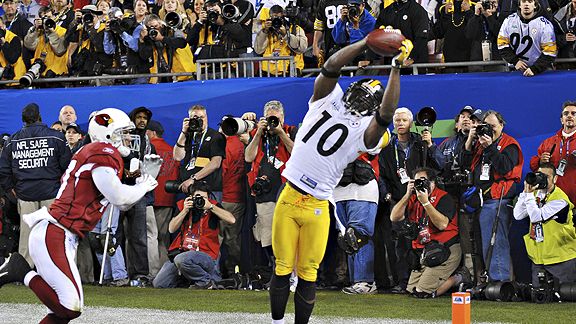 Matt Cashore/US PresswireAdding a wide receiver like Santonio Holmes makes an already strong offensive team like the Jets even more dangerous.
Even considering that
Santonio Holmes
is
in line for a four-game suspension
and his troubling off-the-field history, the Jets became a much better team with the acquisition of Holmes, especially if it only cost them a fifth-round pick. But let's just focus on what Holmes does for New York on the field -- and that is substantial.
Generally speaking, I have a problem with how often the phrase "No. 1 receiver" is tossed around in the NFL. To me, I see about a dozen wideouts or so who truly fit this mold and several others who have the potential to reach such status. The Jets now have two wide receivers who are capable of reaching that status in Holmes and
Braylon Edwards
.
I like Holmes' chances much better of being a No. 1 guy because he is far more consistent than Edwards, who has had trouble with drops. Incorporating these two together along with the ever-reliable
Jerricho Cotchery
gives the Jets a terrific wideout corps. Along with tight end
Dustin Keller
and running back
Leon Washington
-- two very good receiving threats for their respective positions -- this is a tremendous addition for second-year quarterback Mark Sanchez. So many teams do not supply their young franchise signal-callers with the receivers to allow them to succeed.
Holmes (5-11, 192 pounds) isn't the biggest wideout, but he plays bigger than his frame would suggest -- both in his ability to go up and get the ball in the air and as a blocker. He can abuse coverage at all levels and continues to improve as a route runner. Holmes has very good body control and is dangerous after the catch. Despite his off-the-field reputation, he works very hard on his craft and is very competitive. He should only get better.
I do not expect Holmes' receiving numbers (79 catches, 1,248 yards in '09) to improve in 2010 because the Jets should remain a run-first team. Holmes was exceptional at getting deep and making big plays when Pittsburgh quarterback
Ben Roethlisberger
extended plays by buying time in the pocket and heaving the ball deep downfield, which he does so well. Those type of plays probably will not occur nearly as often in New York, but any way you cut it from strictly a football perspective, the Jets are vastly improved because of this trade.
The Jets have the best running game in the league. With this ground threat, either Holmes or Edwards should almost always receive single coverage in one form or another on early downs. That also opens up fantastic play-action possibilities for these two deep threats.
Take a step back and look at what the Jets' roster looked like after the 2008 season. The moves they have made since that time with trades, the draft and free agency have been simply outstanding. It started with free-agent acquisitions
Calvin Pace
and
Alan Faneca
and has picked up steam since Rex Ryan became the head coach. This is just one more example of why the Jets have become one of the very best teams in the NFL, and now they are set up exceptionally well to add more defensive toys for Ryan in the draft.
Scouts Inc. watches games, breaks down film and studies football from all angles for ESPN.com.
April, 12, 2010
4/12/10
1:46
AM ET
A collection of tweets in response to Sunday night's big trade that sent receiver
Santonio Holmes
to the
New York Jets
for a fifth-round pick ...
[+] Enlarge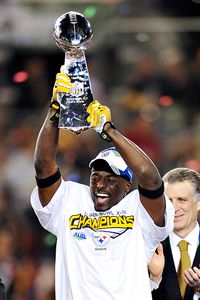 Matt Cashore/US PresswirePittsburgh's trade of former Super Bowl MVP Santonio Holmes to the Jets has the league talking.
Donte Whitner, Buffalo Bills safety:
"Santonio Holmes traded to the JETS. Wow."


Darius Butler, New England Patriots cornerback:
"Wowwww a 5th round pick! I know this supposef to be a deep draft but damn Pitt."
"Im not concerned abt him bein n the division. Every team we play has gd players its the NFL. Im just shocked at what he went for."
Marcellus Wiley, ESPN analyst:

"The Jets are starting to look like an All-Madden Team....especially if they get Jason Taylor and T.O.!!!"
Darrelle Revis, Jets cornerback:

"Wow we got holmes this is crazy. We makin big moves this off-season. Putting the pieces together to get closer to that superbowl ring."
Chad Ochocinco, Cincinnati Bengals receiver:

"Mr. Goodell the NY Jets are unfairly loading their team up with great players like the Yankees do, we need to stop this now!"
Bob Glauber, Newsday columnist:

"If Santonio Holmes puts it together with the Jets, the trade will go down as one of the biggest steals ever. 5th rounder? Sheesh."
David Clowney, Jets receiver:

"Lord what am I doing wrong"
"I know this is a test,.. But God never puts you thru anything you can't handle. I trust you Lord"
April, 12, 2010
4/12/10
12:20
AM ET
How heavy-handed are the
New York Jets
coming off around the league for all of their high-profile acquisitions?

Ochocinco
At least one star player is begging the league to intervene and stop the madness.
Cincinnati Bengals
receiver
Chad Ochocinco
should be thrilled to see a division rival lose a dangerous player, but he's looking at the big picture after the Jets sent a fifth-round draft choice to the
Pittsburgh Steelers
for receiver
Santonio Holmes
.
Ochocinco's immediate response was to tweet "
Can someone please explain why
the Pittsburgh Steelers traded Santonio Holmes to the Jets?"
A few minutes later, the NFL's court jester sent this tweet to @nflcommish, the official Twitter account of Roger Goodell:
"Mr. Goodell
the NY Jets are unfairly loading their team up
with great players like the Yankees do, we need to stop this now!"
Jets general manager Mike Tannenbaum is having an obnoxiously productive offseason.
The Jets traded for cornerback
Antonio Cromartie
and signed running back
LaDainian Tomlinson
. They Jets are courting pass-rusher
Jason Taylor
, who might make up his mind about the Jets this week and probably got a little more interested after the Holmes trade.
Remember when Jets fans were concerned the "final eight" plan might curb their offseason options?
April, 11, 2010
4/11/10
11:46
PM ET
The
New York Jets
just don't know when to quit.

Holmes
As if two of the splashiest offseason acquisitions weren't enough, they've picked up a Super Bowl MVP.
The Jets sent a fifth-round draft pick in this month's draft to the
Pittsburgh Steelers
for wide receiver
Santonio Holmes
late Sunday night, according to a league source.
The Jets shored up another position of need prior to the draft. They previously traded for former All-Pro cornerback
Antonio Cromartie
and signed free-agent running back
LaDainian Tomlinson
. They're also trying to sign free-agent pass-rusher
Jason Taylor
, a former NFL defensive player of the year.
Holmes made the highlight-reel touchdown reception in the final moments of Super Bowl XLIII to win the game for Pittsburgh. He followed that up last season with 79 catches for 1,248 yards and five touchdowns.
The Jets had the NFL's top rushing attack last year. Now second-year quarterback
Mark Sanchez
has a receiving corps in which
Jerricho Cotchery
is the third option. Not too shabby.
But he had a checkered stay in Pittsburgh. He has tested positive for marijuana, was involved in a 2008 domestic violence incident and was accused of throwing a glass at a woman at a club in Orlando, Fla., last month.