AFC East:

2010 Camp Confidential
August, 6, 2010
8/06/10
1:00
PM ET
ESPN.com NFL Power Ranking
(pre-camp): 13
DAVIE, Fla. -- The
Miami Dolphins
might be the best NFL team people don't notice.
They're often overlooked in the AFC East. The
New England Patriots
have at least tied for the division's best record in nine straight seasons, and the big-talking
New York Jets
, coming off an appearance in the conference title game, are a fashionable Super Bowl pick.
Miami shouldn't be discounted.
Head coach Tony Sparano, who dropped 55 pounds in the offseason, wants his players to be hungry. The theme of training camp is "Feed the Wolf," a slogan he put on T-shirts in response to the Dolphins sliding from 11-5 and a division championship to a losing record last year.
"I had a meeting with the group and kind of got into them a little bit during practice about 7-9 not being good enough and how this football team shouldn't be fat," Sparano explained. "They should be starving.
"One of the things that we talk about is feeding the wolf with little successes every day. ... We feed the wolf when we do something good, and that's what our guys understand. Small successes will lead to bigger successes down the way."
So when it comes to the AFC East race, dare we call Miami a sheep in wolf's silk-screened clothing?
THREE HOT ISSUES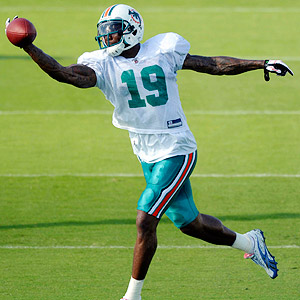 Steve Mitchell/US PresswireThe Dolphins hope the addition of Brandon Marshall can improve the passing game.
1. What will the Chad Henne-to-Brandon Marshall connection mean to the offense?
The Dolphins have been all about the ground game since Bill Parcells and Sparano took over in 2008.
Ronnie Brown
,
Ricky Williams
, rugged offensive line, the Wildcat, possession receivers ... Run, run, run.
Last year, the Dolphins ranked fourth in run offense and 20th in pass offense. Henne threw the fewest touchdown passes of any quarterback with at least 400 attempts. Just five of those touchdowns went to wide receivers.
Marshall's arrival can change that dramatically. While the Dolphins will continue to rely on their ground game, Henne now has a go-to target on third-and-critical or in the red zone. Marshall's amazing talents are on display every day at camp. He has sensational hands, outleaps helpless defenders and can snatch any ball remotely in his area.
Don't expect Marshall to extend his streak to four seasons of at least 100 receptions, but his presence gives Henne the kind of target who opens up all sorts of possibilities the Dolphins haven't had in years.
2. Will unproven outside linebackers provide enough of a pass rush with Joey Porter and Jason Taylor out the door?
The Dolphins' 44 sacks last season tied for third in the NFL. But four of their top six contributors, totaling 28 sacks, either are no longer on the team (Porter and Taylor), playing a new position (
Randy Starks
) or out for year (
Phillip Merling
).
The Dolphins are counting on
Cameron Wake
and rookie
Koa Misi
, a pair of tantalizing-but-unverified pass-rushers, to handle most of the workload. Starks has the most sacks of any returning player with seven. But he has been moved to nose tackle, a position where Pro Bowlers record one or two sacks a year.
Wake's 5.5 sacks were next on the list. By the looks of his performances in camp, he'll be a force on passing downs even if he can't stop the run as effectively as the Dolphins would prefer. Misi, a second-round draft choice, has handled first-team reps with aplomb.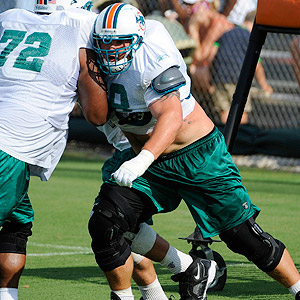 Doug Murray/Icon SMIFree agent Richie Incognito is one of the players battling for a starting spot on the offensive line.
3. What will the interior offensive line look like?
The Dolphins should have the makings of a nasty offensive line, but the inner three positions aren't solidified.
The Dolphins have had trouble settling on a center. Two years ago, they signed free agent
Jake Grove
and traded away
Samson Satele
. Now Grove is alternating first-team reps with
Joe Berger
for a spot that's up for grabs.
At guard, incumbent
Donald Thomas
, third-round draft choice
John Jerry
and free-agent signee
Richie Incognito
are fighting -- in Incognito's case, literally -- for jobs.
Sparano, an O-line aficionado at his core, wants his center and guards to be more than maulers in the run game. They must be better pass protectors.
"People think the left tackle's the only guy that [pass blocks on an island]," Sparano said. "But that's not true when you're turning the protection away from one of them. So to identify who can really handle those one-on-one battles is going to be important for us. That to me is what has to get better."
BIGGEST SURPRISE
Ikaika Alama-Francis
wasn't good enough to stick with the 0-16
Detroit Lions
. He was their second-round draft choice in 2007, but they cut the young defensive end after two seasons. He was on the street for two months before the Dolphins signed him in November. Alama-Francis was a healthy scratch for all six games he was on the roster and an afterthought heading into the offseason.
But with three workouts left until the Dolphins broke for the summer, they switched him to outside linebacker. Alama-Francis weighed 290 when he joined the Dolphins in November. He's an explosive 275 now.
"He looks like a linebacker out there, moving around right now," Sparano said. "He's a handful in the rush. He sets the edge of the defense pretty well, strong guy and very, very smart. I like what he's done."
BIGGEST DISAPPOINTMENT
Quarterback
Pat White
hasn't shown any obvious signs of development to contradict the general belief Miami wasted a second-round draft pick on him last year.
White missed the first day of training camp
because of unexplained personal reasons. One report, quoting a family member, suggested White wouldn't play this year. He arrived the next day, but he hasn't shown much.
White has gotten limited reps, buried behind Henne,
Chad Pennington
and
Tyler Thigpen
. When given the opportunity, White's passes are scattershot, albeit more accurate than last year.
Merling would have been the easy choice here had he made it to training camp. Before he could get there, he was charged with felony assault of his pregnant girlfriend and suffered a season-ending Achilles injury.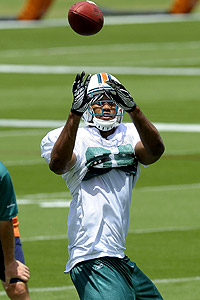 Steve Mitchell/US PresswirePatrick Turner has had his ups and downs during training camp.
OBSERVATION DECK
You can't comprehend the size of some players until you see them in person. Marshall and Karlos Dansby are two of those guys. We can lose perspective when we're inundated with athlete heights and weights that are often fudged, but Marshall (6-4, 230) and Dansby (6-4, 250) are monstrous for their positions.

Starks' transition from defensive end to nose tackle has been interesting. He's small for the job at 6-foot-3 and 305 pounds, but his speed and athleticism have created problems for the Dolphins' O-line.

Second-year receiver Patrick Turner is having an erratic summer. When I first laid eyes on him at rookie camp in 2009, I immediately was struck with how great his hands were. Turner made catching a football seem so effortless. He has been plagued by drops throughout this training camp, and when he does make a catch his teammates sound overly encouraging -- "Way to go, Pat!" -- to keep his confidence up. Turner was inactive for 14 games last year because he has no special-teams value. If the Dolphins can't trust him as a receiver, he'll have a hard time getting on the field.

Free safety Chris Clemons, a fifth-round draft choice last year, has looked like he belongs. The position was viewed as a question mark when the Dolphins axed Gibril Wilson, but Clemons has had some bright moments.

I'd be shocked if any star has signed more autographs in training camp than Marshall. After every open session, he slowly walks along the fence and puts his signature on every piece of memorabilia or scrap of paper thrust in front of him. Maybe he's doing his penance for past misdeeds, but Dolfans have no reason but to love him so far.

Tough break for running back Kory Sheets, who suffered a season-ending right Achilles injury while returning a kickoff Wednesday. He had a nice shot to make the roster and made one of the most eye-popping plays I saw during my stay. On Monday night, he exploded through the offensive line and got into the second level with such speed, his teammates reflexively screamed "Whooooo!"

Veteran cornerback Will Allen, rebounding from a knee injury, has been the team's nickelback. The Dolphins want sophomores Vontae Davis and Sean Smith to stay on the field. Although Allen would be a quality contributor, his contract could put him on the bubble. He has two years left on his contract with base salaries that total $10.7 million.

Two years ago, Greg Camarillo was the Dolphins' best receiver. Now he looks like the fourth receiver behind Marshall, Brian Hartline and Davone Bess. That's a nice problem for Miami to have.

Like the Buffalo Bills, the Dolphins aren't fooling around with extra legs in camp. They know Dan Carpenter will be their kicker and Brandon Fields will be their punter and aren't bothering to push them.

Just talking out loud here because I realize frustrating receiver Ted Ginn had to go, but what if the Dolphins still had his speed to stretch the field with Marshall? That would have been a challenge for opposing defenses.
August, 2, 2010
8/02/10
10:51
AM ET
ESPN.com NFL Power Ranking
(pre-camp): 31
PITTSFORD. N.Y. -- Of any preseason prediction I can make, the one I'm most confident in is that the
Buffalo Bills
will finish fourth in the AFC East.
That slot would be neither general manager Buddy Nix's nor head coach Chan Gailey's fault. The problems they inherited have set the course for 2010.
But they are setting a tone for the long-term future the players can respect.
Gailey is trying to establish a new culture with his first training camp. He wants people to use two adjectives that haven't been associated with the Bills for a long time: tough and disciplined.
"He's very particular about things and how he wants them done," Bills receiver
Lee Evans
said. "We haven't really had that for a while here, with the head man running the show. You understand what he's trying to get done."
Gailey has kept his players in full pads at St. John Fisher College. Previous coach Dick Jauron rarely had his players in complete gear at camp.
Gailey believes players should be in pads and
tested both physically and mentally
. He's in a discovery phase not only about what he'll be able to work with on Sunday afternoons, but also keepers who will help him build a long-term foundation.
"When you actually have those shoulder pads on, mouthpiece in, chinstrap buckled up and you have to get off a block to make a play," safety
George Wilson
said, "that really shows the true testament of a real football player.
"That's what our coaching staff needs, a new staff that's coming in to evaluate this entire team and be able to put the best 53 men together for this 2010 season. I like what we're doing. It's going to make us a lot more physical, a lot tougher, a lot more mentally prepared, and I have a positive outlook about it."
THREE HOT ISSUES
[+] Enlarge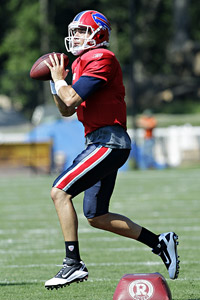 AP Photo/David DupreyTrent Edwards is being given the chance to win the starting quarterback job.
1. Can quarterback Trent Edwards capitalize on another opportunity?
Bills fans seemed to be pulling for
Brian Brohm
to emerge as the favorite to win the starting quarterback job. A major reason is they haven't seen him truly fail yet -- unlike Edwards and
Ryan Fitzpatrick
.
Yet, after several months working with his quarterbacks,
Gailey liked Edwards best and installed him as the No. 1 quarterback
to begin training camp. The battle remains open, but with Fitzpatrick and Brohm sharing reps with the backups and surrendering a few here and there to rookie
Levi Brown
, it's Edwards' job to lose. Based on Edwards' medical chart (combined with Hot Issue No. 2 below), there are no guarantees.
But Edwards has yet to get a fair shot to prove what he can do. He has experienced plenty of chaos since the Bills drafted him in the third round in 2007. Gailey is the first offensive-minded head coach Edwards has played under. Last year, offensive coordinator Turk Schonert got fired 10 days before the season, the Bills jettisoned both starting tackles (two-time Pro Bowl left tackle
Jason Peters
and the most experienced member of the offensive line,
Langston Walker
) from the season before and endured a futile no-huddle experiment.
Gailey has run successful offenses everywhere he has been. This finally could be a legitimate chance for Edwards to show what he can do.
2. How will the Bills survive without proven offensive tackles?
The Bills aren't known for their pass rush, but it was apparent in the early days of practice their offensive tackles were overmatched in pass protection. For their safety, quarterbacks wear red jerseys to remind oncoming defenders not to hit them. Good thing, or else the Bills might have needed to sign some replacements already.
While some front offices believe guards are fungible and tackles vital, the Bills have operated contradictorily in recent years. They've drafted guards within the first two rounds (
Eric Wood
and
Andy Levitre
) and paid big bucks for a free agent (
Derrick Dockery
) while declining to draft a tackle earlier than the fifth round since 2002.
Left tackle
Demetrius Bell
has been limited in 11-on-11 drills because he's recovering from knee surgery. He received his first snaps Sunday. His replacement,
Jamon Meredith
, has been overwhelmed at times. The other tackles likely to make the 53-man roster --
Cornell Green
,
Kirk Chambers
and rookie
Ed Wang
-- have looked ordinary at best.
[+] Enlarge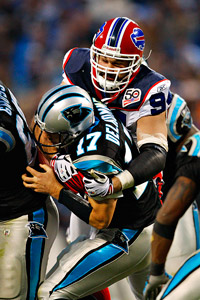 Bob Donnan/US PresswireThe Bills have decided to move forward without linebacker Aaron Schobel.
3. What will happen with vacillating pass-rusher Aaron Schobel?
He spent the entire offseason at his home in Texas, perhaps playing possum. He didn't return to the Bills' facility to collect his roster bonus or participate in offseason workouts. He told some media outlets he was all but retired.
Then, on the verge of camp, the two-time Pro Bowler with a $6 million base salary expressed a change of heart. Schobel might want to play after all. Or maybe he's posturing for a trade, threatening to show up a month before the regular season despite failing to attend so much as a chalk-board session on the team's transition from a 4-3 defense to a 3-4.
On Monday morning, the Bills provided a nebulous answer: In a
news release, Nix announced
the team is moving forward with plans that do not include Schobel.
Nix said: "Aaron has been contemplating retirement for the past seven months, but we are at the point where we are moving forward and have informed his agent of our plans."
Schobel can improve the defense with his talents, but the team is rebuilding and going through a defensive transformation he has demurred from. If they cut him, then they forfeit an asset. A trade appears to be the best option to me.
BIGGEST SURPRISE
Wide receiver
Steve Johnson
was an afterthought when the Bills drafted him in the seventh round three years ago. But the front office was quietly confident he would be a player someday. After getting buried on a depth chart that no longer includes
Terrell Owens
and
Josh Reed
, Johnson might be ready to emerge. Johnson opened camp as the starting No. 2 receiver opposite Evans. That puts
James Hardy
on the spot. The Bills took him in the second round the same year they drafted Johnson.
BIGGEST DISAPPOINTMENT
Rookie running back
C.J. Spiller
, the ninth overall draft choice, still hasn't been signed. Reports indicate it might be a while before he's under contract. The players around him in the draft order have come to terms, but Spiller was the first running back off the board and was considered the most electric playmaker in the draft. His agent, Gary Wichard, certainly is hammering home that point every time he speaks to the Bills. While it's true running backs can afford to miss practice more than other positions because their role is so reactionary, Spiller is more than that. The Bills also consider him a receiver, and that makes practice time more precious for learning the nuances of Gailey's offense.
[+] Enlarge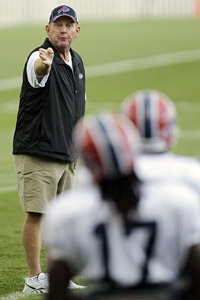 AP Photo/ David DupreyChan Gailey is trying to learn as much about his team by working them out in full gear.
OBSERVATION DECK
The atmosphere at St. John Fisher College has been lifeless. It hasn't mattered whether it's morning, afternoon, night, weekday or weekend. The few fans who have shown up are silent.

Fitzpatrick has been plagued by interceptions through the first few days of camp. Bills defenders seem to have developed a strong read on where he's going to throw.

Gailey has mandated knee braces at practice for the offensive linemen, whether they've had injuries or not. He has been doing that since he began working with O-line coach Joe D'Alessandris at Georgia Tech in 2002. The players can opt out of the knee braces for games if they don't like how they feel.

The Bills' defensive backs have sensational hands. In every drill I watched, it was rare to see a ball hit the ground.

Left cornerback Leodis McKelvin has demonstrated lapses in concentration. He seemed lost in a passing drill Saturday, getting beaten by Hardy for an easy touchdown. Secondary coach George Catavolos had trouble getting McKelvin's attention afterward for some instruction. Soon after, McKelvin was dropping punts in a return drill.

Inside linebacker Kawika Mitchell told me the unit relies on free-agent acquisition Andra Davis' insight when it comes to 3-4 questions. That also goes for inside linebackers coach DeMontie Cross, who hasn't coached an NFL 3-4 before.

Mitchell on the 3-4: "It gives you more freedom. It allows you to showcase your ability a lot more. It's going to be a lot more fun."

Brian Moorman and Rian Lindell are one of the NFL's best punter-kicker combos. The Bills didn't bother to bring in any additional legs.

Wood is a head knocker. His quick return from a shattered left leg and no-nonsense demeanor on the field will make him popular in Buffalo.

After obstructed media views on the opening day, the Bills did a fine job of reorganizing their access areas to allow better viewing of 11-on-11 drills.

Outside linebacker Aaron Maybin has a body shape that stands out the moment you see him. Maybin looks like a Wii character, with a tiny waist that flares upward toward his shoulder pads. He told me his waist is 36 inches, but in pads it seems like a 28.

I focused on the tight ends at the blocking sled Friday morning. I saw why sophomore Shawn Nelson is viewed as more receiver than blocker. He looked considerably less powerful than the rest. While Derek Schouman, Jonathan Stupar and Michael Matthews jacked the sled, Nelson merely budged it. Nelson is listed at 6-foot-5 and 240 pounds. Only Matthews is larger at 6-4 and 270.