July, 4, 2010
7/04/10
2:19
PM ET
Buffalo Bills offensive lineman and soccer fanatic Kirk Chambers will share his World Cup thoughts with the AFC East blog throughout the tournament.
When you're a fan of a team that constantly leaves you crestfallen, it's OK to have a backup squad.
Kirk Chambers needed some time to recover after USA's flirt-with-disaster run through the World Cup came to an appropriate end.
Ghana snuffed the U.S. 2-1
with an extra-time goal.
"I was heartbroken," Chambers said. "To come so close again, hoping for a miracle and it not happening, it was deflating. All the air was released."
If you're going to continue to follow the tournament, then a rooting interest is desirable.
At least Chambers has Germany left. Germany advanced to the semifinals with a 4-0 rout of Argentina. He also is pulling for German forward Miroslav Klose to win back-to-back Golden Boots as the top World Cup scorer.
But don't think Chambers is jumping onto the bandwagon in his lederhosen. He
fell in love with soccer while serving his Mormon mission in Berlin
. He speaks fluent German. His father taught German in high school.
"That's where I spent two years of my life," said Chambers, who majored in public policy and minored in German studies at Stanford. "They just play good football. They've just been a machine on how they play and possess the ball. They're team-oriented, not selfish."
But Chambers didn't select Germany or the U.S. to win it all in
his ESPNsoccernet Bracket Predictor
. He penciled in Brazil as the champion, a decision that will destroy his bracket. Bills center Geoff Hangartner, who knows little about soccer and was
cajoled into filling out a bracket
, picked Germany.
Chambers' heart will always be with the U.S. team. He's generally satisfied with its showing in the World Cup despite his disappointment the sport will "fall back into obscurity until they start playing qualifiers again."
"A standard's been set to play well in group play and get through," Chambers said. "I'm not going to say they dominated in group play, but they showed up well. They performed as well as they should have when you look at it realistically."
Chambers has been impressed with emerging U.S. players such as Jozy Altidore, Herculez Gomez and Benny Feilhaber.
Chambers was struck by
the dramatic exit of America's ouster.
Ghana had a glorious chance to defeat Uruguay when Luis Suarez desperately used his hand inside the cage to prevent a goal. Suarez was ejected. Asamoah Gyan was awarded a penalty kick that should have ended the game. Gyan missed. Uruguay won in the shootout.
"Suarez purposely handballs," Chambers said. "He's in the goal. He knows he's getting kicked out and not playing in the next game. But that was a heads up play by Uruguay and an amazing outcome."
All sorts of reasons to keep watching.
June, 25, 2010
6/25/10
9:22
AM ET
Buffalo Bills offensive lineman and soccer fanatic Kirk Chambers will share his World Cup thoughts with the AFC East blog throughout the tournament.
In about the time it will take you to read this paragraph, the tenor of the world's most spectacular sports tournament changed for the United States. Like a lightning strike, the U.S. turned a stoppage-time counterattack into the
most dramatic World Cup goal it ever has scored
to beat Algeria 1-0, win the pool and avoid going home dejected.
[+] Enlarge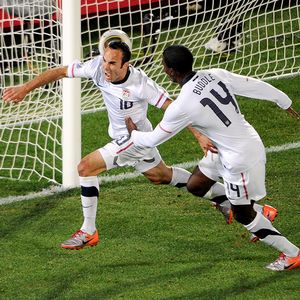 Adam Jacobs/Icon SMILandon Donovan (10) celebrates his goal with forward Edson Buddle.
"You go from despair to complete exhilaration in the 13 seconds it took to go from one end to the other," Bills offensive lineman Kirk Chambers said.
Chambers
didn't see Landon Donovan convert the rebound
Wednesday morning. Chambers was on the practice field for the first day of Bills minicamp. "I have to work -- like a lot of people," he said. But when a Bills employee rushed out to inform Chambers of the result, they embraced in celebration.
Chambers loves soccer, but he had been a bit grumpy before Wednesday.
In his previous World Cup analysis for the AFC East blog, he focused on the
frustrating flopping phenomenon that makes it tough
for Americans to watch and the misery of the
blown call that prevented the U.S. from beating Slovenia
in its previous pool match.
Had Donovan not scored 45 seconds into four minutes of injury time, then the disallowed goal against Slovenia would have been the signature moment of the World Cup stateside.
"There may be some fans converted here," Chambers said. "Without that goal, then it's just another World Cup where the U.S. disappoints. If three more minutes run off the clock and there's no goal, we have another four years to ho-hum about not making it through group play again.
"It was a big goal. Of course, football is my first love, but this proves that soccer is a fun sport. There really is a lot to love. You just have to put a little effort into it."
Chambers watched Wednesday's white-knuckler on DVR, but he will be able to soak in Saturday morning's match against Ghana at home. Bills camp breaks Friday, allowing Chambers to enjoy U.S.-Ghana with his brothers at home in Provo, Utah.
Chambers should be 2-0 in picking matches so far. He forecasted a 2-1 U.S. victory over Slovenia (should have been a 3-2 victory) and nailed his 1-nil prediction for Wednesday.
He thinks the U.S. will beat Ghana 2-1.
"Ghana, I think we owe them a little payback for kicking us out of group play the last go-round," Chambers said. "They look like a pretty strong side.
"A lot of the U.S. play is just being scrappy. They have to keep that, stay within their game, tighten up on defense and make those runs at the goal when they can."
June, 22, 2010
6/22/10
11:45
PM ET
Buffalo Bills offensive lineman and soccer fanatic Kirk Chambers will share his World Cup thoughts with the AFC East blog throughout the tournament.
Six times last year, Kirk Chambers knew precisely why an official threw a flag on him.
Four false starts, one holding and one illegal use of the hands -- on No. 73, offense.
There's accountability on the most minor infractions in the NFL. Whenever a flag hits the ground, the guilty player and the penalty are announced to the world.
The World Cup doesn't insist on such formalities, not even when a winning goal is disallowed. Referee Koman Coulibaly didn't have to answer to anyone when he
waved off a dramatic U.S. goal in a draw with Slovenia
.
We still don't know why Coulibaly disallowed the goal or which player he found at fault. FIFA doesn't require Coulibaly to declare any information.
The call could prevent the U.S. from reaching the knockout round. A victory over Algeria on Wednesday morning
would allow the U.S. to advance
, but a victory over Slovenia would have given the Americans the option to qualify with a tie in their pool finale.
"The U.S. got robbed of a goal," Chambers said. "But I understand how the game goes. I wasn't going to throw the nearest object at my television. Everyone accepts that as part of the game."
Last week, Chambers gave his thoughts on
why flopping discourages many Americans
from embracing soccer. Mysterious officiating can be another deterrent.
Chambers views soccer officiating as a subjective process, comparing it to how a parent might deal with small children. Rather than viewing each call in black-and-white terms, there's a sense of keeping the calls even on both sides.
"When I watch a football game, the refs are very objective," Chambers said. "It's either a holding call or it's not. There are some judgment calls, but for the most part it's either a penalty or it's not.
"In soccer, it's almost as if the ref is officiating an argument between little siblings. 'I'll side with this sibling on this one, but I'll pay back the other one later on.' As a parent, you might use subjective judgment to keep the playing field as fair as possible, and you don't have to explain it."
Chambers explained why video reviews can't work in soccer.
"Game flow plays such a big part in making soccer the sport it is," he said. "You can't have instant replay because you don't want to steal from the flow. To stop play of the game to review a play seems absurd."
Chambers won't be able to watch Wednesday's game against Algeria because the Bills are opening their minicamp. He will DVR the game and hopes nobody tells him who won before he can get home to watch.
I don't like his chances. There has been plenty of World Cup banter among Bills teammates, especially with rookie nose tackle
Torrell Troup
, a soccer fanatic who had been backing France. Troup apparently couldn't handle the repeated heartbreak that goes along with being a U.S. fan.
Chambers predicted a 1-nil U.S. victory.
"Algeria sure possessed the ball very well against England," Chambers said. "It's going to be a good challenge for the U.S. to make runs to the goal, but I have to believe they're going to win this one."
June, 22, 2010
6/22/10
1:00
PM ET
»
NFC Big Question
:
East
|
West
|
North
|
South
»
AFC
:
East
|
West
|
North
|
South
What's the worst call to have spoiled the result for an AFC East team?
In the past few weeks, Koman Coulibaly and Jim Joyce made two of the most infamous officiating blunders.
On a global stage,
Coulibaly's no-goal gaffe might cost the U.S. soccer team
a place in the knockout round of the World Cup.
Joyce spoiled baseball history when he blew a call
at first base on what should have completed a perfect game.
[+] Enlarge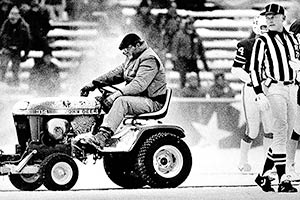 AP Photo/Mike KullenJohn Smith had better footing after a plow cleared away the snow for his game-winning kick.
At least they're not alone in sports history. Plenty of other officials have made dubious calls that have changed the outcome of a big game.
The AFC East has seen its share.
With help from my Facebook friends
, I came up with a short list of controversial calls to consider.
We'll steer clear of the calls that helped an AFC East team win. So forget the Tuck Rule or Vinny Testaverde's phantom touchdown plunge. We're looking for heartbreak here.
With 52 seconds left in their 1976 playoff game,
New England Patriots
defensive lineman Ray Hamilton was called for a highly questionable roughing penalty on
Oakland Raiders
quarterback Ken Stabler. The Patriots were up by four points. The Raiders faced a third-and-18 from New England's 27-yard line. Stabler's pass was incomplete, but the flag gave the Raiders a first down, and they eventually punched into the end zone.
The Patriots defeated the
Miami Dolphins
in the Snow Plow Game in 1982. On a winter wonderland of a field, Patriots coach Ron Meyer ordered a plow onto the field to clear kicker John Smith's placement for a 33-yard field goal with 4:45 to play. Officials didn't prevent it. Final score: Patriots 3, Dolphins 0.
In 1998, a questionable fourth-down conversion immediately followed by a wild penalty in the end zone as time expired infuriated the
Buffalo Bills
so much they didn't line up for the extra point in a vexing loss to the Patriots.
A Hail Mary pass interference
gave New England the ball on Buffalo's 1-yard line. Down by four points,
Drew Bledsoe
tossed to
Ben Coates
for the touchdown.
Bills fans bemoan the Music City Miracle
, one of the most controversial plays in NFL history. The
Tennessee Titans
pulled off what I believe was a perfect lateral to eliminate the Bills from the 1999 playoffs. Despite a video review that seemed to have more interpretations than a Salvador Dali painting, the touchdown stood. The Bills haven't returned to the postseason.
Last year, a Sports Illustrated photo
showed Dolphins receiver
Ted Ginn
stripped
New Orleans Saints
safety
Darren Sharper
shy of the goal line. The ball bounded out of the end zone for what should have been a Dolphins' touchback, but a review upheld Sharper's pick-six, a critical play in a dramatic Saints' victory. Had the Dolphins won, it might have helped them get into the playoffs.
There are so many others to choose from. Please share your thoughts in the comments section.
June, 18, 2010
6/18/10
7:45
AM ET
Buffalo Bills offensive lineman Kirk Chambers will share his World Cup thoughts with the AFC East blog throughout the tournament.
Kirk Chambers saw plenty of carnage last year.
The Bills finished the season with 21 players on injured reserve. Six of them played with Chambers on the offensive line. Right tackle
Brad Butler
blew out his knee. Rookie right guard
Eric Wood
suffered a broken leg reminiscent of Joe Theismann's.
So when Chambers watches soccer, a sport he otherwise loves, he understands how American football fans can be turned off by all the players theatrically thrashing on the pitch.
"As a football player, if I were to roll around on the ground and hold my knee when my I get my ankle clicked," Chambers said, "I think I'd lose a little respect in the business, where in soccer it's accepted, if not encouraged."
Chambers has a passion for soccer, but a few days into the World Cup, he sent me a text message to tell me we had to address flopping in our next blog item about the tournament.
"You think 'Oh, get up, you little ...' What's a word we can use on the blog? 'Get up you pansy,'" Chambers said. "I've seen guys writhing in pain with their hand over their face, and next thing you know their fingers are slit so they can look at the ref and see if it's working. It's just a joke at that point, right?"
Not a joke is the importance of Friday morning's game to the USA's chances of advancing to the second stage.
The U.S. will play Slovenia
.
Chambers predicts a 2-1 U.S. victory and a more legitimate result than the cheap draw it had with England last week. The
U.S. tied on goalkeeper
Robert Green's flub.
"In any sport, especially in a tournament like the World Cup, you need to have a little bit of luck on your side, too," Chambers said. "All of the teams that advance are going to get a lucky break. You take it when it happens.
"Would I have liked to see Jozy Altidore score on his run? That would have been a way cooler way to tie things up. But, hey, you take a shot outside the box and it rolls off the keepers' gloves, you take it."
You can follow the
ESPNsoccernet Bracket Predictor that Chambers filled out
. Also in his public league is Bills center
Geoff Hangartner
.
You can see Hangertner's bracket, too
.
June, 11, 2010
6/11/10
8:43
AM ET
Buffalo Bills offensive lineman Kirk Chambers will share his World Cup thoughts with the AFC East blog throughout the tournament.
A dozen years later, the moment remains vivid in
Kirk Chambers
' mind.
German forward Oliver Bierfhoff, near the right sideline, sent an arcing pass to Jurgen Klinsmann into the penalty box. Klinsmann controlled the ball with his chest and quickly blasted a shot. U.S. goalkeeper Kasey Keller dived in vain.
Keller didn't see the ball go into the net, but Chambers did.
[+] Enlarge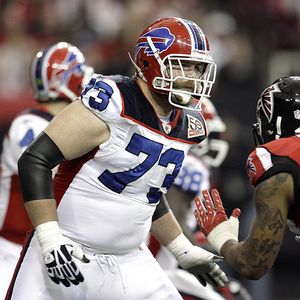 Brett Davis/US PresswireKirk Chambers is looking forward to following the World Cup.
"That specific play," said Chambers, a sixth-year offensive lineman for the
Buffalo Bills
, "sticks out in my mind almost better than some football plays I've been involved with."
Chambers, a Utah kid watching the 1998 World Cup while in Berlin to serve a Mormon mission, was disappointed yet captivated when Klinsmann clinched a 2-0 victory over the U.S. in pool play.
"The place was just in a frenzy," he said.
There's football, and there's futbol. Chambers has a passion for both.
In the coming weeks, Chambers will share his
2010 World Cup
thoughts here on the AFC East blog. He will be monitoring the games and storylines throughout the tournament, which begins Friday morning. He has
filled out an ESPNsoccernet Bracket Predictor
that you can follow.
"I love the game," Chambers said of soccer. "I grew up playing primarily football and basketball, but in high school I never played pickup basketball. It was always pickup soccer with my friends.
"But I didn't really understand what soccer was to the rest of the world until I spent two years in Germany."
Chambers, an avid Real Salt Lake fan, acknowledged it requires work for the average American to appreciate soccer.
"It takes a little effort to enjoy," Chambers said. "When I watch an amazing run at the goal and see someone flip a ball some crazy way, I know how that affects me.
"It's a very simple sport, but it requires creativity on the fly to make something simple look exceptional."
At 6-foot-7 and 315 pounds, it's difficult to pretend Chambers might've had this option had he played soccer instead of football in high school. But if given the option to play in the NFL or the Premier League, he said he would stick with America's game.
Still, he admitted soccer's non-stop action can be more riveting than football.
"What I've really come to appreciate during international matches, I feel tension from the opening kickoff until the end of the game," Chambers said. "There's an internal tension caused by the nervousness of what's going to happen.
"Football is so much stop and go and TV timeouts and off the field and on the field. In soccer, there's a nervousness that grips you until the ref blows the match dead."
Chambers said being a U.S. soccer fan can be heartbreaking because the squad is competitive internationally but hasn't been able to break through. I could hear the irritation in Chambers' voice when he recalled how the
U.S. blew a 2-0 lead and lost to Brazil
in last year's Confederation's Cup final.
Chambers is pumped about America's midfield -- with Landon Donovan and Clint Dempsey -- and expressed thanks for goalie Tim Howard. Chambers, however, is concerned with defensive lapses shown in friendlies.
"It's a bittersweet thing being a U.S. fan," Chambers said. "We're right at the doorstep of becoming a respectable team. It's exciting to follow that."